There's not much better bar snack–or any snack–than pretzels and beer cheese. After making this for the restaurant I used to work in, I can confidently say this is the best beer cheese sauce for pretzels in all the land!

It's so good, you may decide to spread it on anything and everything from brats, polenta fries to bread pretzels to tortilla chips.

For ease of browsing, here are all of my appetizer recipes. Thanks for stopping by!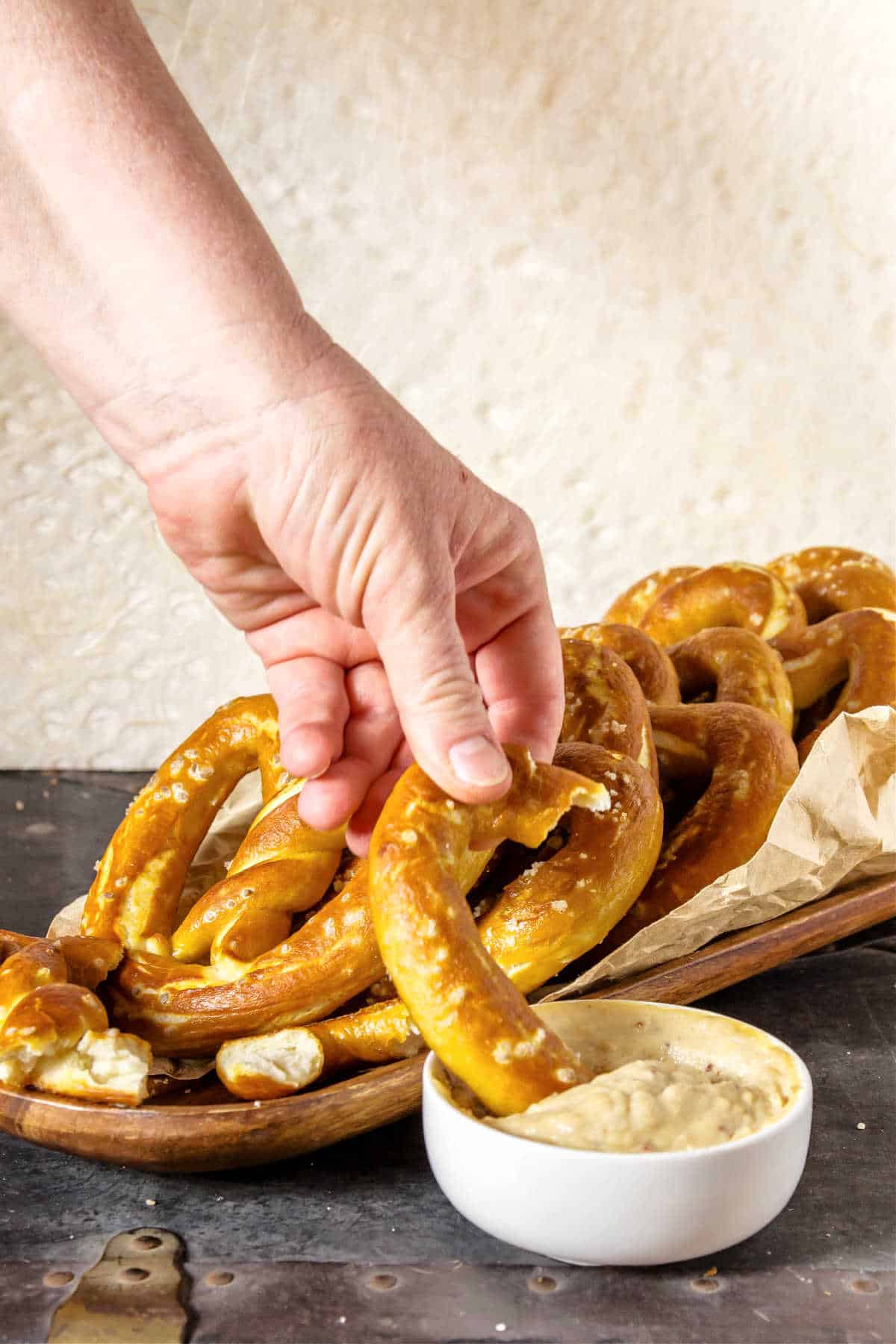 Tips for Making Beer Cheese
When you reduce beer on the stove, you concentrate its flavors. Whatever flavor properties the beer originally has, it will have more of once you reduce the volume of liquid (a combination of most of the alcohol and a lot of the water) on the stove.
Hoppy beers can be very refreshing to drink because of their slightly bitter edge, but if you reduce them, they become too bitter to use. At least for my palate.
It is best to start with a malt-forward beer such as a dark porter or a stout. You will end up with a lot of malty toastiness after boiling, and this works really nicely with the cheese and spices.
If you make a more traditional beer cheese with straight beer that you don't bring to a boil, then you have much more choice–hoppy or malty will both work fine.
To make a beer cheese sauce, start with a malty beer. Hoppy beer becomes too bitter when reduced on the stove.
Ingredients
Here are the base ingredients I use to make this beer cheese sauce.
Please see the "Other Types of Cheese to Use" and "Other Ways to Flavor Your Sauce" sections of this post for substitutions and variations.
butter: The butter and flour are for the roux which provides the thickening for the sauce. Use unsalted butter here and add salt as needed
flour: All purpose flour is your best bet
ground mustard: I like Coleman's but any ground mustard will do
whole grain mustard: store bought or homemade if you're feeling super fancy
kosher salt: Brings all the flavors into focus.
white pepper: You may use black pepper. I prefer white in this to avoid all the black specks, but it's your call.
beer: A nice, malty dark beer is best. You can use a porter or a stout.
half and half: Provides the creaminess. You could go all-in with richness and use heavy cream, but I prefer half and half so there is still "room" for the fatty, salty cheese. If you don't have half and half, use half whole milk and half heavy cream
Provolone cheese: adds a mellow stretchiness to the beer cheese
Grana Padana or Parmesan cheese: provides a sharp, salty bite
Step by Step Instructions
When I used to make this sauce at the restaurant, we'd make it a half-gallon at a time. That's probably a bit more than is strictly necessary–or prudent–for home use!
What I have made here is basically a very thick, spiced mornay sauce, and I've scaled it down to a more manageable about 2 cups.
It's pretty easy to make, honestly, and you can use whatever flavors you like when you make yours. Here's the rundown:
Make a roux equal parts of butter and flour cooked together for a couple of minutes.
Add the spices. Whisk in whatever seasonings you're using along with the roux (butter/flour mixture)
Add the beer. Bring the mixture to a boil and cook off most of the alcohol. You could curdle your sauce if you add the dairy before most of the alcohol is gone.
Finish the bechamel. Whisk in half and half and allow to boil a couple of minutes, stirring constantly.
Whisk in cheese. Do this off the heat to make sure it melts evenly and doesn't burn or curdle.

The starch in the flour should keep your cheese smooth, but you want to be careful with it, just in case.

The beer cheese sauce will thicken as it cools. Serve warm but not blisteringly hot.
Other Types of Cheese to Use
If you aren't a fan of Provolone or Parmesan, or you don't want to go to the store and would rather use what you already own, you have plenty of choices.
Pretty much any cheese that would be delicious in macaroni and cheese will work for this.
As a matter of fact, you can even use this sauce in mac and cheese if you use a bit more liquid so it's not quite so thick!
Anyway, I digress. Here are some other cheese options for you:
cheddar
fontina
gouda
goat cheese
blue cheese/gorgonzola
smoked cheese of pretty much any sort will bring a wonderful added dimension to any sauce
Other Ways to Flavor Your Sauce
My mustard/white pepper/ground mustard flavoring is pretty much a German flavor profile, even though the cheese I used is Italian.
There are many ways to change up this sauce, though.
Make it French with herbs like tarragon or Herbs de Provence and cheeses like Comte and Gruyere
Do a Mexican twist with chipotle powder or minced chipotle, Dos Equis dark, and pepper jack
Make an Italian-inspired sauce with basil, roasted red peppers, some fennel seed, and Taleggio and/or Gorgonzola
You can even decide to add cooked ground meats and/or sausage to the mix. Use this recipe as a base for your sauce and then take it in any flavor direction you choose!
Making It Without Alcohol
You can make a truly delicious cheese sauce without cracking open any beer at all.
Consider this spicy queso dip or this chili cheese dip.
Or make this recipe and just leave out the beer, substituting an equal amount of either more dairy or maybe some stock.
It would be so helpful to me and to other readers that, when you make a recipe, you rate it and leave a comment. Whether it's a recipe or an informational post, your feedback helps others decide if the post is helpful or if the recipe works as advertised.

If you could leave a star rating, that would be very helpful. Thank you for being here!
And make sure to grab the bread pretzel recipe too. Because beer cheese and bread pretzels together? The best!
The Best Beer Cheese Sauce for Pretzels Recipe
This rich, intensely flavored beer-based Mornay sauce is the perfect beer cheese sauce for dipping pretzels. I'm giving you a range of amounts of spices for this sauce, because everyone's taste is different. Start with the lesser amount of each and add more after you add the dairy if you think it needs it. That's what I did.
Ingredients
2

Tablespoons

butter

2

Tablespoons

all purpose flour

1-3

teaspoons

ground mustard powder

1-3

Tablespoons

whole grain mustard

kosher salt and freshly ground white pepper

to taste (you can use black pepper if you want. I just happen to really like white pepper)

4

oz

1/2 cup porter

12

oz

1 1/2 cups half and half

4

oz

sharp aged Provolone cheese

grated

2

oz

Grana Padana or Parmesan cheese

grated
Instructions
In a heavy-bottomed sauce pan, heat the butter over medium until melted and starting to get bubbly.

Add the flour along with the lesser amount of mustard powder, whole grain mustard, a very heavy pinch of kosher salt and a few grindings of pepper.

Cook, stirring constanty, for about 2 minutes to cook out the raw taste of flour.

Add the beer and stir well. Mixture will be very thick. Stir and boil until the harsh alcohol smell boils away, about 2 minutes.

Pour in the half and half. Switch to a whisk. It will make it easier to incorporate everything. Whisk until well-combined and hot. At this point, taste and decide if you want to add more mustard powder, mustard and/or while pepper. Hold off on the salt until after you add all the cheese, though. Adjust the other seasonings until they are to your liking.

Bring mixture to a boil and then simmer for about 3-4 minutes to thicken it just a bit more than it already is.

Remove the sauce from the heat and whisk in the cheese in 3-4 additions until smooth and gorgeous.

At this point, taste for salt and adjust as necessary.

Serve warm with bread pretzels or pretty much anything that could use some delicious beer cheese.
Did You Make Any Changes?
Notes
To Reheat
This sauce will thicken up quickly as it cools and is a really thick spread at refrigerator temperatures. Reheat leftovers gently.
The best way I know to do this is to bring a pot of water to a simmer, put the container of beer cheese in it and let it melt gently. Stir occasionally until warm and ready for dipping. You can reheat it in the microwave, but only do it on medium power for a few seconds at a time, stirring each time. If you get it too hot, it will get grainy and you will be sad.
Nutrition
Serving:
1
/4 cup
Calories:
130
kcal
Carbohydrates:
4
g
Protein:
6
g
Fat:
9
g
Saturated Fat:
5
g
Polyunsaturated Fat:
3
g
Cholesterol:
24
mg
Sodium:
412
mg
Fiber:
1
g
And there you have it, friends.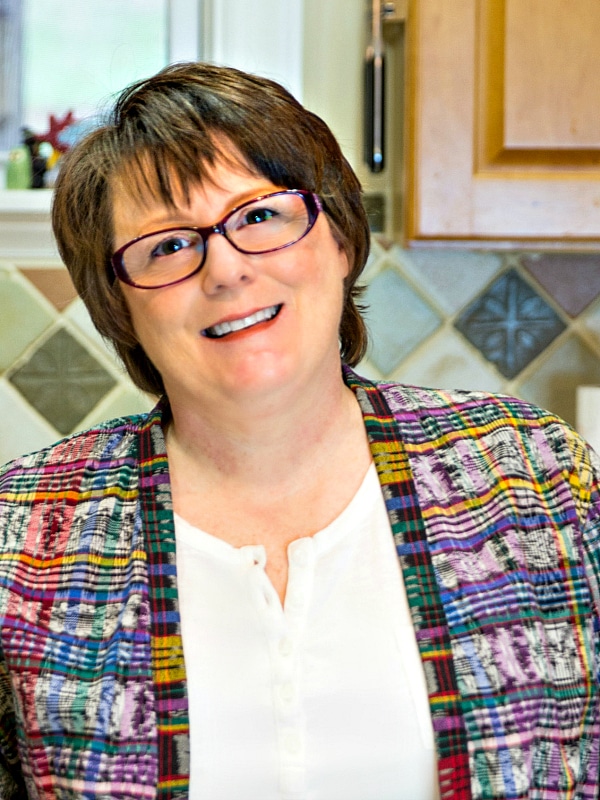 What are my qualifications to teach you baking and pastry? As a former working pastry chef and special educator, I marry my passions for both teaching and for baking into explaining techniques, methods, and developing the best possible recipes. For more info, you can read more about me.
If you'd like to receive new recipes and the occasional newsletter, I'd love for you to sign up for my Inbox Pastry Chef.
Thanks for spending some time with me today. Take care, and have a lovely day!