Chocolate Glazed Doughnut Bread Pudding with Coffee Custard (Coffee and Doughnuts)
It may look like it's hard or fussy to make this chocolate glazed doughnut bread pudding because of all the steps, but I wanted to be specific. It's basically "soak stale doughnuts in delicious custard, bake, glaze, and eat." Enjoy!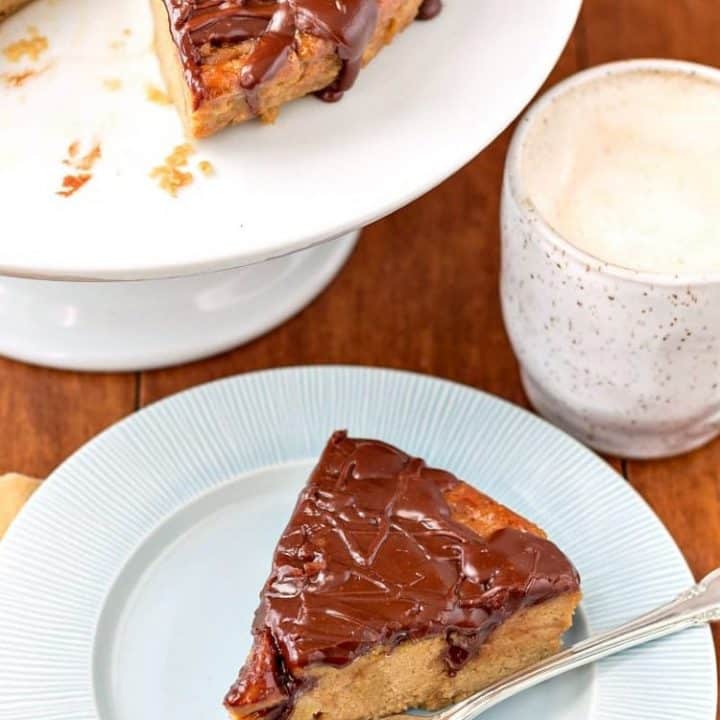 Chocolate Glazed Doughnut Bread Pudding with Coffee Custard
Total Time:
1 hour
10 minutes
Knowing you can make Chocolate Glazed Doughnut Bread Pudding will give you the strength to wait until your doughnuts are stale. I promise.
Ingredients
For the Custard
2 cups whole milk
1/2 cup brown sugar, , packed (dark or light)
2 large eggs
2 egg yolks
1/4-3/8 teaspoon kosher salt
1 Tablespoon espresso powder or instant coffee
1 teaspoon vanilla extract
To Assemble and Bake the Pudding
1 dozen stale glazed doughnuts
For the Chocolate Glaze (based on Alton Brown's recipe)
1/2 stick, (4 Tablespoons) unsalted butter
2 Tablespoons whole milk
heavy pinch of salt
2 teaspoons corn syrup, (light or dark)
1 teaspoons vanilla extract
1/4 teaspoon coffee extract, (optional)
2 oz bittersweet or semisweet chocolate chips, (or chopped chocolate)
4 oz (by weight) or 1 cup confectioners sugar, sifted
Instructions
For the Custard
Combine all the custard ingredients in a medium bowl and whisk until smooth. Set aside.
To Assemble and Bake
Spray a 9" x 2" cake pan with pan spray. (See Notes for Springform directions) Line the bottom with a circle of parchment paper.
Cut some of the doughnuts in half and some in quarters. Fill the pan with the halves, packing them in snugly. Fill in with quartered doughnuts. Again, they should fit snugly.
Take a wooden skewer and pierce the doughnuts all the way through all over. Tons and tons of tiny holes will help the custard soak in so you don't have any pockets of dry doughnut in your delicious, soft, custardy bread pudding.
Slowly pour all the custard into the middle of the pan. Allow to sit at cool room temperature for 30 minutes.
Place a piece of plastic wrap on top of the doughnuts and then place a plate on top of that. Use a couple of cans as weights so the plate presses down on the pudding, compacting all the doughnuts and helping the custard soak in. Refrigerate overnight or allow to sit at cool room temperature for another 90 minutes or so.
Test to make sure all the doughnuts are saturated by sticking a skewer in. There should be almost no resistance.
About 30 minutes before you're ready to bake, heat the oven to 300F.
When time to bake, place the bread pudding on the center rack and bake until the pudding is well risen all over and lightly golden brown on top. This will take about an hour. The internal temperature in the center of the pudding should be 175-180F.
Remove from the oven and allow to cool in the pan for an hour.
Run a thin spatula around the inside of the pudding to release it in case it stuck at all.
Cover a large cake circle or flat plate with plastic wrap. Place on top of the cake pan and invert the whole shebang. Give it a shake so the parchment releases from the bottom of the pan. Peel off the parchment, cover the cake either with the pan it just came out of or with more plastic wrap. Chill until cold.
Remove from the fridge 2 hours before serving. You want it to temper for an hour, then the glaze needs a good 30 minutes to set up and then you have to warm up the pudding (it's fine cold, but it's dreamy warmed up).
To Make the Glaze
In a medium saucepan, melt the butter over medium heat but don't let it boil.
Turn the heat down to medium low and add in the rest of the ingredients except for the powdered sugar.
Whisk until the mixture is warm and the chocolate is completely melted.
Whisk in the powdered sugar until smooth.
Take the plastic wrap or the cake pan off the top of the pudding. Place an oven- or microwave-safe serving platter on top and then carefully flip the whole deal over. Peel off any remaining plastic wrap.
Pour the glaze over the pudding in whatever way makes you happy. You might not use all the glaze, but then again you might. Go for it.
Allow to set up for 30 minutes at room temperature.
To serve, gently warm the pudding in the microwave on medium-low power (Power level 3-4) in 45 second bursts or in the oven at 250F until just warm. It does not have to be hot, but at least take the chill off.
Slice and serve. Store leftovers in the fridge for up to 4 days.
Notes
To make your life a bit easier, you can bake in a springform pan, but make sure it's leakproof, either by design or because you line it really well with foil across the bottom and up the sides and then wrap the base in foil. The custard is thin and will leak out if you don't properly prepare your pan.

As an alternative, you can completely soak the stale doughnuts in a bowl of custard and when it's completely absorbed, then you can pack it into a springform pan for baking.
Shop This Recipe
Here are some affiliate picks for some items you might need to make your chocolate glazed doughnut bread pudding (or any bread pudding, for that matter)! Thank you for your support.
And that's that, friends. Please make this dessert. Or call it brunch and serve it for Mother's Day or your sweetie's breakfast in bed treat on Valentine's Day. I promise you will love it! 
See? I saved a bite for you!
Thank you for spending some time with me today. Enjoy the chocolate glazed doughnut bread pudding, friends!
Take care, and have a lovely day.
Now where would you like to go? Perhaps you'd like to try my Moravian Sugar Cake Baked French Toast.