Today, I have the perfect summery treat for you. No-bake whipped coffee cheesecake bars, my friends. I do bake the crumb crust for a few minutes, but the filling and topping are both no-bake. And as a bonus, you can serve this coffee dessert refrigerated or frozen.

Whipped coffee, beaten coffee, or Dalgona coffee brings an intense coffee flavor to the whipped cream topping while the coffee cheesecake layer has a milder coffee flavor. When taken all together, this no-bake cheesecake packs in a ton of coffee flavor.

You may also want to give my coffee mousse recipe a try.

For ease of browsing, you can find all my cheesecake recipes in one place. Thanks so much for visiting!
This post and recipe was created for #SummerDessertWeek! I was sent samples by some of the sponsor companies but as always opinions are 100% mine.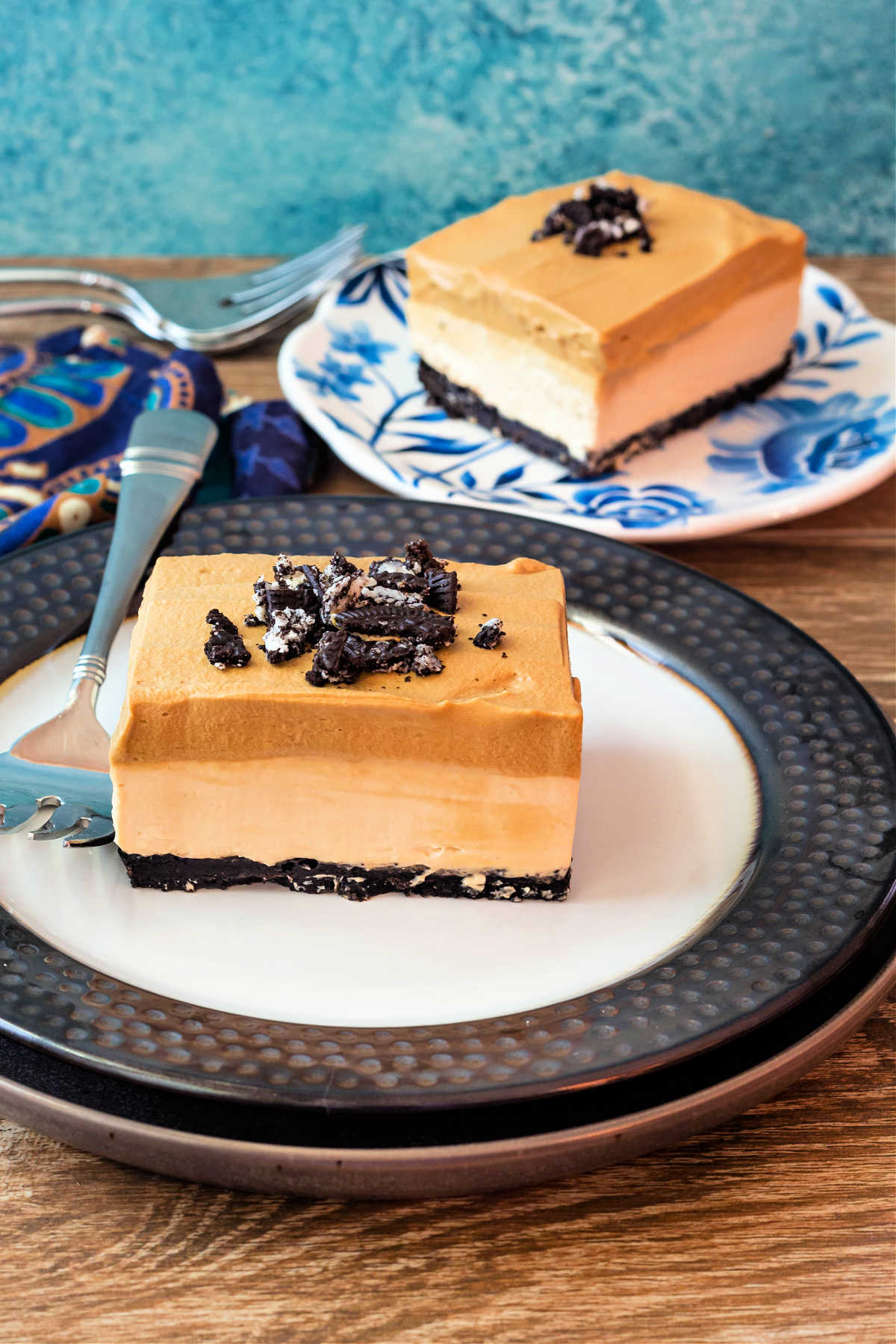 See my whipped coffee cheesecake bars recipe web story here.
Why You Should Make This Recipe
Friends, coffee lovers, cheesecake lovers, lend me your ears. These are the magical things about this dessert:
No-bake (well, minimal bake, since I do ask you to bake the crust) makes it an easy summer choice for dessert
Made with no hard-to-find ingredients–no fancy coffee extracts here, just good old instant coffee.
Chocolate crumb crust–who doesn't love that? If you don't want to use sandwich cookies (I used the "Thins"), you can opt for chocolate sable.
A mild, cream cheese coffee layer
An intensely coffee-y whipped coffee layer
Light and airy when served at refrigerator temperatures–almost like a mousse
Firmer and as delicious out of the freezer (if you let it sit for about 20-25 minutes).
You can vary the intensity of the coffee flavor by using more or less instant coffee in either layer. Or both.
While a stand mixer makes the mixing go a bit faster, you can absolutely make this coffee cheesecake using a hand mixer.
How To Make Them
There are three components in these whipped coffee cheesecake bars. None are difficult to make.
Here's what you'll need.
Ingredients
To make the crust:
chocolate sandwich cookies: I used the "thins" version of most folks' favorite chocolate cream sandwich cookie. If you do, too, you'll need 35, or about 3/4 family-sized package
butter: No need to melt it since it'll melt in the oven. I use unsalted here and add the salt separately. If you use salted butter, you guessed it: leave out the salt
salt: brings out the flavors in the crust and balances any bitterness from the instant coffee. I use kosher. If all you have is fine-grained salt, cut back by about half
instant coffee: I use just a little bit in the crust to tie all the coffee flavors together. It's technically optional in the crust, but why not go all in?
For the no bake coffee cheesecake layer:
cream cheese: 2 packages, softened to room temperature. Go with a premium brand because sometimes store brands are a bit softer, and the cream cheese is really what gives this layer a slice-able texture
powdered sugar: I used sponsor Dixie Crystals. Vary the sweetness according to your taste. I used 1 cup, but you could also cut back to 3/4 of a cup if you like your desserts a little less sweet
Greek yogurt: NOT PICTURED–sorry! You can also substitute sour cream. Either will provide a little lift and tang, which goes so beautifully with the coffee flavor
vanilla extract: rounds out the flavor
kosher salt: brings out flavor and counteracts bitterness from the instant coffee
instant coffee: the main flavoring agent in the cheesecake layer. Use a good brand here. Instant coffee labeled Classico or Robusto will lend great flavor
heavy cream: Heavy cream is the other ingredient that lends body and mouthfeel to the cheesecake. You'll be using a full cup plus 1 Tablespoon that you'll heat up to dissolve the instant coffee in
granulated sugar: You could use powdered sugar here too, if you'd like, but since Dixie Crystals makes both powdered and granulated sugar, I went with granulated for sweetening the cream
instant coffee, hot water, and granulated sugar: These 3 ingredients are all you need to make beaten coffee (whipped coffee, Dalgona coffee–it goes by many names), either to drink or now to put in your cheesecake recipe. Equal amounts of all three is the magic proportion.
heavy cream, vanilla, granulated sugar: whipped together to make a "chantilly cream" to then be whisked together with your Dalgona mixture
Procedure
To make the crust:
The crust is very easy to make. Using a food processor makes it a snap, but you can also crush up the cookies with a rolling pin and then mix everything together with a wooden spoon.
To make the cream cheese layer:
This layer is made in two stages.
First, you'll make the cream cheese layer by blending together the softened cream cheese, powdered sugar, Greek yogurt, salt, and vanilla.
Dissolve the instant coffee in a little hot cream and add that to the mix.
Next, you'll whip the cream to medium to medium-stiff peaks and then fold the two mixtures together to make what is basically a coffee-flavored, cream cheese mousse.
Once you have that done, spread it into your prepared crust as smoothly as you can.
To make the whipped coffee topping:
First, you'll whip the instant coffee, granulated sugar, and boiling water together until it's thick like shaving cream and expanded in volume by about four times.
See? It really does increase in volume by a Very Very Lot!
Then, whip the cream with a bit more sugar and a touch of vanilla until you get to medium peaks.
Whisk the two mixtures and spread on top of your cream cheese layer.
Equipment You May Need
I like the height of this no bake cheesecake when I make it in a 9″ square pan like this one made by sponsor Circulon. If you want your bars a bit taller, you can use an 8″ square pan, or even make this as a more traditional cheesecake in a round pan.
I also like to use my coffee frother for making the whipped coffee mixture. I find that my stand mixer doesn't do a great job trying to mix such a small amount.
Another option is to use a hand mixer.
When spreading out the filling, the best tool for the job is an offset spatula. It will keep your knuckles out of the filling so you can make a lovely, smooth layer. For a pan this size, I used my 6″ offset.
Offset spatulas are inexpensive and are useful for so much more than just one or two tasks, that I encourage you to get a set of 3 and then choose the size that's right for your job.
Pastry Chef Tips for Success
While this is a fairly easy recipe to make, there are a lot of "parts" to it, so here are some tips to keep your time in the kitchen to a minimum while maximizing your Dessert Success.
If you want to break up your time in the kitchen, you can make the crust on one day, the filling the next, and the whipped coffee layer an hour or two before serving.
Do line your pan with two strips of either parchment or nonstick foil cut to fit into the bottom of the pan and up the sides. Not only will this minimize cleanup, but it will also allow you to remove the cheesecake bars from the pan for easier slicing and serving.
I usually tell you to add a pinch of salt to everything you make. Do NOT add salt to the whipped coffee layer, because the salt will keep the coffee from foaming up nice and thick.
Make sure to leave the whipped cream for the whipped coffee layer at medium to no more than medium-stiff peaks. You'll still be whisking to combine the whipped coffee, and you will run the risk of over-whipping and ending up with grainy topping if you take the cream all the way to stiff peaks.
For best results and the cleanest cuts, refrigerate your guy overnight. Wipe knife blade in between each cut to keep your portions looking sharp and clean.
No-Bake Cheesecake Bars Q & A
Do I have to bake the crust?
Technically, no. The crust will hold together just fine if you press it into the pan and then freeze it. I much prefer the texture of the baked crust, so I put it in the oven for 12 minutes at 350F.
Does no-bake cheesecake "act" like baked cheesecake?
The texture of no-bake cheesecake is its own thing. It's light and airy and mousselike whereas most traditional baked cheesecakes are rather dense (in a good way). A no-bake cheesecake is definitely the one you want to make during the summer, both because you don't have to heat up your kitchen and because the lighter texture is appropriate for warmer weather.
Is this cheesecake gluten-free?
No, it's not. But the only gluten-containing ingredient is the cookies for the crust. Substitute with your favorite gf chocolate cookie and you're good to go. Caveat: check all your other ingredients for possible cross-contamination.
How long will it last in the fridge?
Store this guy for up to 5 days in the fridge, well covered. For longer storage, you can pop the whole pan in the freezer.
Other Cheesecake Recipes You May Enjoy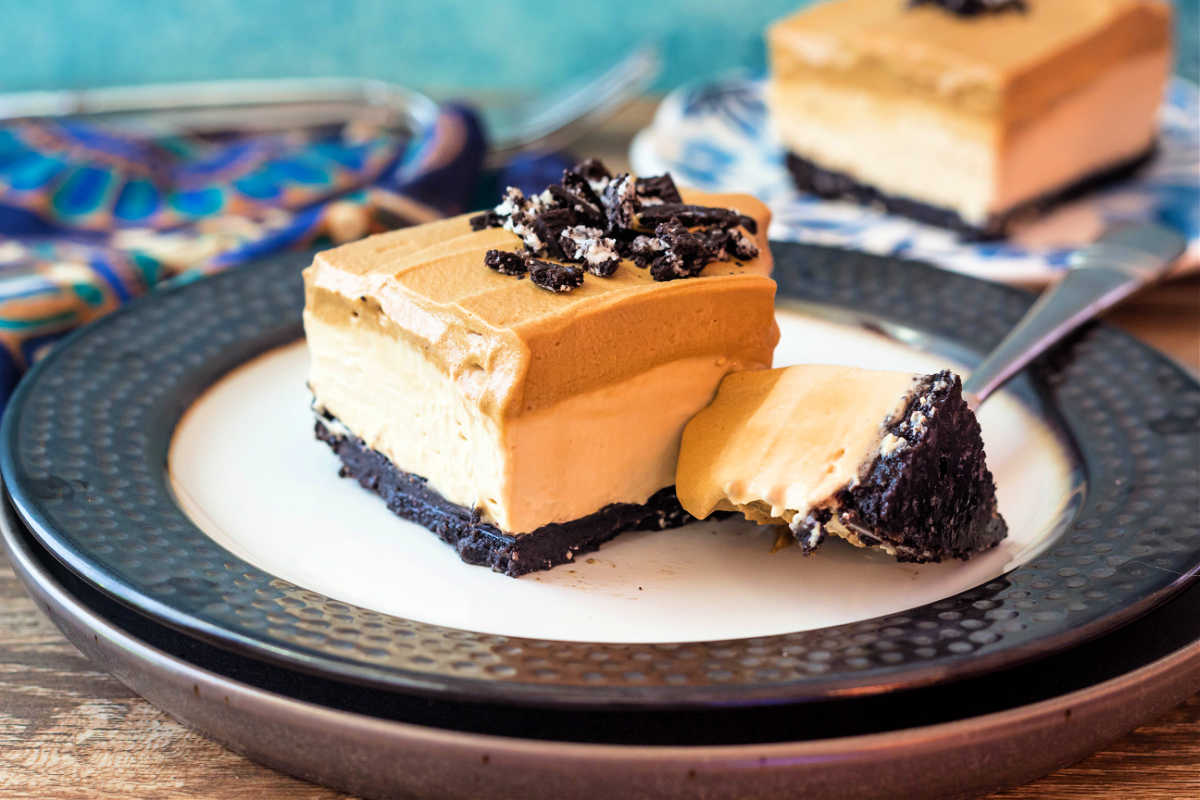 If you're feeling festive for the holidays, try my no-bake orange cranberry cheesecake parfait recipe. With seasonal flavors and a light texture, it's a lovely ending to a heavy holiday meal.
If you're into baked cheesecakes, this cinnamon cheesecake is excellent. I often make it as a King Cake for Mardi Gras.
Another option for summer are these spectacular blueberry cheesecake bars.
Or if chocolate is more your thing, this no-bake chocolate cheesecake should fit the bill nicely!
A Note About Measurements
It would be so helpful to me and to other readers that, when you make a recipe, you rate it and leave a comment. Whether it's a recipe or an informational post, your feedback helps others decide if the post is helpful or if the recipe works as advertised.

If you could leave a star rating, that would be very helpful. Thank you for being here!
Whipped Coffee Cheesecake (No-Bake)
This whipped coffee cheesecake is no-bake, making it a perfect summer dessert. A layer of mildly-flavored coffee cheesecake is topped with a more intense whipped coffee layer, and the whole rests on a chocolate cookie crust.
An easy cheesecake recipe that's not too sweet and the perfect grown-up cheesecake treat!
Ingredients
For the Crust
35

Oreo Thins cookies

cream and all

2 ½

oz

5 Tablespoons unsalted butter

1

teaspoon

instant coffee crystals

heavy pinch of salt
For the Cheesecake Layer
2

blocks cream cheese

softened

1

cup

powdered sugar

¼

cup

Greek yogurt

2

teaspoons

vanilla extract

¼

teaspoon

salt

1

Tablespoon

instant coffee crystals

1

cup

plus 1 Tablespoon heavy cream

divided use

2

Tablespoons

granulated sugar
For the Whipped Coffee Layer
3

Tablespoons

instant coffee crystals

3

Tablespoons

granulated sugar

3

Tablespoons

hot water

¾

cup

heavy cream

¼

cup

granulated sugar

½

teaspoon

vanilla extract

NOTE: Do not add salt to the whipped coffee layer–it will make your coffee foam break down
Instructions
For the Crust

Line a 9" square baking pan with 2 criss-crossing strips of parchment or non-stick foil cut to just fit in the bottom of the pan. Make sure the ends extend up and over the sides of the pan. This will help you remove the bars from the pan for easy cutting and serving.

In your food processor, pulse cookies to a fine crumb. Alternatively, you can place the cookies in a heavy-duty zip-top bag and crush them with a rolling pin into a fine crumb.

Pulse in the butter–no need to melt it– the instant coffee, and the salt until evenly combined.

Press into a uniform, tightly compacted layer in the bottom of your prepared pan.

Bake at 350F for 12 minutes. Set aside to cool.

NOTE: You don't necessarily have to bake your crumb crust. You can also set the pan in the freezer to set up while you make the filling. I prefer the texture of a baked crust, so I just went with it.

For the Cream Cheese Layer

In the bowl of your stand mixer or in a large bowl with a hand mixer, cream together the softened cream cheese, powdered sugar, Greek yogurt or sour cream, vanilla, and salt until completely smooth and creamy.

Dissolve the instant coffee in 1 Tablespoon of heavy cream. Heat for a few seconds in the microwave and stir, making sure the coffee has dissolved completely before adding to the cream cheese mixture.

Scrape the bowl well, and continue beating until very smooth and uniform in color.

Scrape this mixture into another large bowl.

Whip the remaining 1 cup of cream and the 2 Tablespoons of granulated sugar together until you reach medium-stiff peaks. (Peaks will just bend over a bit when you raise up the beater and turn it sideways.) No need to wash the mixing bowl before doing this.

Scrape the sweetened whipped cream into the bowl with the coffee mixture.

Gently but thoroughly fold the two together until the mixture is uniform in color.

Scrape the filling on top of your crumb crust in your prepared pan. Spread out into all four corners, making sure the layer is as even as you can make it.

Cover with foil or plastic wrap, and refrigerate overnight.

For the Whipped Coffee Layer

Use a coffee frother or a hand mixer to whip the instant coffee, sugar, and hot water together until very thick and light, and at least quadrupled in volume. Set aside.

Whip the cream and sugar together until you reach medium peaks. NOTE: Do NOT add salt to the whipped coffee layer. Salt will break down the rich coffee foam.

Scrape the whipped coffee into the cream and whisk until you reach stiff peaks.

Use an offset spatula to spread the whipped coffee layer onto the cream cheese layer.

Refrigerate for at least an hour before serving.
Did You Make Any Changes?
Nutrition
Serving:
1
/12 cake
Calories:
289
kcal
Carbohydrates:
36
g
Protein:
3
g
Fat:
15
g
Saturated Fat:
8
g
Polyunsaturated Fat:
6
g
Cholesterol:
33
mg
Sodium:
198
mg
Fiber:
1
g
Sugar:
29
g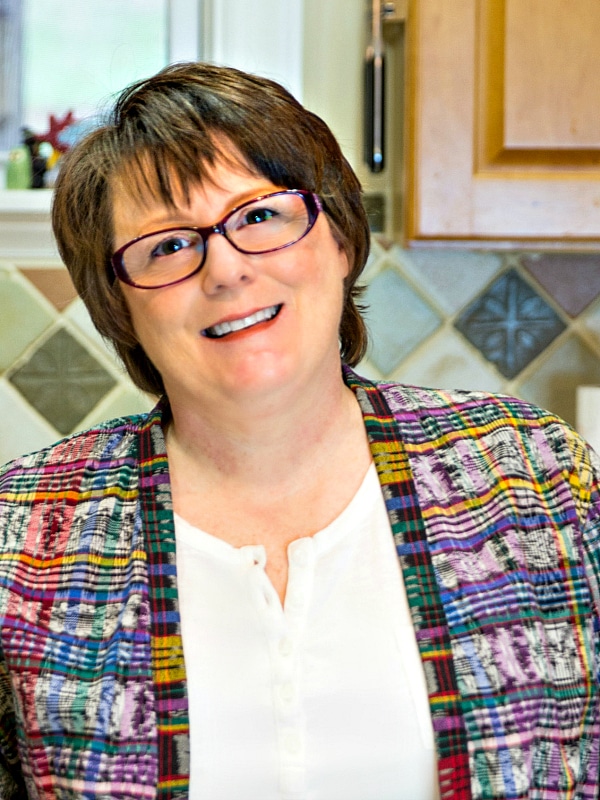 What are my qualifications to teach you baking and pastry? As a former working pastry chef and special educator, I marry my passions for both teaching and for baking into explaining techniques, methods, and developing the best possible recipes. For more info, you can read more about me.
If you'd like to receive new recipes and the occasional newsletter, I'd love for you to sign up for my Inbox Pastry Chef.
Disclaimer: These posts and recipes are part of the week-long event, #SummerDessertWeek but all opinions are 100% mine! We would like to thank our amazing sponsors: Dixie Crystals and Circulon. These wonderful sponsors provided the prize packs for our giveaways and also sent samples and products to the #SummerDessertWeek bloggers to use in their recipes.