Today is my fourth and final summer dessert week recipe, and I'm going out with a bang. This brown butter blueberry buckle is a seriously tasty cake!

If you're a fan of coffee cakes topped with crunchy streusel and filled with juicy fruit, you'll really want to make this guy, which is loosely based on Alton Brown's blueberry buckle recipe.

Want more of my summer dessert week recipes? How does whipping cream pound cake and butterscotch ice cream sound? Spoiler: Super Delicious!

I was sent samples from our generous sponsors. All opinions are my own.

Enjoy all the other recipes from Summer Dessert Week bloggers. You'll find a list of all of their creative dessert recipes right before the recipe for this coffee cake. Below the recipe is all the giveaway information, so please don't miss out. We have five great prize packages from our sponsors!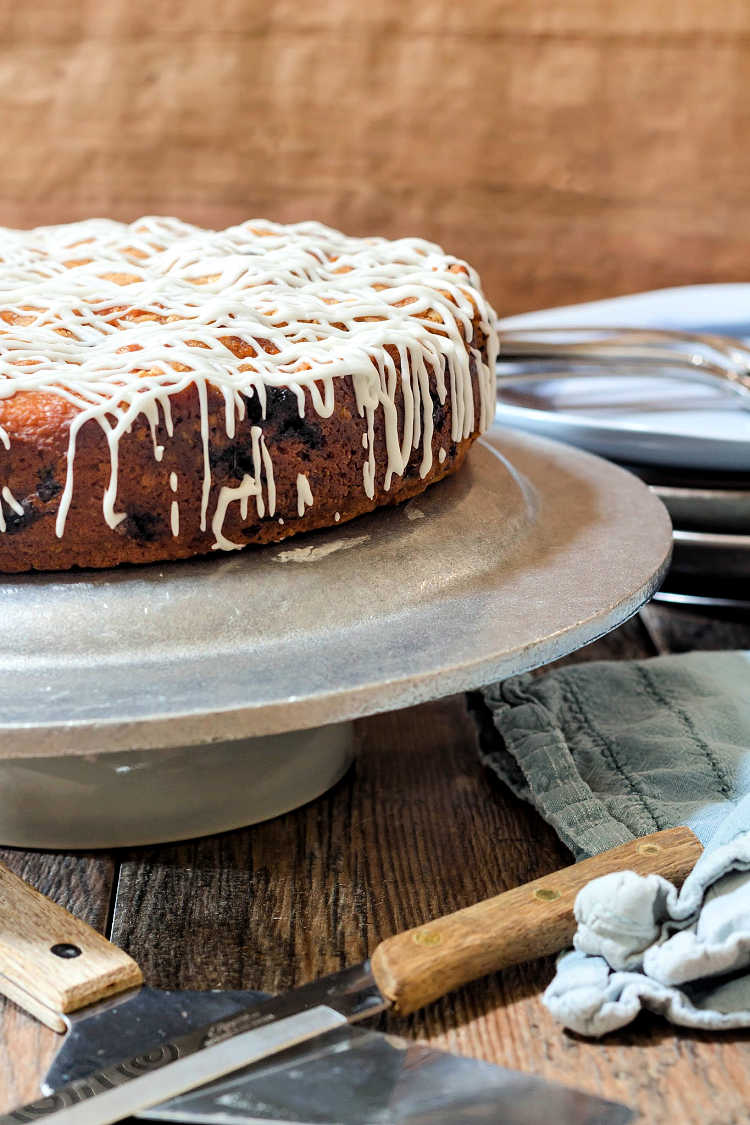 This post contains affiliate links. We are members of the Amazon Affiliate program. For any sale through our links, we earn a small commission. Your price is unaffected. For more information, please see our disclosure policy.
What Is Blueberry Buckle?
Blueberry buckle is a blueberry-filled coffee cake with a fairly thick streusel topping. When it bakes up, the streusel sort of slumps in and some of the fruit bubbles up and the top generally has a buckled appearance.
Like other old fashioned fruit desserts named for the sound they make while cooking (mixed cherry berry grunt, for example) or for how they look when they come out of the oven (cherry blueberry slump, plum cobbler), a buckle is a descriptive name.
To that basic definition, I'll add that a buckle is generally made with a thick batter–almost a dough–and it bakes up nice and moist and wonderful.
Think of it sort of like a biscuit-type cobbler, except instead of putting the dough on top of the fruit, the fruit is mixed into the dough, topped with streusel, and then baked.h
How to Make Brown Butter
First, I will say that you don't have to use brown butter in this cake. You can just use regular old melted butter, and your cake with be very tasty.
But taking the extra few minutes to make brown butter and let it cool down a bit brings a lovely mellow nuttiness and a bit more complexity to the batter that I think is worth the extra effort.
Here's how to make it–and it's not hard. Honest!
The video on this post also shows how to brown butter in case you'd rather watch video than try to follow still photographs.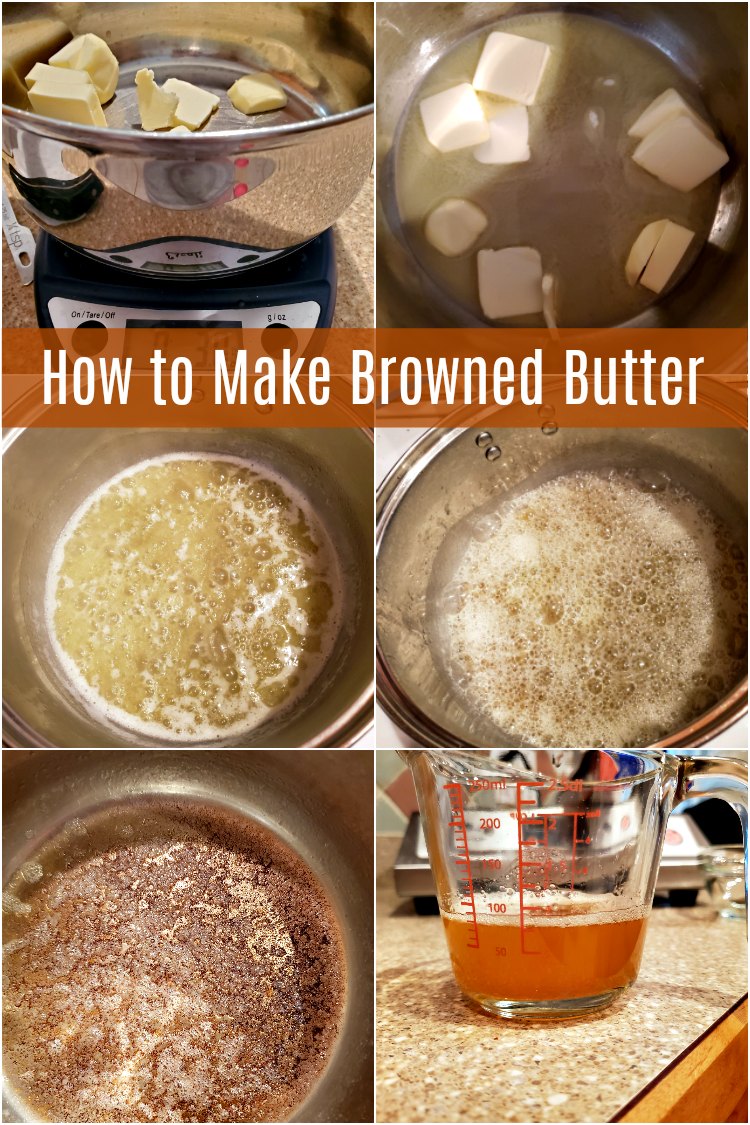 Weigh out the butter and cut it into pieces for even melting.
Cook over medium to medium-high heat, watching it carefully. No need to stir, but you can swirl the pan.
First, the butter will sputter as the water cooks out, (middle left image).
After the milk solids fall to the bottom of your pan, it will get very foamy. Swirl the pan so you can see the color of the browned bits on the bottom.
Stop when the milk solids are a deep brown but not burnt and immediately pour into a heat-safe container to cool down a bit.
You can strain out the little browned bits if you want, but I like to leave them in to add to the nuttiness.
Now that you have your browned butter, you can proceed with the recipe. Or you might decide to make browned butter toffee chocolate chip cookies. I'm not judging.
How to Make the Brown Butter Blueberry Buckle Batter
I admit I didn't need to use all those words in a row, but I do love me some alliteration!
Anyway, the batter is easy to make using The Muffin Method.
In a nutshell, here's how it goes:
Whisk together all dry ingredients.
Whisk together all wet ingredients.
Pour wet into dry and mix until barely combined.
This is the same method used to make Ritz Carlton Blueberry Muffins and Pancakes for One among many other muffin and quick bread possibilities.
Here's how to make this particular batter. First, an Explanatory Photo Collage: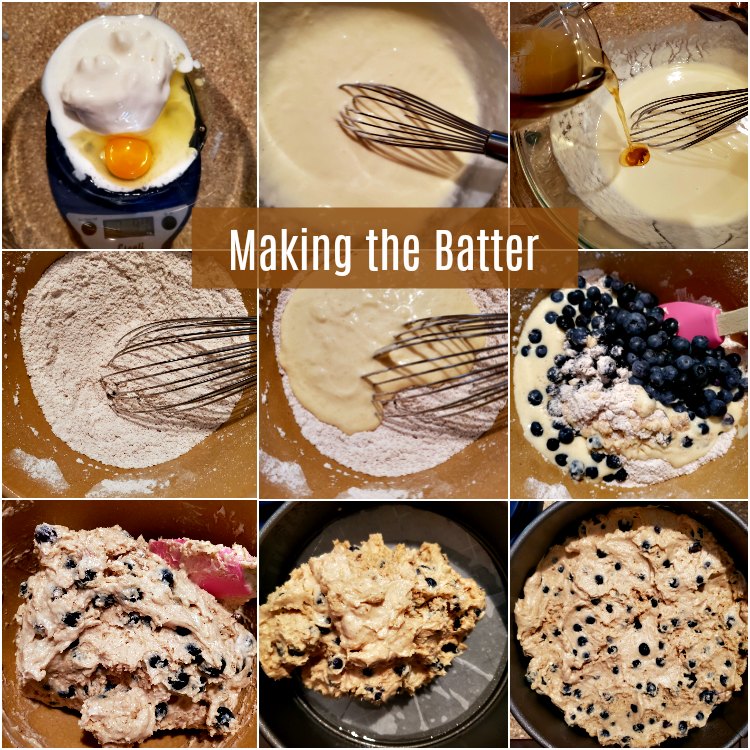 Scale out your wet ingredients: yogurt, buttermilk, lemon extract, and egg.
Whisk them together until well combined and smooth.
Whisk in the cooled-down-but-still-warm browned butter (you can leave the bits in or strain them out)
Whisk together the dry ingredients: flour, brown sugar, baking powder and baking soda, cinnamon, and salt
Pour the wet into the dry.
Add the fresh or still-frozen blueberries.
Fold together just until there is no loose flour in the bottom of the bowl.
Put the thick batter/sticky dough into your springform pan. Prepare the pan by spraying it with pan spray and putting a round of parchment in the bottom.
With a spatula, press the dough evenly into the pan.
Top with Streusel and Bake
If you have made a sandy streusel with some chunks of butter remaining, scatter it all over the top of the batter, pressing down lightly.
If you have made a dough-like streusel by working the butter in completely like I did, break off small pieces and scatter them all over the buckle batter.
What's the Difference Between Those Two Kinds of Streusel?
A sandy streusel will bake up with looser, smaller crisp bits while a dough-like streusel will be more crunchy.
There is no wrong way to do it–it just depends on what texture you want your crumb topping to be.
Bake that guy off until he's deep golden brown and the internal temperature is about 200F. I use an instant read thermometer for this, and I recommend you get one too because it's the least stressful way I know to tell if anything and everything from cakes to steaks are done.
Here's a photo of another blueberry buckle I made that has a more sandy streusel topping so you can see the difference.
What If I Don't Have Blueberries?
No problem. You can make a buckle with almost any kind of juicy summer fruit. I think a cherry buckle would be splendid! I would probably substitute some nutmeg or mace for the cinnamon, but it'd still be great if you use cinnamon.
Other buckle-worthy fruits:
Summer Dessert Week Recipes: Day 6
Ice Cream & Frozen Desserts
Sweet Summertime Cakes and Cupcakes
No-Bake Treats
Baked Desserts
Summer Trifles
And now let's get on with the brown butter blueberry buckle, friends!
Don't forget to scroll down below the recipe to read all about our Most Excellent Summer Dessert Week Prizes and to enter the giveaway!
Recipe
NOTE: Most of my recipes are written by weight and not volume, even the liquids. Even though I try to provide you with volume measurements as well, I encourage you to buy a kitchen scale for ease of measuring, accuracy, and consistency.
This is the scale I use, love, and recommend:
Brown Butter Blueberry Buckle
The rich, nutty flavor of brown butter underlies every bite of this blueberry buckle. Every single bite.  The butterscotchiness plays well with the oats in the topping and just a hint of lemon brightens it all up and makes it the perfect summer dessert!
Ingredients
For the Streusel
2 oz unsalted butter (1/2 stick) cut into small cubes
heavy pinch of salt
1/2 teaspoon cinnamon
3 oz brown sugar (about 1/2 cup, packed)
1 oz cake flour (about 1/4 cup)
.5 oz rolled oats (about 1/4 cup)
For the Blueberry Buckle
3 oz butter
5.5 oz plain yogurt, about 3/4 cup)
4 oz buttermilk (1/2 cup. I use whole milk buttermilk)
1/4 teaspoon lemon extract
1 large egg
2/3 cup dark brown sugar, packed
9 oz all purpose flour (about 2 cups)
1 teaspoon baking powder
1/4 teaspoon baking soda
1/2 teaspoon kosher salt
1 teaspoon cinnamon
1 pint fresh or frozen blueberries (do not thaw first if using frozen)
Instructions
For the Streusel
Whisk together all the ingredients but the butter.
With the tips of your fingers, work the butter into the flour/sugar mixture until there is not too much loose, sandy stuff in the bottom of your bowl.
You can leave it somewhat sandy, or you can mix it until it looks like cookie dough and then scatter small pieces over your batter. Either way is just fine.
Set aside.
For the Buckle
Preheat the oven to 375F.
Prepare your pan 9" springform or 9" x 2" cake pan. I sprayed mine with pan spray, fitted a circle of parchment in the bottom, and sprayed again. Set aside.
Brown the butter in a small saucepan. Once the milk solids have fallen and are a deep medium-brown color, strain the butter through a fine mesh strainer and set aside to cool a bit.
Whisk the warm butter, yogurt, buttermilk, lemon extract, and egg together. Set aside.
Whisk together the brown sugar, flour, baking powder, baking soda, salt. and cinnamon together.
Pour the yogurt mixture over the dry ingredients.
Add the berries now.
Fold everything together as well as you can. This makes a fairly stiff dough--like very gooey cookie batter--so do the best you can with about 15-20 "folds." Try to make sure that the berries are as evenly distributed as possible, but don't make yourself crazy.
Scrape the batter into the prepared pan/tins.
Sprinkle the streusel evenly over the batter. There's a lot, but use it all.
Bake in the center of the oven for 30 minutes.
Rotate the pan and turn the oven down to 350F. Continue baking until the streusel is a deep golden-brown, the berries are bubbling, and a cake tester inserted in the center of the cake comes out clean, about 20-30 minutes more. If you have an instant read thermometer, you're looking for about 200F.
Let cool in the pan for about twenty minutes. Run a narrow spatula around the inside of your pan. Unlock the spring mechanism and remove the sides of your springform pan. If using a one-piece cake pan, turn out onto a plate and then re-invert onto a cooling rack to cool right side up.
Let cool and glaze as desired or serve with some ice cream or whipped cream.
Serve warm or at room temperature.
Commence to Sighing Happily.
Notes
To Brown Butter
Weigh out the butter and cut it into pieces for even melting.
Cook over medium to medium-high heat, watching it carefully. No need to stir, but you can swirl the pan.
First, the butter will sputter as the water cooks out, (middle left image).
After the milk solids fall to the bottom of your pan, it will get very foamy. Swirl the pan so you can see the color of the browned bits on the bottom.
Stop when the milk solids are a deep brown but not burnt and immediately pour into a heat-safe container to cool down a bit.
Please also watch the How To Brown Butter Video if you do better with video and not written directions or photos.
Substitutions
If you don't have yogurt, you can use all buttermilk for a total of 1 1/4 cups.
You don't have to brown the butter. You can just melt it and go from there.
Feel free to leave out the extract or use the zest of a lemon instead.
If you don't like--or don't have--oatmeal, just add an equal amount of additional flour and leave the oatmeal out altogether.
You can also bake this batter as streusel-topped muffins, if you'd like.
A Note On Baking Times
Baking times will vary depending on the size and shape of your pan and the depth of your batter. My final buckle was 9" in diameter and about 2" tall, and it took about 50 minutes to bake. Plan your time accordingly. If you use an 8" pan, it will most likely take an additional 10 minutes or so.
If the cake seems to be browning too much, loosely cover the top with foil.
Recommended Products
As an Amazon Associate and member of other affiliate programs, I earn from qualifying purchases.
Nutrition Information
Yield

10
Serving Size

1
Amount Per Serving
Calories

287
Total Fat

8g
Saturated Fat

5g
Trans Fat

0g
Unsaturated Fat

3g
Cholesterol

38mg
Sodium

302mg
Carbohydrates

49g
Fiber

2g
Sugar

25g
Protein

5g
The stated nutritional information is provided as a courtesy. It is calculated through third party software and is intended as a guideline only.
Summer Dessert Week Prizes
Welcome to the 3rd Annual #SummerDessertWeek event hosted by Angie from Big Bear's Wife. This week-long summer time event is filled with some down right amazing sweet recipes from fantastic bloggers and we've got some great giveaways from our generous sponsors for y'all too!! We can't wait to share all of these summer-themed desserts with you and celebrate sweet, sweet summertime all week long!
There are 45 incredible bloggers participating in this year's #SummerDessertWeek event! Thanks to those bloggers, we have over 168 summer time sweet treat recipes being shared this week! Grab a few recipes to try out and don't forget to enter the giveaway below!Scroll down to take a look!
PRIZE #1
Dixie Crystals is giving away one (1)Keurig® K-Select® Coffee Maker
PRIZE #2
Prize #2 — Adam's Extract is giving away – 1 Gift Pack – including Adams Poundcake Kit, Adams Best, Adams Lemon Extract, Adams Natural Food Color, and Adams Cinnamon Sugar
PRIZE #3
Prize #3 —Wilton is giving away a Wilton Gift Pack – including – Bake and Bring Geometric Print Non-Stick 13 x 9 -inch Oblong Pan, Bake and Bring Geometric Print Non-Stick 8-inch Square Cake Pan, Bake and Bring Geometric Print Non-Stick 8-inch Round Cake Pan, Peach Cobbler Candy Melts Candy, Blueberry Lemonade Candy Melts Candy, Orange Crème Candy Melts Candy, Key Lime Pie Decorating Icing Pouch with Tips, Orange Crème Decorating Icing Pouch with Tips, Pop Art Triangle and Solid Cupcake Liners, Geometric Print and Solid Green Cupcake Liners, Balloon Dog Icing Decorations, Assorted Brights and Pastels Sprinkles, Blue Sprinkles Tackle Box, Coral Sprinkles Tackle Box, DIY-Lish Mermaid Kit, DIY-Lish Candy Lollipop Kit and Disposable Decorating Bags with 1M Tips
PRIZE #4
Prize #4 — Sweets & Treats Boutique is giving away 1 (one) baking supply box including an assortment of sprinkles and cupcake liners as well as one of Love From The Oven's recent cookbooks!
PRIZE #5
Prize #5 —
Anolon is giving one (1) winner an Anolon Advanced Graphite 9″ Round Springform Pan & an Anolon Advanced Graphite 9″ Square Springform Pan
a Rafflecopter giveaway
Giveaway open to US Residents 18 years or older.

All entries will be verified.

No PO Boxes Please. Prizes will be sent directly from sponsors to winners, bloggers are not responsible for prizes. This giveaway runs from July 7th – July 14th at 12AMEST. Winners will be selected soon afterward and contacted by e-mail. Winners will have 48 hours to respond or a new winner will be chosen. There are a total of 5 (five) prizes and therefore we will have a total of 5 (five) winners.

No purchase necessary. Void where prohibited by law.
Disclaimer:
These posts and recipes are part of the week-long event, #SummerDessertWeek but all opinions are 100% mine! We would like to Thank our amazing sponsors:
Dixie Crystals, Adam's Extract,

Wilton

,

Sweets and Treats Shop

and Anolon !
These wonderful sponsors provided the prize packs for our giveaways and also sent samples and products to the #SummerDessertWeek bloggers to use in their recipes.