This recipe for old-fashioned vinegar pie will make you feel like one of those hardy pioneer bakers who were able to make something delicious from almost nothing.

It is so good and easy to make!

If you're a fan of old-fashioned desperation pies, another favorite to try is a classic Indiana sugar cream pie.

For ease of browsing, here are all of my pie and tart recipes in one place. Thanks for stopping by!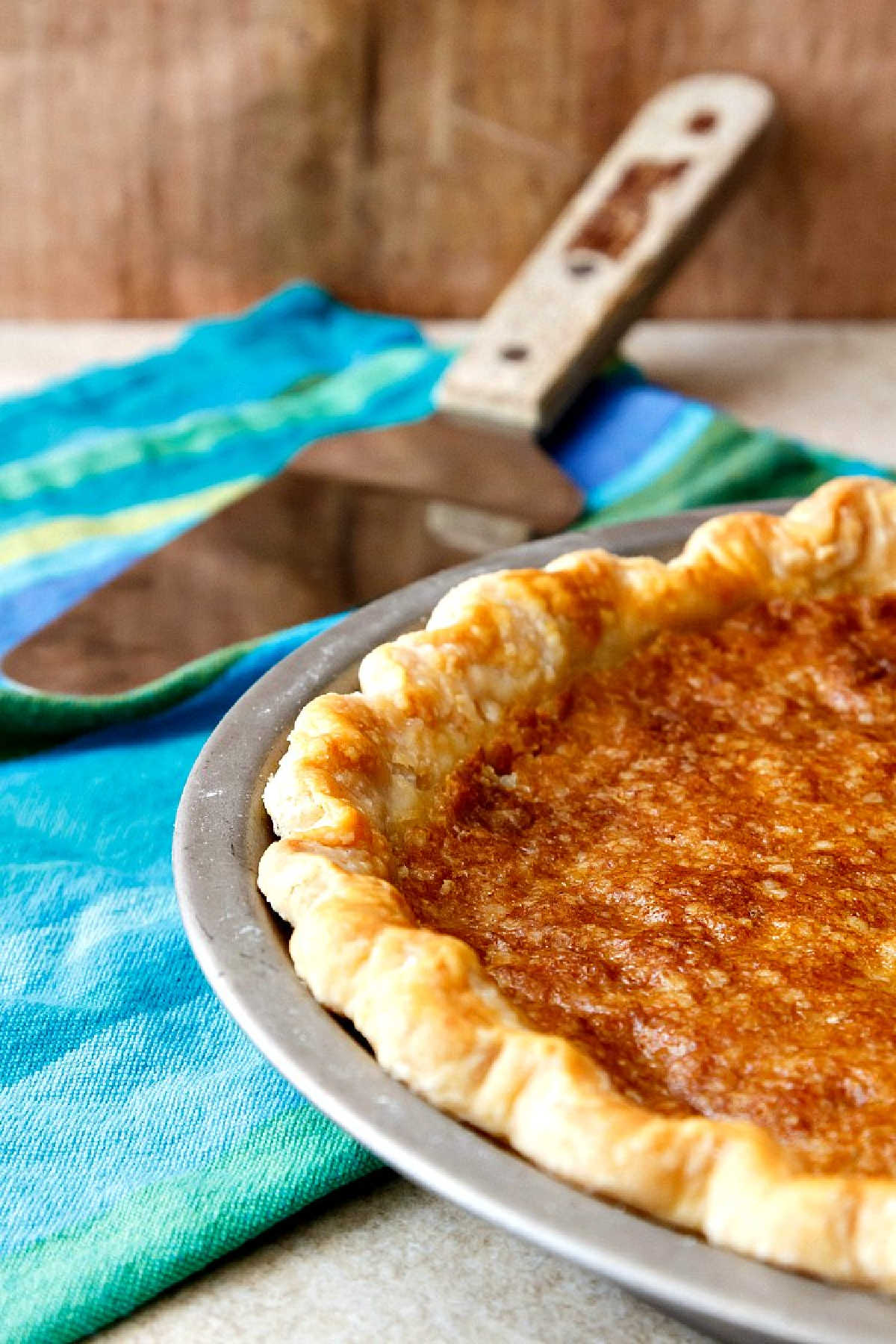 Watch my vinegar pie web story here.
Vinegar Pie, At a Glance
✔️Skill Level: Beginner
✔️Skills: Lining a pie tin with dough, whisking
✔️Type: Pie
✔️Number of Ingredients: 6
✔️Prep Time: 10 minutes
✔️Cook Time: 35 minutes
✔️Yield: 8 servings

Related Recipe: Pate Brisee
Jump Straight to the Recipe
Pies in Time of Desperation
Sometimes, you just need something sweet. Something simple to throw together with a few pantry staples, something soul-satisfying and made with love. Sometimes you just need pie.
These days, most Americans are very fortunate to have ingredients handy to make fruit pies or chocolate pies whenever we feel like it, but back in the days before refrigeration, before huge supermarkets with all their bounty from all over the world, our pie-loving forebears had to be pretty creative in order to have pie in the dead of winter.
These pies relied on staples that were almost always available. Flour, butter from a cow, and water = pastry, and the fillings were based on other pantry stand-bys like:
Eggs were almost always available because most people had chickens.
And there you had it: pie whenever you needed a sweet pick-me-up between the distant memory of bright crimson and golden leaves and the much longed-for buds of May.
If you know this is a pie you want to make, you can skip straight to the recipe.
But Vinegar Pie? Really?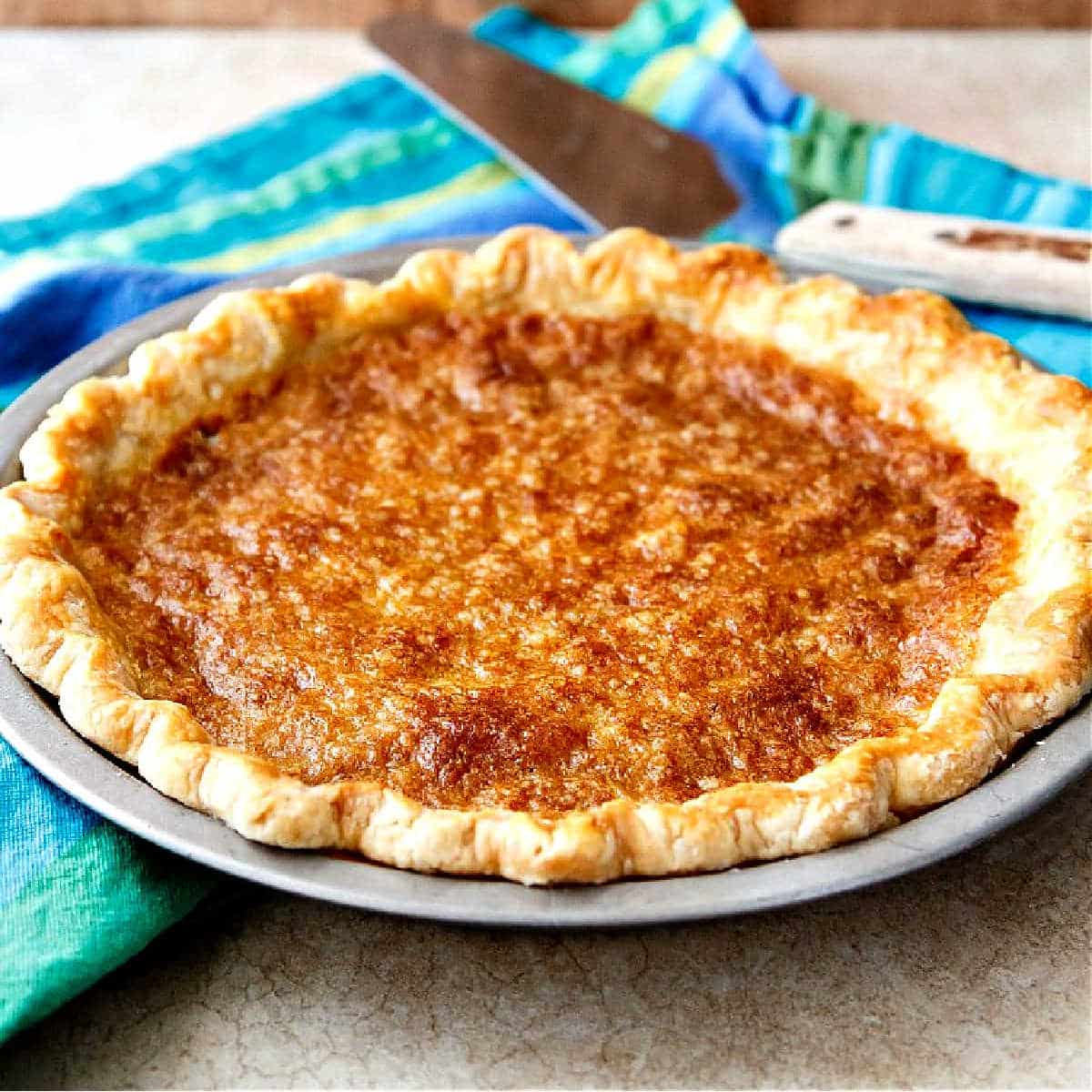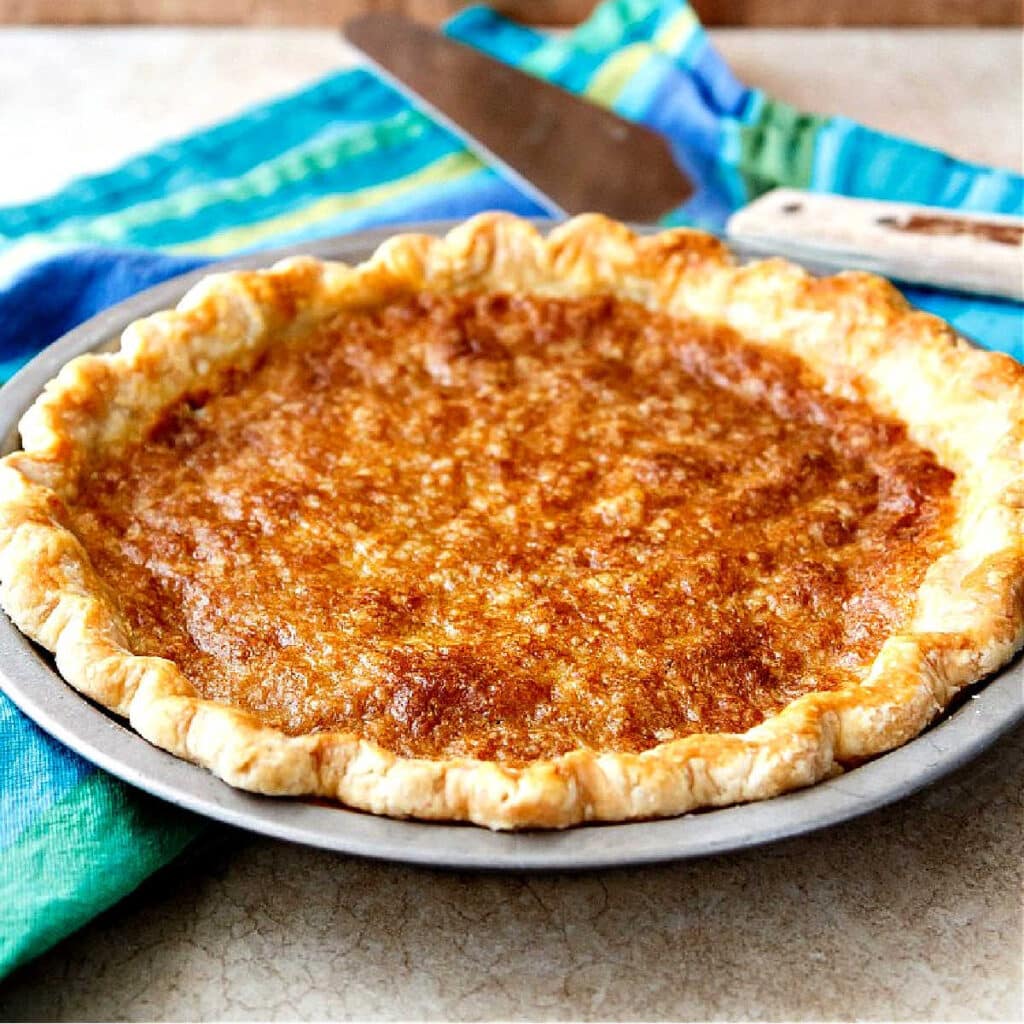 I hear you. I mean, of all the desperation and "pioneer pies" I've ever heard of, old-fashioned vinegar pie seems to be the most desperate kind of pie, you know?
The pie is like an answer to a challenge.
Two pioneer women talking about what they could make out of nothing, and then one says to the other,
"Oh, yeah?! How 'bout you make a vinegar pie, Marjorie!"
And Marge pushes up her sleeves, adjusts her bonnet, tightens her apron strings and is all "Hold. My. Beer, Blanche."
I think you'll get over the weirdness once you realize the pie isn't made mainly of vinegar. It's not like a sliceable sweet and sour sauce.
The vinegar in this pie is used as a flavoring agent. Like vanilla. There's just enough of it in the mix to bring a nice tartness to round out the sweetness.
It reads as a "lightly lemon pie," not as a pie full of vinegar.
The rule "you catch more flies with honey (or in this case, sugar) than you do with vinegar" is still true.
Nobody is going to eat a pie that has a cup of vinegar in it, least of all me.
If you'd like to read a bit more about the history of vinegar pie, you can jump down to that section.
How to Make the Most Desperate of the Desperation Pies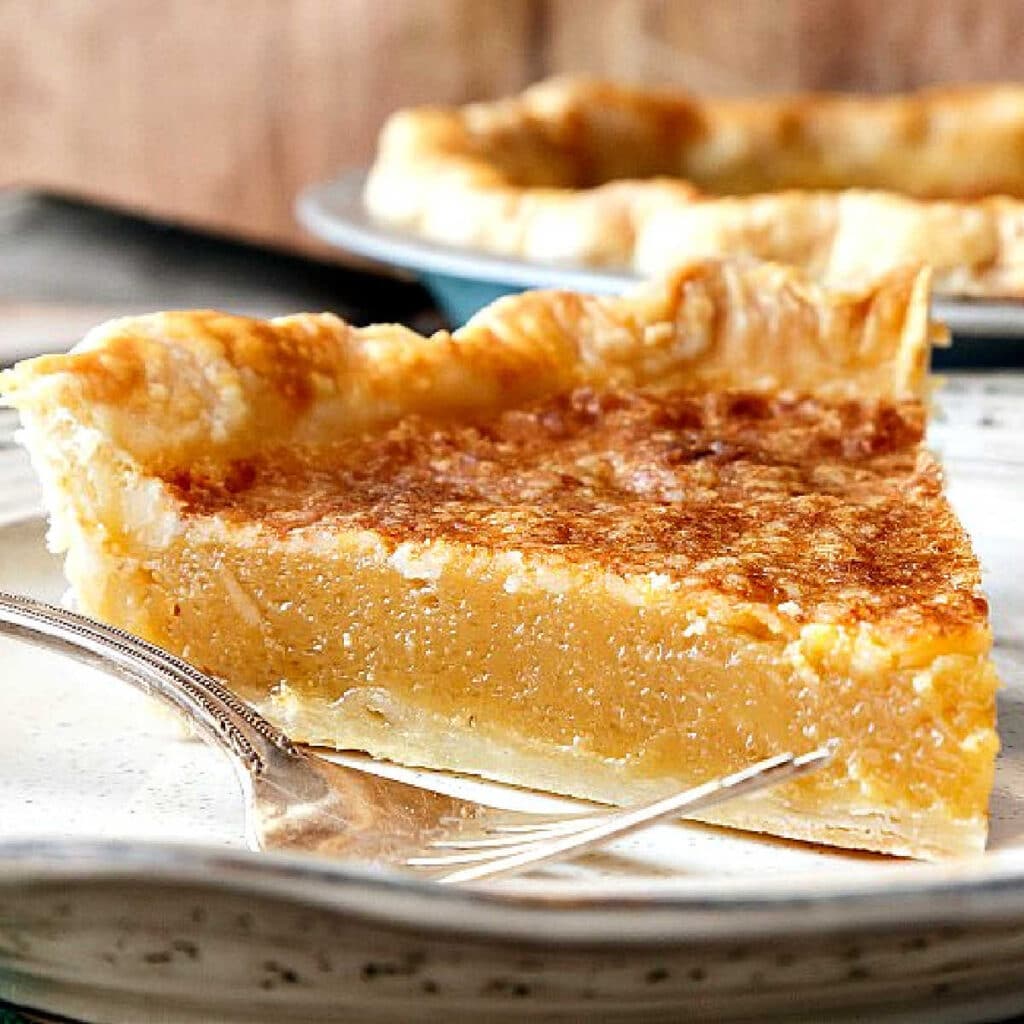 Ingredients
Here are the ingredients you'll need to make vinegar pie.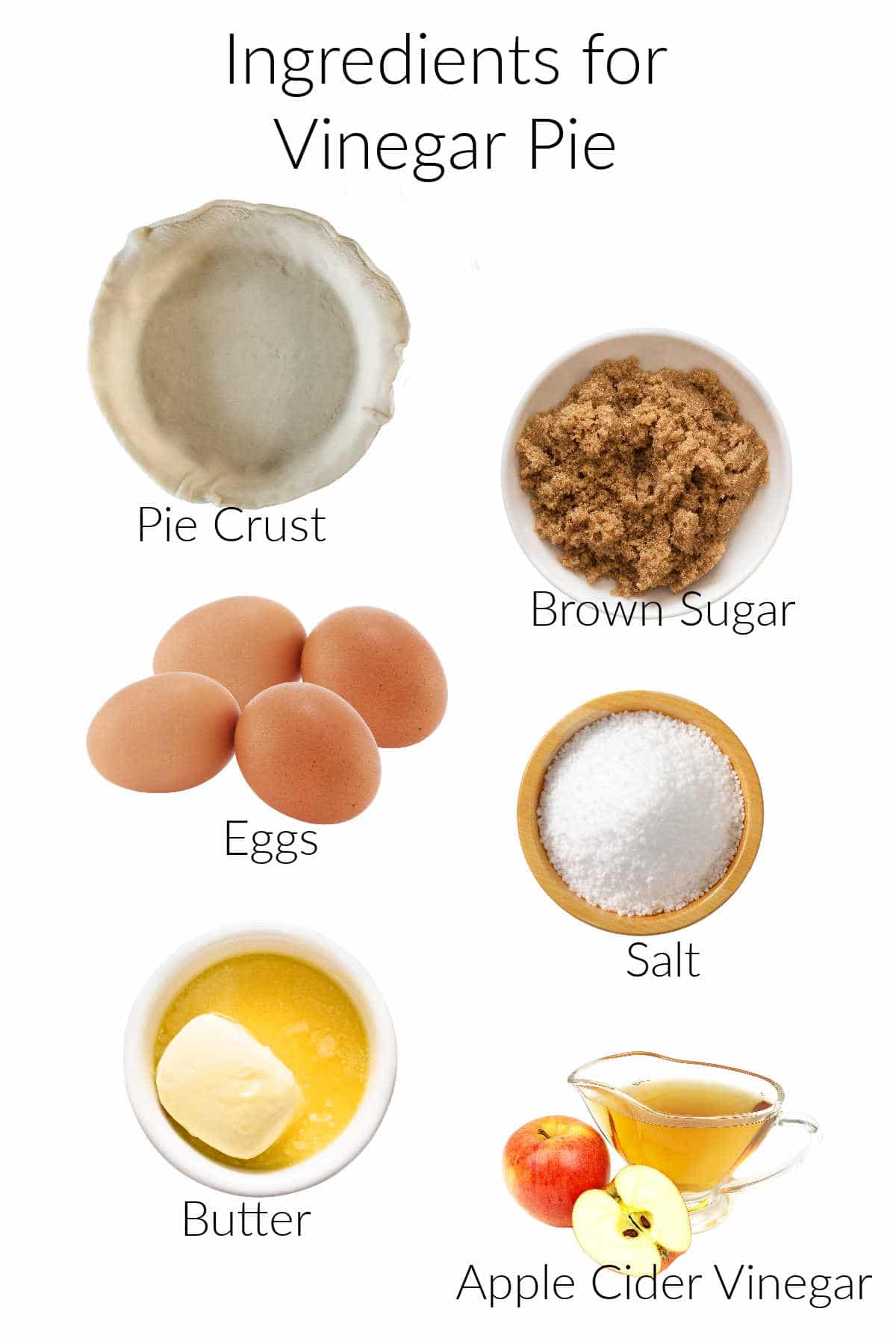 pie crust: feel free to make your own, or use frozen store-bought. I use pate brisee which is an all-butter crust.
eggs: you can use 3 or 4. Using four eggs will give you a firmer, more easily sliceable set. If you use 3 eggs, your pie will be a bit softer and creamier. There is no wrong answer here–it all depends on your taste. But there are no substitutes here. You need the eggs.
brown sugar: brown sugar provides sweetness and a bit of flavor from the molasses. You can use honey if you prefer, but just remember that this will add more liquid to the pie, so don't go crazy with it. And in this case, I'd go with the four eggs.
melted butter: adds richness, helps to carry flavor, and assists with browning. I give two amounts of butter. You can use more or less, depending upon your taste. Please note that the butter may seem to separate out of the pie and make the top look slick, but it will reabsorb as the pie cools.
salt: brings out all the flavors and counteracts any bitterness you might get from the apple cider vinegar
apple cider vinegar: provides the acidic flavoring of this pie so that it reads as almost a lemon pie. And yes, you could absolutely top this with meringue to make a "desperation lemon(ish) meringue pie." Or just step into the modern world and make a lemon meringue tart.
Procedure
Make a pie crust (optional. You can also buy one)
Whisk the brown sugar, eggs, salt, butter, and apple cider vinegar together.
Pour the filling into the pie crust, and bake.
For those of you who are thinking, "It can't be this easy," trust me. It is that easy.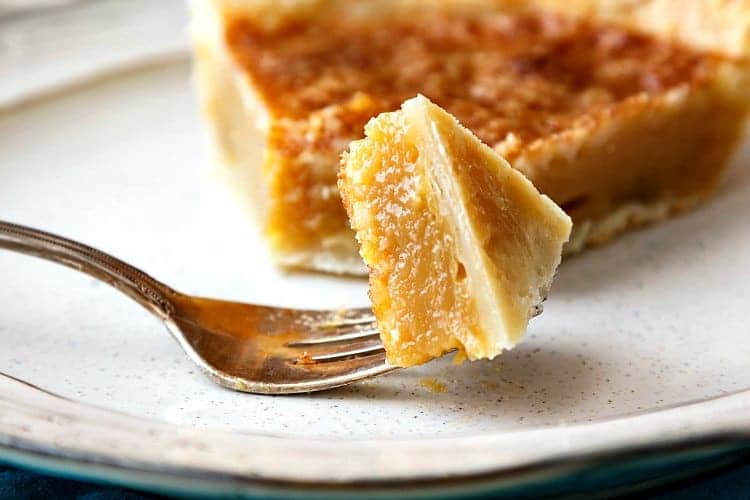 Do I Need to Blind Bake?
Jenni Says: I am pretty sure the pioneers didn't take time to parbake or blind bake their crusts, but to ensure browning on the bottom of the pie, you may want to do that. Here's how to blind bake a pie crust.
I hope I've made my case for the tastiness of this pie.
As I said in the recipe, I used brown sugar rather than white. I figure a pie "seasoned" only with a bit of salt and vinegar (chips! No, not chips) might need the additional flavor of molasses.
Anyway, I hope you give it a try and that you enjoy it very much.
As unlikely as it sounds, I think this homey pie will win you over with how easy it is to make and how easy it is to eat!
Looking for a Not-So-Desperate Dessert?
If it's summer and fruit is at its peak, please make something luscious like a juicy peach blueberry pie or maybe a lazy peach sonker or a German plum cake.
But when fruit is scarce, turn to desperation pies. Pure comfort when it's cold outside and summer is but a distant memory.
Okay, enough talk. You need to make this pie. Let's go.
Questions?
If you have a question about this post and it is not time-sensitive, you can leave your question in the comments section here under the post.
If your question is more time-sensitive, the best way to reach me is by email. I will get back to you in under four hours unless I'm sleeping.
To email, simply click the button below:
A Note About Measurements
For convenience, consistency, and accuracy, almost all my recipes are written by weight, either in ounces and/or grams, even the liquids.
I strongly encourage you to purchase a kitchen scale and learn to use it.
This is the one I used for years. I love it and highly recommend it:
Best for Home Use
Escali Primo Digital Food Scale
Don't let its small price and small size fool you. The Escali Primo is an accurate and easy-to-use food scale that I have used for years. It's easy to store, easy to use, has a tare function, and easily switches between grams and ounces/pounds for accurate measurements.
This is an affiliate link which means I earn from qualifying purchases. Your price is unaffected.
It would be so helpful to me and to other readers that, when you make a recipe, you rate it and leave a comment. Whether it's a recipe or an informational post, your feedback helps others decide if the post is helpful or if the recipe works as advertised.

If you could leave a star rating, that would be very helpful. Thank you for being here!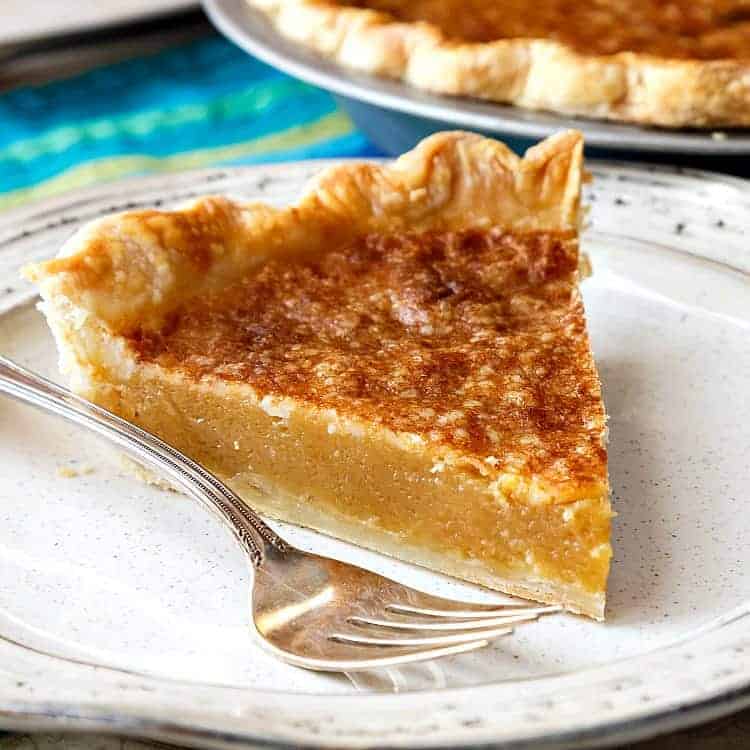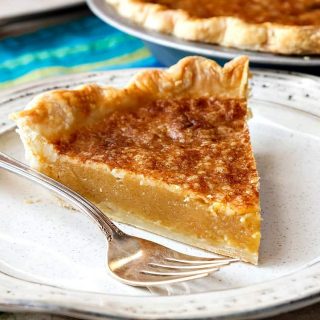 Old-Fashioned Vinegar Pie
Many of the early American pioneers, who really came from all over the world to live here, were masters of making something delicious out of next to nothing. The humble and unlikely sounding vinegar pie is one of these pies made out of the desperate want of something sweet, even in the dead of winter. This is an easy to make, comforting pie that tastes very similar to a lightly flavored lemon pie. Enjoy!
Ingredients
1

crust for a single crust pie

your favorite recipe or store-bought

3-4

large eggs

at room temperature (three will give you a softer set)

1

cup

light brown sugar*

packed

½

teaspoon

kosher salt

I used Morton's (yes, that much)

6

Tablespoons

unsalted butter

3/4 sticks**, melted and cooled slightly

2

Tablespoons

apple cider vinegar
Instructions
For the Crust
Line a 9″ pie pan (not deep dish) with your pastry. Crimp however you'd like.

Line the crust with parchment or a large coffee filter and then fill it with beans or other weights. Bake for 15 minutes at 350F.***

Carefully remove lining and weights and set aside. Brush crust all over with egg wash (1 egg beaten well with a pinch of salt). Prick the bottom crust well with the tip of a sharp knife, and then bake an additional 10-15 minutes, or until the bottom of the pie crust looks dry. If the crust bubbles up at all with air pockets, carefully press them out.**

Remove the crust from the oven and set aside. The crust will be pale. It's okay, it will bake some more once you put the filling in.
For the Filling
Whisk together the eggs, sugar, and salt until well combined and smooth.

Drizzle in the melted butter while whisking constantly.

Whisk in the apple cider vinegar.

Pour into the crust and bake for about 35 minutes, or until the internal temperature of the pie is 165F. The filling will rise up and be nicely browned on the top. It will sink back to level as it cools.

Remove pie from oven and cool to room temperature. Serve at room temperature or slightly chilled from the fridge. Store any leftovers in the refrigerator.
Did You Make Any Changes?
Notes
*Most recipes I researched call for white sugar. I think brown sugar is more likely since it was probably less expensive than white sugar. I also think Ma Ingalls could have possibly sweetened her pie with maple syrup. You can do that too, if you want.
**A reader made this and had an issue with some of the butter leaking out. If you are concerned about this happening, you may cut back the amount of butter to 4 Tablespoons, or half a stick. Generally speaking though, the butter will reabsorb as the pie cools.
***You do not have to blind-bake your crust if you don't want to, but it will take a few extra minutes to bake it through. In that case, once the filling is a nice golden brown, loosely tent the pie with foil so it can finish baking.
****For more wonderful, old-fashioned pie recipes, including another tried and true recipe for vinegar pie, please check out Nancie MacDermott's Southern Pies, linked above in the recipe card.
Nutrition
Serving:
1
/8 pie
Calories:
313
kcal
Carbohydrates:
37
g
Protein:
4
g
Saturated Fat:
7
g
Cholesterol:
115
mg
Sodium:
276
mg
Sugar:
26
g
History of Vinegar Pie
Okay, so maybe my "hold my beer" scenario is pure fiction. Over on Instagram, I even wrote a one-act play about how vinegar pie was invented and featuring everyone's favorite pioneers, Charles and Caroline Ingalls and their kids, Mary and Half-Pint. More fiction?
Well, according to Carissa from the blog Pretty Hungry, Laura Ingalls-Wilder wrote about this pie and a bunch of other crazy/awesome desperation pies her mom used to make in that little house on the prairie or in the big woods or wherever they were living at the time Charles would look over at her in January, and say, "Hey, hon? Make me a pie!"
It is my feeling that the history of vinegar pie is the same history as all the other desperation pies.
Someone, somewhere wanted pie.
And that someone decided they were going to make pie out of whatever was available.
I am not sure there was a single person that invented this pie.
It was probably a bunch of able and creative (and desperate) home bakers who all said something along the lines of "I have eggs, sugar, and vinegar. I'mma make a pie. Hold my beer."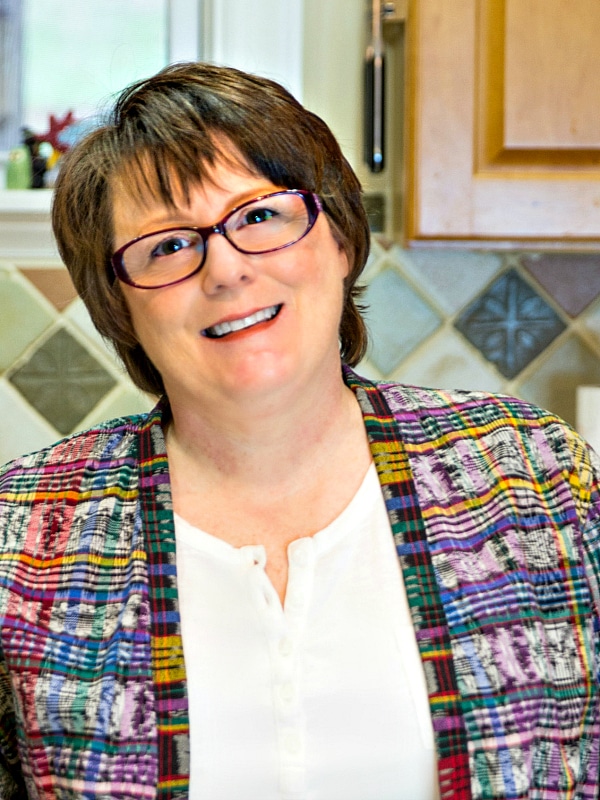 What are my qualifications to teach you baking and pastry? As a former working pastry chef and special educator, I marry my passions for both teaching and for baking into explaining techniques, methods, and developing the best possible recipes. For more info, you can read more about me.
If you'd like to receive new recipes and the occasional newsletter, I'd love for you to sign up for my Inbox Pastry Chef.
Thanks for spending some time with me today, friends. Enjoy the vinegar pie, and have a lovely day.