I'm glad you're here, and I'm excited to share this Indiana Sugar Cream Pie recipe with you! This is an easy pie to make, and once you try it, you'll know why it's the Indiana State Pie!

If you like this old-fashioned pie recipe, I bet you'll also like my chocolate chess pie and my coconut custard pie too!

For ease of browsing, here are all of my pie and tart recipes. Thanks for stopping by!
Desperation Pie
Everyone loves a fruit pie, but back in the days before IQF (individually quick frozen) fruit and bags of all sorts of nuts on the shelves year round, early Americans made pie of whatever they could get their hands on.
Vinegar Pie, anyone?
Some people call them "make do" pies or Depression Pies, but I go with "Use What You Have" pies. Whatever you call them, these are the pies folks made when they either couldn't afford fruits and/or nuts or they weren't in season.
These are the Dead of Winter pies made with regional staples.
Folks on farms had access to milk, cream, butter, and eggs. Even when refined sugar was expensive, most people had a jug of molasses or sorghum.
And everyone had a bag or a bin or a sack of flour. From these humble staple ingredients, creative cooks dreamed up some damn fine pies.
My Use What You Have Pies
Indiana Sugar Cream Pie–you're here!
You can see I did a different crust treatment for each pie. I get bored easily!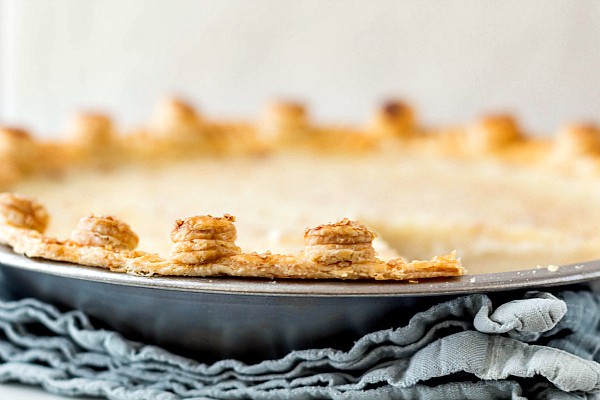 What Does It Taste Like?
Knowing what I know about "use what you have pies," I'd have to say that lots of folks in Indiana had year-round access to cream and sugar. I'm almost a little surprised there's no egg in it since I figure if you've got access to cows, you probably have access to chickens.
Egg lends richness and also tends to add their own mellow yet distinctive taste, but it can muddy the taste of the cream.
With eggs out of the picture, Indiana Sugar Cream Pie (also called Hoosier Pie) tastes of sweetened cream. Do use the best cream you can find because the flavor will shine through. Now is not the time for generic store brand cream since it is the predominant flavor. Splurge on the organic stuff for this guy.
What Is Dan Quayle's Recipe?
I looked through a ton of Indiana Sugar Cream Pie Recipes. Some used cream and half and half, a couple used whole milk (but really? It's called Sugar Cream Pie…).
A couple of fillings were cooked on the stove top and then poured into the pre-baked crust to set up in the fridge. There were a lot of variations. Believe it or not, the one I followed most closely is from Dan Quayle. Yes, that Dan Quayle.
Here's the recipe attributed to him.
How to Make
Ingredients
Like most desperation pies, the ingredient list is very straightforward.
Here's what you'll need:
single pie crust: This can be homemade or store bought. And if you need gluten free, you can use a gf crust as well. I usually make an all-butter pate brisee
heavy cream
whole milk: You can also substitute half and half for the milk/cream combination
sugar: You could potentially use light brown sugar here for more flavor, but I do love the color of this pie when made with granulated
all purpose flour: provides the thickening. Substitute corn starch or another gf starch for the AP if you need gluten free. To use cornstarch, see the section below called "Can I Make This a Gluten Free Pie?"
fine sea salt: regular table salt is fine here too. If you use kosher salt, you'll have to increase the amount by a touch since fine salt is saltier per teaspoon
butter: because who doesn't want an extra touch of richness?
vanilla: vanilla and cream are the main flavorings in this pie, so be sure to use your best vanilla here. The flavor will shine through.
nutmeg: I like freshly grated. If you don't like nutmeg, you may use ground cinnamon instead
Step by Step Instructions
Granted, I haven't had all the kinds of sugar cream pie that are out there, but this is the one I made and I think it's pretty excellent. So I'm calling it "best."
Here's the rundown of how to make it.
Line the pie pan with your crust. Freeze. Freezing the pie crust before filling and baking helps to ensure your crust won't shrink or slump in the oven. (More information on keeping your pie crust from shrinking).

Mix up filling. Add butter and nutmeg to the crust.The filling is as easy to make as whisking it all together in a bowl. Dan Quayle says to put pats of butter and nutmeg on the bottom of the crust before filling, so that's what I did.

Stir the filling during baking.This step keeps the flour in the mix from rising up and baking into a cake layer on the top of the pie. Stir about 10 minutes into baking to make sure the batter stays together.

Dust finished pie with nutmeg.A simple pie like sugar cream only needs simple garnish. A little grating of fresh nutmegor a sprinkle of cinnamon is a lowkey, eays and homey way to finish off this Indiana classic.
Can You Use Half and Half Instead of Cream?
Just because it's called sugar cream pie doesn't mean you have to make it with all cream. This recipe contains both cream and milk. Some other dairy options are:
light cream–your results will be pretty similar to this recipe
half and half–ditto
whole milk–your pie will be a bit less rich than this recipe
evaporated milk–I have not tried with evaporated milk, but my bet is you'll have to reduce the amount of flour since there is less liquid in evaporated milk. The flavor will be very different, and you really won't be able to call it sugar cream pie, but if it's all you have, it's worth a shot.
Buttermilk–if you use buttermilk, you'll be making buttermilk pie. Since most commercial buttermilk is lowfat, I would add an egg for richness. Again, I haven't tried to make sugar cream pie with any other dairy substitutes, so I'm giving you my best guess.
Storing
Even though Hoosier pie doesn't contain any eggs, it still should be refrigerated to chill and for storage since it contains so much dairy.
For serving, the flavor will be better at cool room temperature, so slice the pie and put the pieces on individual plates about 45 minutes before you plan to serve it. That way, there will be plenty of time to take the chill off.
Can I Make This a Gluten-Free Pie?
Yes, aside from needing a gluten-free crust recipe or store bought gluten free crust, all you will need to do is substitute 1/3 cup of potato starch for the 1/2 cup flour in the recipe.
You could use cornstarch, but it needs a higher temperature to thicken. If you want to substitute cornstarch, I would cook the filling on the stove top like a pudding, allow it to boil for 2 full minutes, stirring all the while, and then pour it into a fully baked crust to cool. Chill in the fridge to set up completely.
Other Favorite Indiana Recipes
Sugar Cream Pie might be the state pie of Indiana, but Indiana is known for more than just this creamy pie. Here are some other favorites from the Hoosier State:
A Note About Measurements
For convenience, consistency, and accuracy, almost all my recipes are written by weight, either in ounces and/or grams, even the liquids.
I strongly encourage you to purchase a kitchen scale and learn to use it.
This is the one I used for years. I love it and highly recommend it:
Best for Home Use
Escali Primo Digital Food Scale
Don't let its small price and small size fool you. The Escali Primo is an accurate and easy-to-use food scale that I have used for years. It's easy to store, easy to use, has a tare function, and easily switches between grams and ounces/pounds for accurate measurements.
This is an affiliate link which means I earn from qualifying purchases. Your price is unaffected.
It would be so helpful to me and to other readers that, when you make a recipe, you rate it and leave a comment. Whether it's a recipe or an informational post, your feedback helps others decide if the post is helpful or if the recipe works as advertised.

If you could leave a star rating, that would be very helpful. Thank you for being here!
Indiana Sugar Cream Pie
Indiana Sugar Cream Pie is rich but not overly so since it doesn't contain eggs. It is flavored with vanilla and nutmeg, so it's somewhat reminiscent of eggnog without the egg part. Use the best cream you can find and use freshly grated whole nutmeg. The flavor is worth it.
Ingredients
1 9

" pie shell

frozen (not deep dish–store-bought or using your favorite recipe)

1 ½

cups

heavy cream

½

cup

whole milk

1

teaspoon

excellent quality vanilla extract

2.25

oz

1/2 cup all purpose flour

6

oz

granulated sugar

(slightly less than one cup)

½

teaspoon

fine sea salt

(yes, you need that much)

1

Tablespoon

butter

(I used salted. This pie can take a lot of salt)

Freshly grated nutmeg
Instructions
About 30 minutes before baking, preheat the oven to 425F.

In a bowl, whisk together the cream, milk and vanilla.

In another bowl, whisk together the flour, sugar and salt.

Slowly whisk the milk mixture into the flour mixture until you have a smoothly combined and very loose "batter."

Set aside for a moment.

Grate some nutmeg evenly over the bottom of the frozen crust. Maybe 1/2 teaspoon altogether.

Cut the butter into bits and scatter evenly across the bottom of the pie.

Whisk the batter again very well to make sure it hasn't separated any and then pour it into the crust on top of the butter and nutmeg. Some of each will float, and that's okay.

Carefully place the pie on the center rack.

Bake for 10 minutes. Open the oven door and stir the filling really well with a fork. Be careful not to get over-enthused and bust into the crust with your fork. Mix well more or less in the middle of the pie, and stir "shallowly" so you don't hit the bottom crust and tear it. Doing this ensures that the pie won't set up with an almost cake-like layer on top and a gooey layer underneath.

Turn the heat down to 325F and continue baking the pie until it just barely jiggles in the center when shaken, about 30-35 minutes. The Dan Quayle recipe suggests you shake the pie every 8 minutes, so I did. I'm not sure it's strictly necessary, but who am I to argue with Dan Quayle?

Cover the pie loosely with a large piece of foil once the crust is as golden brown as you want it.

When the pie is done, remove it to a cooling rack. Evenly grate some more nutmeg over the whole pie–maybe another 1/2 teaspoon. If you're not a nutmeg fan, I'm sure it would be okay to use cinnamon. I won't tell Dan if you don't.

Serve chilled, slightly warm or at room temperature. Store leftovers in the fridge.
Did You Make Any Changes?
Notes
This pie would be lovely with some fruit compote, but it is also fantastic alone. The flavor is very clean and light. Good stuff!
To Make a Gluten-Free Sugar Cream Pie:
Substitute 1/3 cup of
potato starch
for the 1/2 cup flour in the recipe.
You could use cornstarch, but it needs a higher temperature to thicken.
If you want to substitute cornstarch, I would cook the filling on the stove top like a pudding, allow it to boil for 2 full minutes, stirring all the while, and then pour it into a fully baked crust to cool.
Chill in the fridge to set up completely.
Nutrition
Calories:
385
kcal
Carbohydrates:
39
g
Protein:
3
g
Saturated Fat:
13
g
Cholesterol:
66
mg
Sodium:
268
mg
Sugar:
22
g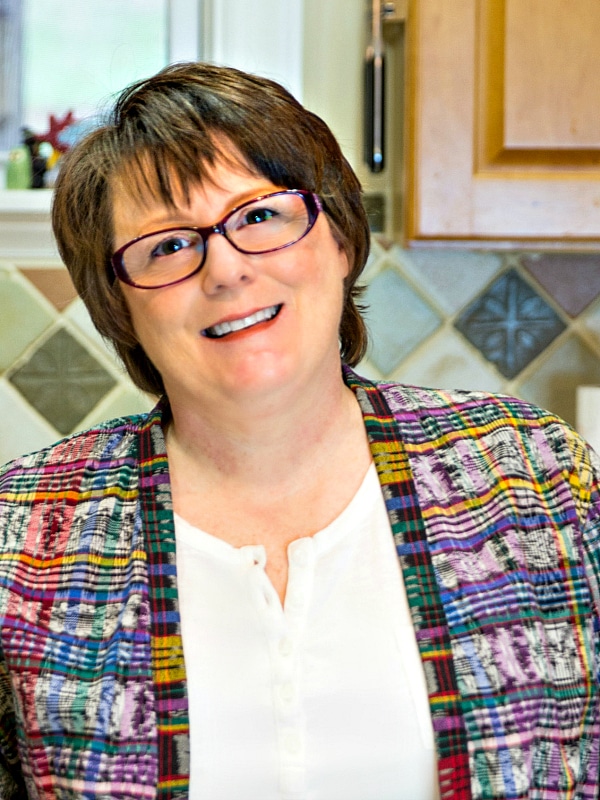 What are my qualifications to teach you baking and pastry? As a former working pastry chef and special educator, I marry my passions for both teaching and for baking into explaining techniques, methods, and developing the best possible recipes. For more info, you can read more about me.
If you'd like to receive new recipes and the occasional newsletter, I'd love for you to sign up for my Inbox Pastry Chef.
Thank you so much for spending some time with me today.
Enjoy the pie, and have a lovely day.