Most Recent Update:
I am a fan of carbs, but sometimes I like to moderate my intake by substituting cauliflower for rice, for example. I've now found a way to have low carb lasagna by making cauliflower noodles. I'mma teach you how to make it!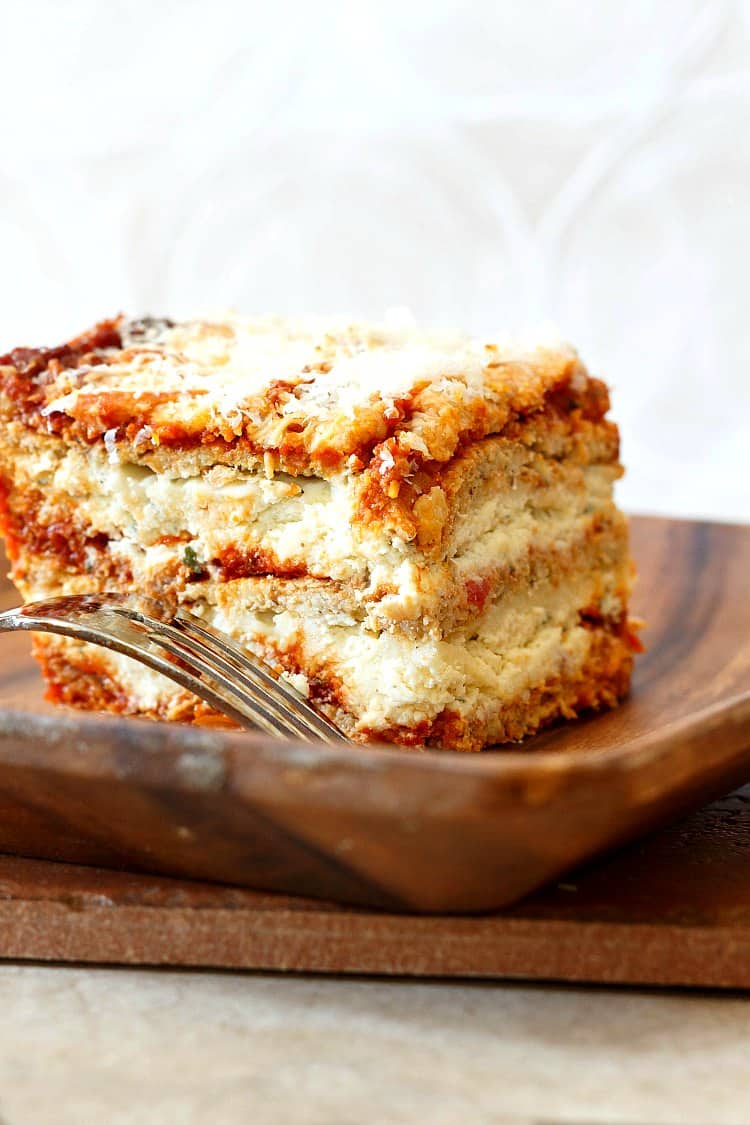 Why Make Low-Carb Lasagna?
Listen, I don't hate carbohydrates at all. I'm actually a big fan. But I tend to overeat when I have a lot of carbs. I could totally down half a pound of pasta all by myself. So sometimes, rather than eating all those carbs at one time, I sub cauliflower rice, a cauliflower pizza crust (that you can even pick up, thank you very much), and now, I've added these cauliflower "noodles" to repertoire of lower carb swaps.
One cool thing about making cauliflower noodles is I can add whatever flavor I want directly to the noodle instead of hoping regular noodles will soak up a ton of flavor. And they never really do. I added Italian seasoning, garlic powder, salt and pepper to these noodles, so even if I get a bite of pure noodle, it still carries a lot of flavor.
Flavorful cheese, flavorful sauce and flavorful noodles equal a big flavored lasagna.
How to Make Cauliflower Noodles
If you've ever made cauliflower pizza crust, the principles are the same for cauliflower lasagna noodles:
Process the cauliflower super fine, cook it, and squeeze the heck out of it to get rid of as much excess liquid as possible.
Mix with binders and flavoring.
Shape and bake.
Riced cauliflower directly after steaming.
Squeeze through a lint-free kitchen towel or a nut milk bag if you have one.
Texture of riced cauliflower after squeezing.
Pour squeeze-dried cauliflower into a bowl.
Add the rest of the ingredients and mix until well combined.
Spread out in a thin layer on a parchment-lined half sheet pan.
This whole noodle-making process takes about 15 minutes, not including cooling time (so you can squeeze without burning your hands) and baking time.
Pro Tip: If you need to make the cauliflower mixture ahead of time before baking, leave out the salt and add it right before spreading the mixture out on the sheet pan. Why? Because if you add the salt and let everything sit, it will just make the mixture soggy again by pulling out even more liquid than steaming alone does.
How To Build the Perfect Lasagna
Whether you are making regular lasagna or low carb lasagna using cauliflower noodles or slices of zucchini or eggplant, you'll need to layer your ingredients.
I like to start with a thin layer of sauce on the bottom to keep things from sticking. Then: noodles, ricotta mixture, mozzarella layer, sauce layer and repeat, ending with noodle-sauce-cheese.
You can layer yours however you want. Part of the fun of a lasagna is you can make it your way and layer it however you want.
Here's a collage showing what the noodles should look like when baked and some of the layering process.
Bake noodles for about 30 minutes on one side, rotating the pan halfway through. Slice into sections with a pizza cutter, flip the sections, and bake an additional 15 minutes or so. You will be able to pick up the noodles once they're baked. They should hold together just fine.
Layer.
Layer.
Bake.
Let rest at least 20 minutes so it can set up, then slice and enjoy.
I'm pretty sure this lasagna would work as keto lasagna as well as "just" low carb, but I'm not sure. Still, scroll down and look at the nutrition info to see if the macros add up for you if you're on keto.
Low Carb Lasagna Recipe with Cauliflower Noodles
If you like the sound of this recipe, please rate and/or comment. I love hearing from you! And if you make it, please share a photo of your lasagna, either on instagram tagging @onlinepastrychef and using hashtag #pcorecipe or in the Pastry Chef Online facebook group. I can't wait to see your version!
Low Carb Lasagna
time to cook cauliflower noodles:
45 minutes
Total Time:
1 hour
55 minutes
This low carb lasagna features Italian sausage sauce, a rich ricotta layers, plenty of stretchy mozzarella, and cauliflower noodles spiked with Italian seasoning.
And there you have it, friends. Low carb lasagna with a shortcut for the sauce and cauliflower noodles. I've made this twice so far, and it is truly delicious. Seriously.
Thanks for spending some time with me today. Enjoy the lasagna, and have a lovely day.