Most Recent Update: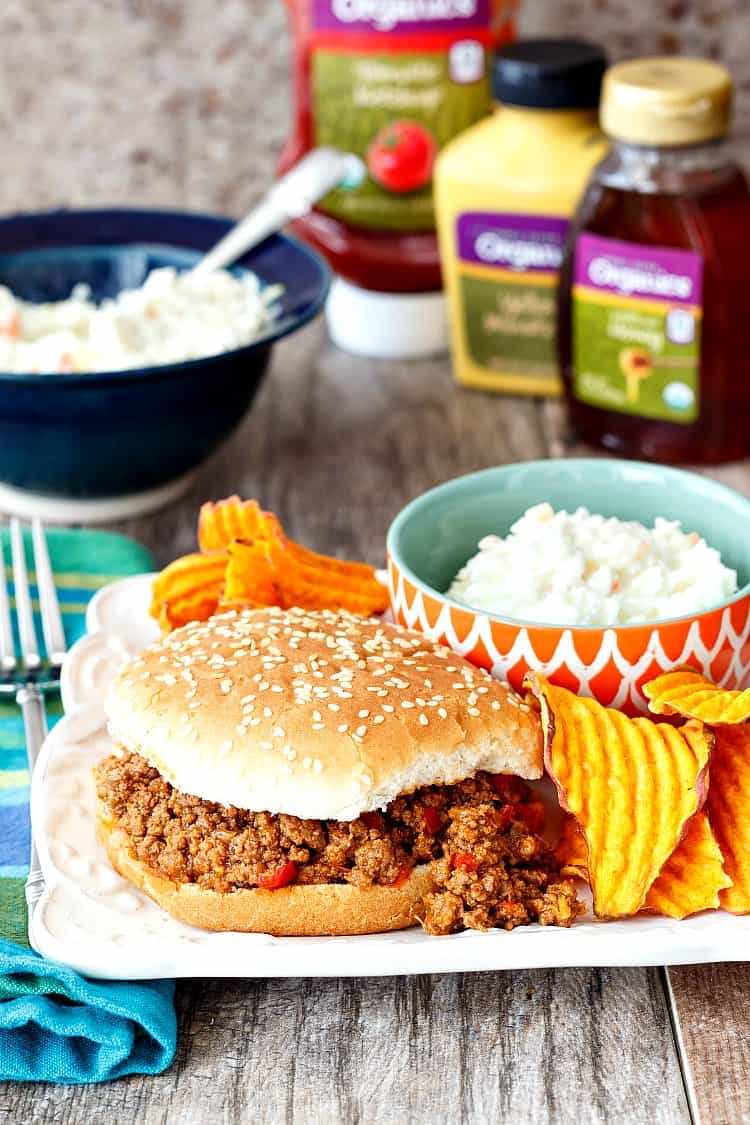 I am proud to be working with local supermarket chain Harris Teeter® to bring you this sponsored post. You will find this easy sloppy joe recipe delicious and simple to make. You may also be pleasantly surprised at the number of HT Organics products I was able to use and still stay within a $20 budget! Thank you, Harris Teeter!
Easy Sloppy Joes and Whole30
Y'all. I am on Whole30 right now. Day 19, to be exact.
Do you know what Whole30 is? It's sort of a hard dietary reset where you eliminate (seriously–ELIMINATE) sugar, alcohol, beans and legumes, dairy, and grains for 30 days. After the 30 days, you reintroduce these groups back, one at a time, over a period of 10 days. (Well, moderate sugars can come back and stay on Day 31, as can moderate alcohol consumption, if you like).
Otherwise, on Day 1 of reintroduction, you add back beans and legumes for that day and then go back to strict Whole30 for two more days while you evaluate if beans and legumes make you feel at all icky. Then you follow the same process for non-gluten grains (Day 4), then dairy (Day 7), and finally gluten (Day 10). At the end of the process, you should have a good idea of what/how you should eat to feel your best.
This simple sloppy joe recipe was a rough one for me to make. I mean, I absolutely love sloppy joes, and I make them this way all the time. Since I can't have any added sugar of any kind right now, though, I was unable to even taste this. Sigh. But you best believe I froze it to eat during reintroduction when it will be okay to add back in a judicious amount of sugar (in the form of ketchup and honey, in this instance).
Before I tell you how to make these guys–what I consider to be the best sloppy joes in all the land–let me tell you a bit about HT Organics.
Harris Teeter and HT Organics
Growing up in North Carolina–in Charlotte, to be exact, I grew up with Harris Teeter. It was the "fancy grocery store." The most super fancy one was near Southpark Mall, and we referred to it as the "Taj MaTeeter." That is how fancy it was!
Regardless of fanciness, though, Harris Teeter is about shopping experience and value for their customers. They have a few store brand lines that are truly excellent as well as affordable. I'm a personal fan of the HT Traders line of keen, interesting condiments and gourmet goodies inspired by global tastes.
Harris Teeter has also been coming on strong in the area of affordable organics. There are 351 organic offerings in the HT Organics line. 351! That means you'll have in-house organic options in almost every aisle of the grocery store. Condiments, juices, oatmeal, broth, salsa, beans, fresh fruits and vegetables, yogurt, frozen fruit, eggs, butter, cheese…. The list goes on and on.
351. That's a lot of goodness.
And of course, Harris Teeter can't label their products as "organic" unless they are rigorously tested at every step of the process to make sure they're nutrient-rich, free of pesticides, non-GMO, and that they're certified as following all organic regulations as set out by the USDA.
HT Organics products are easy to identify, because they all have a purple stripe on the label. The HT Organics produce all has a low purple price tag. You'll see in the photo below–really easy to find HT Organics options, guys!
I trust that the HT Organics products I purchase are good for The Beloved and me and help us stay within our grocery budget.
Follow this link to learn more about HT Organics.
Find Harris Teeter stores in North Carolina, South Carolina, Georgia, Florida, Virginia, Delaware, Maryland, and Washington, DC. Find them across social media and stay connected.
Isn't It Expensive to Eat Organic?
It can be, certainly. In part, organic means that producers have to take some extra steps to make sure they're meeting federal regulations. That can translate to more expensive price tags at the counter.
The HT Organics line actually features quite a few products that are priced below some of their conventionally-produced counterparts.
And guess what?
If you are not totally happy with your HT Organics Items, you can take them back to the store. Not only will they give you a refund, you can pick your own replacement (with some restrictions). This policy allows you to buy organic and not have any buyer's remorse at all. Plus, you get the satisfaction of knowing you are feeding your family healthy foods and staying within your budget.
And guess what else?
The Harris Teeter people gave me $20 and said, "Get thee to thine Harris Teeter and create budget-friendly meals for a weekend." My mind immediately went to these most excellent sloppy joes.
When I got to my Harris Teeter, I was really pleased with how many organic products I was able to buy to create this recipe. Everything I used was from HT Organics except for the ground beef (Harris Teeter store brand), A-1 Steak Sauce, and vinegar.
Look at all the organic HT Organics goodness in these simple sloppy joes!
Let's Make This Easy Sloppy Joe Recipe, Shall We?
This easy sloppy joe recipe is loaded with organic onion and sweet red pepper goodness from the HT Organics line at Harris Teeter. And the sauce is sweet/sour/tangy. In my opinion, they are perfect sloppy joes.
Pin This Recipe!
Easy Sloppy Joes
This easy sloppy joe recipe makes enough to feed a family of four. Twice. Most of the ingredients are organic from Harris Teeter and their HT Organics brand, and you can certainly make them all organic by purchasing organic beef and steak sauce.
Easy Sloppy Joe Egg Bake
And there you have it friends. Delicious goodness from Harris Teeter and HT Organics. It's always such an honor when I can work with a company founded right here in my home state, and working with Harris Teeter is no exception.
And trust me on this recipe, friends. You are going to love these sloppy joes. Easy, tangy, just sweet enough. So good! I actually based the sauce on my favorite retro sauce to pour over cream cheese. You can compare the ingredient lists and proportions here on my "Cream Cheese and Red Sauce" post.
Thank you for spending some time with me today. Take care, and have a lovely day.
(Oh, and if you're on Whole30, know that you can eat the easy sloppy joe baked eggs at any time during reintroduction. You can eat the meat alone for that entire time as well. On day four, you can enjoy it as taco meat with corn tortillas, and on day 10, you can have it on a regular bun!)