Friends, if there is any time I like to pull out some stops, it's for Progressive Eats, and it's that time again! This month, we're hosted by Susan Pridmore of The Wimpy Vegetarian, and our theme is Middle Eastern and Moroccan. I don't know a ton about Moroccan food, but I knew I wanted to make some sort of Moroccan sweet, so I dug around online and found a Ghoriba Bahla Recipe I modified ever so slightly to share with you. What are ghoriba (or ghriba) bahla? I'm glad you asked!
What Are Ghoriba Bahla?
Ghoriba is the Arabic word for cookie. It's a generic term that can mean any of a number of different types of Moroccan cookies. Ghoriba is actually the word for "stranger," but I have searched and searched and cannot find a source telling me why cookies would be called strangers. At any rate, the bahla part of ghoriba bahla means "silly," and this refers to the craze of cracks on the tops of the cookies. No cracks? Not bahla. Since my cookies do have cracks, they are ghoriba bahla, or silly strangers. Let's make some, because they are absolutely delectable!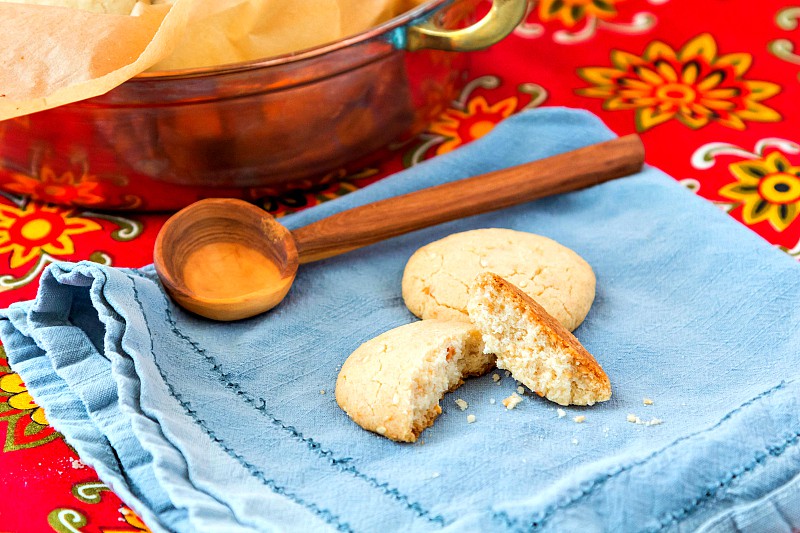 Please read on to check out the Middle Eastern feast our Progressive Eats group has prepared and to learn about some of the techniques you'll need to master to make these ghoriba bahla. 
And now, let's check out the rest of our Middle Eastern feast, shall we?

Welcome to Progressive Eats, our virtual version of a Progressive Dinner Party. This month we're sharing a Middle Eastern/Moroccan Menu, and our event is hosted by Susan, who blogs at The Wimpy Vegetarian. We have a full menu of ideas to tempt you into the kitchen and release your inner-Ottolenghi. If you're looking for something new to try, check out these wonderfully creative dishes!
Progressive Eats Middle Eastern/Moroccan Menu
Cocktail
Appetizer
Main Dishes
Bread
Side Dish
Desserts
Pomegranate Posset from Mother Would Know

Moroccan Shortbread Cookies with Cracked Tops (Ghoriba Bahla) you're here
If you're unfamiliar with the concept, a progressive dinner involves going from house to house, enjoying a different course at each location. With Progressive Eats, a theme is chosen each month, members share recipes suitable for a delicious meal or party, and you can hop from blog to blog to check them out.
We have a core group of 12 bloggers, but we will always need substitutes and if there is enough interest would consider additional groups. To see our upcoming themes and how you can participate, please check out the schedule at Creative Culinary or contact Barb for more information.
Let's Make Moroccan Shortbread Cookies!
This ghoriba bahla recipe contains ground almonds and toasted sesame seeds. It's not too sweet–just about 1/2 teaspoon of sugar is included in each cookie. Approximately 2/3 cup plus 1 Tablespoon of sugar divided among 40 cookies. Nice!
Techniques
The recipe is very slightly adapted from this ghoriba bahla recipe on About.com. The only change I made was to up the salt a smidge (shocking) and to use some sesame oil for a portion of the oil called for in the recipe. That's a totally optional step, but if you really love the flavor of sesame, you'll want to give it a shot.
In making these cookies, there were a couple of new-to-me techniques I thought I'd share with you really quickly.
The first is blanching and frying almonds. To be honest, I bought slivered blanched almonds, so all I had to do was fry them. Easy enough, but make sure you remove the nuts from the oil before you think they're done, because they will continue to darken, even once removed, until the oil on their surface cools down enough to stop cooking them. Take it from me, because I learned the hard way.
The second technique is all about the mixing and shaping of the dough.

The dough is very crumbly and seems too dry since it doesn't clump together unless you squeeze it, but it's that texture that encourages the cracks on top.

Once you have enough flour incorporated in the dough to give you that dry-ish texture, you mix it with the paddle attachment for a good ten minutes. I'm guessing that this helps to develop some gluten, which is limited since the oil pretty much coats most of the flour. The only water available to activate gluten is what's in the butter, so my guess is that the extended beating of the dough lends the dough strength.

I'm telling you guys, it's a very sandy, crumbly cookie, and I want to eat them all the time. They're even crumblier than the Scottish shortbread I'm used to eating. It is seriously good stuff, and I want to dunk these guys into coffee or tea or just shove them in my face, one after the other.
I only made them earlier today, and I've already sent half of them away with The Beloved to take to a meeting. That's how good they are.
As to the shaping of the cookies, you
form them into balls (you can't really roll them or they crumble)

flatten them between your palms so the edges are thinner than the middles.
fTraditionally, there's a special pan you are supposed to bake them on so they end up with concave backs. I think that might also encourage even more cracking, but shaping them by hand and baking them on plain old parchment-lined sheets works just fine.
Here's what they should look like once you've shaped them.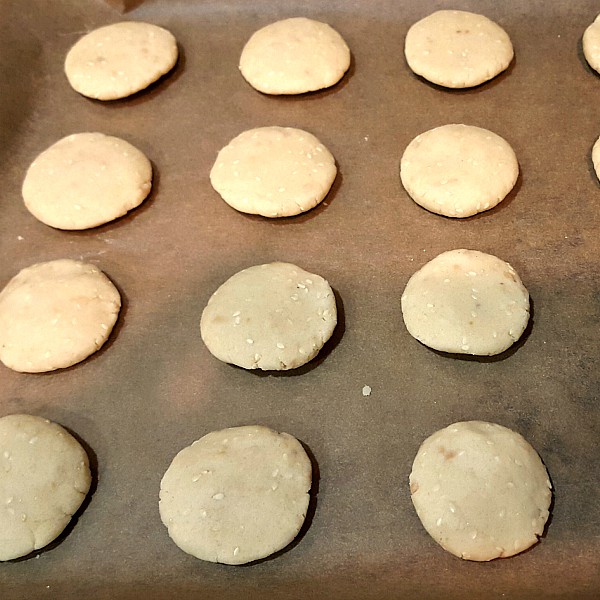 And now you know a bit about what you're getting into. Let me reiterate: totally worth it. Let's make this ghoriba bahla recipe and then proceed to eat them all. Or maybe share. Maybe.
Ghoriba Bahla Recipe
And now you know what you're getting into, so let's make some ghoriba bahla. 
If these Moroccan shortbread cookies sound good to you, please rate them and/or comment. I love hearing from readers!
Ghoriba Bahla Recipe | Moroccan "Silly" Shortbread Cookies for #ProgressiveEats
This ghoriba bahla recipe is just sweet enough, super crunchy and crumbly and studded with ground fried almonds and toasted sesame seeds. I dare you to eat just one! Please use a scale to measure out your ingredients.
Ingredients
40 grams sesame seeds
40 grams blanched, , slivered almonds
(For Frying almonds: about 1/2 cup of neutral vegetable oil)
125 grams granulated sugar
1 Tablespoon vanilla sugar or 1/2 teaspoon vanilla extract and 1 Tablespoon granulated sugar
125 grams unsalted butter, , softened
97 grams neutral vegetable oil
28 grams sesame oil, (not toasted) or, for a lighter sesame flavor, use a total of 125 grams neutral oil
1/4 teaspoon kosher salt
500 grams (approximately--I used 450 grams) all-purpose flour
1 1/2 teaspoons baking powder
Instructions
Set a rack in the top third of the oven and preheat to 400F.
Line 2 cookie sheets with parchment and set aside.
Put the sesame seeds in a dry skillet and heat over medium heat, stirring occasionally and then constantly as the sesame seeds begin to take on a bit of color. Toast the seeds to a light golden brown. Spread out on a paper towel to cool.
Wipe out the skillet in case any sesame seeds are stuck to the bottom (just to be safe) and fill with about 1/4" vegetable oil. Allow the oil to get hot. Test by dropping in a piece of slivered almond. It should begin to gently bubble in 1-2 seconds.
Add the rest of the almonds and fry, stirring constantly, until a very pale golden color. The nuts will continue to take on color for an additional couple of minutes, so be sure to remove them from the oil before you think they're ready.
Pour the nuts into a strainer set over a heat-safe bowl and then spread them out to cool completely.
Coarsely grind the nuts in a small food processor or mini chopper. Set aside.
In the bowl of a stand mixer, combine the granulated sugar, vanilla sugar (or granulated sugar plus 1/2 teaspoon vanilla extract), butter, oils, and salt.
Beat until reasonably well combined (it may look a bit lumpy. That's okay).
Mix in the sesame seeds and ground almonds.
Whisk together about half the flour and baking powder, and then add that to the mixer. Mix on low speed until you have a sticky dough.
Add enough of the remaining flour to make a stiff, crumbly dough that holds together when you squeeze it. I ended up using 450 grams of the total of 500 grams of flour. You may need a bit more or less depending on your flour and the humidity.
Once the dough is the right consistency (and even if it doesn't crack, it will be delicious, so don't get upset), weigh it and divide the weight by 40. I ended up needed 22 3/4 grams of dough per cookie, so some I scaled at 22 grams and some at 23 grams and it all worked out just fine.
Form each piece of dough into a fairly smooth ball (you won't be able to roll it, because it will crumble, so just form it with your hands). Flatten each ball of dough between your palms so the edges are thinner than the centers. Try to make them as round as you can, but it's not the end of the world if they're lopsided.
Place each shaped cookie on the prepared sheets--20 per sheet.
Bake one tray at a time for 7 minutes. Then rotate the pan 180 degrees, reduce the heat to 375F and bake an additional 3-6 minutes (depending on your oven) until very pale golden around the edges. With all the seed and nut oils, they'll take on color quickly, so keep an eye on them.
Remove the sheet from the oven and carefully transfer to a cooling rack. The cookies will be soft, but they will crisp and crunch up as they cool. By the time they are completely cool, they'll be perfect!
Bake the second sheet (remember to turn the oven back up to 400 first). The second batch might take slightly less time to bake than the first batch. Mine did.
Try not to eat all of them. Enjoy!
Nutrition Information
Amount Per Serving
Calories

119
Saturated Fat

3g
Cholesterol

6mg
Sodium

15mg
Carbohydrates

13g
Sugar

3g
Protein

1g
The stated nutritional information is provided as a courtesy. It is calculated through third party software and is intended as a guideline only.
Shop This Recipe
Here is a small selection of ingredients and equipment that will help you make this ghoriba bahla recipe.
Now then.
How gorgeous is these guys? Not flashy, but they don't need to be. They are perfect little 2 or 3-bite cookies that you will want to eat one after the other.
And that is that. Enjoy this ghoriba bahla recipe–it might just become your new favorite shortbread cookie recipe. I think it's mine!
Thank you so much for spending some time with all of us today. Take care, and have a lovely day.
Click NEXT to check out my other Progressive Eats recipes.