Friends, I have muffins on my mind. Specifically these sparkly double cinnamon raisin muffins. I know there are a ton of fancy muffin recipes out there–ones with streusel and glaze and swirls and mixins. But sometime, you want a simple muffin. Or simple-ish. And here they are. There's cinnamon in the batter, and they're also loaded with cinnamon chips. Plus golden raisins, but if you are not a raisin fan, you can leave them out.
And aren't their sparkly muffin tops so pretty? Once they came out of the oven, I dunked their little tops in melted butter and then into a bowl of sparkling sanding sugar. Such an easy topping, and it brings a little crunch and sweetness to these little guys. If you can't find sanding sugar, you can use Sugar in the Raw. It won't be white and sparkly, but they will still be beautiful with sparkling natural tops.
Shop This Recipe
Before we get to the recipe for double cinnamon raisin muffins, here are some recommendations for equipment and ingredients that will make your muffin making life a bit easier.
Sparkling white sugar is always nice to have on hand for cake, cookie, muffin, and cupcake decorating. The cinnamon chips are lovely in everything from pancakes to these muffins to cakes and oatmeal cookies. I love my OXO pro muffin pan. It's nice and sturdy and doesn't warp when heated. And you can never have too many cooling racks. I have round ones and square ones. This round one is 13″ in diameter, making it just about the perfect size for cooling a dozen muffins.
As always, thank you for supporting PCO by shopping through my affiliate links.
Okay, I think we're ready to bake some muffins.
Double Cinnamon Raisin Muffins
Remember how to do The Muffin Method when making these muffins.
Combine all the dry ingredients in one bowl and whisk well to incorporate.
Combine all the wet ingredients in another bowl and whisk well to incorporate.
Pour the wet into the dry and fold and stir gently until just mixed.
Bake them hot so they rise nice and tall.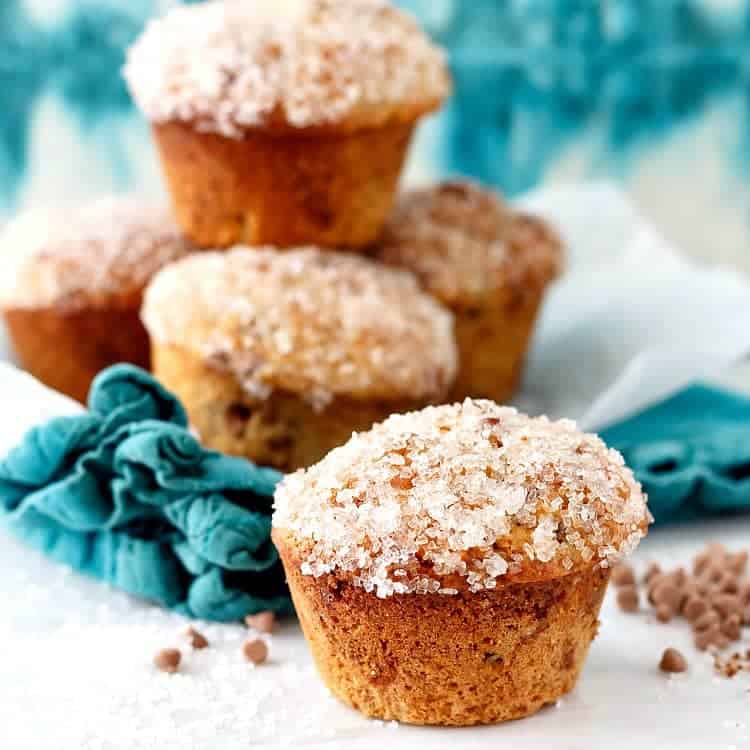 Double Cinnamon Raisin Muffins
These double cinnamon raisin muffins are moist, tender, and light. Chock full of cinnamon-raisiny goodness with little sparkling tops, they are a welcome treat for adults and kids. Enjoy!
What You'll Need
Dry Ingredients
11

oz

low protein flour such as cake flour or White Lily all purpose flour

(about 2 1/2 cups)

1.9

oz

granulated sugar

(1/4 cup)

2.2

oz

brown sugar

(1/4 cup, packed)

1 1/2

Tablespoons

baking powder

3/4

teaspoon

kosher salt

(or about 1/2 teaspoon table salt)

1/2-1

teaspoon

ground cinnamon

(depending on how cinnamony you like things)

1

cup

golden raisins

1/2

cup

cinnamon chips

(optional, but really so, so good)
Wet Ingredients
3

large eggs

3

oz

whole milk

(about 1/3 cup)

3

oz

neutral vegetable oil

(a generous 1/3 cup)

1

teaspoon

vanilla extract or paste
Topping
1/2

stick

butter

(melted)

1/2

cup

sparkling white sugar
What To Do
Spray your muffin tin with pan spray or line with paper liners. Preheat the oven to 425F and set a rack in the center of the oven.

In a large bowl, whisk together the flour, sugars, baking powder, salt, and cinnamon. Once well mixed, stir in the raisins and cinnamon chips until evenly distributed.

In a medium bowl, whisk together all the wet ingredients.

Pour the wet ingredients into the bowl of dry ingredients, and fold together gently but thoroughly. You don't want to overwork the batter and end up with tough muffins, so be gentle. A little bit of dry flour sticking to a few raisins won't hurt anything, so try to quit while you're ahead.

Let the batter sit for 5-10 minutes, then use an ice cream scoop to fill all the muffin cavities to at least 3/4 full.

Bake for 10 minutes, and then rotate the pan 180 degrees. Bake an additional 7-10 minutes until the muffins are golden brown and the internal temperature reads 195F.

Let the muffins cool in the pan for about ten minutes and then remove to cool until you can handle them.

Dunk the top of each muffin into the melted butter and let the excess drip off. Then dunk them into the sparkling sugar. Set aside to cool completely.

These are best served within a day of making them, but you can freeze them, well-wrapped for a couple of weeks. Serve warm, and enjoy!
And there you have it friends. Sparkly double cinnamon raisin muffins that you don't have to share with anyone if you don't want. But folks will be really happy if you do decide to share!
Looking for more muffins? How about these Ritz Carlton Blueberry Muffins? Or maybe you'd prefer Gluten-Free Blueberry Muffins. Take your pick!
Thank you for spending some time with me today. Take care, and have a lovely day.