It's time to make this apple butter coffee cake, friends. Sweet yeast dough rolled together with apple butter filling, baked with streusel on top, and then drizzled with glaze, this is one coffee cake recipe you will want to make.

You can use store bought apple butter or try my chai spice apple butter or honey apple butter recipe in the filling.

If you prefer a more traditional sour cream cinnamon coffee cake, I think you'll like my brown sugar cinnamon coffee cake as well.

For ease of browsing, all my sweet yeasted breads are here. Thanks for stopping by!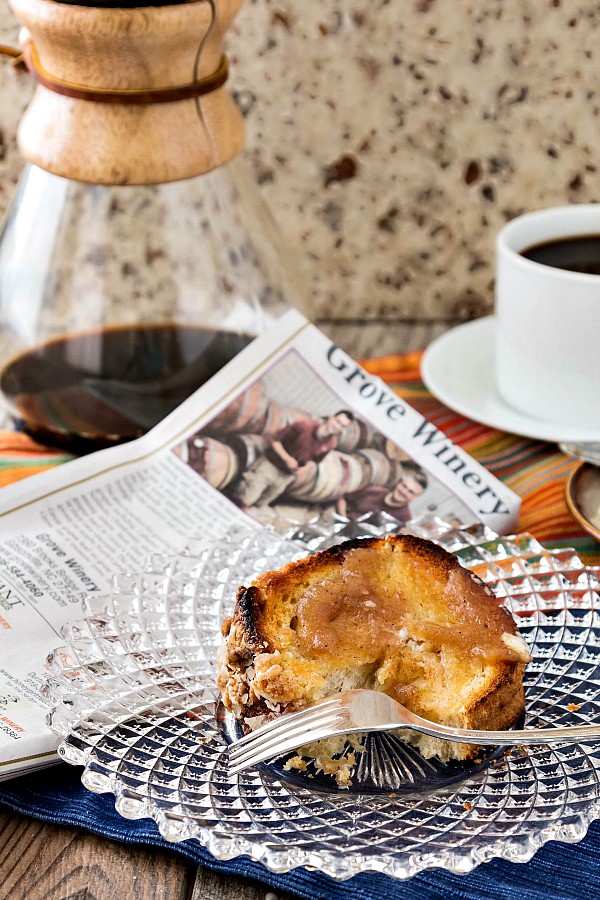 Apple Butter Coffee Cake
When I decided to make a coffee cake with apple butter filling, I wasn't quite sure how I was going to do it.
But I knew it would be great. And I was right. Apple butter and coffee cake fans, I've done the heavy lifting for you, so all you need to do is make this delicious sweet bread.
Recipe Inspiration
First up, I knew I wanted to make a yeasted coffee cake and not a quick bread type.
Don't get me wrong, though. I love a good, old fashioned sour cream coffee cake, I just wanted to present something a little more dinner worthy than diner worthy.
I found a recipe on the (now defunct) The Carboholic, and made just a couple of changes to both the ingredient list and the procedure.
I love the finished dough–so soft, supple and sexy.
Thanks, Carboholic, for doing all the tests. I completely understand why you worked so hard to recreate the memory of your favorite coffee cake. This dough is very special.
I also searched for the obvious, "apple butter coffee cake."
I found this recipe for a celebrated apple butter coffee cake made by the fine folks at The Inn at Vaucluse Spring
Their coffee cake is a quick bread type with a layer of apple butter in the middle and streusel on the top.
Keeping the Layers from Falling Apart After Baking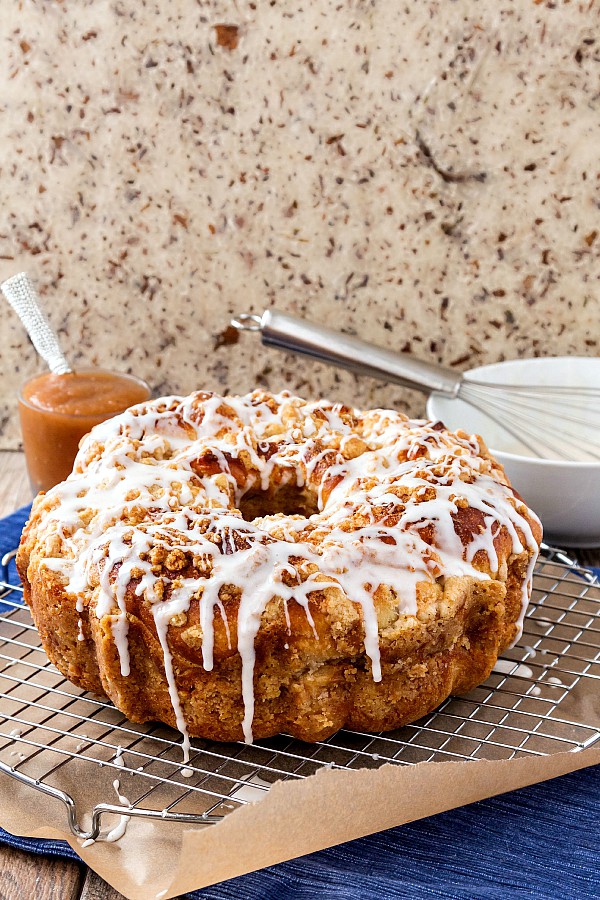 From the inn's recipe, I took the idea of mixing the apple butter with whipped egg white for the filling. I figured it would serve to hold my layers together. It worked like a charm!
I further increased my chances of Successful Lamination by stirring in some cornstarch as well.
If you're interested in breads with a laminated filling (swirls of bread and filling that won't separate when sliced) check out my post on making cinnamon bread.)
It's kind of like using angel food batter to layer between bread dough.
How To Make Streusel
As for the streusel? I like streusel. A lot. So it wasn't much of a stretch at all to add streusel to my coffee cake.
It's so easy to make–equal parts:
The end. Of course you'll need a pinch of salt, and you can add optional ingredients including:
spices
brown sugar instead of or in addition to white sugar
toasted nuts
oatmeal
extracts
citrus zest
PRO TIP: For basic streusel or crumb cake topping, mix equal parts of flour, butter, and sugar together with a pinch of salt.
What Makes This Recipe Work?
I must say this guy is even better than I'd expected it to be.
The dough (props again to The Carboholic) reminds me very much of a homemade, no-filler version of Entenmann's dough. This is a good thing.
The meringue and cornstarch whipped into the apple butter do their job of holding everything nicely together.
Also, it toasts beautifully, making it an excellent choice for brunch. It makes a lot, so invite a crowd!
Adding Even More Apple Flavor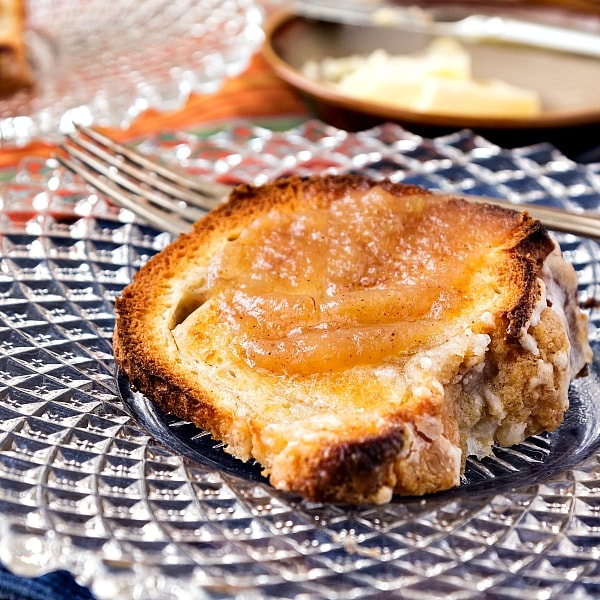 If you want even more apple flavor in your coffee cake, I suggest spreading a thick layer of apple butter on the dough after it is already in the pan. Then spread the streusel on top of that layer.
You know, for Maximum Apple Awesomeness.
More Ways with Apples and Apple Butter
There are many recipes for apple butter out there, but not a lot of recipes for what to do with it once you've made it, aside from spreading it on toast.
For another great use, consider my caramel apple butter bread pudding recipe.
And for another great breakfast option, try this apple butter crumb cake recipe.
For some really intense apple-y goodness, consider making my spiced apple turnovers as well. You could absolutely swirl a couple of big spoonfuls of apple butter into the filling for a dreamy and even more apple-y flavor.
A Note About Measurements
For convenience, consistency, and accuracy, almost all my recipes are written by weight, either in ounces and/or grams, even the liquids.
I strongly encourage you to purchase a kitchen scale and learn to use it.
This is the one I used for years. I love it and highly recommend it:
Best for Home Use
Escali Primo Digital Food Scale
Don't let its small price and small size fool you. The Escali Primo is an accurate and easy-to-use food scale that I have used for years. It's easy to store, easy to use, has a tare function, and easily switches between grams and ounces/pounds for accurate measurements.
This is an affiliate link which means I earn from qualifying purchases. Your price is unaffected.
It would be so helpful to me and to other readers that, when you make a recipe, you rate it and leave a comment. Whether it's a recipe or an informational post, your feedback helps others decide if the post is helpful or if the recipe works as advertised.

If you could leave a star rating, that would be very helpful. Thank you for being here!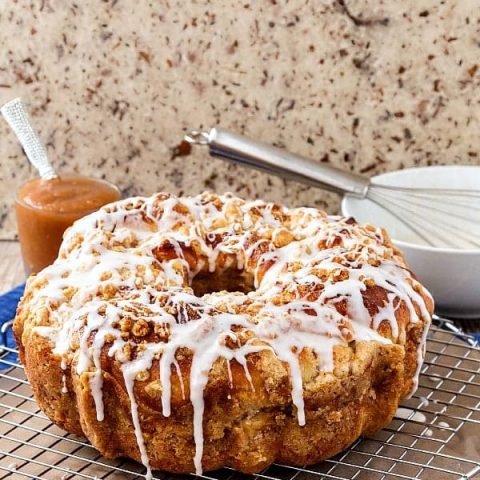 Apple Butter Coffee Cake with Chai Spice
This apple butter coffee cake is all I hoped it would be: moist, tender and chewy at the same time, with a deeply fall-ish aroma from apples, chai spices and lemon zest.
Plus crumb topping, because if it doesn't have crumb topping, it isn't really a coffee cake!
This recipe makes 1 large Bundt pan of coffee cake. Unless you're feeding a crowd, feel free to halve the amounts here and make enough for one loaf pan. This would make a perfect addition to Thanksgiving brunch before the main event, too.
Ingredients
For the Dough
10

oz

milk

room temperature (I used whole milk)

13

oz

all purpose flour

2

teaspoons

dry yeast

(I use active dry)

3

oz

granulated sugar

(scant 1/2 cup)

2

teaspoons

fine salt

zest of 2 lemons

2

teaspoons

vanilla

1

teaspoon

chai baking spice

(I use Mt. Baker's Chai Spice Seasoning from Savory Spice Shop)

1

large egg

3-4

oz

all purpose flour

3

oz

unsalted butter

very soft but not greasy
For the Filling
2

egg whites

tiny pinch of fine salt

½

cup

apple butter

(store bought, or use my recipe for chai spice apple butter)

1 ½

Tablespoons

4 1/2 teaspoons corn starch)
For the Crumb Topping
2

oz

granulated sugar

2

oz

all purpose flour

2

oz

cubed butter

cool

½

teaspoon

chai baking spice

pinch

salt
For the Glaze (optional)
1

cup

powdered sugar

pinch

of salt

heavy pinch of chai baking spice

1-2

Tablespoons

milk
Instructions
For the Dough
In the bowl of a stand mixer, mix the milk and the flour together. You'll end up with a very stiff sort of dough. Not all the flour will be incorporated (possibly), but do the best you can. Cover and set aside while you gather up all the rest of your ingredients.

In a small bowl, mix together the sugar, salt, zest, vanilla and baking spice. Hold it close to your face and breathe deeply. Smile.

Crack the egg into a small bowl, scale out 4 oz of flour (but know you might not use it all) and cut up the butter into pieces.

Once you've gotten all your ingredients together, make sure the flour and milk have sat for about 20 minutes total, and then continue.

Put the mixer bowl on your mixer and fit the dough hook on there. Add the yeast and let that get pulled up into the dough.

Add the sugar mixture and mix until more or less incorporated.

Add the egg and continue mixing until more or less incorporated.

Stir in about 3/4 of the remaining flour (3 oz) and mix to incorporated. The dough should be very messy at this point but starting to come together around the dough hook. Lots may stick in the bottom. That's okay for right now.

With the mixer on medium low speed, add in the butter, a bit at a time, over about 5 minutes. Knead for another 5 minutes on medium low speed. At this point, the dough should be mostly clearing the sides of the bowl with some sticking still in the bottom. If it still looks very messy to you, add some more of the remaining flour, but err on the side of too little flour rather than too much.

After another 5 minutes or so of kneading, the dough should be soft but very supple and extensible (stretchy).

Spray your hands with pan spray and gather the soft dough into a smooth ball. Plop it back in the mixer bowl, spray the top of it with pan spray, and cover.

Let rise in a cozy place until doubled in volume, about 1 1/2 hours.
To Shape, Fill and Bake
Plop the dough out onto a lightly greased work surface and cover with the bowl.

Whip the two egg whites along with a pinch of salt until foamy. Increase speed and whip to medium-stiff peaks.

While the whites are whipping, stir the cornstarch into the apple butter.

Fold the apple butter into the whites. Set aside for a moment.

Uncover your dough and press out the gases. Lightly spray the top of the dough with some pan spray to prevent sticking.

Roll into a large rectangle, about 20″ x 15-16″. This dough is extremely supple and is a dream to roll out.

Spread the apple butter mixture onto the rectangle of dough, leaving about 1″ plain on the far side of the rectangle.

Roll up. The filling is very soft, so just do the best you can and know that it will all turn out just fine.

Set the coil of dough into a lightly sprayed 12 cup Bundt pan. Just coil it in there. Tuck the ends down toward the bottom of the pan. If it looks kind of sloppy, worry not. That's what crumb topping is for.

Sprinkle the crumb topping evenly over the dough, cover and let rise in a warm place until almost double again. About 1-1 1/2 hours.

While the filled and shaped dough is rising, preheat the oven to 350F. Let the oven preheat a good 30 minutes before baking.

Place the Bundt pan on a rack in the bottom third of your oven, close the door, and immediately turn up the heat to 400F. Set the timer for 5 minutes.This will encourage lovely ovenspring so you will have a tall and magestic coffee cake.

After 5 minutes, turn the oven back down to 350F and set the timer for 20 minutes.

When the timer goes off, check the bread. If spots are getting Plenty Brown, cover with foil, turn the heat down to 325F and bake an additional 5-10 minutes, or until the internal temperature is right around 200F (give or take 3 degrees).

If parts of the top of your loaf are looking anemic (I had some parts like that), broil for 2 minutes or until the top is at least light golden brown and the crumbs are hard and crunchy.

Remove from the oven and let cool in the pan for 10 minutes. Turn the coffee cake out and place, crumb side up, on a rack to cool to under 140F before slicing. It's better to let it cool completely, but I know you won't.

If you'd like, glaze it with the optional glaze–you don't need more than a drizzle or three
To Make the Crumb Topping
Mix all the topping ingredients together in a bowl until pebbly and no longer sandy. I do this by hand–it's the most efficient way to do it, I think.
To Make the Glaze
Whisk together powdered sugar, salt, spice and milk until you have a nice drizzling consistency. Drizzle over the cooled coffee cake and allow to set up and harden before slicing.
Did You Make Any Changes?
Notes
You can also bake this in a round cake pan. Just coil the shaped log of dough into the pan and go from there.
To Freeze
This coffee cake freezes really well. Cool completely then wrap in 2 layers of plastic wrap and 1 layer of heavy duty foil. Freeze whole and let thaw at room temperature or slice and freeze and defrost pieces as you need them.
For best results, consider waiting to glaze the cake until after thawing.
To Defrost
If freezing whole, thaw at room temperature overnight. Unwrap to heat in the oven or slice to toast individual slices.
Nutrition
Serving:
1
/16
Calories:
338
kcal
Carbohydrates:
58
g
Protein:
7
g
Fat:
8
g
Saturated Fat:
5
g
Polyunsaturated Fat:
3
g
Cholesterol:
32
mg
Sodium:
338
mg
Fiber:
2
g
Sugar:
19
g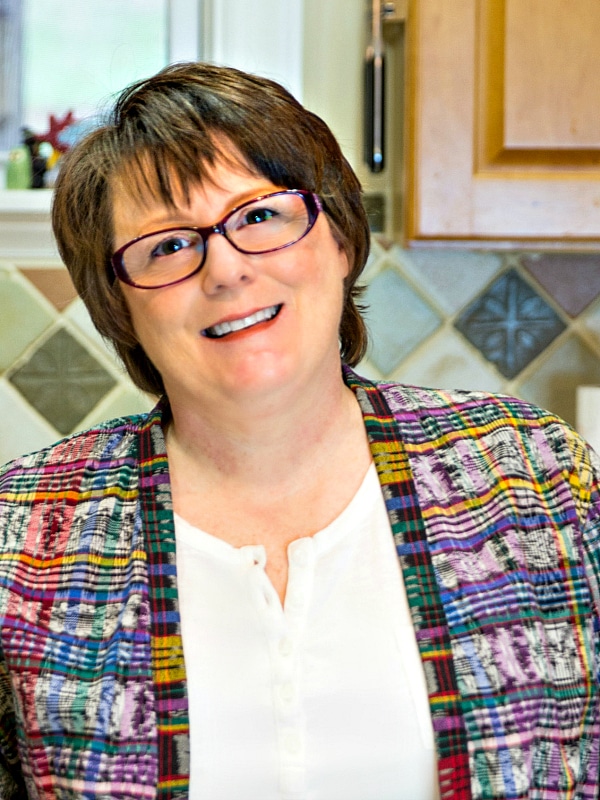 What are my qualifications to teach you baking and pastry? As a former working pastry chef and special educator, I marry my passions for both teaching and for baking into explaining techniques, methods, and developing the best possible recipes. For more info, you can read more about me.
If you'd like to receive new recipes and the occasional newsletter, I'd love for you to sign up for my Inbox Pastry Chef.
And there you have it. A delicious yeasted coffee cake bursting with apple butter flavor and warm chai spices.
Thanks for spending some time with me today. Take care, and have a lovely day.