I'm not sure if you guys have noticed the dearth of cookie recipes on my site, but I really don't post many at all. Why not? Because I find cookies fussy to make. I know, I know. I'll spend hours making a triple-layered panna cotta but I can't be bothered to scoop a bunch of cookies? It doesn't make too much sense, but there you have it.
Still, cookies are fun to eat and are good for portion control (unless you eat 17. Don't do that).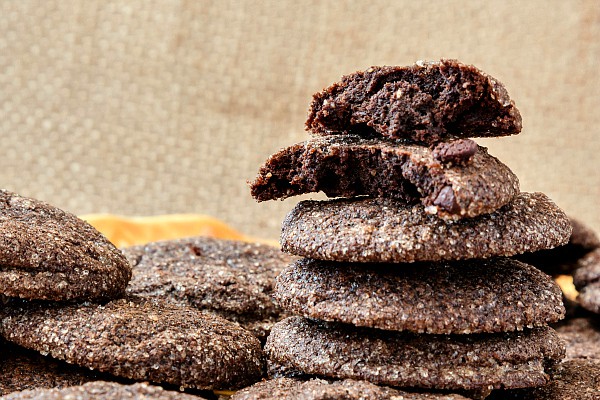 For these cookies, I wanted something totally chocolately and fudgy. For inspiration, I looked online for "chocolate truffle cookies" and found many variations on the theme. I also am a huge fan of Gesine Bullock-Prado's Starry Starry Night Cookies, which are gorgeously moist, rich, chocolatey and also gluten free (made with almond flour). So, I sort of combined the two recipes and made some changes, muttered an incantation or two and made the sign of the cross over the dough. Whatever I did worked, because these guys turned out to be everything I wanted: a little crisp on the outsides, moist and deeply chocolatey while not being too sweet, petite, and sparkly.
I shared a photo of the cookies on facebook and said I didn't know what to call them. Nettie of More of Less Cooking said she'd call them Heavenly Chocolate Dreams. I think it's a fine name, so here I am, introducing Heavenly Chocolate Pecan Dream Cookies. Thanks, Nettie!
They aren't hard to make as long as you have a stand mixer. They go pretty quickly (except for the scooping and rolling. Just like a cookie. Hmmph.) The game plan is as follows:
melt chocolate and butter together
whir toasted pecans into dust along with some flour and cocoa powder (if you don't mix them with the flour and cocoa powder, you'll end up with pecan butter which, while delicious, is not what we want).
Whip whole egg, sugar and flavoring to ribbon stage
Stir pecan mixture into chocolate mixture.
Fold in egg mixture.
Scoop into balls, roll in granulated sugar.
Bake.
Cool.
Enjoy. (You can also switch the last two, because they're delicious warm as well)
Hey, I even made a long pin for you if you want to pin this!
Not bad, right? Let's get to it, shall we?
What You'll Find in This Post
hide
Heavenly Chocolate Pecan Dream Cookies
These heavenly chocolate pecan dream cookies are fudgy and moist on the inside and a little crisp and sparkly on the outside. Not too sweet, they are sure to please chocolate lovers everywhere.
Ingredients
2 large eggs
2.6 oz palm sugar, (may sub brown sugar)
1 teaspoon espresso powder, (you can also grind instant coffee to a powder and use that. That's what I did)
1/2 teaspoon kosher salt
2 oz pecans, , toasted
1 oz all purpose flour
1 Tablespoon "regular" cocoa powder
1 Tablespoon black cocoa powder, (such as Black Onyx from Savory Spice Shop. You can also just use 2 Tablespoons of regular cocoa powder rather than one of each)
8 oz bittersweet chocolate
2 oz unsalted butter
3 oz good quality mini chocolate chips or semi-sweet chocolate chopped into the same size as mini-chips
a small bowl of granulated sugar, , for rolling (about 1/3 cup)
Instructions
Preheat your oven to 350F and set two racks as close to the middle of the oven as you can. Line two cookie sheets with Silpat or parchment. Set aside.
In the bowl of your stand mixer fitted with the whip attachment, whip eggs, sugar, espresso powder and salt until it is very thick, light and fluffy. This will take about 10 minutes.
While the eggs are whipping, whir up the toasted pecans, flour and cocoa powder/s in the food processor until the pecans are as finely ground as you can get them. (It will look sort of like coarse cornmeal). Set aside.
Melt the bittersweet chocolate and butter together either over simmering water or on medium power in the microwave. Stir until smooth and then set aside to cool slightly.
Stir the flour mixture into the chocolate mixture until thoroughly combined.
When the eggs have reached ribbon stage, stir one third of the eggs into the chocolate mixture to lighten it. Then thoroughly fold in the rest of the egg mixture until completely combined. Fold in the chocolate chips so they are evenly distributed. Set aside for a couple of minutes--batter will firm up so it's scoopable.
Measure out the dough in flat tablespoons (not mounded up), dropping each into the bowl of sugar to make sure it's thoroughly coated and then rolling into balls. Place rolled dough onto cookie sheet leaving about 2" between. I was able to get 20 on one sheet and 17 on the other.
Bake for 5 minutes.
Rotate the pans from top to bottom and from front to back and bake another 5 minutes.
Let cookies cool on the sheet for 5 minutes and then transfer them to wire racks to cool completely.
Notes
I used palm sugar, and my eggs did not whip up as thick as I expect eggs to whip, even after about fifteen minutes. I have no idea if it was the palm sugar or not, but I wanted to let you know. Still, nothing awful happened even though the eggs weren't as ribbony as I'd have liked.
I do hope you give these cookies a try. They're not hard to make, and they do go down really easily, especially with a glass of milk!
Thank you for taking the time to read today. Please feel free to leave a comment–I love to hear from you guys!
Take care, and have a lovely day.