Apple butter is a lovely treat, and homemade is so easy to make it seems a shame to purchase it. This chai spice apple butter is a winner you can turn to whenever you need some homemade apple butter.

Spread your homemade apple butter on toast, or use it in my apple butter coffee cake or my caramel apple bread pudding recipe.

For ease of browsing, here are all of my condiments and jams in one place. Thanks for stopping by!
This chai spice apple butter just might make you break up with the old standby pumpkin spice!
Finding Inspiration in Literature
I have always been a reader. From The Boxcar Children and Nancy Drew to Aslan the Lion and Mrs. Who, Mrs. Which and Mrs. Whatsit, through adventures with Fiver in Watership Down and on through Slaughterhouse 5 and Tolkien and Neil Gaiman and Stephen King and Peter Straub. I read all the Westeros books long before the powers that be at HBO knew winter was coming.
A perfect weekend day finds me wrapped in a throw and sipping tea, periodically reaching slowly and carefully for my mug without looking so I don't have to break the flow of the story I'm reading.
I love books whose characters and stories are so vivid that, when I raise my head, the world around me seems fiction. Book hangovers. I love that feeling.
As a voracious reader and as a person whose brain only holds so much at one time, it is not often that I keep the books I read in my head. I can pick up a book and start reading only to realize about 100 pages in that I had read it before.
This makes The Beloved crazy, but it's fine with me, because everything is new, over and over. Generally, I'm left with vague impressions–how a book made me feel.
Did I cry?
Did I laugh?
Did I read it with my hand over my heart?
Rarely do I remember whole passages of books or even character names. Sure, I've got Frodo and Bilbo and Galadriel and Gandalf committed to memory through repeated readings, but Tolkien is an exception. I rarely reread books, so I'm only left with my vague–very vague–recollections, until they, too, slip away.
John Irving
A notable exception to my Teflon memory is John Irving. Never mind that one of his greatest characters and I sort of share a name–Jenny Fields, Jenni Field. Tomato, tomahto–his characters are so fully realized they're impossible to forget.
His choice of words to string together is so specific I can almost loop them around my neck. Necklaces of John Irving's words.
I especially love it when the first sentence of a book so perfectly sets the tone that I am instantly transported.
Those perfect first sentences, like a blessing or an invocation, set the tone for the rest of the book and stay with me forever, at least in part.
"Claudia knew that she could never pull off the old-fashioned kind of running away." –E.L. Konigsburg, From the Mixed Up Files of Mrs. Basil E. Frankweiler
"When I stepped out into the bright sunlight from the darkness of the movie house, I had only two things on my mind: Paul Newman and a ride home." –S.E. Hinton, The Outsiders
"When Mr. Bilbo Baggins of Bag End announced that he would shortly be celebrating his eleventy-first birthday with a party of special magnificence, there was much talk and excitement in Hobbiton." –J.R.R. Tolkien, The Fellowship of the Ring
And this, the longest first sentence necklace I own and treasure above all the rest:
"I am doomed to remember a boy with a wrecked voice – not because of his voice, or because he was the smallest person I ever knew, or even because he was the instrument of my mother's death, but because he is the reason I believe in God; I am a Christian because of Owen Meany." –John Irving, A Prayer for Owen Meany
See? I always come back to John Irving.
He writes plainly and matter-of-factly about normally emotionally fraught subjects: adultery, abortion, transgender, all manner of tragedy, suicide. The stories become emotional because we bring our own emotions to them. Our own thoughts and feelings, experiences, mores, rules.
Each reader can be amused, horrified, awed, drawn in, repulsed, in a perfectly personal way. Irving does not tell us what to feel about what he writes. He lets our own emotions dictate our reactions to his novels, and maybe that is why they resonate so deeply with me.
Whenever I hear the name Owen, I think of Owen Meany. When someone calls me by my first and last names, I think of Garp. I will never not remember the chapter title "Sorrow Floats."
And when the days grow shorter and the nights grow cooler and apple cider starts appearing on the refrigerated shelves at the grocery store, I am reminded of yet another Irving novel, The Cider House Rules.
This book really is all about rules. When to follow them. When not to follow them. Why people choose to–or not to–follow them. Whether all rules apply in all situations. What is a good rule. What is not. Ultimately, each reader decides the answer to these questions for themselves. And I am left with yet another book hangover, lost in a daze of dappled sunlight through apple boughs, as I drain the dregs of my tea.
When apple cider appears in the stores, my rule is to always make apple butter.
Chai Spice Apple Butter
I made some apple butter for you. Not only does it have apple cider in it as the liquid, I also managed to get 4-5 different apple varieties, and I suggest you do the same.
Some tart, some sweet, some honey-ish, to give you as broad an array of apple flavor as you can get.
While it's traditional to spice apple butter with cinnamon, clove and allspice (or even pumpkin spice or apple pie spice), I highly suggest you try using chai spices, either your own favorite mixture or the Mt. Baker's Chai Spice Seasoning which is what I used.
I love the particular combination of flavors: Saigon and Indonesian cinnamons, ginger, cardamom, black pepper, star anise, allspice and bay leaves. The resulting apple butter, cooked down to intense caramelized goodness, has a lovely complex flavor I think you will really enjoy.
Chai spice apple butter is perfect spread on toast or bread. I also mixed it with real maple syrup and some ginger syrup and used it over French toast the other day. This is a highly recommended course of action.
This apple butter also features prominently in this recipe for Yeasted Chai Spiced Apple Butter Coffee Cake. You may also like to try my Honey Apple Butter Recipe.
I will leave you with one more John Irving quote from The World According to Garp.
"If you are careful,' Garp wrote, 'if you use good ingredients, and you don't take any shortcuts, then you can usually cook something very good. Sometimes it is the only worthwhile product you can salvage from a day; what you make to eat. With writing, I find, you can have all the right ingredients, give plenty of time and care, and still get nothing. Also true of love. Cooking, therefore, can keep a person who tries hard sane."
It would be so helpful to me and to other readers that, when you make a recipe, you rate it and leave a comment. Whether it's a recipe or an informational post, your feedback helps others decide if the post is helpful or if the recipe works as advertised.

If you could leave a star rating, that would be very helpful. Thank you for being here!
Chai Spice Apple Butter Recipe
This chai spice apple butter is deeply flavorful and intense. While it takes some time to make, it is not at all a difficult recipe. In this recipe, as with most cooking and baking, follow John Irving's (and Garp's) advice: use good ingredients. Don't take any shortcuts. I cannot give you exact measurements because I didn't measure exactly. I followed the procedure for making apple butter from Simply Recipes. If you are planning to can your apple butter, please follow their advice for sugar amounts. Since I was not planning on canning mine, I used less sugar than what might be considered safe for traditional canning. Please feel free to use your favorite spice blend and up the amounts as you see fit.
Ingredients
8-9

medium to large apples of several varieties

washed but not peeled

1/2-1

cup

apple cider vinegar

depending on if you like that *zing* or not

2

cups

water

or use apple cider and adjust the sugar accordingly

2 ½

cups

granulated sugar

2

teaspoons

cinnamon

2

teaspoons

chai spices

(ground, your favorite blend or Mt. Baker from Savory Spice Shop

½ to 1

teaspoons

kosher salt
Instructions
Quarter the apples and throw them all in a large pot. No need to peel or core since that's where a lot of the flavor and the thickening power comes from.

Add the apple cider vinegar and water.

Cover the pot and bring to a boil. Adjust the heat to a simmer and simmer until all the apples are very soft–and even falling apart. You may have to shove some of the apples on the top of the pile to the bottom to ensure that all the apples get very soft.

Once the apples are very soft, press the apples–liquid, skin, seeds and all–through a coarse strainer or a food mill with the medium die (I highly recommend picking up a food mill. Very useful piece of equipment). You'll end up with something that looks very much like applesauce, and you'll leave all the seeds and skins behind.

If planning on canning, please follow the rules in the original recipe for sugar amounts. If not, use sugar to taste like I did.

Add the sugar, salt and spices to the pot and stir well. Bring the mixture to a boil and cook over medium-low heat, stirring almost constantly with a wooden spoon or heat resistant spatula, until the mixture has thickened considerably, reduced visibly and intensified in color. Taste as you cook since you may want to adjust some of the seasonings. Keep in mind that all the flavors will concentrate as you cook them, so err on the lighter side of seasoning until the apple butter is close to being done. Total cooking time for me was 2 hours.

Cool and then chill. Use as you would any jam or jelly.
Did You Make Any Changes?
Notes
**You will need to use the correct amount of sugar if you plan on canning your apple butter. Please refer to the original recipe on Simply Recipes. Otherwise, just go with what tastes good to you.
Nutritional information calculated on a yield of approximately 2 cups and 16 servings of approximately 2 Tablespoons each
Nutrition
Serving:
2
Tablespoons
Calories:
94
kcal
Carbohydrates:
24
g
Sodium:
68
mg
Fiber:
1
g
Sugar:
22
g
Thanks so much for taking the time to read today. Tell me, who is your favorite author or what is your favorite kind of book to get lost in?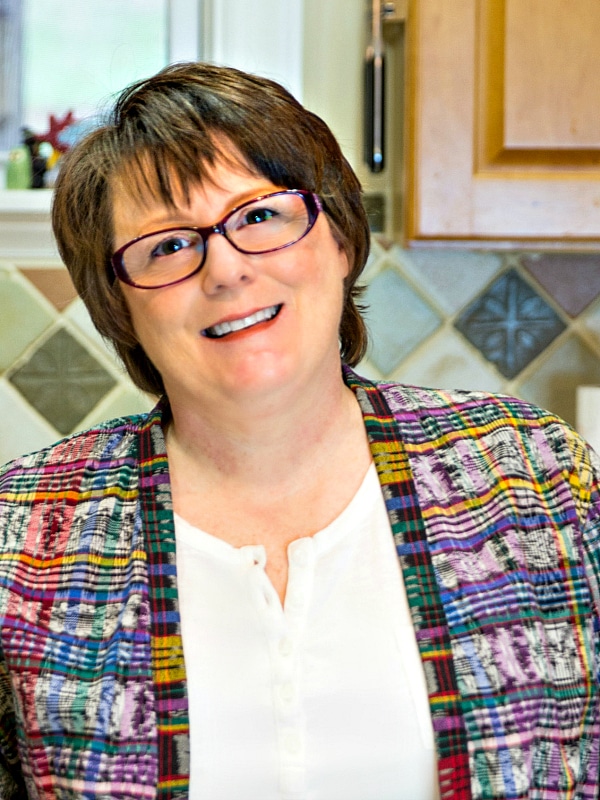 What are my qualifications to teach you baking and pastry? As a former working pastry chef and special educator, I marry my passions for both teaching and for baking into explaining techniques, methods, and developing the best possible recipes. For more info, you can read more about me.
If you'd like to receive new recipes and the occasional newsletter, I'd love for you to sign up for my Inbox Pastry Chef.
Have a lovely day.