Today we're discussing why cinnamon bread separates and what you can do to keep the slices from gapping when you slice it.

When you make cinnamon rolls, you want the layers to be separate so you can unroll them and eat them piece by piece. (Or is that just me?!) But with cinnamon bread, you want to be able to cut slices that stay in one piece so you can toast them or make sandwiches.

So while it's fine to not worry about the layers in a gooey cinnamon bun or sweet roll, you do have to make some adjustments to the filling of cinnamon swirl bread to make sure the pieces stay whole.
Reader Question
Phyllis recently sent in this question:
I love to make cinnamon raisin bread. I normally roll out the dough and spread it with butter, cinnamon, sugar and raisins. Then I would roll it up and bake it. After it is baked, the dough inside has separated with lots of space between where it was rolled. How can I achieve a pretty slice of cinnamon raisin bread?
I did a bit of reading up on this problem.
In my reading about cinnamon swirl bread, I came across several blog posts in which the bread had clearly not stuck together. There were gaps between all the layers, or some of the layers, and a few of them looked like if you held a slice up by the end of the spiral, it would unravel or spring open like a sproinged slinky.
Of course the bread will still be delicious, but sometimes it's nice to have a slice of bread stay a slice of bread, you know?
Why Does Cinnamon Bread Separate?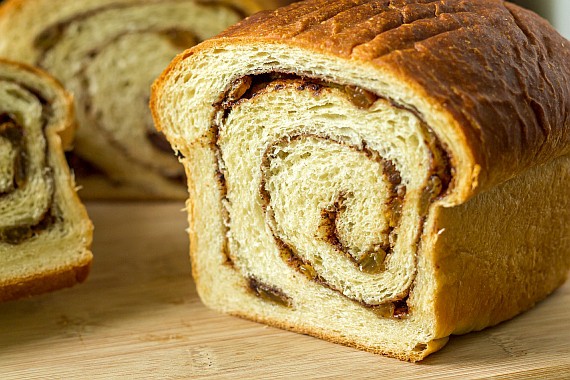 Before we get into all the ins and outs, we need to understand why this gapping/separating/delamination happens.
There are two main reasons that swirl in cinnamon bread (and other swirled "stand alone breads" as opposed to cinnamon rolls) tends to gap open.
The first is that the steam from the dough and filling coupled with the gases emitted by the yeast pushes out and up, smooshing your layers and leaving a noticeable gap often under the top layer of your swirled bread.
The other issue is that there is no sticking power in the swirl. Most folks slather on butter and then their sugar and cinnamon and the fat makes everything slippery so the layers can't bind. Fixing the binding problem also fixes the gas issue and you'll also end up with a lighter bread that has great oven spring and rise.
It sounds so simple, right? Honestly, when it has happened to me in the past, I chalked it up to overproofing, figuring it rose too high and then collapsed.
And that could be one of the issues. Obviously, it wasn't something that I felt the need to look into, but once I started snooping around for Phyllis, I really wanted to smack myself in the head (thanks, Phyllis) and exclaim, "Why didn't I think of that?!"
How To Keep Cinnamon Bread from Separating
The Starch Method
I consulted several sources around the Internet in my Quest for Knowledge, and of course this issue has been addressed by the fine super attention-to-detail folks at Cooks Illustrated.
Their methods are always solid. Whether their idea of a perfect (fill in the blank) matches your idea of a perfect (fill in the blank) is a whole other issue. Regardless, their methods are backed up by a lot of testing.
Cook's Illustrated suggests using powdered sugar and a lot of cinnamon. Why?
The powdered sugar will go into solution faster than granulated while
the starch in both the powdered sugar and the cinnamon help to "stick" the layers together.
They further suggested spritzing the dough with a bit of water.
I decided to take their method one step further and add additional starch to the filling.
Also, making the filling mixture on the drier side should keep an excess of steam from building up and forcing the layers to separate.
The Egg Binding Method
I also read on another site that using an egg in the filling–or brushing egg onto the dough before filling–helps to bind the layers.
That makes total sense to me. After all, artists used to use egg as a binder in paints for a reason. I posted these preliminary findings on my facebook page yesterday, and my friend Anna who is a very wonderful and creative pastry chef in New York City commented that she had used egg as a binder in a sweet potato swirl brioche she made.
I asked her if I could cite her, and she pointed me to the article she wrote about it. Yay. So here is her recipe for Sweet Potato Brioche French Toast on SeriousEats. Thanks, Anna!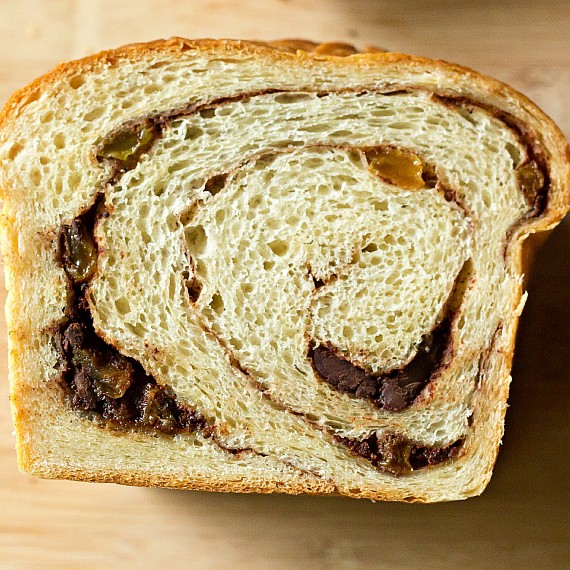 At that point, I was pretty much sold on the egg idea, although the starch/liquid idea made sense to me, too.
Testing the Two Methods
I decided to make two loaves of bread, using an egg-based swirl in one and one with added starch/liquid in the other.
The egg method won.
At first, I thought the egg method won by only a nose, but as I sliced further into the bread, I started to get some gapping in the starch bread.
Honestly, I think part of the problem was that I inadvertently spilled some milk onto the filling and, instead of blotting some of it up, I just kept on rolling.
I think that threw off the starch to liquid ratio and messed up the binding. I also only used a teaspoon of starch (in this case, I just mixed in some rice flour to the sugar/spice/raisin mixture), and it probably would have been a better idea to go with 2 teaspoons. I would have to play around with that.
I also don't think I made enough swirl mixture with the egg. I added one tablespoon of beaten egg to 1/4 cup (packed) brown sugar and 2 teaspoons spice. It didn't go far.
Next time when using the egg method, I'd definitely make at least two if not three times the amount of filling so the swirl is more obvious.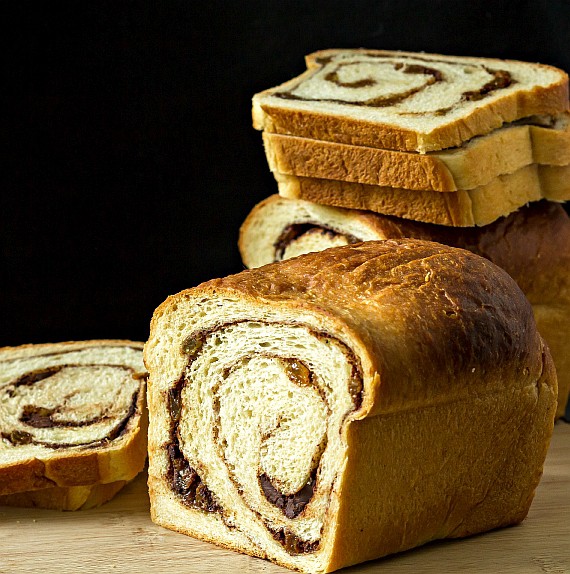 Here's another conclusion I was able to draw based on observing the two loaves.
There was a slight degree of delamination around the raisins.
I'm not sure whether that's because they're so sweet that they draw more water to themselves from the surrounding filling and make things slippery or what, but I do know that in the future whenever I want to add a chunkier filling such as raisins or other dried fruits, chocolate chips or nuts, I will add them to the dough itself and let the swirl just be made of smooth ingredients. I think that will result in a prettier loaf and even lamination.
After all of that, here's the short answer to Phyllis's question. Why does cinnamon bread separate and how can I get it to hold together?
To get the most beautiful swirl and sticking power, bind your filling with egg.
If you have an egg allergy or you just don't like eggs at all, use the starch method and shoot for 2 teaspoons of starch per 1/4 cup of sugar and brushing the top of the dough with a bit of milk or water before sprinkling on your layer of starchy cinnamon sugar.
The extra bit of moisture gives the starch a chance to hydrate and sort of pre-activate its sticking power.
Reader Review
Reader Helen reached out with this wonderful review of this bread and the method for keeping it from separating. Here's what she said:
Found this recipe for Cinnamon Bread claiming it wouldn't separate layers if the directions were followed. Tried it yesterday, and it worked exactly as the claim stated. I love you Pastry Chef Online for solving my dilemma of the separating layers in my Cinnamon Bread . . . I even went all out and used this recipe instead of the one I've been using for years . . . Two words describe it: YUMMY and BEAUTIFUL. Thank you so very much Chef Jenni. I'm not a FB user otherwise I'd post out there.

Reader Helen Chapman
I know you too will find success using either one of the methods I outline in this post! Thank you for commenting, Helen. It means the world to know I'm helping!
More Answers to Baking Questions
If you're the kind of person who likes to understand why things happen and why methods work rather than just knowing the steps for doing things, you may enjoy the answers to these baking questions:
Perfect! Made this bread last night, following your recipe to a T, and it could not have turned out any better. The dough was a joy to work with and the taste is so yummy. Thank you for sharing your recipe. I love it and now have a favorite, go to recipe source.

Reader Patti
Now, without further ado, I give you the actual Cinnamon Bread recipe. I'm writing it up just as I made it, but I will make notes as to what I'd change the next time.
I really hope you find this discussion of why cinnamon bread separates to be helfpul and that you enjoy the recipe! If you make it, please share a photo with me, either in the PCO Facebook Group or on instagram by tagging @onlinepastrychef and using hashtag #pcorecipe. Thanks, and enjoy!
Cinnamon Bread Recipe
Total Time:
4 hours
15 minutes
The only changes I made to the bread recipe were to substitute malted milk powder for the nonfat dry milk called for and to reduce the yeast by just a little. I am also writing this for two loaves. The original recipe is for one loaf. Note the original recipe calls for beaten egg to spread on the dough and starch added to the filling.
Ingredients
For the Bread
1 Tablespoon active dry yeast
17 oz (2 cups, 2 Tablespoons) lukewarm water
25.5 oz ( 6 cups, scoop and sweep) all purpose flour (I used King Arthur)
2.5 oz (6 Tablespoons) granulated sugar
2 1/2 teaspoons fine sea salt
6 oz very soft unsalted butter
1/2 cup nonfat dry milk, (or malted milk powder)
1 cup instant mashed potato flakes, (like Potato Buds)
For the Swirl
1 cup brown sugar, , packed
4 teaspoons cinnamon
pinch of salt
1 egg, , beaten
1 cup raisins or a mixture of raisins and chocolate chips, (completely optional)
Instructions
For the Dough
Add all the dough ingredients to your mixer fitted with the dough hook.
Mix on low until the dough comes together and then knead on medium-low speed until the dough is smooth and silky and passes the windowpane test, about ten minutes. The finished dough should be soft but not sticky.
Shape the dough into a ball and put it back in your mixer bowl. Spray the top with pan spray and then cover and let rise in a warm place until doubled in bulk, about 1 1/2 hours. I let mine rise in the microwave with the stove light on. This keeps the bottom of the microwave nice and warm and gives the bread a nice, enclosed, draft-free place to rise. You can add a mug of hot water if things seems to be progressing slowly.
When doubled, turn the dough out on your work surface and divide the dough in half. For precision, weigh the dough and divide accordingly. My dough weighed in at 56.5 oz, so I divided my dough into two 28.25 oz pieces.
Roll each piece into a smooth ball and place smooth side down on the counter. Roll or press the dough out until you have a long rectangle about 6" wide and at least 18" long. The longer you make your rectangle, the more swirls your bread will have, so it's completely up to you and how much patience you have.
Spread half the filling on each prepared rectangle and roll up tightly starting with one of the short ends.
Place the finished loaf, seam side down, in an 8 1/2" x 4 1/2" baking pan. You can bake in 9"x5" pans, but your bread won't be quite so tall. Again, it's completely up to you.
Preheat the oven to 350F.
Spray your loaves lightly with pan spray and cover them. Let rise until the dough peeks over the tops of the pans by 1-1 1/2", about 45 minutes.
Bake on the center rack until deeply golden brown with an internal temperature of 200F, about 40-50 minutes depending on your oven. If the loaves are starting to brown too much, loosely tent them with foil for the last 20 minutes or so of baking.
Remove the loaves from the oven, carefully turn out onto rack and cool to room temperature before slicing. But do heat or toast the bread for serving. So good!
For the Filling
Mix all the filing ingredients together in a small bowl.
Notes
If you don't want to add the raisins to the dough, do as is called for in the King Arthur recipe and ensure maximum binding by using both starch and egg. Those little raisins won't know what hit them!
Recommended Products
As an Amazon Associate and member of other affiliate programs, I earn from qualifying purchases.
Nutrition Information
Yield

24
Serving Size

1 slice
Amount Per Serving
Calories

271
Total Fat

7g
Saturated Fat

4g
Trans Fat

0g
Unsaturated Fat

3g
Cholesterol

24mg
Sodium

278mg
Carbohydrates

47g
Fiber

2g
Sugar

17g
Protein

5g
The stated nutritional information is provided as a courtesy. It is calculated through third party software and is intended as a guideline only.
And I think that does it. Thanks so much for taking the time to read, and here's to gapless loaves of cinnamon swirl bread for all of us from now on.
Take care, and have a lovely day.
References