Most Recent Update:
The lovely folks at Lindley Mills, a local grain mill in Graham, NC, sent me a 2 pound bag of their incredible Super Sprout™ Sprouted Whole Wheat Flour. And I made Whole Wheat English Muffins with some of it. An excellent plan. Thanks, Lindley Mills!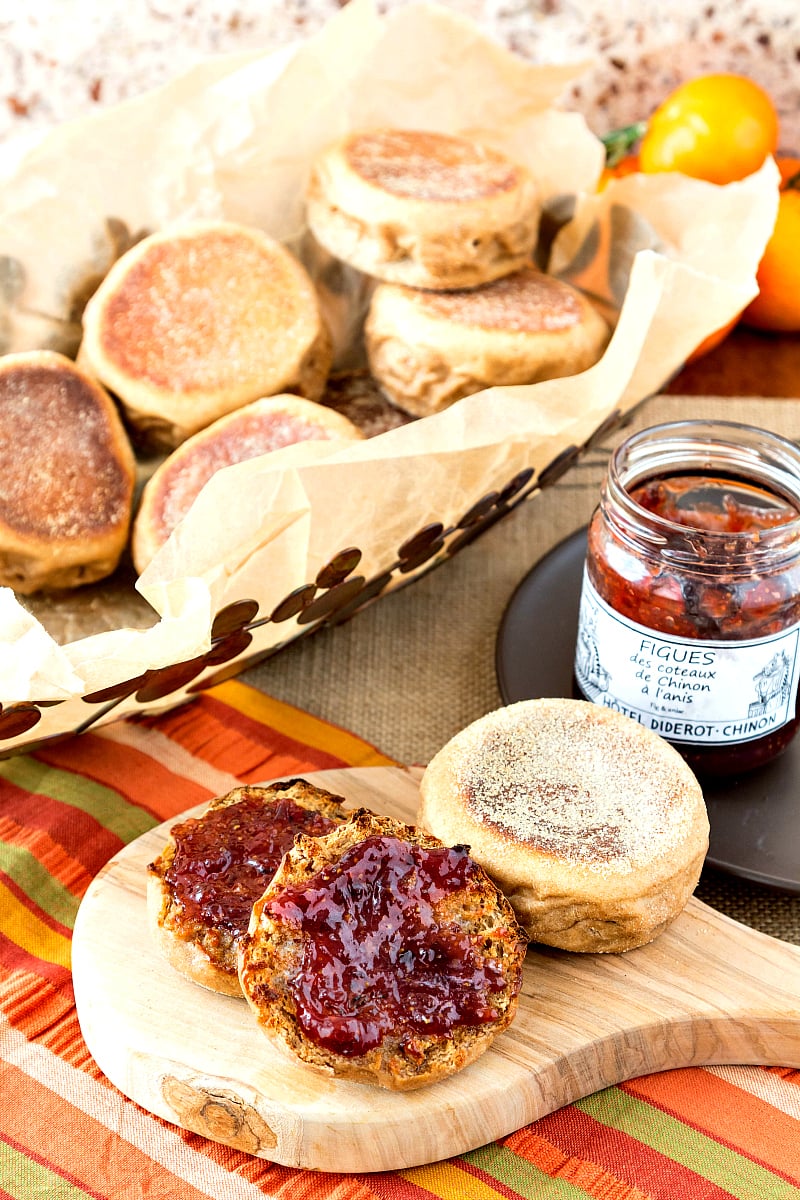 Lindley Mills Super Sprout™ Flour
What do you think about when you hear "Whole Wheat English Muffins?" If you're anything like me, I'd think, "Ew. Dry. Quick, heap on the butter and drown it in jam!" Plus, store-bought English muffins are so thin that, by the time you split them, you can practically see through them, or one side is smaller than the other.
I am here to tell you I have become a whole wheat English muffin convert thanks to Lindley Mills. They very kindly sent me some of their Super Sprout™ flour a couple of months ago, and when a reader asked me to make English muffins, I decided it would be the perfect time to break it out.
I'm really glad I did, too. It's 100% whole wheat flour, but because it's ground from sprouted wheat, it has a wonderful, full flavor without any of the bitterness (and dryness) I normally associate with whole wheat flour. I am really impressed with its flavor and performance.
Here's a sciencey bit from the Lindley Mills website:
Scientific studies have shown that the sprouting of grains causes an increase in enzyme activity, an increase in total proteins, changes in amino acid composition, measurable increases in soluble fiber, a decrease in starch, and slightly higher amounts of some minerals and vitamins including Beta Carotene, Folic Acid, Iron, Omega 6 fatty acids, Omega 3 fatty acids, B and D Vitamins, Niacin, Calcium, and Vitamin E. — Lindley Mills, Super Sprout Nutrition
And here's a non-sciencey bit from me. This flour is delicious. It does soak up much more liquid than a standard bread flour does, so you'll have to compensate by adding up to 30% in additional liquid to your recipe. That means if your recipe calls for 10 ounces of liquid, be prepared to add up to 13 oz to get the same texture.
The base recipe for my whole wheat English muffins called for 14 oz of lukewarm milk. I added 15.75 oz and could easily have added more. Next time, I expect I will end up using somewhere between 17 and 18 oz. My dough was soft, but I think it would have spread a bit more and cooked more quickly on the griddle if it had been a little slacker. Regardless, the flavor is excellent.
Rather than piling on the butter and jam to hide a dry, slightly bitter English muffin, I wanted to add just enough of each to enhance the mellow, well-rounded flavor of the wheat.
I would be remiss if I didn't let you know that these whole wheat English muffins are also the perfect vehicle for getting egg, bacon and cheese into your mouth in the most delicious way.
I portioned my dough into 16 portions as the recipe called for. If you divide yours by 12 instead, you'll end up with the perfect "oversize" English muffins to build a burger on. Just an idea!
Is It Hard to Make English Muffins?
The short answer is no, it's not hard to make English muffins. What you need is a pretty straightforward but wet dough (more like a very thick batter), a stove top baking surface such as a griddle, electric fry pan or well-seasoned cast iron skillets, some semolina flour (easy to find at the grocery store), and some time and willingness to futz about just a bit.
In a nut shell, you make the wet dough, allow it to double in bulk, press out the gases, portion the dough, and shape into rounds that will spread as they sit there. Let them rise directly on the unheated semolina-dusted skillets/griddles, and when they're ready to cook, heat them over gentle heat until they're browned but not burned on the tops and bottoms and done all the way through. You're shooting for 200F in the centers.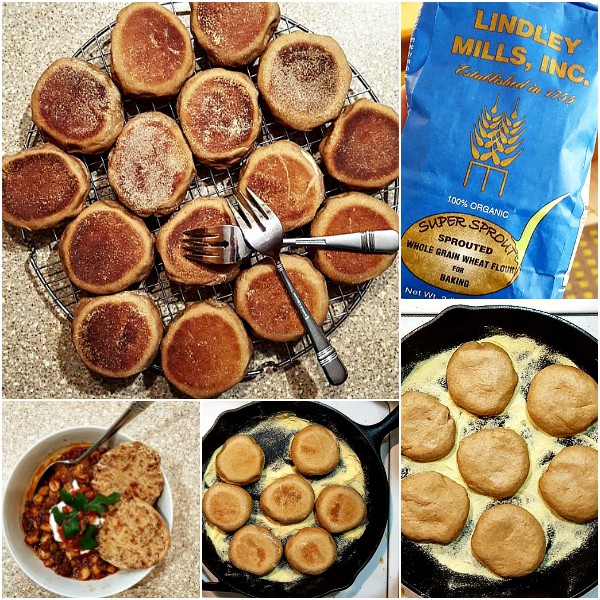 As I said before, my dough was soft but not super slack, so my guys are a bit thicker. I rather like the thickness, but they did take a long time to cook over low-to-medium-low heat, and I had to flip them a lot, adjust the temperature often and move the pans around so everyone heated evenly. My guys took about 40 minutes to "bake" through. If you make a wetter dough so they aren't quite as thick, yours will probably bake up in 25-30 minutes.
Okay. Enough talk. Let's make some whole wheat English muffins.
Whole Wheat English Muffins Recipe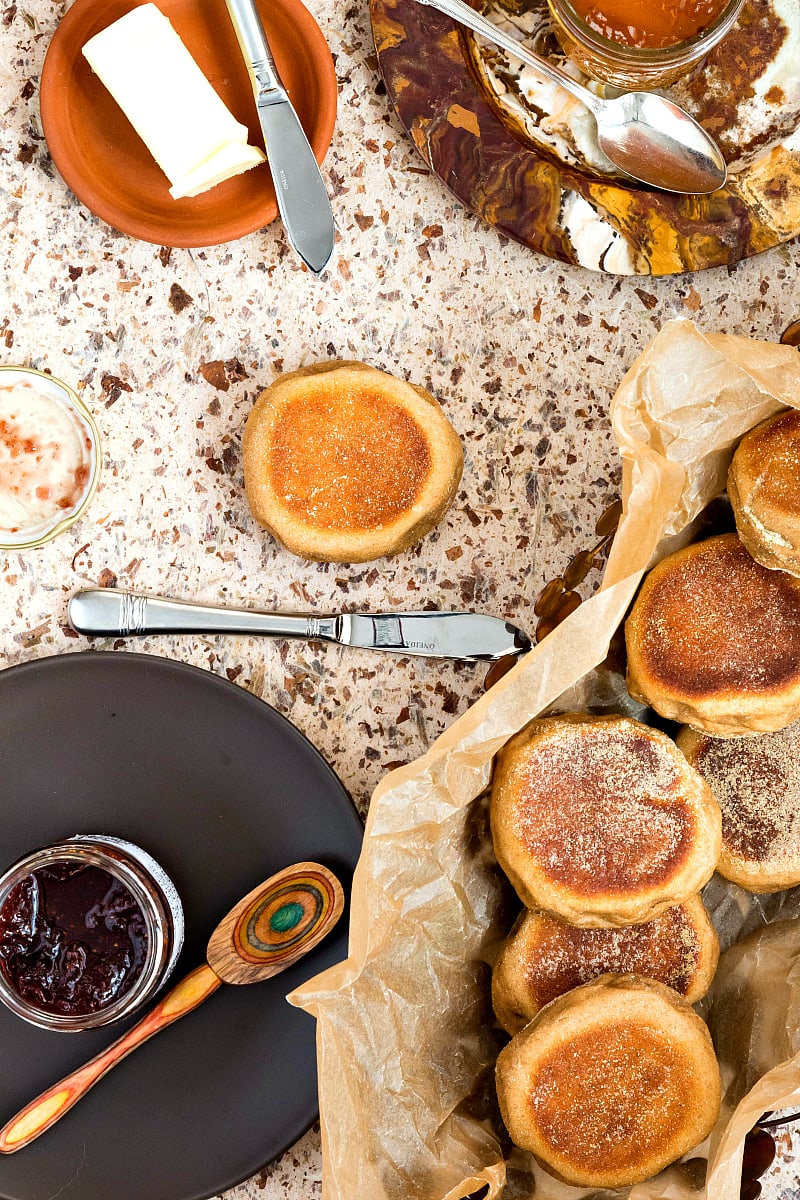 This recipe is based on the English Muffin Recipe from King Arthur Flour. The only changes I made were to sub in the Super Sprout™ for bread flour, use Sugar in the Raw in place of regular granulated sugar, and add extra liquid to make up for the thirstiness of the flour. I'm writing this recipe to reflect the amount of liquid I will be using next time I make these muffins.
Check this link to see what your dough should look like.
Whole Wheat English Muffins Recipe | Lindley Mills Super Sprout™
These whole wheat English muffins have a fully, rounded wheat flavor, are moist and lovely, and also have plenty of nooks and crannies to hold butter, jam, cheese, or whatever you choose to top them with.
Ingredients
For the Dough
17-18 oz (2 cups, 2 Tablespoons- 2 1/4 cups) lukewarm milk (I used whole milk)
3 Tablespoons softened unsalted butter
1 1/2 teaspoons kosher salt
2 Tablespoons sugar, (I used demerara, or Sugar in the Raw)
19 oz Lindley Mills Super Sprout Whole Wheat Flour for Baking, (or other bread flour--reduce milk to 14-15 oz)
1 large egg
2 teaspoons active dry yeast, (instant is fine here too)
For Baking
semolina or farina, (Cream of Wheat) for sprinkling on the griddle
Instructions
Combine all the dough ingredients in the order given in the bowl of your stand mixer.
Mix with the paddle attachment for about 5 minutes, or until shiny, smooth and very elastic.
Scrape the dough into a ball in the bottom of the mixer bowl, cover and let rise in a warm place until doubled, about 2 hours.
Generously sprinkle your griddle or skillets or electric frying pans or whatever you're using with the farina or semolina (I used semolina. King Arthur says you can use either without any problem). Set them aside.
Portion dough into 16 equal portions (or 12 for burger buns). I do this by weighing my finished dough and then dividing that weight by the number of portions. Then I use my bench knife and scale to cut the dough and weigh out each portion.
Once you have your dough scaled, gently shape each portion into a flat-ish round about 3" in diameter. Place in the prepared pan/s. They can be close together, but you don't want them to touch.
If you only have one pan to cook in, place the extra rounds on a parchment-lined and semolina-dusted cookie sheet and cover them until it's their turn.
Cover the shaped muffins (on the griddle and on the cookie sheet, if you needed "overflow" space), and allow them to rest 20-30 minutes, until just slightly puffy.
Remove the towel, turn the heat on medium low and gently cook the muffins for several minutes on each side. I flipped mine multiple times after an initial 7-ish minutes a side. Regulate the heat so they don't cook too quickly and watch them carefully. The semolina will eventually get dark but should insulate the muffins enough to keep them from burning as long as you set your heat fairly low.
Every once in a while, go in through the side of a couple of muffins to check the internal temperature. You want them to reach 200F.
This took me 40 minutes, more or less, but it will most likely take you less time since you're using more liquid than I did. Just keep an eye on them and make sure you have a good instant read thermometer.
Remove to cool on racks. Split the muffins with a fork before toasting. Enjoy with sweet or savory toppings.
Have mercy, you guys. The cooking is a bit of work, but the flavor payoff is totally worth it. I think you'll love these whole wheat English muffins! If you'd like to try out the Super Sprout™ for yourself, you can order it from Lindley Mills.
Shop This Recipe
Here are some ingredient and equipment suggestions so you can make these whole wheat English muffins (and lots of other recipes, too)! These are all affiliate links. Thank you for your support, friends!
And there you have it friends: whole wheat English muffins you will not want to stop eating. I mean: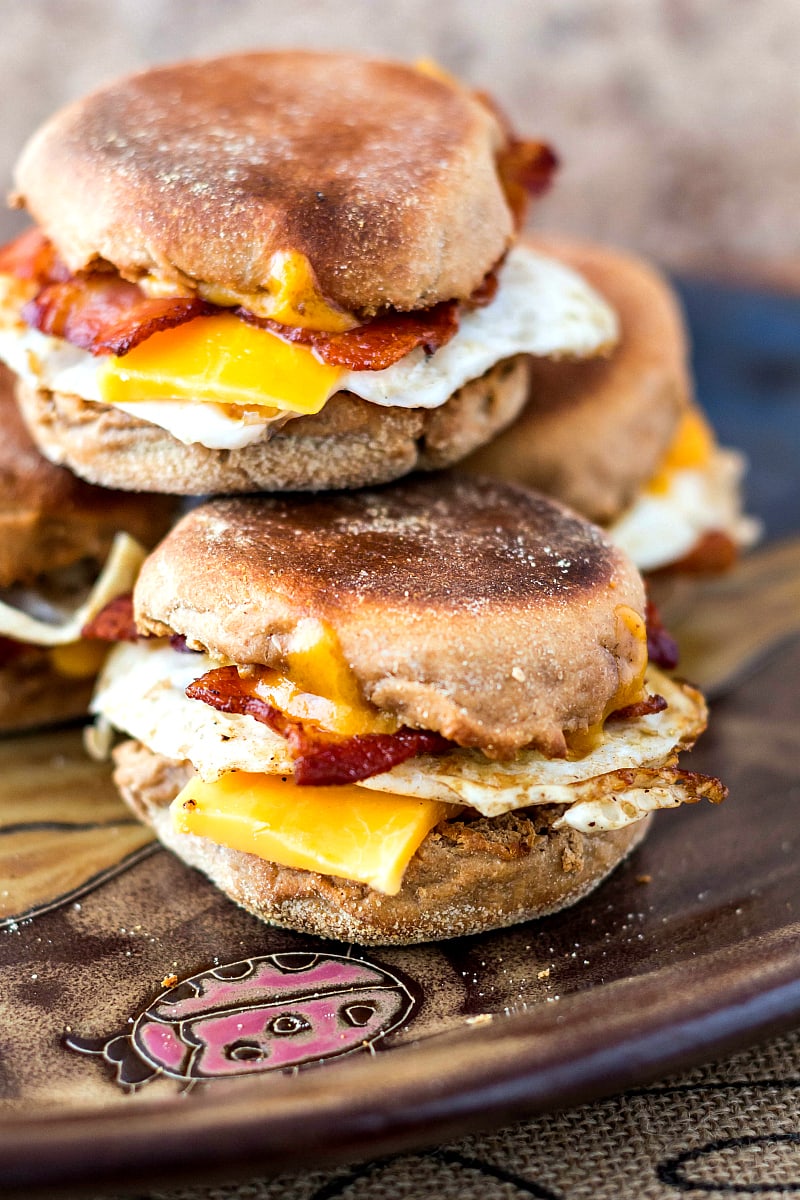 Here's your long pin for saving. Enjoy the muffins, and try to share with your friends!

Thanks so much for spending some time with me today. I'm happy to take reader requests like these muffins. Just let me know what you'd like me to make!
Take care, and have a lovely day.