Sour cream peach pie ice cream is the new taste of summer. Because sometimes it's too hot for pie, I turned my favorite pie a la mode into ice cream. So there!
Don't miss the round up of all my ice cream recipes.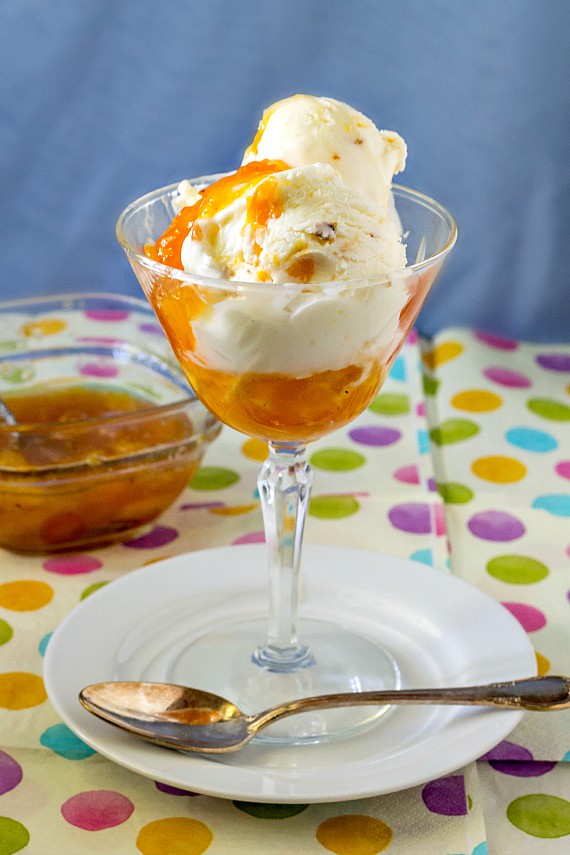 Hello, friends! Today, my post is doing double duty: first as a one day late (are you really ever surprised by this?) Ice Cream Tuesday and second, as a guest post for Lana of Never Enough Thyme. She is recuperating from surgery, so many of the Progressive Eats group are stepping in to help her out so she has time (thyme) to recover without having to worry about her posting schedule. Nice!
Lana has a beautiful blog, and if you are a fan of southern cooking and beautiful photography, you will want to make sure to stop in to visit if you don't already know her. Please send her a howdy from me and a get well soon!
Serving Suggestion. Blueberries and peaches or nectarines are great friends, so a scoop of this sour cream peach pie ice cream will work beautifully served with a slice of blueberry galette.
Since Lana and I both hail from the south, I wanted to make an ice cream that is purely southern. One that tastes of lazy summer days spent by the lake. An ice cream that embodies the fleeting sweetness of summer and takes advantage of in-season fruit. And what fruit is more southern than peaches? Arguably not one.
I've made peach ice cream before. The last one I created was a browned butter peach buttermilk ice cream, and while it was delicious, this time around, I was thinking pie. Specifically, a sour cream peach pie with a crumb topping.** Peaches and cream are a Thing for a reason, and I couldn't get the combination out of my head.
To make an easy version of this ice cream, you could absolutely make and churn the sour cream base until soft serve consistency and then mix in a piece of peach pie that you've cut up in tiny pieces. Since I didn't have peach pie in the house, I made each component separately: nutmeg-spiked peach jam, flaky pastry and crunchy streusel. You have options here too, of course. If you don't feel like making all the components, feel free to use a good quality store-bought peach jam and packaged pie crust.
The sour cream ice cream base is definitely one to keep in your back pocket. It is egg-free, has a nice tang from the sour cream which keeps it light-feeling, and is the perfect canvas to build your own fruity ice cream: blueberry, blackberry, strawberry, cherry, etc. I can't think of many fruits that wouldn't go beautifully with sour cream ice cream. And if you're wondering about the corn starch, I learned that trick from reading about Sicilian gelato over at Ice Cream Nation. The starch helps to bind up some of the water in the dairy, and limiting "free" water also limits ice crystals. Thanks to the corn starch (you can use other starches too) this ice cream stays smooth and creamy and scoopable. For best results, do let your ice cream container sit out for ten minutes or so before scooping.
And now, without further ado, here it is: Sour Cream Peach Pie Ice Cream.
Sour Cream Peach Pie Ice Cream
Nutmeg-spiked peach jam, bits of flaky pastry and crunchy bites of streusel all nestle together in a creamy, sweet sour cream ice cream base. You're going to love this one!
Note that the ice cream in my photographs is made with half the amount of peach jam called for in the recipe. Once I made it, I realized I wanted mine to be more peachy, hence the extra peach jam in the sundae shots. You can either put the entire amount of jam in the ice cream itself or feel free to use some as a sauce as I did. Either way, you are going to love this ice cream.
Ingredients
For the Base
16 oz (2 cups) half and half (or one cup each whole milk and whipping cream)
10 oz granulated sugar
2 Tablespoons corn starch, (or other starch)
1/4-1/2 teaspoon fine sea salt, , to taste
16 oz sour cream
For the Peach Jam
16 oz (1 pound) fresh or frozen peach slices
12 oz granulated sugar
heavy pinch salt
several gratings of whole nutmeg
zest of 1/2 lemon
For the Pie Crust
2 oz of your favorite pie crust recipe, (I used Lazy Baker's Puff Pastry, and you can find the recipe here)
coarse sugar for sprinkling
For the streusel
1 oz all purpose flour
1 oz granulated sugar
1 oz unsalted butter
heavy pinch of salt
zest of 1/2 lemon
Instructions
For the Ice Cream Base
In a heavy bottomed sauce pan, whisk the half and half (or milk and cream), sugar, starch and salt.
Bring to a boil, whisking frequently.
Allow to boil about 15 seconds, whisking constantly. Strain through a fine-mesh strainer into a bowl. Whisk in the sour cream and stir until smooth. Taste and adjust salt if necessary.
Cool and then chill to no more than 40F.
For the Peach Jam
Combine all ingredients in a large, heavy-bottomed sauce pan. Cook over medium low heat until the peaches give up their juices and the sugar is nice and wet, if not completely dissolved.
Increase the heat to medium and cook, shaking the pan frequently or stirring with a wooden spoon, until the mixture reaches between 221F and 225F. Cut the peaches up into bite-sized pieces with the side of your spoon or mash them for a jammier consistency.
Cool and chill until ready to use.
For the Pie Crust
Roll out the dough to about 1/4" thick. Sprinkle liberally with coarse sugar and roll until the dough is about 1/8" thick. Bake on a parchment- or Silpat-lined baking sheet at 400F until the crust is a deep golden brown (or the color you like your finished pie crust to be). Cool and cut or crumble into small pieces.
For the Streusel
Mix all the ingredients together until crumbly and the butter is evenly distributed.
Spread out in an even layer on a parchment- or Silpat-lined baking sheet and bake at 400F until golden. Remove from the oven. Your streusel may all melt together into one sheet. That's totally fine. Just let it cool for 2-3 minutes on the sheet and then remove to a rack to cool. Think of it as a very buttery cookie. Once it's cool, crumble into small pieces.
To Churn and Finish
Place the jam, crust pieces, and bits of streusel into the freezer while you churn your ice cream.
Churn the base according to your manufacturer's directions.
Once the base is at soft-serve consistency, add in the jam, crust and streusel and let churn another 2 minutes to evenly distribute the mix-ins.
Pack into a container, press plastic wrap onto the surface and freeze for at least 4 hours before serving.
I do hope you've enjoyed today's ice cream. I know I have! This is a great one to serve at a picnic, and it's also delicious fresh from the churn if you'd like to serve it soft. Just know that it will melt quickly to serve and eat immediately.
Thank you for taking the time to read today. And I know Lana thanks you for your well wishes, too.
Have a lovely day, and remember, make an Ice Cream Tuesday, because anyone can make a sundae!
**When I looked up "sour cream peach pie with crumb topping," I came across the one I linked to, made by Barbara of Barbara Bakes and another member of the Progressive Eats crew who is helping out Lana. Small world!