Making fig jam is something I look forward to every summer. The fig season is so short, and the fruit is so delicate, that you have to work quickly.

I used The Flavor Bible to add a little more nuance to my fig jam recipe, which is already pretty stellar. I think you'll enjoy the addition of vanilla and black pepper.

I hope you'll also give my savory fig jam recipe a try, too! Or for another summery jam, I think you might like my a-little-bit-different-but-delicious peach tomato jam recipe.

For ease of browsing, here are all my condiment and jam recipes in one place. Thanks for stopping by!
Making Fig Jam is More a Procedure Than a Recipe
The first post I ever read of my friend Stacy's blog, Food Lust People Love was about her Gram's fig preserves.
The rules are simple:
Two parts figs
one part sugar
Cook and cook
Be gentle so you don't break up the figs
Can.
NOTE 1: I am not gentle, so I knew I'd be making jam and not preserves.
Speaking of which…
What is the Difference Between Jam and Preserves?
Both jam and preserves involve cooking fruit with sugar, some acid, and maybe with some pectin.
The difference is that preserves are made using whole fruit and jam is made using pieces of fruit.
Jelly is made using the juice from fruit with no bits of fruit in it.
NOTE 2: I am not a canner, and if you aren't either, you can still make the fig jam. It will be fine in the fridge for at least a couple of weeks, probably longer considering the sugar content.
Use a Scale for Accuracy
I love the procedure for making this jam.
It releases you from the strictures of a recipe and allows you to make as much or as little preserves as you want. For example:
You can weigh your figs then divide that number by two to come up with the amount of sugar you'll need. Easy!
If you have 7 pounds of figs, you'll need 3 1/2 pounds of sugar.
I like to do things by weight, so I almost always use my kitchen scale. You should too.
This Escali Primo is one I've had since culinary school, and it works great.
For convenience, consistency, and accuracy, almost all my recipes are written by weight, either in ounces and/or grams, even the liquids.
I strongly encourage you to purchase a kitchen scale and learn to use it.
This is the one I used for years. I love it and highly recommend it:
Best for Home Use
Escali Primo Digital Food Scale
Don't let its small price and small size fool you. The Escali Primo is an accurate and easy-to-use food scale that I have used for years. It's easy to store, easy to use, has a tare function, and easily switches between grams and ounces/pounds for accurate measurements.
This is an affiliate link which means I earn from qualifying purchases. Your price is unaffected.
Using The Flavor Bible to Add a Little Extra to My Fig Jam
You do own a copy of The Flavor Bible, yes?
If not, let me take the time to put in a little plug for it. Whether you want to add another dimension to fig jam, to a lamb recipe, to a rice dish, or to almost any food you want to make, The Flavor Bible makes it easy.
Not a cookbook, but an invaluable resource for building flavor profiles, you can look up almost any ingredient or style of cooking (Greek, Indian, Chinese, etc) and find lists of ingredients that complement the ingredient or that exemplify/typify the cuisine.
So when I looked up figs, along with lemon (which I was already using) and a host of other ingredients, I found and settled on vanilla and black pepper.
Another recipe I developed using The Flavor Bible is my savory grape bread, so you may want to take a look at that too.
Using a Food Mill for Your Fig Jam
If you are very, very gentle with your figs, and can simmer them gently without breaking them up, you will end up with fig preserves.
To make a rustic jam, you can break up the figs some but leave them in sort of larger chunks.
If you want a more uniform jam that has a lot of texture but not chunks, I recommend getting a food mill and passing your figs through it after cooking.
The food mill will allow the fruit pulp to pass through along with the seeds, but most of the skins will be left behind. The texture of your jam will be very similar to that of what I consider "traditional jam," which for me comes in jars at the store!
I have an OXO food mill. It works smoothly and I have never had an issue for it. It's great for making apple sauce and apple butter too.
More Fig Recipes
Figs are wonderful for eating out of hand, but if you have access to figs or you are lucky enough to have a fig tree in your yard, you should definitely try Nancie McDermott's Fig Pie recipe.
Also consider using fig jam as a sort of sauce for pizza. It works really well as a sweet component in an otherwise savory recipe. My grilled pizza pairs fig jam with goat cheese, roasted red peppers, and purple potatoes.
I really hope you love this fig jam recipe, you guys! If you make it, please share a photo with me, either in the PCO Facebook Group or on instagram by tagging @onlinepastrychef and using hashtag #pcorecipe. Thanks, and enjoy!
And Stacy, I have never forgotten your sweet post about Gram's fig preserves. When my friend Carol brought me a sack of fresh figs from her neighbor's tree, I immediately turned to that post for inspiration.
It would be so helpful to me and to other readers that, when you make a recipe, you rate it and leave a comment. Whether it's a recipe or an informational post, your feedback helps others decide if the post is helpful or if the recipe works as advertised.

If you could leave a star rating, that would be very helpful. Thank you for being here!
Fig Jam Recipe
This fig jam recipe is by no means set in stone. It's a procedure. Bring your own flavors to the party. You'll be glad you did. I will say, though, that vanilla and black pepper make wonderful additions!

If you make this jam to taste, store it in the fridge for up to a month. If you want to can it and keep for months and months, please follow the USDA canning guide to make sure your jam is safe for long-term storage.
Ingredients
3

cups

figs

washed with stems removed

1 ½

cups

granulated sugar

¼

teaspoon

fine sea salt

or to taste

1 ½

Tablespoons

4 1/2 teaspoons freshly squeezed lemon juice (about 1/2 a juicy lemon

several grinds of fresh black pepper

½

teaspoon

vanilla paste or extract
Instructions
Place all the ingredients except the vanilla in a heavy-bottomed sauce pan.

Bring to a boil, and then simmer gently for about 45 minutes or so.

Taste and adjust seasonings, adding a touch more salt or lemon juice, if you think it needs it

Cool and run through a food mill, mash with a masher or leave as is, depending on the final texture you're looking for.

Stir in the vanilla.

Enjoy within a month.
Did You Make Any Changes?
Notes
If you happen to have a piece of vanilla bean lying around, you can add that to the pot and let the figs cook with the vanilla. In that case, omit the vanilla extract.
As a courtesy, nutrition is calculated for 1 ounce or 2 Tablespoons of jam.
Nutrition
Serving:
1
g
Calories:
105
kcal
Carbohydrates:
27
g
Sodium:
34
mg
Fiber:
1
g
Sugar:
26
g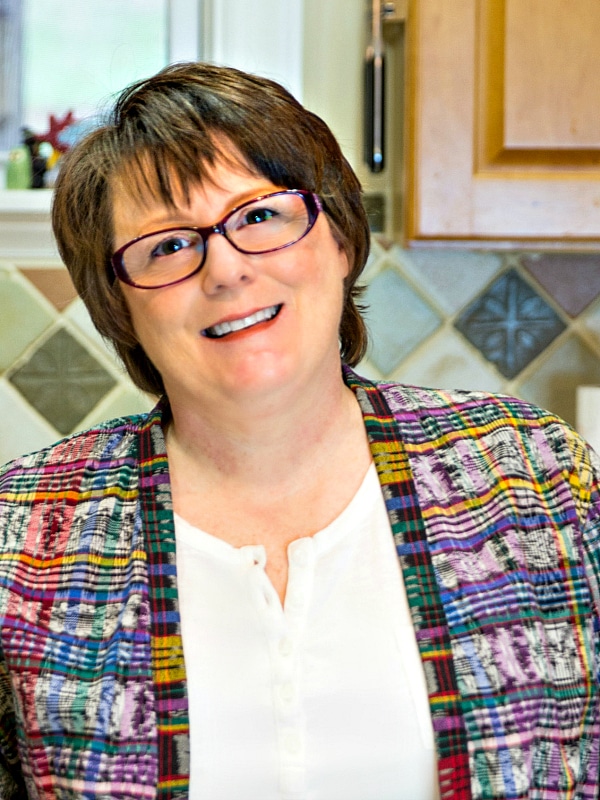 What are my qualifications to teach you baking and pastry? As a former working pastry chef and special educator, I marry my passions for both teaching and for baking into explaining techniques, methods, and developing the best possible recipes. For more info, you can read more about me.
If you'd like to receive new recipes and the occasional newsletter, I'd love for you to sign up for my Inbox Pastry Chef.
Thanks for spending some time with me. Have a lovely day.