Today, we're all about the pizza here on PCO. Grandma pie to be exact. I'm going to teach you (with Peter Reinhart's help) the best Grandma pizza dough recipe in all the land.

Grandma style pizza dough is meant to be baked in a sheetpan liberally brushed with olive oil, giving you a burnished crispy bottom while the crust itself is light and airy. Topped with your favorite toppings–not too much though–you'll have the best pan pizza around.

Top it with my vodka sauce for a real treat, or make my own invention: lasagna pizza!
Another fun one to try is my patriotic grilled pizza.

For ease of browsing, here are all of my bread and roll recipes.
Watch my grandma pizza dough web story here.
What Is Grandma Pizza?
Grandma pizza originated in Long Island and probably has never been heard of in Italy, the home of pizza.
That's just fine with me–hooray for Italian American inventions!
Grandma pizza gets baked up in a parchment-lined half sheet pan that you coat liberally with olive oil.
The bottom of the crust basically fries to a crisp, golden brown in the oil while the interior is puffy but light.
Go easy on the toppings because
you don't want to weigh down the airy crust and
with a crust this delicious, you want to be able to taste it
Perfect Pan Pizza by Peter Reinhart
Peter Reinhart is a bread fiend. His seminal The Bread Baker's Apprentice is still eagerly sought out and is considered by many to be The Bible when it comes to making artisan-style bread and understanding dough.
Perfect Pan Pizza is a treasure trove of knowledge, freely shared in plain, easy to understand language, that will have you churning out truly stellar pan pizzas in no time. I've made 3 in the past week, all using his master dough recipe and pizza sauce but then topping them however I want.
Each one has been delicious, and it truly is the crust that makes it.
What Is So Great About This Recipe?
While you can technically use any pizza crust recipe for grandma pizza, Peter Reinhart's recipe is pretty dang stellar.
It's crisp and chewy and pillowy and airy. So, so good!
Here's what I like about it so much:
You don't need a mixer to make the dough
It requires no kneading, just a few folds
It's a very wet dough, which means it develops a beautiful, open, airy crumb
The flavor is excellent
Peter's instructions are very clear and easy to follow, so unless your yeast is dead, there is no way to mess this dough up
How To Make Grandma Pizza Dough
Ingredients
As with most breads and flatbreads, the ingredient list for pan pizza dough is very basic:
bread flour: you can substitute all purpose flour with a high protein content (such as King Arthur), but you may need to cut back on the amount of water you use by just a smidge
olive oil: helps to tenderize the dough, assists in browning, and adds some flavor
water: allows the gluten to develop. This is a very wet dough and can almost better be described as a very thick batter
salt: keeps the yeast from running wild so you don't end up with flabby dough and adds flavor
instant yeast: provides the rise. You can substitute active dry yeast 1:1. Just proof it in a portion of the water (warm the water first) for a few minutes to make sure it's alive). Then add it in with the rest of the ingredients
A Note About Hydration
As written, this dough is 80% hydration (the weight of the water–16 oz–is 80% of the weight of the flour–20 oz.
If you would like–and I often do this–you can make the dough at 90% hydration, or 18 oz of water to 20 oz of flour.
This yields a dough that is very soft–amost a thick batter. But the texture is incredibly light and airy with large holes throughout the crumb.
This is my idea of heaven.
Since this is a very slack (wet) dough, be sure to oil your hands when working with it. Don't add flour–just oil your hands.
PRO TIP: To keep this soft dough from sticking to your hands, oil your hands very well with olive oil rather than trying to add additional flour to the dough. The oil will prevent the dough from sticking to you hands, so use it liberally.
Procedure
Making the dough is a straightforward process. First, here's a collage of step-by-step photos:
Mix flour, instant yeast, salt, and water together until shaggy.
Mix in olive oil.
Spread a thin layer of olive oil over your work surface
Plop the dough out onto the oiled counter and, with oiled hands, press the dough out into about a 15″ square-ish shape
Using your bench knife to help you, stretch and fold the dough in thirds, like a letter
Fold the dough into thirds the other way.
From there, put the bowl you made the dough in over the dough like a little dough cave, and let it rest about 5 minutes.
Repeat the pressing out and stretch-folds 3 more times at 5-10 minute intervals.
After the last fold, oil the dough, and put it in a lightly-oiled bowl. Cover with a lid or with plastic wrap and refrigerate at least overnight or up to 3-4 days.
Shaping the Dough
This is easy to do, too.
You do have to be a little bit patient, because gluten naturally likes to spring back when you press it out, but aside from a little patience, this step takes very little skill. Approach your dough with confidence!
Lay a piece of parchment in a half-sheet pan and spread on about 1/4 cup olive oil. Plop the dough in the center of the pan and then use your fingertips to dimple the dough and press it out as far as you can get it to go.
Cover the dough with another half-sheet pan (I find that easier than using plastic wrap) and let it rest for 20 minutes so the gluten can relax. Repeat the dimpling 2 or maybe 3 more times, waiting 20 minutes in between Dimpling Sessions, until the dough fills the whole pan.
After the dough fills the entire pan, sprinkle it with minced garlic–pretty much as much as you like
Then cover it with the other pan to rest/rise until you're ready to top it. It's fine to just sit on the counter for 2-3 hours before it goes in the oven.
You may top the pizza however you like, using your favorite homemade or jarred sauce, or give my favorite of the 3 types of grandma pizza I've made in the past week, lasagna pizza. Lord it was good!
The Bottom Crust Basically Fries in Olive Oil!
This is one of the things that is so magical about this grandma pizza dough.
Since you're not baking it on a super hot stone, it doesn't end up with little bits of char. Rather, since you pan it up in olive oil, the crust fries to a beautiful, burnished, crispy golden brown!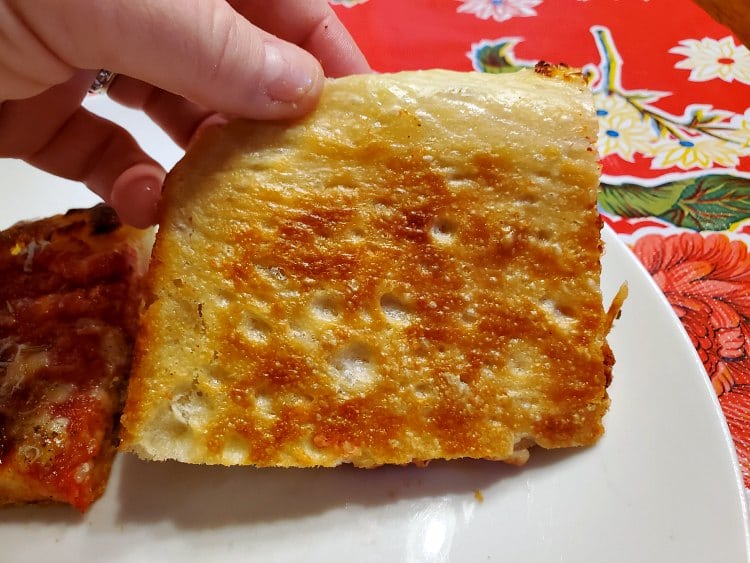 I generally bake my grandma pies on half-sheet pans, but if you're looking for a specialty pan to make deep-dish pizzas, this is what I recommend:
Jenni's Pick
LloydPans Kitchenware 16x12 Inch Grandma Style Pizza Pan
I bake my grandma pies in a half-sheet pan, but Lloyd's pans are the real deal. They are commercial pans, so form definitely follows function. And that's really what you want--a pan that performs. They're coated aluminum and transfer heat really well, plus the dark color ensures a crisp crust.
This is an affiliate link which means I earn from qualifying purchases. Your price is unaffected.
More Pizza Topping Ideas
Honestly, I think you're going to want to stick with this crust recipe once you've made it. But that doesn't mean you won't want to top it in all different ways. Here are some ideas for you:
Regardless, remember the secret really is in the crust and not to pile on the toppings too thick so the whole thing will bake through.
If you're looking for a great pizza sauce, my homemade pizza sauce is pretty perfect, if I do say so myself.
A Note About Measurements
For convenience, consistency, and accuracy, almost all my recipes are written by weight, either in ounces and/or grams, even the liquids.
I strongly encourage you to purchase a kitchen scale and learn to use it.
This is the one I used for years. I love it and highly recommend it:
Best for Home Use
Escali Primo Digital Food Scale
Don't let its small price and small size fool you. The Escali Primo is an accurate and easy-to-use food scale that I have used for years. It's easy to store, easy to use, has a tare function, and easily switches between grams and ounces/pounds for accurate measurements.
This is an affiliate link which means I earn from qualifying purchases. Your price is unaffected.
It would be so helpful to me and to other readers that, when you make a recipe, you rate it and leave a comment. Whether it's a recipe or an informational post, your feedback helps others decide if the post is helpful or if the recipe works as advertised.

If you could leave a star rating, that would be very helpful. Thank you for being here!
Grandma Pizza Dough Recipe
This grandma pizza dough recipe makes 3 pounds of beautiful, soft pizza dough perfect for pan pizzas. You'll use 32 ounces of dough to make your grandma pizza, and you can use the rest to make a perfect 8" personal pizza for yourself the next day.
This recipe comes straight from Peter Reinhart's book, Perfect Pan Pizza, a book you need to own, especially if you are a fan of deep dish pizza
Ingredients
567

g

20 oz, or about 4 1/2 cups unbleached bread flour

11

g

1 3/4 teaspoons kosher salt (I use Morton's)

4

g

1 1/4 teaspoons instant yeast

454

g

16 oz, or 2 cups cool water (about 60F)

28

g

2 Tablespoons olive oil

2

additional teaspoons olive oil for the stretching and folding

I usually use a lot more than this. It will not adversely affect the dough if you use more than 2 teaspoons

¼

cup

olive oil for panning

2

teaspoons

minced garlic for panning
Instructions
In a large bowl, stir together the flour, instant yeast, and salt.

Add the water and stir in until you have a shaggy dough, about 1 minutes.

Drizzle in the olive oil and stir for another minute to evenly distribute the oil throughout the dough.

Use your hand to rub a couple of teaspoons of oil out on a clean counter into about a 15" circle-ish.

Plop the dough out onto the oiled counter.

Oil your fingers and press, dimple out the dough to about a 15" square-ish shape.

Use your bench knife to help you fold the dough into thirds like a letter and then in thirds again the other other way. Cover with a bowl and let rest 5 minutes.

Repeat steps 6-7 3 more times for a total of 4 rounds of folding.

Place the dough into a lightly oiled bowl, and oil the top of the dough. Cover with a lid or with plastic wrap and refrigerate for up to 3 days.
To Pan the Dough
FOUR HOURS before baking, line a half-sheet pan with parchment paper and pour on 1/4 cup olive oil. Spread it out with your hands or a brush.

Scale out 32 ounces of dough (hold back 4 ounces from the total amount for another use) and plop it down in the middle of your parchment-lined and oiled pan. If you don't have a scale, use all but about 1/2 cup of the dough.

Use your fingertips to dimple out the dough as far as it will go. Cover the dough with an upside down half-sheet pan and let rest 20 minutes.

Repeat the dimpling and resting until the dough covers the whole pan. This will take a total of 3-4 Dimpling Sessions.

Once the dough fills the pan, sprinkle the garlic evenly over the crust and let rest, covered, for 2-3 hours before topping as desired.

Preheat the oven to 450F (425F for convection) for at least 30 minutes. Bake in the bottom third of the oven for 20-30 minutes. The bottom of the crust should be a beautiful deep golden brown.
Did You Make Any Changes?
Notes
The dough can wait for you in the fridge for up to 3 days before using it. If you use it to make a grandma pizza, you will have a bit of dough leftover that you can stretch into about a thin 10" personal pizza. You could also use that leftover dough to make a personal strombolo or calone.
If you use this dough to make a focaccia, you'll use all the dough and end up with a lovely, thick, dimpled, light and airy focaccia with a crisp bottom. Top your focaccia however you like: with pizza toppings or with a scattering of herbs and/or caramelized onions.
Nutrition
Serving:
1
/16
Calories:
189
kcal
Carbohydrates:
26
g
Protein:
4
g
Fat:
7
g
Saturated Fat:
1
g
Polyunsaturated Fat:
6
g
Sodium:
269
mg
Fiber:
1
g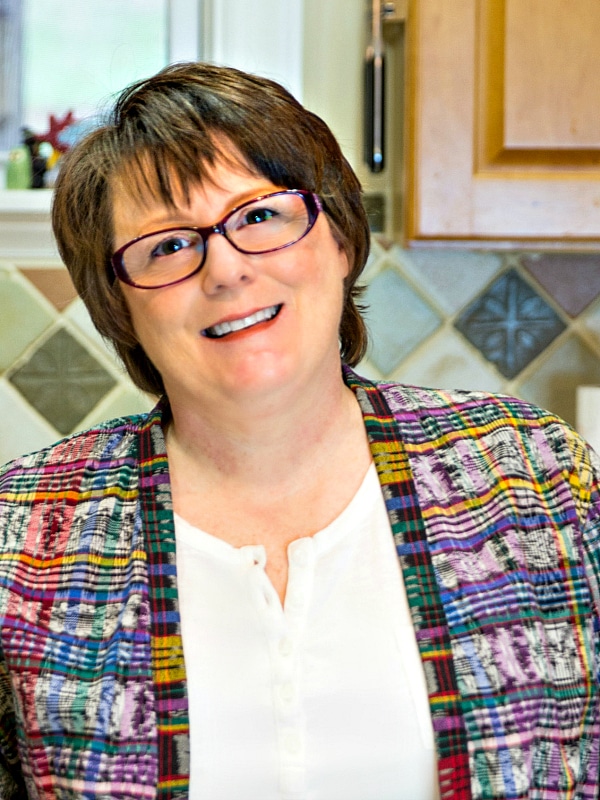 What are my qualifications to teach you baking and pastry? As a former working pastry chef and special educator, I marry my passions for both teaching and for baking into explaining techniques, methods, and developing the best possible recipes. For more info, you can read more about me.
If you'd like to receive new recipes and the occasional newsletter, I'd love for you to sign up for my Inbox Pastry Chef.
And there you have it, friends. A perfect (honestly!) grandma pizza dough recipe.