Most Recent Update:
You are definitely going to want to make this peanut butter marshmallow cake, especially if you still dream about the fluffernutter sandwiches of your childhood!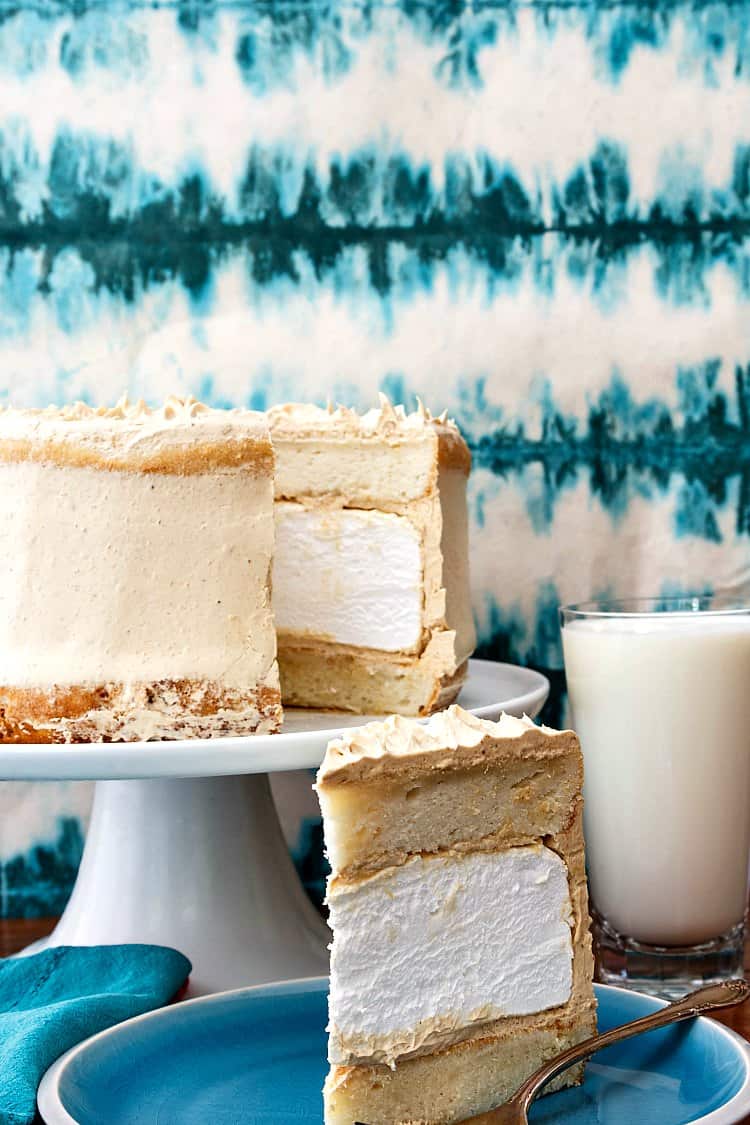 I give you the peanut butter marshmallow cake, the fluffernutter cake of your dreams!
I Get By With A Little Help From My Friends
My friend, super talented pastry chef and cookbook author Jill O'Connor is magical. And one of the most magical things about her (aside from her excellent taste in binge-worthy television), is her use of a Big Fat Marshmallow as a layer in a cake.
Yes, you read that right. You make a marshmallow in an oiled and cornstarched cake pan, let it cure for 12 hours or so, and then pop it out, brush it off, and use it as a cake layer.
Well now.
Her daughter requested this for her birthday cake one year, and now it is her birthday cake every year. You can find the recipe for the cake, The Scotchmallow, as well as all manner of other wonderful cakes in Jill's latest book, (affiliate) Cake, I Love You.
I got to make this marshmallow layer on our recent Cook the Book with Denise and Jenni show, but this was not the time for the Scotchmallow. (Don't worry, Scotchmallow. You will be mine!) This time, I wanted to bring my own magic to the marshmallow layer party.
I decided you can't get any more fun than making a kid favorite, the fluffernutter, into a cake with Wow Factor. I dreamed up a Brown Sugar Peanut Butter Swiss Meringue Buttercream to pair with the mallow. And all that was needed was the "bread." Enter white cake. And not just any white cake.
I went with another friend's–pastry chef, Serious Eats editor, and blogger at BraveTart Stella Parks's–recipe from her James Beard Award-winning cookbook, (affiliate) Brave Tart. Like all of Stella's recipes, this cake is pretty much the best white cake I've ever tried. And way moister than many, probably all. White cakes tend towards dryness since there are no yolks to keep things tender, but Stella solves that problem by subbing in some coconut oil for part of the butter and introducing buttermilk as the liquid. Lovely.
Armed with my components, I set off to make the peanut butter marshmallow cake of my dreams. And maybe of your dreams, too.
Peanut Butter Marshmallow Cake (Fluffernutter Cake)
I have anticipated some questions you might ask about this cake. If I have left out a question you'd like the answer to, please don't hesitate to leave a comment or email me.
I thought a fluffernutter is made with peanut butter and marshmallow fluff…?
Technically, yes. But there is no way to make a 2″ layer of marshmallow fluff. You need the gelatin in a homemade marshmallow to give the structure it needs to hold its shape and be easily sliced.
How did you get the cake layers so flat?
I use a serrated knife to slice off any domed part once they're out of the oven and completely cool. Then I snacked on the domes while I assembled the cake.
Is it easy to slice?
There's a bit more to it than slicing a "regular" cake. I poured boiling water into a metal cocktail shaker, dipped a sharp knife into it and then wiped it dry on a clean towel. Then, I cut–without sawing–until the knife started to get bogged down in the mallow. I repeated the dipping-drying-cutting until I could cut through the whole slice. The easiest way to eat this cake is to lay the slices down on their sides and cut through the mallow with the side of your fork.
Is there any way I can mess this up?
You have to be precise with the temperature of the sugar syrup for making the marshmallow. Jill says to shoot for 240F or no more than 244F. This will give you a nice soft mallow. Any higher temperature, and the mallow may be too firm to slice nicely let alone to cut and eat. Make sure you're using a precise thermometer. Here are some choices at different price points. All are Amazon affiliate links.
amzn_assoc_placement = "adunit0";
amzn_assoc_search_bar = "true";
amzn_assoc_tracking_id = "pascheonl-20";
amzn_assoc_ad_mode = "manual";
amzn_assoc_ad_type = "smart";
amzn_assoc_marketplace = "amazon";
amzn_assoc_region = "US";
amzn_assoc_title = "Thermometers for Candy Making, Among Other Things";
amzn_assoc_linkid = "97fe72d847b93a32a0030c8338119dd5";
amzn_assoc_asins = "B0011YVZMQ,B001FB6IFY,B073L3FLWH,B01F59K0KA";
Note that even good thermometers can be inaccurate if they aren't properly calibrated, so check to make sure yours reads 212F in fully boiling water (at or near sea level, anyway), and reads 0F when plunged into a glass full of ice with water in it. Not a glass of water with ice in it. The glass has to be completely full of ice. Then pour in just enough water to reach the top. The ice should not float. Give it a couple of stirs before testing your thermometer.
Also note that you cannot check the calibration of clip-on candy thermometers because they only read as low as 100F.
Do I have to use these particular recipes in my peanut butter marshmallow cake extravaganza?
Of course not. If you have a favorite white cake recipe, by all means use that one. You can even use a box mix if you'd like. And if you prefer a different peanut butter buttercream recipe, go for it. You can even make the mallow with a different recipe and/or switch up the flavors if you want. Make a peanut butter and jelly cake by adding some raspberry or strawberry puree or freeze dried fruit whizzed to dust in a blender to your mallow, for example.
I don't like the look of a "naked" cake. What can I do?
Make extra buttercream. I figured this guy was going to be sweet enough with the big fat mallow and the white cake, so I wanted to use just enough frosting to hold everything together. By all means use 4 or even 5 whites instead of the three I used, and change your other measurements accordingly.
Okay, let's make this peanut butter marshmallow guy right now.
But First, Math
There is some math to do to make the buttercream. It's not hard, but I want to prepare you. And you really do need a kitchen scale for the most accurate and consistent measurements. Here's the one I use and love (except mine is navy blue).
amzn_assoc_tracking_id = "pascheonl-20";
amzn_assoc_ad_mode = "manual";
amzn_assoc_ad_type = "smart";
amzn_assoc_marketplace = "amazon";
amzn_assoc_region = "US";
amzn_assoc_design = "enhanced_links";
amzn_assoc_asins = "B0007GAWRS";
amzn_assoc_placement = "adunit";
amzn_assoc_linkid = "707dc29236439ef94ae120b5ca2385d6";
So, here's the formula for the most stable Swiss (or any) meringue buttercream.
1 part egg whites, 2 parts sugar. Butter equal to the weight of the whites plus the sugar.
My three whites weighed 3.65 oz. So here's my math:
sugar = 3.65 x 2 = 7.3 oz (3.65 ounces each of granulated sugar and brown sugar in this particular case)
butter = 3.65 + 7.3 = ~11 oz (okay, I added an extra ounce and rounded things off at 12 oz)
The 6 oz of peanut butter won't change since there really shouldn't be too much variation in your egg whites as long as you're using US large eggs.
Now We're Ready.
Fluffernutter Cake (Better Than the Sandwich. Because: Dessert!)
Love this recipe? Please rate it! And when you make it, I'd love to see it! Tag me on Instagram @onlinepastrychef and use hashtag #pcorecipe
Peanut Butter Marshmallow Cake (Fluffernutter Cake)
Total Time:
1 hour
45 minutes
This peanut butter marshmallow cake looks fairly unassuming from the outside, but cut into it to a reveal a 2" layer of marshmallow in the middle! Kids and adults will love this show-stopping cake with its nostalgic, familiar flavor profile. The mallow layer is from Jill O'Connor's Cake, I Love You, and I got her permission to post it here. Thank you, Jill!
And there you have it, friends. A fun, festive, kid-friendly retro cake to enjoy with friends or by yourself. In a bubble bath or something.
If you were a fan of a fluffernutter sandwich as a kid, I really think you'll love this fancy cake version. If you make it, please tell me about it and share a picture!
Feeling Pinnish?
If you'd like to pin ye olde peanut butter marshmallow cake, I have made a pin for you.
Thanks so much for reading, friends. Take care, and have a lovely day.
Need some more fun cake ideas? Check my Cake Recipe Archives.