Most Recent Update:
This no churn caramel cinnamon roll ice cream has pieces of short cut cinnamon rolls and swirls of cinnamon caramel all in a cinnamon ice cream base. Keep reading for the recipe and for information about our huge #SummerDessertWeek giveaway at the end of the post!
This post and recipe was created for #SummerDessertWeek! I was sent samples by some of the sponsor companies but as always opinions are 100% mine.
#SummerDessertWeek
It's finally here! Summer Dessert Week! Dozens of bloggers sharing between 2-5 dessert recipes, July 9-13, 2018 for a total of A Very Lot of desserts! Follow the hashtag and check out all the posts. And don't forget to enter the giveaway our generous sponsors have donated. Huzzah!
Caramel Cinnamon Roll Ice Cream
What's the Hardest Part To Make?
The caramel is the trickiest part, but it's not hard to make. Since you'll be working with sugar that reaches temperatures around 330F, you'll want to take some precautions, but don't be deterred from making it. It's so good, I promise.
Safety When Working with Caramel
Use a pan that is much larger than you think you need. The sugar will bubble up vigorously once you add the cream, so make sure the pan can contain that.
Don't stir until the sugar begins to take on color. Even then, it's better to swirl the pan than to stir, but nothing bad should happen.
Do not stir with a metal utensil. The heat will shoot right up the handle. Use a wooden spoon or a heat-resistant spatula.
Have a bowl of ice water handy. If some sugar does splatter on you–highly unlikely if your pan is large enough and you stand back once you add the cream, immediately dunk the burned part in the ice water.
If sugar does splash on you, resist the urge to stick your finger in your mouth. You'll just end up with a burned mouth.
Do I Need a Thermometer to Make Caramel?
No–the color of the sugar will be enough to tell you when the caramel is ready. That does not mean there aren't many other times you will need an instant read thermometer.
I use mine for everything from checking the temperature of oil for deep frying to making Italian buttercream and marshmallows to checking the internal temperature of bread and cake to make sure they're fully baked.
Please consider getting a thermometer if you don't already own one.
How to Make Mini Caramel Cinnamon Rolls
I thought of a few different ways to make the cinnamon rolls for my ice cream, and I finally settled on a short cut using Hawaiian rolls. They actually turned out so well, I'm showing you how to make them because they'd make a nice, sweet snack all on their own.
"Butterfly" Hawaiian rolls by making cuts so they open up into thirds.
Press the unrolled roll a bit to flatten it.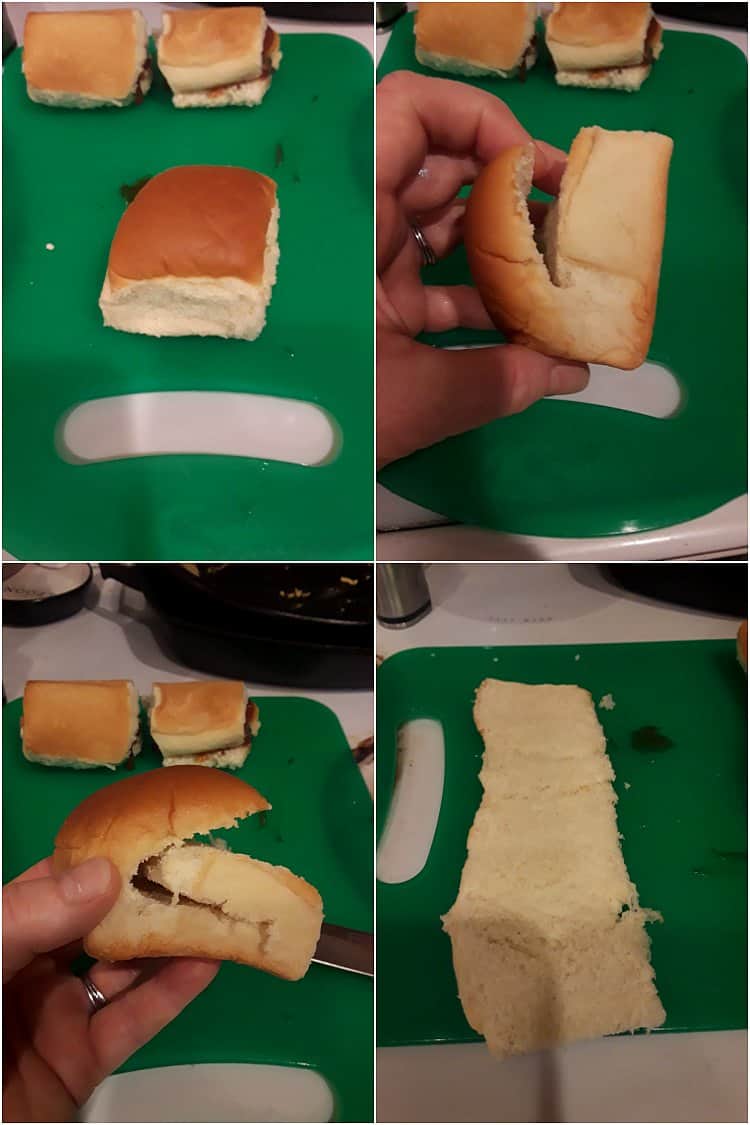 Spread each flattened roll with some cinnamon caramel sauce, and then roll up.
Freeze for 30 minutes to firm up the caramel and then slice. Slice each slice into bits.
Layer cinnamon roll bits, caramel sauce, and ice cream base together, and then freeze for at least 6 hours before serving.
See? Easy!
Let's Make some No Churn Ice Cream
And there you have it. Please read on for the #SummerDessertWeek giveaways and information about our generous sponsors!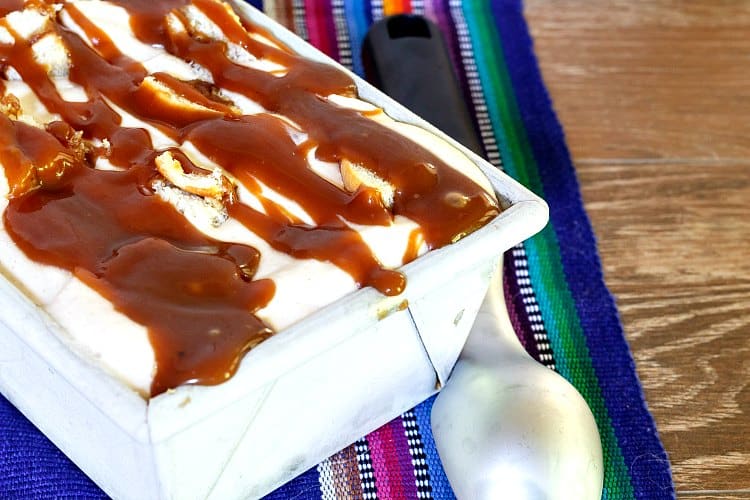 Want more Ice Cream Recipes? Check out my Ice Cream Tuesday archives.
#SummerDessertWeek Recipes for Monday, July 9
Make the rounds and grab these other fantastic Summer Dessert recipes, friends!
Ice Cream Recipes:
Pies of Summer:
Sweet Summertime Cakes:
No-Bake Treats:
Baked Desserts:
Sweet Sips:
#SummerDessertWeek Sponsor Information and Giveaway
Welcome to the 2nd Annual #SummerDessertWeek event hosted by Angie from Big Bear's Wife. This sweet week-long event is filled with fun dessert recipes from amazing bloggers and some great giveaways from our generous sponsors! We can't wait to share all of these summer-themed desserts with y'all and celebrate summertime sweets all week long!
There are 23 wonderful bloggers participating in this year's event! With over 60 recipes being shared this week we just know that you're going to find a new summer favorite! Plus, don't forget that we have 5 (five) great giveaways for you this week too!
Scroll down to take a look!
PRIZE #1
Prize #1 — Dixie Crystals is giving away one (1) Instant Pot (8 Qt) to one lucky winner!
PRIZE #2
Prize #2 — Adam's Extract is giving away – One bottle of Adams Best Vanilla Flavor, Adams Best Prize Winning Pound Cake Mix, Adams Extract Twice as Stong Vanilla and Adams Extract Lemon Extract
PRIZE #3
Prize #3– Red Star Yeast is giving away a gift pack including an Insulated Tote Bag, Apron, "The New Artisan Bread in Five Minutes a Day" Cookbook, Yeast, Rolling Pin, Measuring Spoons, Oven Mitt and Dish Towel
PRIZE #4
Prize #4 — Susquehanna Glass Co. is giving away one set (4 glasses) of Mermaids Stemless Wine Glasses. (like the Mermaid glasses you'll see in some of our recipes this week!)
PRIZE #5
Prize #5 — Lodge Cast Iron is giving away one (1) 12-inch Cast Iron Skillet.
Giveaway open to US Residents 18 years or older. No PO Boxes Please. giveaway runs from July 9th until July 15th at 12AMEST. Winners will be selected soon afterward and contacted by e-mail. Winners will have 48 hours to respond or a new winner will be chosen. There are a total of 5 (five) prizes and therefore we will have a total of 5 (five) winners.
Disclaimer: These posts and recipes are part of the week-long event, #SummerDessertWeek but all opinions are 100% mine! We would like to Thank our amazing sponsors: Dixie Crystals, Adam's Extract, Red Star Yeast, Susquehanna Glass Co. and Lodge Cast Iron! These wonderful sponsors provided the prize packs for our giveaways and also sent samples and products to the #SummerDessertWeek bloggers to use in their recipes.
Stay tuned for more Summer Dessert goodness all week long.
Thank you for spending some time with me today. Good luck in the giveaways, and have a lovely day.