This post and recipe were created for #SummerDessertWeek! I was sent samples by some of the sponsor companies but as always opinions are 100% mine.
What's Great About This Recipe
I shall tell you:
A creamy, no-churn ice cream base with just a touch of cream cheese in it for easy scooping and delicious, smooth texture.
Homemade Cinnamon Caramel Sauce layered in with the base.
Short-cut cinnamon rolls made with Hawaiian rolls. But feel free to use your favorite cinnamon roll recipe or even use store-bought cinnamon rolls for your mix-in
And once you make the caramel sauce, you can pour it on other ice cream or on cake or even stir it into your coffee.
How To Make It
As with any ice cream with mix-ins and swirls, there are a few components to make, but I promise there are no hard-to-source ingredients or weird procedures.
Here's what you'll need and what to do:
Ingredients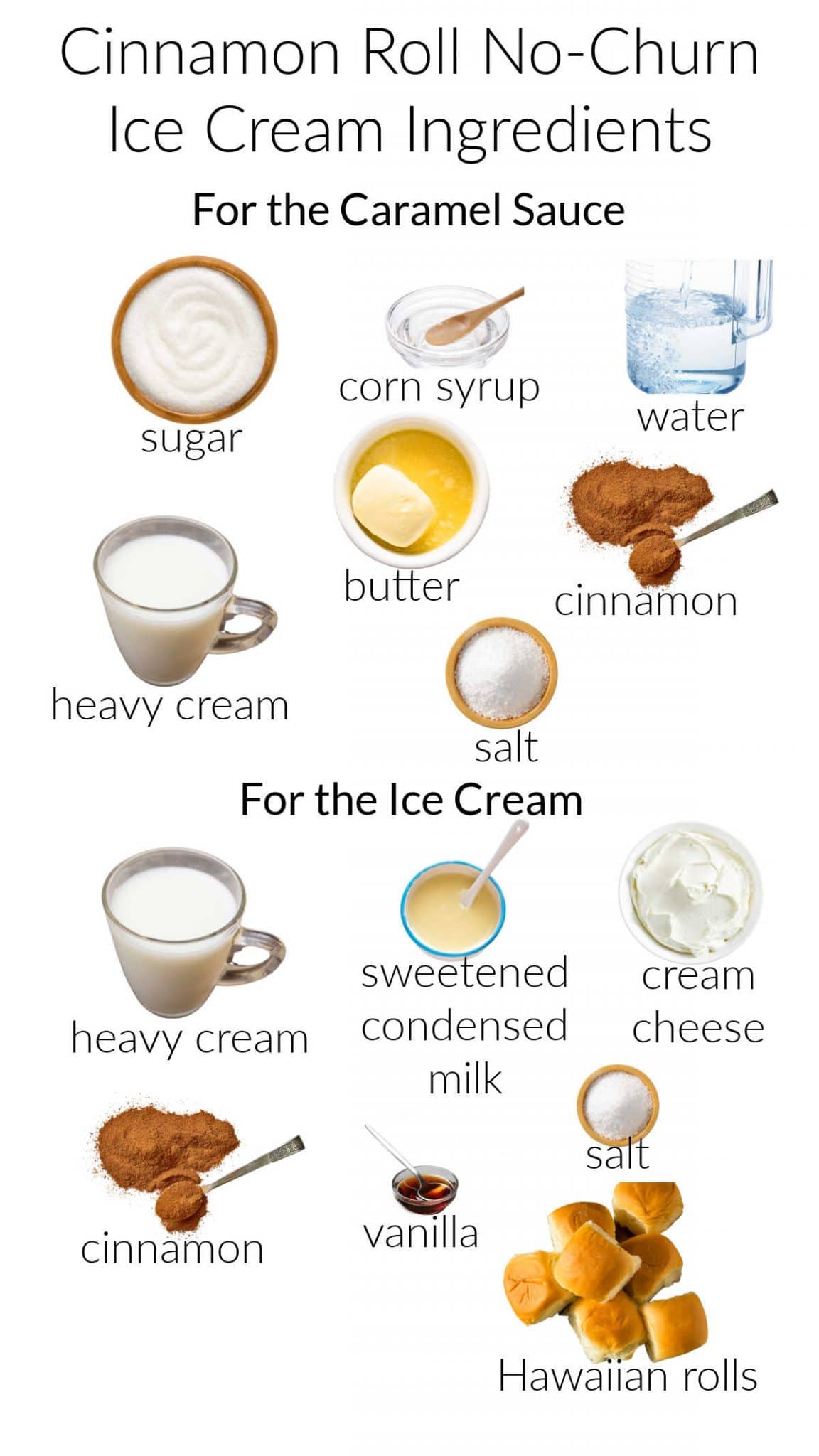 For the Caramel Sauce
sugar: Provides sweetness and the caramel flavor once it caramelizes
corn syrup: Helps prevent crystallization. It is optional, but it does provide a bit of insurance so you don't end up with grainy caramel. You can substitute a liquid sugar like maple syrup or honey if you prefer.
water: Just enough to get the sugar wet so it melts evenly. All the water will cook off since temperatures reach well above the boiling point of water
butter: for body and to help carry flavor
cinnamon: for flavor
salt: brings all the flavors into focus and counteracts any bitterness you might get from the caramel
For the Ice Cream Base
heavy cream:
sweetened condensed milk: heavy cream and sweetened condensed milk are at the heart of almost every no-churn ice cream. They provide the bulk, the dairy, the body, and the sweetness
cream cheese: Use at room temperature and whip it until it's completely smooth. Cream cheese provides extra scoopability and creaminess as well as a subtle tang
cinnamon: for flavor
vanilla: nicely tempers and rounds out the cinnamon
salt: brings the flavors into focus
And of course, you'll need 3 Hawaiian rolls to use for the base of your quickie cinnamon rolls, assuming you aren't making yours from scratch or purchasing them.
What's the Hardest Part To Make?
The caramel is the trickiest part, but it's not hard to make. Since you'll be working with sugar that reaches temperatures around 330F, you'll want to take some precautions, but don't be deterred from making it. It's so good, I promise.
Safety When Working with Caramel
Use a pan that is much larger than you think you need. The sugar will bubble up vigorously once you add the cream, so make sure the pan can contain that.
Don't stir until the sugar begins to take on color. Even then, it's better to swirl the pan than to stir, but nothing bad should happen.
Do not stir with a metal utensil. The heat will shoot right up the handle. Use a wooden spoon or a heat-resistant spatula.
Have a bowl of ice water handy. If some sugar does splatter on you–highly unlikely if your pan is large enough and you stand back once you add the cream, immediately dunk the burned part in the ice water.
If sugar does splash on you, resist the urge to stick your finger in your mouth. You'll just end up with a burned mouth.
Do I Need a Thermometer to Make Caramel?
No–the color of the sugar will be enough to tell you when the caramel is ready. That does not mean there aren't many other times you will need an instant read thermometer.
I use mine for everything from checking the temperature of oil for deep frying to making Italian buttercream and marshmallows to checking the internal temperature of bread and cake to make sure they're fully baked.
Please consider getting an instant-read thermometer if you don't already own one.
How to Make Mini Caramel Cinnamon Rolls
I thought of a few different ways to make the cinnamon rolls for my ice cream, and I finally settled on a short cut using Hawaiian rolls. They actually turned out so well, I'm showing you how to make them because they'd make a nice, sweet snack all on their own.
"Butterfly" Hawaiian rolls by making cuts so they open up into thirds.
Using a rolling pin or clean hand, press the unrolled roll a bit to flatten it.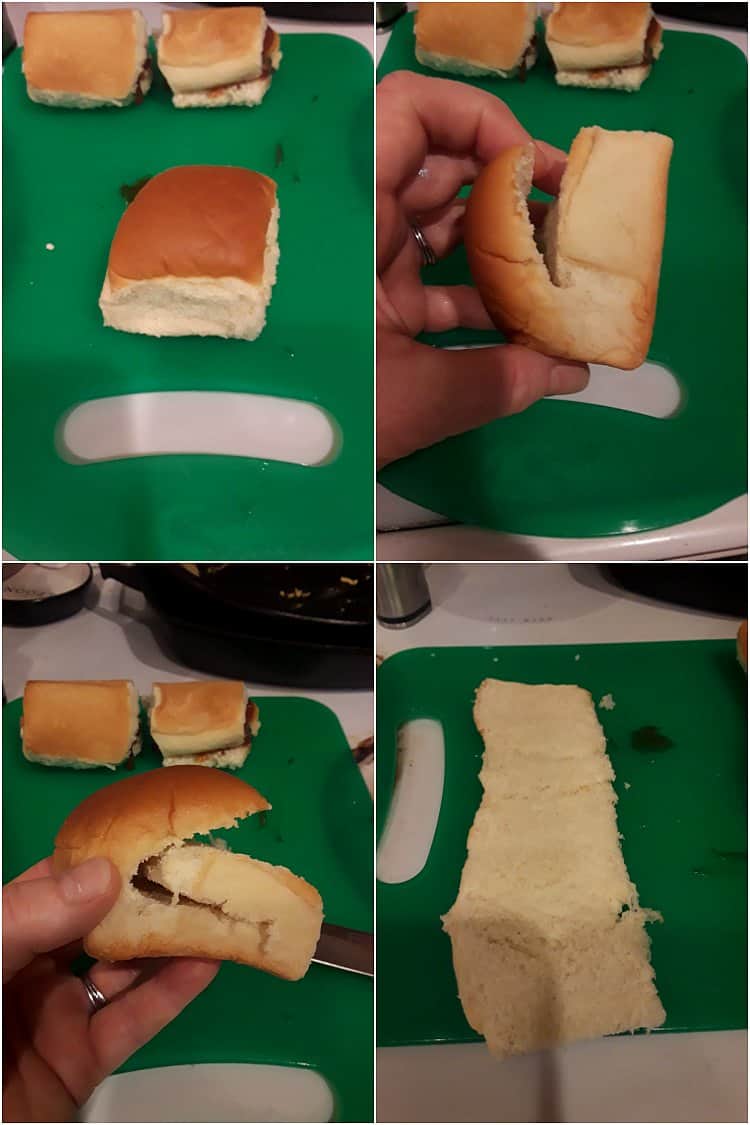 Spread each flattened roll with some cinnamon caramel sauce, and then roll up.
Freeze for 30 minutes to firm up the caramel and then slice. Slice each slice into bits.
Layer cinnamon roll bits, caramel sauce, and ice cream base together, and then freeze for at least 6 hours before serving.
See? Easy!
It would be so helpful to me and to other readers that, when you make a recipe, you rate it and leave a comment. Whether it's a recipe or an informational post, your feedback helps others decide if the post is helpful or if the recipe works as advertised.

If you could leave a star rating, that would be very helpful. Thank you for being here!
Caramel Cinnamon Roll Ice Cream (No Churn)
This cinnamon roll ice cream uses a sneaky shortcut for the cinnamon roll pieces and has swirls of cinnamon caramel throughout. It'll be the hit of the party!
Ingredients
For the Cinnamon Caramel Sauce
1

cup

granulated sugar

2

Tablespoons

corn syrup

¼

cup

water

⅔

cup

heavy cream

2

Tablespoons

butter

1

teaspoon

cinnamon

¼

teaspoon

kosher salt
For the Ice Cream Base
2

oz

cream cheese

softened

2

cups

heavy cream

1

can sweetened condensed milk

½

teaspoon

cinnamon

½

teaspoon

vanilla extract

¼

teaspoon

kosher salt
Instructions
For the Cinnamon Caramel Sauce
Combine the sugar, corn syrup, and water in a heavy bottomed sauce pan, and stir to combine and to make sure all the sugar is wet.

Bring to a boil. Place the lid on the pan and boil for 2 minutes.

Remove lid and cook the sugar mixture over medium to medium-high heat, swirling the pan occasionally, until a deep caramel color. The mixture should smoke just a little and be a very dark amber color.

Immediately remove from the heat and carefully pour in the cream all at once. The mixture will bubble up and sputter, so be prepared.

Stir until the mixture is smooth. Stir in the butter, salt, and cinnamon and whisk to combine.

Set aside to cool to room temperature.
For the Ice Cream Base
In a bowl with a hand mixer or in the bowl of a stand mixer, beat the cream cheese until completely smooth. Add half the cream and mix to combine.

Add the rest of the cream and all of the sweetened condensed milk, the cinnamon, vanilla, and salt.

Whip until the mixture reaches soft peaks.
For the Cinnamon Rolls
Take a Hawaiian roll and cut it so it opens out into thirds (see photos). Press to flatten slightly.

Spread some of the cooled caramel sauce onto the flattened roll and then roll up like a jelly roll.

Repeat with the other 2 rolls, then freeze for 30 minutes.

Slice each roll into thirds and then cut into small pieces.
To Finish the Ice Cream
Scatter a few pieces of cinnamon roll in the bottom of a 9"x5" bread pan. Top with a liberal drizzle of caramel sauce and then layer on about 1/3 of the ice cream base. Spread to cover the rolls and sauce.

Repeat layers of cinnamon roll bits, caramel sauce, and ice cream base twice more.

Press any remaining cinnamon roll bits on top of the ice cream along with drizzles of the remaining caramel sauce.

Cover with plastic wrap and freeze at least 6 hours before serving.
Did You Make Any Changes?
Notes
Nutritionals based on 16 1/2 cup servings. I can guarantee you I eat more than 1/2 cup at a time!
Nutrition
Serving:
1
g
Calories:
243
kcal
Carbohydrates:
20
g
Protein:
2
g
Fat:
18
g
Saturated Fat:
11
g
Polyunsaturated Fat:
5
g
Trans Fat:
1
g
Cholesterol:
56
mg
Sodium:
92
mg
Sugar:
18
g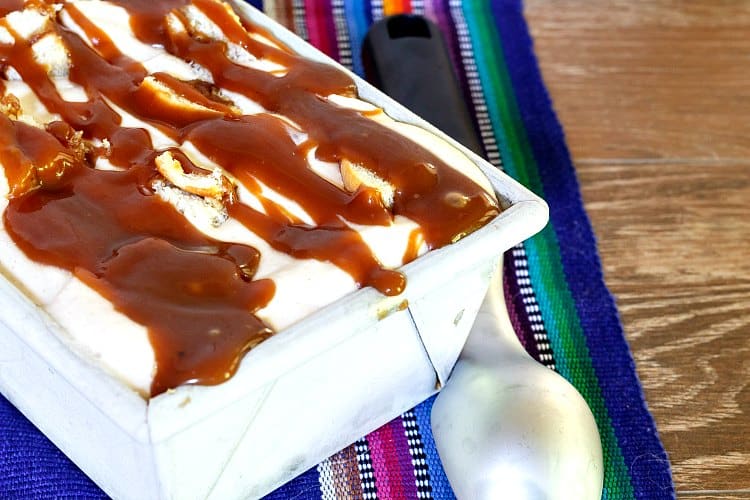 More Summer Dessert Week Recipes
Make the rounds and grab these other fantastic Summer Dessert recipes, friends!
Ice Cream Recipes:
Pies of Summer:
Sweet Summertime Cakes:
No-Bake Treats:
Baked Desserts:
Sweet Sips:
Disclaimer: These posts and recipes are part of the week-long event, #SummerDessertWeek but all opinions are 100% mine! We would like to Thank our amazing sponsors: Dixie Crystals, Adam's Extract, Red Star Yeast, Susquehanna Glass Co. and Lodge Cast Iron! These wonderful sponsors provided the prize packs for our giveaways and also sent samples and products to the #SummerDessertWeek bloggers to use in their recipes.
Stay tuned for more Summer Dessert goodness all week long.
Thank you for spending some time with me today. Good luck in the giveaways, and have a lovely day.