Andes Mint Ice Cream (No-Churn) is easy to make and refreshingly cool and minty on a hot day. It's also a wonderful cold weather ice cream. Let's make some, shall we?

You may also enjoy my no churn peppermint ice cream or Junior mint ice cream because mint and cream are fantastic together!
Don't miss my round up of all my ice cream recipes. And if you need ice cream sauces, I have you covered there too.
Thanks for stopping by!
If You're On the Fence About No-Churn Ice Cream…
I always looked at no-churn ice cream with a squinty eye. It just seemed too good to be true that you could make ice cream smooth and creamy without churning.
And then finally I broke down and ended up throwing together this Andes Mint ice cream last night. Not sure what possessed me–I guess it was just Time!
And I have changed my mind about no churn ice cream. Forever.
How To Make No-Churn Ice Cream: Basic Ingredients
The base of any no-churn ice cream, as far as I can tell anyway, is almost always the same:
one 14 oz can of sweetened condensed milk
a pint of heavy cream
to that basic formula, you really need to add:
a healthy pinch of salt to bring out the dairy flavor and cut the sweetness just a bit
flavoring–vanilla works as a great base for almost any other flavor
Many of the recipes call for whipping the cream and folding it together with the sweetened condensed milk, but an even easier method is:
To make no churn ice cream, put the cream and condensed milk in your mixer bowl and whip them together until thickened. Tada!
Pro Tip: After a few batches of no-churn ice cream, I have found that if you whip only until the cream and sweetened condensed milk thickens to about the consistency of melted traditional ice cream–so just somewhat thickened–it acts more like traditional ice cream when it melts.
Ingredients for Andes Mint Ice Cream
All you need is 7 ingredients. You could also consider adding an optional 8th ingredient: creme de menthe, for a more grown up, boozy take on Andes ice cream.
If you decide to make this a true creme de menthe ice cream, add an ounce (2 Tablespoons) of creme de menthe along with the vanilla and mint oil.
Here's what you'll need:
heavy cream: provides bulk as well as butterfat for mouthfeel. Allows you to whip the base until thickened
sweetened condensed milk: provides the rest of the bulk of the recipe as well as all the sugar (except for the mint chips) without contributing excess water that would make your base icy when frozen
vanilla extract: rounds out flavors. Not strictly necessary in a mint ice cream, but I love the combination
salt: brings out the flavors of all the other ingredients.
peppermint oil (or extract): provides the majority of the mint flavor. Peppermint oil and peppermint extract are not interchangeable at a 1:1 ratio. You'll only need a very few drops of peppermint oil to provide enough mintiness in this base. If you use peppermint extract, you may need 1/2 teaspoon or more to achieve the same level of mint flavor
green food coloring (optional): For whatever reason, our eyes and palate are primed to taste "green" as "mint," so adding a touch of food coloring gives you a visual cue about what flavor you're about to eat. It is optional, but I like to use a couple of drops of food coloring.
Andes Creme de Menthe Chips: Provides creamy, chocolate mint accents to the ice cream and adds a little textural contrast as well as reading "mint chip."
Differences to Expect in No-Churn Ice Cream
I wouldn't be doing my job if I told you that no-churn ice cream has the same texture as traditional, churned ice cream, so let me take a moment to let you know what to expect if you've never made it before.
(UPDATE: I've resolved some of these issues just by whipping the ingredients until somewhat thickened rather than to medium or stiff peaks.)
Since no-churn ice cream is basically just sweetened whipped cream and milk, the texture it is when you put it in your container is the texture it will be when it melts. If you whip to stiff peaks, it doesn't melt into puddles like traditional ice cream. It melts back into the texture of whipped cream.
In your mouth, it goes from frozen to poofy whipped cream rather than frozen to melted. This isn't necessarily a bad thing. It's just different.
Consider no-churn ice cream to be a whipped Philadelphia-style ice cream. No egg. So think Breyers instead of Häagen Dazs.
This ice cream is a bit fattier than the ice cream I usually make, and it can leave some butterfat filming your mouth. Again, not bad, just something to be aware of.
Once it tempers for a few minutes on the counter, no-churn ice cream scoops just about like traditional ice cream. If you let it sit too long, though, you'll just be serving big scoops of whipped cream!
Due to the high butterfat and the thorough whipping before freezing, this ice cream stays smooth and creamy and doesn't get icy like traditional ice cream can when stored a long time or when melted and then refrozen.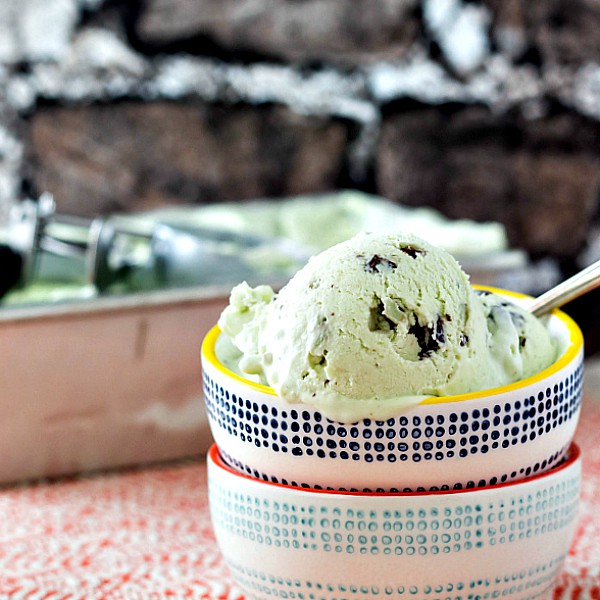 So, now that you know what to expect (if you didn't already know), it's time to do this. Time for some Andes mint goodness, friends!
But first, any questions I can help with?
It would be so helpful to me and to other readers that, when you make a recipe, you rate it and leave a comment. Whether it's a recipe or an informational post, your feedback helps others decide if the post is helpful or if the recipe works as advertised.

If you could leave a star rating, that would be very helpful. Thank you for being here!
Andes Mint Ice Cream (No-Churn)
This no-churn Andes Mint Ice Cream is light and refreshing. It packs a double mint punch both from the peppermint oil in the base and the mint in the Andes candies. The perfect summer ice cream, and no churn required! Make it a bit more grown up by adding optional creme de menthe, too. So delicious!
Ingredients
2

cups

heavy cream

1 pint

1

can sweetened condensed milk

2

teaspoons

vanilla extract

¼

teaspoon

salt

(I used kosher salt)

4-6

drops peppermint oil

(or 1/4-1/ 2 teaspoon peppermint extract), to taste

2-3

drops green food coloring

(or pink if you'd rather), optional

2

Tablespoons

creme de menthe

optional

8

oz

Andes mint chips

or other mint chips
Instructions
In the bowl of your stand mixer, combine the cream, sweetened condensed milk, vanilla, salt, peppermint oil or extract and green food coloring. Start with a lesser amount of peppermint oil/extract and green food coloring. Taste once you begin whipping and add more if necessary.

Fit the mixer with the whisk attachment and whip on medium speed until it starts to thicken, about 1 1/2 minutes.

Scrape the bowl to make sure everything is evenly whipped and whip for another 10 seconds or so. Mixture will not hold peaks.

Add the mint chips and thoroughly fold in by hand.

Pour into a freezer-safe container and spread out evenly. Press plastic wrap on the surface of the ice cream and freeze until firm or preferably overnight.

Allow to temper for just a few minutes on the counter before scooping and serving.
Did You Make Any Changes?
Notes
Nutritionals Based on 10 servings with creme de menthe. Note that no-churn ice cream has more calories in it than even super premium ice cream you get from the grocery store, so while it's easier to make and delicious, it's pretty calorie-dense.
I've updated the instructions to reflect whipping just until thickened rather than to medium-stiff peaks.
Nutrition
Serving:
1
/10
Calories:
355
kcal
Carbohydrates:
22
g
Protein:
4
g
Fat:
28
g
Saturated Fat:
16
g
Polyunsaturated Fat:
10
g
Trans Fat:
1
g
Cholesterol:
60
mg
Sodium:
119
mg
Fiber:
1
g
Sugar:
17
g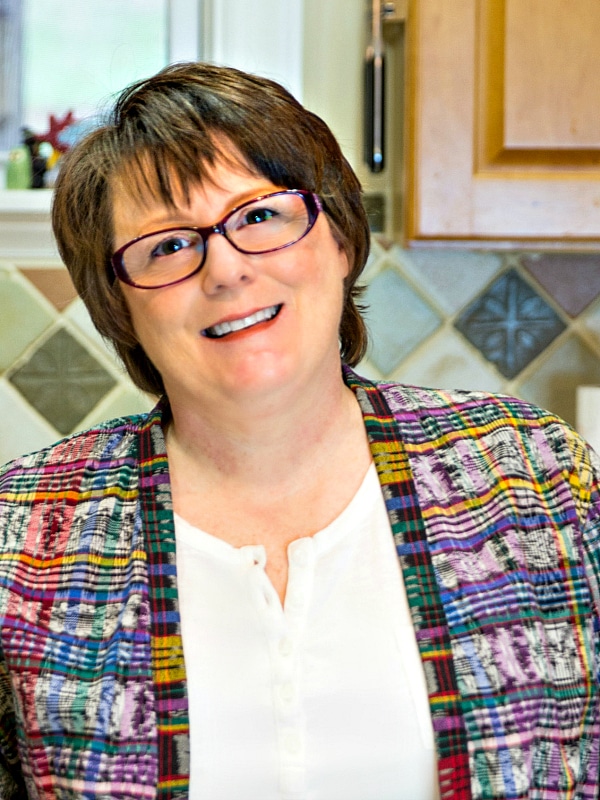 What are my qualifications to teach you baking and pastry? As a former working pastry chef and special educator, I marry my passions for both teaching and for baking into explaining techniques, methods, and developing the best possible recipes. For more info, you can read more about me.
If you'd like to receive new recipes and the occasional newsletter, I'd love for you to sign up for my Inbox Pastry Chef.
See how easy that is to make?! Seriously, I made it and cleaned up all while The Beloved was running a short errand. For him, it happened like magic. For me, it happened almost like magic!
Make some of this Andes mint ice cream magic for yourself at your earliest convenience. I promise it will make you very happy. And seriously, if you haven't tried no-churn ice cream, it is most definitely a viable option, especially for folks who don't have or want an ice cream maker.