It's Day 4 of Halloween Treats Week, and here is my third recipe for you guys: pumpkin spice cinnamon rolls. These Halloween cinnamon rolls are all dolled up for the holiday, courtesy of fun sprinkles and candy eyes!

Get your sweet roll fix, and I'll even tell you how to make these into pumpkin spice sticky buns instead. Heck, you can make some of each!
For ease of browsing, here are all of my sweet yeasted bread recipes.

Want to see my other treats? Check out my smashed creamer potatoes (Halloween Potato Eyes) and my Easy Day of the Dead Cake or Loch Ness Monster pumpkin strudel.

This is a sponsored post in support of Halloween Treats Week and our sponsor brands who provided us treats and the awesome swag for our giveaway. Thank you, friends!
What's the Difference Between a Cinnamon Roll and a Sticky Bun?
In my experience, the difference is that cinnamon rolls are baked in a pan and then iced.
Sticky buns are usually baked in a pan lined with nuts and buttery sugary goodness and then turned out after baking so the bottom becomes the top.
I sort of made a hybrid pumpkin spice cinnamon roll/Halloween sticky bun recipe.
I spread Pumpkin Spice Caramel Dip from sponsor Litehouse Foods into my pan, but I didn't use nuts.
And while I did turn out my rolls, I also iced them as you would a cinnamon bun.
To make these into true sticky buns, sprinkle 2 cups of chopped pecans or pecan halves on top of the caramel before putting the rolls in the pan.
How Do You Make the Dough for Pumpkin Spice Cinnamon Rolls
This dough is really easy to make. Here's how to do it:
Put all the wet ingredients in your mixer bowl and whisk to combine.
Add the flour, then the spice and yeast on top.
Attach the dough hook and mix on low speed for about 2 minutes until the dough comes together.
Knead on medium speed for 10 minutes.
Done!
How to Roll Out and Fill the Dough
You can roll the dough out straight from the fridge.
It will be a bit firm to begin with, but as you roll it, it will soften up.
I like to use a tapered rolling pin to do my rolling. My pin is 18″ long, so I use it as a measuring stick to gauge how large my rectangle of dough is.
In the above photo, it's about 18″ wide. I continue rolling to make a rectangle that's about 20″ x 16″.
I mix all the filling ingredients by hand–literally with my clean hand, and then spread it onto the dough.
You want a thin layer of filling, so be fairly aggressive in pressing down with your offset spatula as you spread the filling.
How to Form the Rolls and Pan Them Up
Once you spread on the filling, just roll up the dough like a jelly roll. You will be pleasantly surprised by how easy this dough is to work with. It rolls right up!
Cut off about an inch from either end of the roll to even them up.
Cut the roll into quarters, and then
cut the quarters into thirds for a total of 12 rolls.
Spread the magical Pumpkin Pie Spice Caramel Dip into the bottom of your 9″ x 13″ pan. Add nuts at this point if you want.
Place the rolls on top of the caramel dip and press them down gently.
Cover and let rise until the rolls are touching.
Then, they get a trip through the oven, a rest of about 15 minutes, and a flip out onto a half sheet pan or large platter before you go to town decorating them.
How Long Do You Bake Cinnamon Rolls?
For a recipe that appears really big–12 fat rolls in a 9″x13″ pan—cinnamon rolls bake in about 25 minutes, which is way less time than it takes to bake a cake of the same size!
What's Great About This Recipe
Once you have the dough made, it gets a rest overnight in the fridge. From there, you can roll it out–no need to flour or oil your surface--and spread on the filling.
This dough is extremely easy to work with and rolls up beautifully every time.
My soft cinnamon rolls made with mashed potatoes in the dough is great, but it is also more delicate and a bit harder to work with.
If you're a beginner at working with yeast dough, these are the pumpkin spice cinnamon rolls for you. (And of course you can flavor your filling however you like).
Want more pumpkin spice goodness? Try my pumpkin spice donuts, crunchy pumpkin spice caramel corn, or this great PSL whipped coffee.
Other Reasons to Love These Pumpkin Spice Cinnamon Rolls
Pretty much foolproof dough.
Easy filling containing just butter, brown sugar, salt, and pumpkin pie spice
The sticky bun topping is a store bought ingredient from Litehouse Foods. Their Pumpkin Pie Spice Caramel Dip is seasonal, but they have other dips you can use any time of year for an easy sticky bun topping.
Easy cream cheese icing made with cream cheese, powdered sugar, vanilla, salt and a very tiny splash of milk
They bake up soft and fluffy.
Leave them plain for year round, or doll them up for Halloween with fun sprinkles and candy eyes!
Sponsor Products I Used in Making and Decorating These Halloween Cinnamon Rolls
Thank you to all our sponsors!
Don't forget to scroll past the recipe to be able to enter for chances to win one of 6 prize packages from our sponsors, friends!
A Note About Measurements
For convenience, consistency, and accuracy, almost all my recipes are written by weight, either in ounces and/or grams, even the liquids.
I strongly encourage you to purchase a kitchen scale and learn to use it.
This is the one I used for years. I love it and highly recommend it:
Best for Home Use
Escali Primo Digital Food Scale
Don't let its small price and small size fool you. The Escali Primo is an accurate and easy-to-use food scale that I have used for years. It's easy to store, easy to use, has a tare function, and easily switches between grams and ounces/pounds for accurate measurements.
This is an affiliate link which means I earn from qualifying purchases. Your price is unaffected.
It would be so helpful to me and to other readers that, when you make a recipe, you rate it and leave a comment. Whether it's a recipe or an informational post, your feedback helps others decide if the post is helpful or if the recipe works as advertised.

If you could leave a star rating, that would be very helpful. Thank you for being here!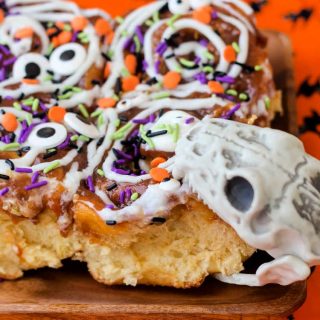 Pumpkin Spice Cinnamon Rolls Recipe
These Halloween cinnamon rolls are spiced with everyone's favorite fall spice: pumpkin spice. Pumpkin Spice cinnamon rolls can also be made into sticky buns. Either way you make them, they are Super Tasty.
The dough is very easy to work with, so if you have ever hesitated over making yeast dough, hesitate no more. Pumpkin spice cinnamon rolls are well within your reach!
Ingredients
For the Dough
4

egg yolks

1

large egg

2

oz

sugar

by weight, about 1/4 cup

3

oz

melted butter

8

oz

milk

1 ¼

teaspoon

kosher salt

I use Morton's

20

oz

all purpose flour

by weight, about 4-4 1/2 cups

2

teaspoons

pumpkin pie spice

1 ¼

teaspoons

instant yeast
For the Filling
1

stick softened butter

1

cup

brown sugar

packed

¼

teaspoon

kosher salt

2

teaspoons

pumpkin pie spice
For the "Goo on the Bottom"
1

cup

Pumpkin Spice Caramel Dip

I used Litehouse Foods
For the Icing
4

oz

cream cheese at room temperature

2

cups

powdered sugar

¼

teaspoons

salt

½

teaspoon

vanilla

1

teaspoon

half and half or milk
To Decorate
Sprinkles

Candy Eyes, etc.
Instructions
For the Dough
In the bowl of your stand mixer, combine all ingredients in the order given: yolks and egg, sugar, butter, milk, salt, flour, spice, and yeast.

Fit your mixer with the dough hook and mix on low speed for 2 minutes until the dough comes together.

Increase speed to medium and knead for 10 minutes. Watch your mixer–it could walk off the counter if you're not careful! The dough will be smooth and soft but not sticky.

Gather the dough off the dough hook and form it into a smooth ball by stretching the dough underneath until the top of the dough ball is smooth and taut.

Spray the mixer bowl with pan spray or brush with oil.

Put the dough back in, smooth side down, and then flip it to completely coat the dough with the spray/oil.

Cover with plastic wrap and refrigerate overnight.

The next day. place the dough ball, smooth side up, on a clean surface. Don't oil it or flour it.

Roll the dough out into a rectangle approximately 20" x 16". The dough will be firm to begin with and will be a bit hard to roll, but it will soften up as you roll.

Use an offset spatula to spread the filling in an even, thin layer across the dough. You may have to spread pretty forcefully, but it will cover the dough if you work at it. (Procedure for making filling follows).

Starting at one long end of the rectangle of dough, roll it up into a fairly tight log.

Cut off either end of the dough to even out the log, and then slice into 12 pieces. I usually cut in quarters first and then cut each quarter into thirds. That way I don't need to do math or use a ruler.

Spread the caramel dip into the bottom of your pan (see variation for making sticky buns in the NOTES section).

Place the rolls in 4 rows of 3 on top fo the caramel, and press each one down lightly.

Cover and allow to rise until the buns are touching each other. Depending on the temperature in your kitchen, this could take between 2-3 hours. To speed things up, you can let them proof in the microwave. Boil a mug of water and then move to one corner. so your pan of rolls will fit. Let them rise in this warm environment.

During the last 30 minutes of proofing, preheat oven to 375F

When the rolls are ready, pop them in the oven. Bake for 15 minutes.

Turn the pan 180 degrees, turn the oven down to 350F, and continue to bake for another 10 minutes. Rolls should be a deep golden brown, and the internal temperature should be between 185-195F.

Remove from the oven and let cool on a rack for 15 minutes.

Run a thin spatula around the inside of your pan, place a half sheet pan over the top of your rolls, and carefully turn the two over. Rap this whole shebang on the counter firmly so the rolls drop onto the baking sheet. Use an offset spatula to spread any caramel remaining in the pan onto the rolls.

Let cool 30 minutes, then decorate with the cream cheese frosting and assorted Halloween sprinkles/decorations.
For the Filling
Mix all the filling ingredients together into a thick paste. I find it's easiest to use my clean hand to do this, but you can also do it with a hand mixer if you prefer.
For the Icing
Use a hand mixer to mix the cream cheese until smooth.

Add the powdered sugar, salt, vanilla, and half and half and mix to a very thick glaze/slightly thin frosting consistency.

Use a piping bag with your favorite tip to ice the rolls or drizzle it off a spoon or fork. Use as much or as little as you would like.

Did You Make Any Changes?
Notes
VARIATION: To make sticky buns, after spreading the caramel dip in the bottom of your pan, top it with pecan halves or chopped pecans, You will probably need 2-3 cups of pecans.
NOTE: Times do not include the overnight rise in the fridge.
SUBSTITUTIONS: You can use buttermilk in place of the whole milk if you have some. This will result in more tender rolls, although they are pretty darn tender made with regular milk too.
NUTRITIONALS based on using all the frosting. I probably used only about 1/4 of what I made. You can also leave the icing off entirely, especially if making traditional sticky buns with nuts.
Nutrition
Serving:
1
roll
Calories:
541
kcal
Carbohydrates:
85
g
Protein:
8
g
Fat:
20
g
Saturated Fat:
12
g
Polyunsaturated Fat:
7
g
Trans Fat:
1
g
Cholesterol:
124
mg
Sodium:
487
mg
Fiber:
3
g
Sugar:
40
g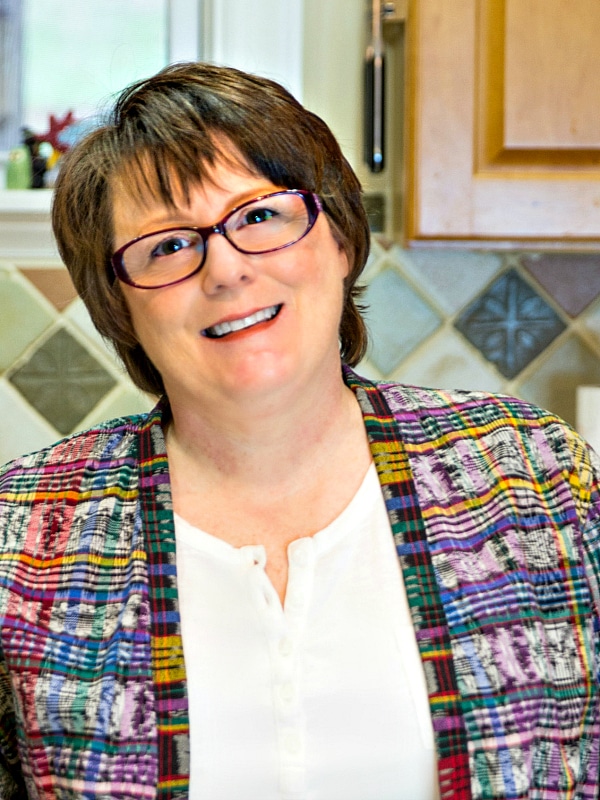 What are my qualifications to teach you baking and pastry? As a former working pastry chef and special educator, I marry my passions for both teaching and for baking into explaining techniques, methods, and developing the best possible recipes. For more info, you can read more about me.
If you'd like to receive new recipes and the occasional newsletter, I'd love for you to sign up for my Inbox Pastry Chef.
Disclaimer:
These posts and recipes are part of the week-long event, #HalloweenTreatsWeek but all opinions are 100% mine! We would like to Thank our amazing sponsors:
Dixie Crystals, Adam's Extract
,
Wilton
,
Sweets and Treats Shop,
Treat Street USA and Litehouse
! These wonderful sponsors provided the prize packs for our giveaways and also sent samples and products to the #HalloweenTreatsWeek bloggers to use in their recipes.