Today, I have a decadent chocolate chocolate chip shortbread recipe for you, friends. Made with excellent cocoa powder as well as chopped chocolate, these chocolate chip shortbread cookies are almost creamy in texture. They simply melt in your mouth.
Looking for a delicious chocolate cookie to make a crumb crust? You will love my chocolate sable recipe–great for cookies or for crust. And for another winner of a shortbread, try my raspberry shortbread sandwich cookies.
For ease of browsing, you can find all my cookie recipes in one place. Thank you for visiting! And especially this week, since it's #summerdessertweek! Scroll past the recipe to see all other participating bloggers' recipes as well as info on how to enter this year's giveaway!
This post and recipe was created for #SummerDessertWeek! I was sent samples by some of the sponsor companies but as always opinions are 100% mine.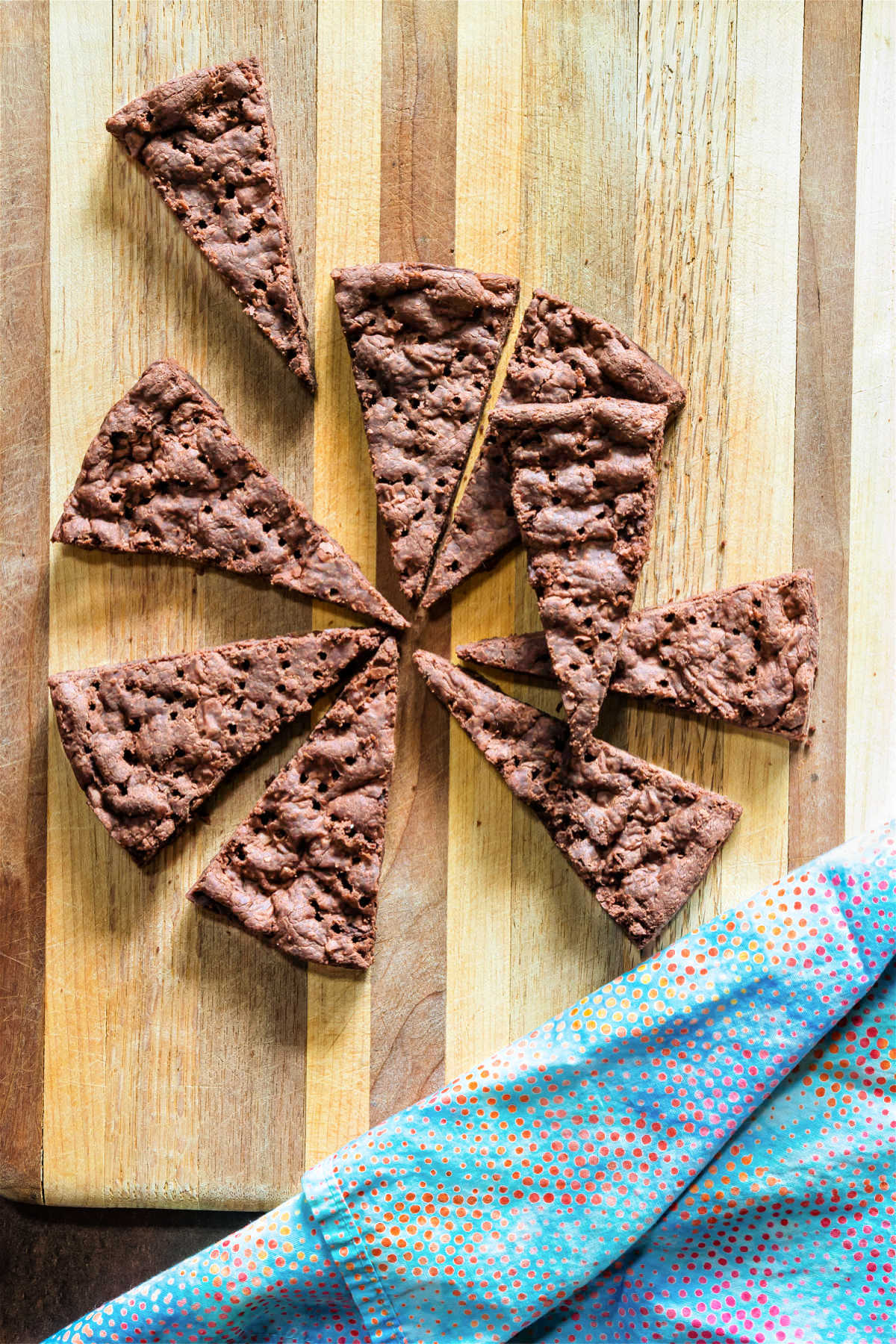 Why This Recipe Works
Shortbread fans, you'll love this chocolate version. Here's why you'll love it (aside from the fact that it's very, very tasty):
Easy formula to remember: 1 part sugar, 2 parts butter, 3 parts flour/cocoa powder, so the recipe is easy to scale up or down.
It's baked in the classic round shape and then cut into wedges. It's like eating a little piece of pizza in cookie form.
Nice balance of strong, bitter chocolate and creamy smooth milk chocolate
The amount of chopped chocolate in the dough lets the cookies set up to an almost creamy consistency. They're really hard to stop eating.
Not too sweet, so they make a nice dessert as well as a good little smackerel to go along with a cup of coffee.
How to Make It
Ingredients
Powdered sugar: I think using powdered sugar gives the finest texture to your finished shortbread. If you do not have any, you can use granulated sugar. I used sponsor brand Dixie Crystals, which is widely available throughout the south.
Salted butter: Use the very best quality salted butter you can find, because butter is the backbone of shortbread, and the better your butter, the better your shortbread will be.
Cake flour: Cake flour has a low gluten content, so it will lend itself to the crumbly texture we're looking for. If you don't have or cannot find cake flour, substitute all-purpose flour minus 4 Tablespoons (for a total of 8 ounces, by weight). Replace that 4 Tablespoons of flour with cornstarch, (or 2 ounces, by weight)
Cocoa powder: Use your favorite here. There are no leaveners for any acid in your cocoa powder to react with, so you can use American or Dutch process. Using Dutch process will give you a slightly deeper and more mellow chocolate flavor.
Vanilla extract: Rounds out the flavors. Extract will work better than paste here, even though I often say you can use them interchangeably. This dough needs that little bit of extra liquid.
Milk and/or dark chocolate: I prefer using milk chocolate as a counterpoint to the slightly bitter cocoa powder, but you may use either dark, milk, white chocolate or some combination of 2 or even all three.
NOTE: The more finely you chop the chocolate, the more easily you'll be able to press the dough into the pan. Use mini chips if you have them. If you have "regular size" chocolate chips, make sure you give those a pretty good chop to cut them into smaller pieces.
Salted Butter?
I know, I know.
I usually preach about using unsalted butter and then adding in salt so you know exactly how much salt you're putting in your recipe.
I make an exception for shortbread. Use high-quality salted butter, and it will have the perfect amount of salt in it for shortbread.
And shortbread was traditionally made using salted butter since, prior to refrigeration, salting the butter was the only way to preserve it.
I used cultured butter from Vermont. Other excellent choices are Kerry Gold and Plugra.
Note that you will most likely need a touch of additional liquid if you are using an "artisan butter" since they contain more butterfat and less water than mass-produced butter. (See Recipe)
Shortbread is one of the few recipes I use salted butter in. You may want to look at my whipped shortbread cookies as well. I use salted Kerry Gold in those guys.
Procedure
For complete instructions, please scroll down to the recipe, use the Jump to Recipe button at the top of the post, or click on "Chocolate Chocolate Chip Shortbread" in the Table of Contents.
Mix salted butter and powdered sugar together until creamy.
Add cocoa powder and flour and mix until a stiff dough forms.
Mix in the chopped chocolate on low speed. Dough will be crumbly.
Wrap dough in plastic wrap.
Refrigerate dough for an hour. If still crumbly, knead in a teaspoon or two of water or milk. Just enough to allow the dough to hold together without cracking.
Press into lined cake pans.
Bake at 300F for 30-35 minutes.
Cut into wedges while still hot, and then allow to cool completely.
Equipment You May Need
I find using a stand mixer is the easiest option, work-wise, but you can also make shortbread with some elbow grease, a wooden spoon, and a large bowl.
Or split the difference and mix your dough using a good quality hand mixer.
To make it easier to "de-pan" your cookies, form your chocolate shortbread in a 2-piece 9″ tart pan or a 9″ ring mold rather than a 9″ cake pan.
Tips for Success
Do use the best salted butter you can find, because butter is really the backbone of shortbread. The better the butter, the better the flavor.
If all you have is unsalted butter, please add about 1/2 teaspoon of kosher salt to the whole batch, or roughly 1/4 teaspoon of salt per stick of butter.
If your dough seems too crumbly even after it rests in the fridge for an hour, knead in a little bit of water or milk. Use as little as you can get away with though because you don't want to end up making tough shortbread.
Do use cake flour. If you don't have cake flour, consider using a mixture of all-purpose flour and cornstarch so you don't lose the lovely, crumbly texture of shortbread. (See Recipe Notes)
Variations
To make chocolate chip shortbread, substitute an additional 2 ounces of cake flour for the 2 ounces of cocoa powder, reduce the sugar by 2 ounces, and proceed with the recipe. In that case, I'd go with dark chocolate rather than milk chocolate to get the most intense chocolate flavor.
The "new" recipe would be 8 oz salted butter, 6 oz powdered sugar, 10 oz cake flour and 1 cup finely chopped dark chocolate or mini dark chocolate chips.
If you prefer, you can use mini chips as opposed to chopping chocolate.
You can add a nice twist either to chocolate chip shortbread or chocolate chocolate chip shortbread by adding the zest of 1/2 an orange to the dough for a chocolate-orange combo. One of my favorites.
If you like a crispy, rather than crunchy texture, you may like my crispy cocoa cookies recipe. Tons of chocolate flavor with an addictive, more-ish texture.
Shortbread Q & A
Can I double this recipe?
You can, but if you do, I strongly urge you to use a stand mixer. Either that, or make 2 batches in succession. This recipe can also be halved with no problem, which will yield 12 wedges of shortbread.
Do I have to bake in a cake pan?
You certainly can make other shapes with your shortbread. Consider rolling your dough out to about 1/4″ and using cutters. Note that it will be a bit difficult to cut clean shapes since the dough contains so much chopped chocolate. You can also roll your dough into a 1″-1 1/2″ log, wrap it in waxed paper and freeze for about an hour. Then slice off 1/4″-1/3″ slices, place on parchment-lined baking tray/s, and bake for about 12 minutes.
What about a shortbread mold?
I generally try to stay away from what Alton Brown refers to as unitaskers, but if you are going to be making a ton of shortbread, you might want to invest in a shortbread mold or two.
Do I have to use powdered sugar?
No. You can substitute granulated sugar if you'd rather. I like the finer texture I can achieve with powdered sugar, but that's just a personal preference.
Can I make these gluten-free?
To make gluten-free chocolate chocolate chip shortbread, substitute a cup for cup gluten-free flour blend for the cake flour. Make sure all your other ingredients, especially the cocoa powder, are gluten-free and are not made on any shared equipment.
How do I store the shortbread?
After cooling completely, store your shortbread in an air-tight container at room temperature for about a week. For longer storage, you can freeze it and keep it in a zip-top freezer bag for about 3 months. Allow the shorbread to come back to room temperature for the best texture and flavor.
A Note About Measurements
For convenience, consistency, and accuracy, almost all my recipes are written by weight, either in ounces and/or grams, even the liquids.
I strongly encourage you to purchase a kitchen scale and learn to use it.
This is the one I used for years. I love it and highly recommend it:
Best for Home Use
Escali Primo Digital Food Scale
Don't let its small price and small size fool you. The Escali Primo is an accurate and easy-to-use food scale that I have used for years. It's easy to store, easy to use, has a tare function, and easily switches between grams and ounces/pounds for accurate measurements.
This is an affiliate link which means I earn from qualifying purchases. Your price is unaffected.
It would be so helpful to me and to other readers that, when you make a recipe, you rate it and leave a comment. Whether it's a recipe or an informational post, your feedback helps others decide if the post is helpful or if the recipe works as advertised.

If you could leave a star rating, that would be very helpful. Thank you for being here!
Sponsor's highlighted in this post: Dixie Crystals (powdered sugar)
Chocolate Chocolate Chip Shortbread
This chocolate chocolate chip shortbread is a decadent treat. Hardly dry and crumbly, these chocolate chip shortbread cookies are almost creamy with Valrhona cocoa powder and lots of chopped milk chocolate.
Substitute dark chocolate if you like to keep your chocolate cookies super intense. Make these to share, but these are also the perfect adult cookie indulgence to keep for yourself!
Ingredients
2

sticks excellent quality salted butter

softened

8

oz

2 cups powdered sugar (I used Dixie Crystals)

2

oz

about 2/3 cup cocoa powder (I used Valrhona)

10

oz

cake flour

about 2 1/4-2 1/2 cups

1

cup

finely chopped milk or dark chocolate

or a mixture of the two

1

teaspoon

vanilla extract
Instructions
In the bowl of your stand mixer, or in a large bowl, mix together the softened butter, vanilla, and powdered sugar until smooth and creamy.

Blend in the cocoa powder until thoroughly combined.

Add the cake flour, and mix on low speed until completely mixed and a stiff dough forms.

NOTE: IF the dough seems too dry to you, add water or milk, a teaspoon at a time, until you have a cohesive dough. You should not need more than 1 Tablespoon of additional liquid, tops.

Thoroughly mix in the chopped chocolate.

Form the dough into 2 discs, wrap well in plastic wrap, and refrigerate for an hour.

While the dough is chilling, prepare your pan.

Criss-cross 2 strips of parchment that are long enough to extend up and over the sides of 2 9" round cake pans. These are the "handles" you'll use to take the shortbread out of the pan.

Place a circle of parchment into the bottom of each pan over the criss-crossed strips.

Preheat your oven to 300F. Set your oven racks in the bottom and top thirds of the oven.

Press each disc of shortbread dough evenly into the pans. It should be about 1/2" thick. You won't be able to get it perfect because of the chopped chocolate, but do the best you can to press it in firmly and evenly, making sure it's as even as you can get it, especially around the edges.

Bake for 30-35 minutes, rotating the pans once and swapping them from top rack to bottom and from bottom rack to top.

Remove from the oven and run a thin spatula around the inside edge of the pans in case the shortbread has stuck a little. Let cool for 10-15 minutes.

Use the 4 "handles" to lift the shortbread out of the pans and set onto cooling racks. I had my husband help, because I don't have four hands.

Cut each shortbread into 12 wedges while it is still warm. Shortbread will set and become crunchier as it cools. The chocolate will keep the texture from being too crunchy. It has an almost creamy mouthfeel.

Once completely cool, store at room temperature in a tightly sealed container for a week. Freeze for longer storage, up to 3 months.
Did You Make Any Changes?
Nutrition
Serving:
1
g
Calories:
128
kcal
Carbohydrates:
12
g
Protein:
1
g
Fat:
8
g
Saturated Fat:
5
g
Polyunsaturated Fat:
3
g
Cholesterol:
21
mg
Sodium:
66
mg
Sugar:
2
g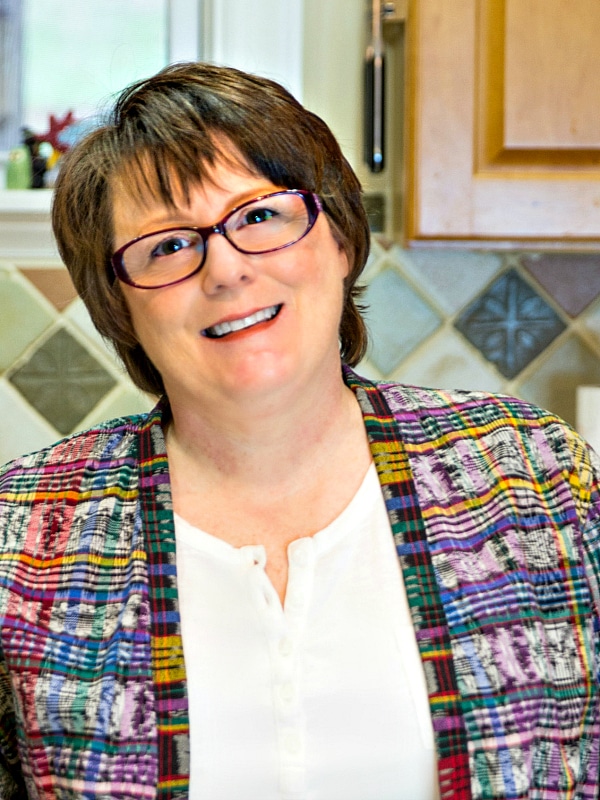 What are my qualifications to teach you baking and pastry? As a former working pastry chef and special educator, I marry my passions for both teaching and for baking into explaining techniques, methods, and developing the best possible recipes. For more info, you can read more about me.
If you'd like to receive new recipes and the occasional newsletter, I'd love for you to sign up for my Inbox Pastry Chef.
Check out the amazing #SummerDessertWeek recipes from our bloggers today!
Strawberry Banana Sorbet from Big Bear's Wife
Sugar Cookie Fruit Pizzas from Semi Homemade Recipes
Strawberry Banana Oatmeal Cookies from Eat Move Make
Ursula Blackberry Yogurt Mousse Cake from Simply Inspired Meals
Strawberry Upside Down Cake from It's Shanaka
Margarita Bundt Cake from Fake Ginger
Air Fryer Blackberry Hand Pies from Blogghetti
Grape Jello Pie from 4 Sons 'R' Us
Lime Raspberry Hand Pies from Cindy's Recipes and Writings
Summertime Blue Apple Pie from For the Love of Food
Waffle Ice Cream Sandwiches from Hezzi-D's Books and Cooks
Strawberry Peach Poke Cake from Our Good Life
S'mores Mug Cake from Family Around the Table
White Chocolate Peach Crumb Bars from Sweet Beginnings
Strawberry Pizzelles from Jolene's Recipe Journal
Hocus Pocus Buns from Savory Experiments
Cookies and Cream Ice Cream from Devour Dinner
Small Batch Emergency Air Fryer Brownies from Shockingly Delicious
Chocolate Chip Cheesecake Bars from Books n' Cooks
Strawberry Crunch Cheesecake from SugarYums
Crescent Roll Peach Dumplings from Cheese Curd In Paradise
Instant Pot Orange Dreamsicle Cheesecake from Baking up Memories
Rum Raisin Brownies from Food Hunter's Guide to Cuisine
Chocolate Chocolate Chip Shortbread from Pastry Chef Online (You're here!)
Drumstick Cheesecake Cups from Sweet ReciPEAs
Sheet Pan No Bake Banana Split Cheesecake from Karen's Kitchen Stories
Double Chocolate Zucchini Bread from Comfortably Domestic
Baltimore Strawberry Pie from Cookaholic Wife