Today I have a great recipe for these beautiful raspberry shortbread sandwich cookies. I sandwiched mine together with chocolate hazelnut spread, but you could also use chocolate ganache.

If you're a fan of tasty shortbread recipes, you may also like my chocolate chocolate chip shortbread.

For ease of browsing, you can find all my cookies and bars recipes in one place. Thanks so much for visiting! And especially this week, since it's #SummerDessertWeek!

Scroll down after the recipe to find recipes from all the other talented participating bloggers, and learn how to enter for chances to win this year's giveaway!
This post and recipe was created for #SummerDessertWeek! I was sent samples by some of the sponsor companies but as always opinions are 100% mine.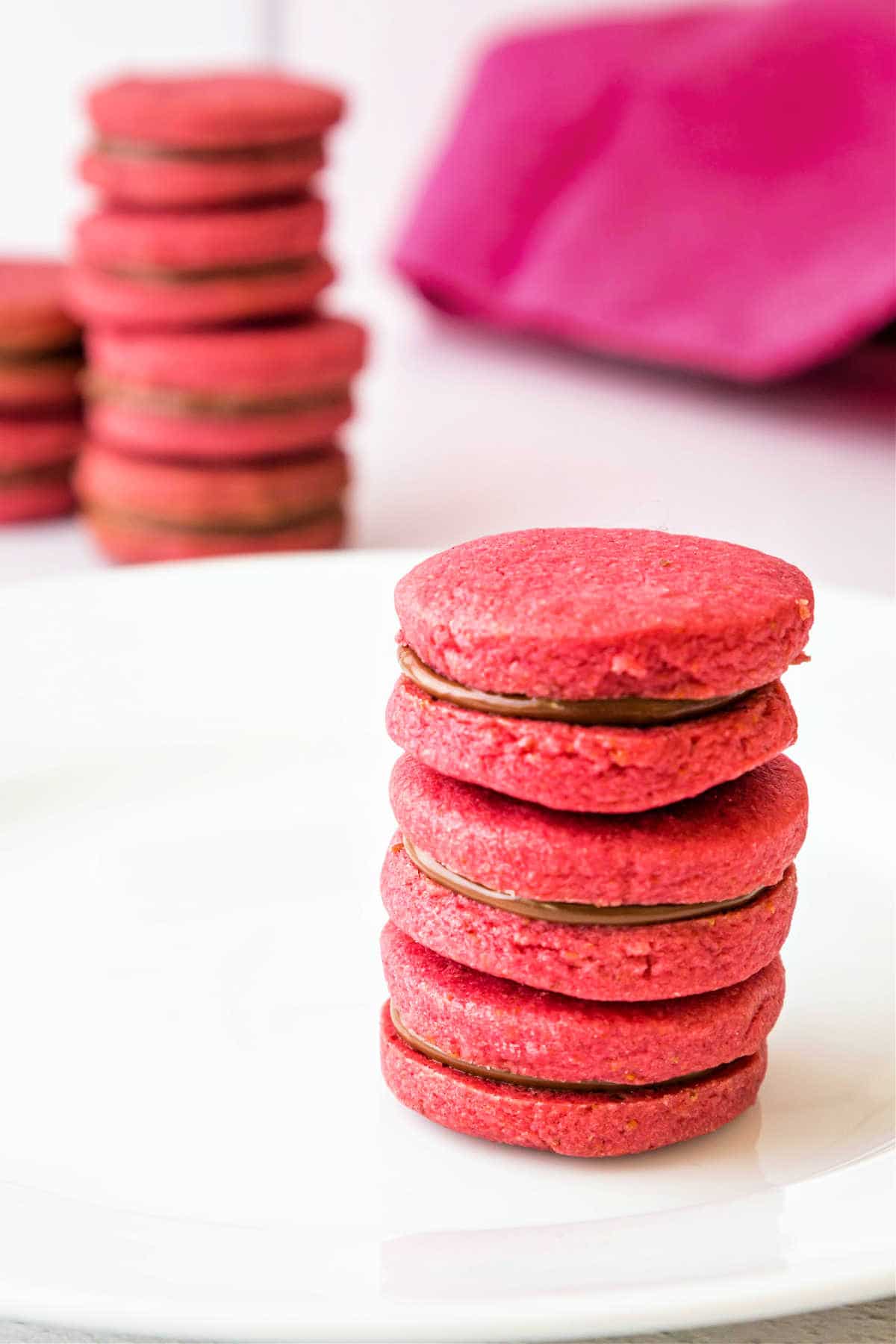 Why This Recipe Works
The magic of these cookies is that I made them with pure freeze-dried raspberry powder. Using the powder, which is generally sold as a supplement or to add to smoothies, does a few things for this recipe:
Since it doesn't contain any liquid, raspberry powder provides a punch of raspberry flavor without making the cookie tough. So you get a true, crumbly and sandy shortbread without sacrificing huge fruit flavor.
It makes the cookies a gorgeous color. As you can see from the photos, the powder truly makes a stunning cookie. They even look a bit like macarons to me, but they are pure raspberry-butter goodness.
Experiment with other freeze-dried fruit powders to make your favorite fruit flavored shortbread.
They're filled with Nutella, so if you think raspberry-chocolate-hazelnut sounds like a dreamy combination, these shortbread sandwich cookies are for you. If you don't like Nutella, you can leave them as plain cookies, or consider sandwiching them together with some dark chocolate ganache.
This is an easy-to-make recipe that only contains 6 ingredients.
How to Make Them
Like most shortbread, you really need minimal equipment and ingredients to make them. Here's the rundown:
Ingredients
salted butter: Use the best quality salted butter you can find. I used a salted cultured butter from Vermont Creamery. Other good choices are Kerry Gold or Plugra. If you don't want to use salted butter, add 1/4 teaspoon salt (at least–taste the dough to make sure) per stick of butter.
powdered sugar: I like the fine texture I get from powdered sugar, but you could also use granulated sugar. You can even consider pulsing granulated sugar in your food processor or blender to make your own powdered sugar.
freeze-dried raspberry powder: This is the magical ingredient in these cookies. It provides huge raspberry flavor and gorgeous color in an all-natural product.
cake flour: Since cake flour has a low-protein content, your cookies will stay nice and tender, sandy, and crumbly–exactly what shortbread should be!
chocolate hazelnut spread: You can use Nutella of course. I used Pernigotti Gianduia, which has a bit more hazelnut flavor than Nutella. Or you can make your own spread. For instance, I have this recipe for cocoa cashew spread that would be lovely. Check out my Nutella comparison post to get the lowdown on several different brands you might consider, as well.
Procedure
These cookies are not hard to make at all. Here's what you'll do:
Cream the salted butter and powdered sugar together until smooth.
Blend in the raspberry powder and vanilla until evenly incorporated.
Add the flour and mix in on low speed until you get a shockingly pink, slightly sticky but stiff dough.
Divide the dough into 2 discs, wrap in plastic, and refrigerate for an hour.
Working with 1/2 of the dough at a time, roll out between 2 sheets of parchment paper until it's about 1/4″ thick.
Cut and bake at 325 until dry and set, about 12 minutes. You can reroll the scraps to use as much of the dough as possible.
Cool and sandwich the cookies together with chocolate hazelnut spread, ganache, or even raspberry jam.
Enjoy!
Tips for Success
This dough starts out a bit soft, so it really is best to refrigerate it for an hour or so before rolling it out.
I have a wonderful set of graduated round cutters that I never want to be without. Not only can I cut all sizes of round cookies, but I can use them as egg rings, cut out pieces of spongecake, use as small ring molds, etc.
I made my cookies using the third from the smallest size in this set of graduated cutters.
Take care not to let the cookies brown. Even just one extra minute can make a difference. They will still taste just as good, but the color won't be as vibrant.
Raspberry Shortbread Q & A
Can I halve (or double) the recipe?
Yes. Shortbread is very forgiving, and since there's no leavening in it, you can scale up or down just using simple math. If you scale down to 1 stick of butter and use a small cutter like I did, you'll end up with 20-22 sandwich cookies, which is a respectable number. If you need 100 sandwich cookies, you can use 5 sticks of butter and scale all the other ingredients up accordingly.
Can I make these gluten-free?
Yes. Substitute a cup-for-cup gluten-free flour blend for the cake flour. Gluten-free flours tend to make great shortbread since the whole point of "shortbread" is to keep the gluten strands short so the cookies are tender, crunchy, and crumbly. With zero gluten in your flour, this becomes really easy!
Can I make these cookies vegan?
Yes. Just substitute a salted vegan butter for the conventional butter. Do make sure it is in stick form. Most spreads in tubs contain too much liquid to work well in shortbread.
Do I have to use raspberry powder?
You can buy freeze-dried raspberries to use in this recipe, but they'll just get broken up during mixing, and you will end up with an uneven raspberry color. For the most uniform and intense coloring without using any dyes, I recommend sticking with raspberry powder.
How long do they keep?
These little guys will stay fresh for about a week when tightly sealed and stored at room temperature. Freeze for longer storage (up to 3 months).
Are these cookies super crunchy?
Not really. They are sandy and crumbly, but the cookies do leach out a bit of moisture from the chocolate hazelnut spread which makes them a bit softer.
A Note About Measurements
For convenience, consistency, and accuracy, almost all my recipes are written by weight, either in ounces and/or grams, even the liquids.
I strongly encourage you to purchase a kitchen scale and learn to use it.
This is the one I used for years. I love it and highly recommend it:
Best for Home Use
Escali Primo Digital Food Scale
Don't let its small price and small size fool you. The Escali Primo is an accurate and easy-to-use food scale that I have used for years. It's easy to store, easy to use, has a tare function, and easily switches between grams and ounces/pounds for accurate measurements.
This is an affiliate link which means I earn from qualifying purchases. Your price is unaffected.
It would be so helpful to me and to other readers that, when you make a recipe, you rate it and leave a comment. Whether it's a recipe or an informational post, your feedback helps others decide if the post is helpful or if the recipe works as advertised.

If you could leave a star rating, that would be very helpful. Thank you for being here!
Sponsor product used: Dixie Crystals Powdered Sugar
Raspberry Shortbread Sandwich Cookies
These raspberry shortbread sandwich cookies get their intense raspberry flavor and color from 100% natural freeze-dried raspberry powder. The raspberry flavor really shines in these cookies, and that bright-tart flavor is beautifully complemented by the mellow, nutty Nutella filling.
They're rich, so make these cookies small–no more than 1 1/4" in diameter. That way you can eat 4-5 without feeling too badly about it!
Ingredients
4

oz

powdered sugar

about 1 cup I used Dixie Crystals

8

oz

2 sticks salted butter

2

oz

by weight, freeze-dried raspberry powder (about 3/4 cup)

½

teaspoon

vanilla extract

10

oz

cake flour

about 2 1/4-2 1/2 cups

1

cup

chocolate hazelnut spread such as Nutella or Pernigotti
Instructions
Preheat oven to 325F. Set racks in the upper and lower thirds of the oven.

Line two sheet pans or cookie sheets with parchment. Set aside.

In the bowl of your stand mixer or in a bowl using a hand mixer, cream the sugar and butter together until smooth and creamy.

Scrape the bowl, and add the raspberry powder and vanilla. Mix on low speed until well combined.

Add the cake flour and mix in on low until you have a stiff but somewhat sticky dough.

Divide dough in half, form into discs about 1" thick, and wrap in plastic wrap. Refrigerate for an hour.

Working with one half of the dough at a time, roll out between 2 sheets of parchment paper until it's about 1/4" thick.

Cut small rounds (or your preferred shape) out of the dough and place on parchment-lined cookie sheets about 1" apart. Reroll scraps twice to cut a few extra cookies.

Bake for 10-12 minutes, rotating pans halfway through baking. Cookies will look dry on top and be firm to the touch. They should not brown.

Remove to cooling racks and let cool on the cookie sheets for 5 minutes before removing to racks to cool completely.

Pipe (or spread with an offset spatula) about 1 1/2 teaspoons of chocolate hazelnut spread on 1/2 of the cookies (on the bottom sides). Sandwich together with the rest of the cookies.

You can eat them right away, but the filling will firm up a bit as some of the moisture is drawn into the cookies. If you can stand to wait 4-6 hours, do. Store cookies at room temperature in airtight containers for up to a week.
Did You Make Any Changes?
Nutrition
Serving:
1
g
Calories:
94
kcal
Carbohydrates:
13
g
Protein:
1
g
Fat:
4
g
Saturated Fat:
3
g
Polyunsaturated Fat:
1
g
Cholesterol:
6
mg
Sodium:
21
mg
Fiber:
1
g
Sugar:
6
g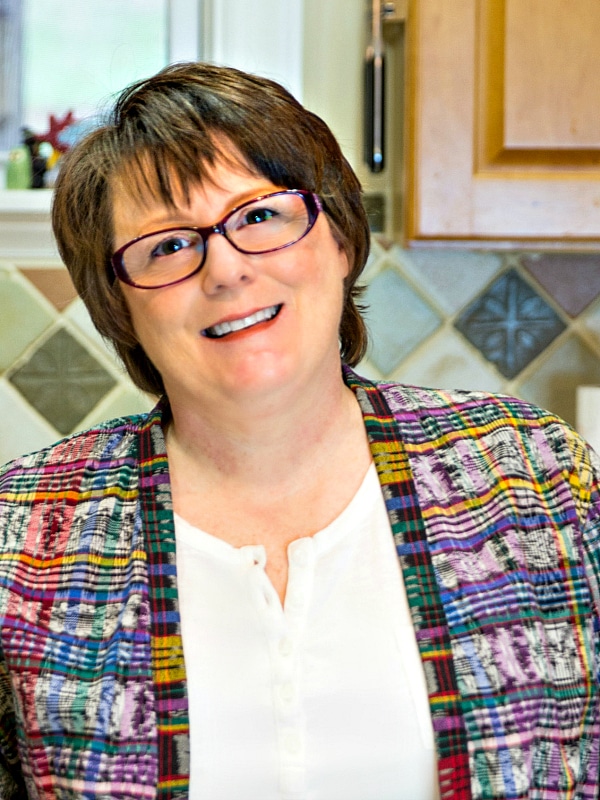 What are my qualifications to teach you baking and pastry? As a former working pastry chef and special educator, I marry my passions for both teaching and for baking into explaining techniques, methods, and developing the best possible recipes. For more info, you can read more about me.
If you'd like to receive new recipes and the occasional newsletter, I'd love for you to sign up for my Inbox Pastry Chef.
Disclaimer: These posts and recipes are part of the week long event, #SummerDessertWeek but all opinions are 100% mine! We would like Thank our amazing sponsors: Dixie Crystals and Circulon. These wonderful sponsors provided the prize packs for our giveaways and also sent samples and products to the #SummerDessertWeek bloggers to use in their recipes.