I really hope you guys enjoy this chocolate Halloween cake–it's spooky good adult fun with the flavors of chocolate and orange and a kicky ombre finish!

Think of it as a chocolate version of a creamsicle, and who doesn't want that?! If you'd like to make some Halloween cupcakes rather than committing to making a whole cake, try my Candy Corn Cupcakes.

For ease of browsing, you can find all my cake recipes in one place as well. Enjoy!
An Elegant, Adult Chocolate Halloween Cake
One year for Halloween, I envisioned dressing up as an icy, tall, slender vampire. I sort of forgot that I am neither tall nor slender, and I ended up looking like a drunk dead Italian grandmother. Scary in its own way, but so not what I was going for.
So when I envisioned a cool Halloween cake that could work for an adult party, I wanted to make sure that what I ended up with matched my vision for it as closely as possible.
What my mind's eye saw was a tall, slender cake in varying shades of orange surrounded by black and maybe some spooky accoutrements.
It wouldn't look like a kid's party cake at all. If that's what you want, try my monster cake recipe.
It would look like an adult cake. That's what I saw inside my head.
And this cake is what actually happened. I'd like to think I more or less nailed it in the actual sense. It's not quite as gorgeous and elegant as I'd seen in my head, but it is pretty darned close. No drunk Italian Grandmother here. This is my vision. Yay, me.
And now it can be your vision, too!
And yay you, because it is delicious.
Chocolate Halloween Cake
The bones of this Halloween cake are pretty classic: Hershey's perfectly chocolate cake covered with ermine frosting.
Here's how I switched it up a bit for Halloween:
I used a bit of black cocoa powder to achieve a very dark chocolate cake.
I also added some espresso powder to the batter (you can't really taste it, but it deepens the chocolate flavor)
I added 3-4 drops of orange oil because I love chocolate and orange together,
melted butter rather than vegetable oil for the fat,
and a combination of buttermilk and whole milk for the liquid
I flavored the frosting with:
a couple of drops of orange oil and
some chocolate bitters.
I was interested in adding a touch of chocolate flavor to the frosting without changing the color, and the bitters worked really well. The chocolate flavor is subtle, but it's definitely there.
How To Do Ombre Frosting
Frosting the cake is actually a breeze. Honest. Here's how to do it:
Make four different colors of orange frosting, from palest sherbet to intense tangerine using Wilton's "orange."
Crumb-coat the entire cake with the lightest color and let it set up in the fridge.
Then, using an offset spatula, liberally dot on more of the frosting, from the lightest on top to the deepest orange down towards the bottom of the cake. Do this in fourths. The top fourth of the cake should have the palest frosting. Then proceed down the cake in rings of each of the other 3 orange frosting until you get to the bottom.
Once all your frosting is liberally dotted all around the cake, use a straight-edged cake smoother held perpendicular to the cake, and turn it on your turntable to achieve a smooth finish while maintaining the graduated color. Since all those colors are sort of slapped on, where one meets and another starts isn't a precise line. When you use the straight edge, it naturally makes for a very smooth transition between colors.
You may have to make several passes around the cake to get it completely smooth, and you can see in my photos that I didn't take that time myself.
Totally your call if you want it completely smooth or just mostly smooth. You have to ask yourself, "Are you feeling lazy? Punk?" You know what my answer was, right?
Applying Ombre Frosting Video
This is not my video, but the technique is what is important. For you visual learners. this video should help you visualize how to apply your frosting to achieve an ombre effect.
NOTE: The less defined your "stripes" of frosting are, the more smooth the transition between your colors.
How to Decorate Your Chocolate Halloween Cake
If you are a Piping Wizard, you can certainly pipe whatever sort of spooky design you want on your cake. Just pipe spider webs on using a number 1 or 2 icing tip.
I know my limitations, so I decided to use pre-made decorations.
The decorations I used are no longer available, but they're transfers.
Here is a similar spider web transfer you can use to decorate your Halloween cake.
More Halloween Recipes to Try
I do love Halloween, so I have quite a few Halloween recipes on the site.
If you want sweet Halloween goodies, consider my Halloween black & white cookies or my pumpkin spice donut holes.
For savory goodies, you might like my Halloween smashed creamer potato eyes, my Halloween deviled eggs, or my black rice risotto.
Questions?
A Note About Measurements
For convenience, consistency, and accuracy, almost all my recipes are written by weight, either in ounces and/or grams, even the liquids.
I strongly encourage you to purchase a kitchen scale and learn to use it.
This is the one I used for years. I love it and highly recommend it:
Best for Home Use
Escali Primo Digital Food Scale
Don't let its small price and small size fool you. The Escali Primo is an accurate and easy-to-use food scale that I have used for years. It's easy to store, easy to use, has a tare function, and easily switches between grams and ounces/pounds for accurate measurements.
This is an affiliate link which means I earn from qualifying purchases. Your price is unaffected.
And now, without further ado, I give you my Chocolate Halloween Cake, the Chocolate Dreamsicle (it's not a very scary name, but it is really good!)
It would be so helpful to me and to other readers that, when you make a recipe, you rate it and leave a comment. Whether it's a recipe or an informational post, your feedback helps others decide if the post is helpful or if the recipe works as advertised.

If you could leave a star rating, that would be very helpful. Thank you for being here!
Chocolate Halloween Cake
The flavors of orange and vanilla in this chocolate Halloween cake play so nicely with chocolate that combining all three yields a lovely taste experience. Sophisticated yet subtle, this chocolate Halloween cake is sure to be the hit of your adult Halloween party!
Ingredients
For the Cake
14

oz

granulated sugar

2 cups

8

oz

all purpose flour

1 3/4 cup

1.75

oz

sifted cocoa powder

0.5

oz

black cocoa powder

about 2 Tablespoons

1

tablespoon

espresso powder

2

teaspoons

baking powder

1

teaspoon

baking soda

1

teaspoon

fine sea salt

2

large eggs at room temperature

4

oz

buttermilk, room temperature

1/2 cup

4

oz

whole milk, room temperature

1/2 cup

4

oz

melted butter

1 stick

2

teaspoons

vanilla extract

3-5

drops orange oil

8

oz

1 cup boiling water
For the Creamsicle Frosting
2

oz

all purpose flour

scant 1/2 cup

10.5

oz

granulated sugar

1 1/2 cups

⅜

teaspoon

kosher salt

I use Morton's

12

oz

whole milk

1 1/2 cups

12

oz

unsalted butter at cool room temperature

3 sticks

1

teaspoon

vanilla extract

Tahitian, if you have it

2-3

drops orange oil

several shakes of chocolate bitters

Optional but lovely
Instructions
For the Cake
Preheat oven to 350F, and set a rack in the center of the oven.

Prepare 3 6-inch cake pans by spraying with pan spray, lining the bottoms with a parchment circle and spraying again. If you don't have parchment, spray and then dust the pans with sifted cocoa powder to prevent sticking. Set aside on a jelly roll pan. You should be able to fit all three on the pan.

In a large bowl, thoroughly whisk together the sugar, flour, cocoa powders, espresso powder, baking powder, baking soda, and salt. Set aside.

In another bowl, thoroughly whisk together the eggs, buttermilk, milk, melted butter, vanilla extract and orange oil.

Pour the wet mixture into the dry mixture and whisk well for about 3 minutes. While you're whisking, heat up your one cup of water to a boil.

Pour in the boiling water and whisk thoroughly so the water is completely and evenly incorporated. Make sure to scrape the sides of the bowl while you're mixing. The batter will be fairly thin–much thinner than with the creaming method.

Divide the batter evenly among the three prepared pans and bake for 20 minutes.

Carefully turn the pan from front to back and bake an additional 10-15 minutes or until the cakes spring back when touched and an instant read thermometer registers 200F.

Remove to a rack to cool in the pans for 15 minutes.

Run a slim knife around the insides of each pan and then turn out onto cooling racks.

For super moist cake, wrap each layer tightly in plastic wrap and refrigerate until cool. Otherwise, just let them sit out until cool. Refrigerating them once cool will make them easier to stack and frost. Frost and decorate as desired.
For the Ermine Frosting
In a heavy bottomed sauce pan, combine the flour, sugar, salt and milk. Cook over medium to medium-high heat, stirring constantly, until the mixture comes to a boil.

Turn the heat down to low or medium low and maintain a very slow boil, stirring frequently, for a minute or two.

Strain through a fine mesh strainer into a metal bowl. Stir for a few moments and then press plastic wrap onto the surface of the pudding and refrigerate until cool.

In the bowl of a stand mixer fitted with the whisk attachment, whip the butter on medium and then high speed until light and fluffy, scraping the bowl as necessary.

Add a large spoonful of the pudding at a time and whip until incorporated before adding the next spoonful. Continue adding the pudding and whipping in between until it is all incorporated.

Add the flavorings and beat well until it is light and fluffy. Taste and adjust as necessary.

Color all the frosting a pale orange (or leave some white). Divide into four portions, remembering you'll be using the palest for your crumb coat, so you'll need more of that. Color each other bowl of frosting a deeper shade of orange.
To Frost and Decorate
Fill and crumb coat your cake with all but about 1/2-3/4 cups of the palest frosting. Place in the freezer, uncovered, for about 15-20 minutes to firm up the crumb coat.

Frost the top and an inch or so down the sides of the cake with the remaining pale orange frosting. You don't have to be precise here at all.

Using a small offset spatula, apply the rest of the frostings from palest to most vibrant down the sides of the cake in rough bands of color.

Using a medium offset spatula, smooth the top of the cake completely, allowing the excess frosting to extend over the edges. Don't worry about the sides yet. Just get the top as smooth as you can get it.

Hold a straight edge longer than the cake is tall perpendicular parallel to the sides of the cake and rotate your cake stand (or whatever the cake happens to be sitting on) allowing the straight edge to pick up excess frosting and smooth out the sides of your cake. Scrape off the excess and make more passes until the sides of the cake are as smooth and lovely as you want them. You'll have a "wall" of frosting that extends up past the smooth top of the cake. Holding your offset spatula parallel to the top of the cake, sweep the wall inward in sections. wiping the blade of your spatula between each pass and proceeding around the cake until the wall of frosting is gone and your cake is completely finished.

Decorate with strategically places Halloween Decorations. Store in the fridge and cut the cake cold, but serve at room temperature.

Enjoy!
Did You Make Any Changes?
Notes
Don't expect your cake slices to stand up nice and pretty. Lay them on their sides. Since the cake is very rich and moist, it wouldn't be the worst thing ever to cut each slice in half allowing each serving to be only 1 1/2 layers tall.
Nutrition
Calories:
634
kcal
Carbohydrates:
81
g
Protein:
6
g
Saturated Fat:
20
g
Cholesterol:
113
mg
Sodium:
667
mg
Fiber:
2
g
Sugar:
60
g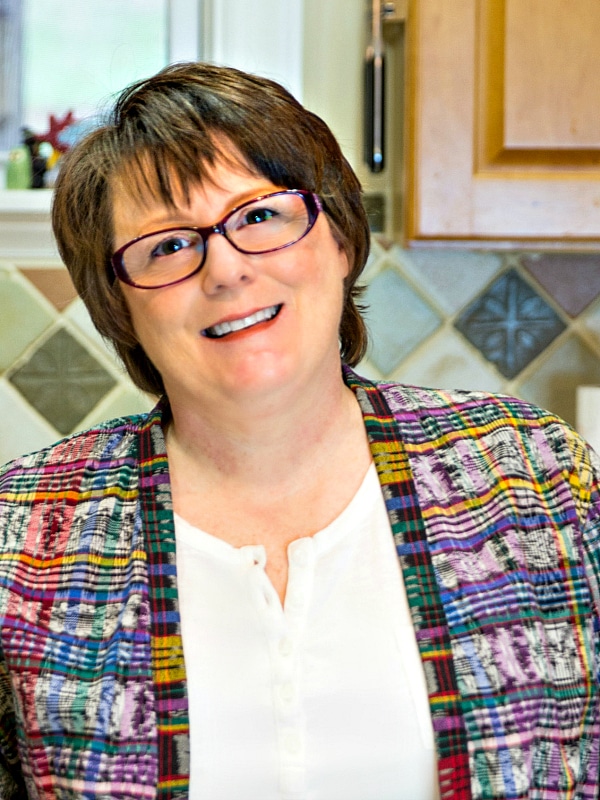 What are my qualifications to teach you baking and pastry? As a former working pastry chef and special educator, I marry my passions for both teaching and for baking into explaining techniques, methods, and developing the best possible recipes. For more info, you can read more about me.
If you'd like to receive new recipes and the occasional newsletter, I'd love for you to sign up for my Inbox Pastry Chef.
Thank you so much for spending some time with me today. Have a lovely day.