Halloween is my favorite holiday, and I am Extremely pleased to bring you these candy corn cupcakes. I rarely make cupcakes, but these Halloween cupcakes look so cute with the little ghosts perched on top and the fun, fall colored sprinkles.

This post and recipe was created for #HalloweenTreatsWeek 2018! I was sent samples by some of the sponsor companies but as always opinions are 100% mine.

Another Halloween treat to try is my pumpkin spice caramel corn.

For ease of browsing, here are all of my individual desserts in one place. Thanks for stopping by!
What Flavor is Candy Corn?
Candy corn has a fairly neutral flavor, but even with your eyes closed, you can probably tell exactly what you're eating even if you can't describe the flavor.
Candy corn is a fondant candy, and the ingredients are pretty much what you'd expect: sugar, corn syrup, gelatin, some candy glaze on the outside, a touch of salt.
The one truly distinctive flavor in candy corn is honey. There's not much in them–probably just enough to keep them softer for longer since honey is a humectant, but it's there.
So if anyone asks you what flavor candy corn is, just tell them "sugar with a side of honey!"
As a nod to the honey in candy corn, I've added a Tablespoon of honey powder to both the cake batter and the frosting. This is optional, but it's a nice touch.
How to Make Candy Corn Cupcakes
You can start with a white cake mix, if you'd like. You can also use your favorite recipe for white cake if you already have one.
The recipe I've shared is excellent, though, and it makes exactly 12 cupcakes, so you won't be swimming in cupcakes!
Make the batter.
Divide into 3 parts.
Color one part orange, one part yellow, and leave the third part plain.
Evenly portion the three batters into each cupcake liner. Swirl with a knife if you want, or not.
Bake and cool. Tada!
Here's a cross section of the cupcakes so you can see the colors. I only kept a small amount of my batter white since
white is the smallest part of the candy corn
the white frosting sort of mimics the white portion anyway
Let's Decorate Some Halloween Cupcakes
Here's a quick step by step of how I decorated these cupcakes.
Put the frosting (I made ermine–one of my favorites) in a zip top bag and snip off one corner.
Pipe the frosting onto the cupcakes in a circular motion, from the edges in toward the center.
Put a topper in the center of each cupcake.
Put your sprinkles in a bowl or on a sheet tray and scoop the sprinkles over the cupcake.
Again: tada!
Cupcake Decorating Pro Tip
PRO TIP: When adding the sprinkles, tilt the cupcake to allow excess to fall back in the bowl/onto the tray. This keeps your decorating mess to a minimum!
Before I share the recipe, please check out everyone else's Halloween posts, and then don't forget to scroll down so you can enter the big giveaway!
More Halloween Dessert Recipes from Pastry Chef Online
Halloween Treats Week Recipes
And now, here's the recipe for Candy Corn Cupcakes!
These little candy corn cupcakes are so tasty! Adults will appreciate them for the flavor, and kids will love them for their cuteness. Everybody wins!
For convenience, consistency, and accuracy, almost all my recipes are written by weight, either in ounces and/or grams, even the liquids.
I strongly encourage you to purchase a kitchen scale and learn to use it.
This is the one I used for years. I love it and highly recommend it:
Best for Home Use
Escali Primo Digital Food Scale
Don't let its small price and small size fool you. The Escali Primo is an accurate and easy-to-use food scale that I have used for years. It's easy to store, easy to use, has a tare function, and easily switches between grams and ounces/pounds for accurate measurements.
This is an affiliate link which means I earn from qualifying purchases. Your price is unaffected.
It would be so helpful to me and to other readers that, when you make a recipe, you rate it and leave a comment. Whether it's a recipe or an informational post, your feedback helps others decide if the post is helpful or if the recipe works as advertised.

If you could leave a star rating, that would be very helpful. Thank you for being here!
Candy Corn Cupcakes
These candy corn cupcakes are kissed with honey powder, topped with smooth, creamy ermine frosting, and are super cute and tasty for a kids' Halloween party!
Ingredients
For the Cupcakes
6.5

oz

about 1 1/2 cups all purpose flour

1 ½

teaspoons

baking powder

1

stick unsalted butter at cool room temperature

7

oz

1 cup granulated sugar

1

Tablespoon

honey powder

generous 1/4 teaspoon kosher salt

1

teaspoon

vanilla

2

large eggs

4

oz

1/2 cup whole milk
For the Frosting
5

Tablespoons

all purpose flour

1

cup

whole milk

7

oz

1 cup granulated sugar

1

Tablespoon

honey powder

¼

teaspoon

kosher salt

2 ½

sticks unsalted butter at cool room temperature

1

teaspoon

vanilla
For the Decorations
orange

yellow, and white sprinkle mix (chocolate sprinkles too, if you like)
Instructions
For the Cupcakes
Place a rack in the center of your oven and preheat to 350F. Line a cupcake tray with 12 liners. Set aside.

Whisk together the flour and baking powder. Set aside.

In the bowl of your stand mixer fitted with the paddle attachment or in a large bowl and using a hand mixer, cream the butter until smooth. Scrape the bowl as necessary.

Add the sugar, honey powder, salt, and vanilla, and beat at medium speed until light and fluffy, scraping the bowl as necessary.

Beat the two eggs and then drizzle in a bit at a time, scraping the bowl as necessary.

Alternate adding the flour mixture in 2 additions and the milk in 2 additions, beginning and ending with the flour.

Divide batter among 3 bowls and color 1/3 yellow, 1/3 orange, and leave 1/3 plain.

Add some of each better to each cupcake liner, filling all the liners equally, about 2/3 full. Swirl with a knife if you like.

Bake for 20-22 minutes until the cupcakes are lightly golden brown and spring back when you press them in the center.

Allow to cool completely on a rack before frosting and decorating.
For the Frosting
Put the flour, milk, sugar, honey powder, and salt in a medium saucepan. Cook, stirring frequently, over medium-high heat until the mixture comes to a boil.

Boil for 30 seconds, stirring constantly, then pour the mixture onto a rimmed metal sheet (so it cools quickly) and refrigerate until it is at cool room temperature, about 45 minutes.

In the bowl of your stand mixer fitted with the whip attachment or in a large bowl with a hand mixer, beat the butter and vanilla until smooth and creamy.

Spoon in the milk mixture about 1 tablespoon at a time, whipping on high speed.

Once you've added all the cooked milk mixture, whip an additional 5 minutes.
To Decorate
Pipe the frosting on the cupcakes using a zip top bag. Place a candy corn ghost decoration on each cupcake and add the sprinkles over a tray or a bowl to catch any that fall off. Enjoy!
Did You Make Any Changes?
Notes
Feel free to frost these with your favorite frosting. Cream cheese or your favorite vanilla buttercream would work well here.
Nutrition
Serving:
1
cupcake
Calories:
439
kcal
Carbohydrates:
43
g
Protein:
3.5
g
Fat:
28.6
g
Saturated Fat:
17.7
g
Polyunsaturated Fat:
8.8
g
Trans Fat:
1
g
Cholesterol:
104
mg
Sodium:
324
mg
Fiber:
0.5
g
Sugar:
28.3
g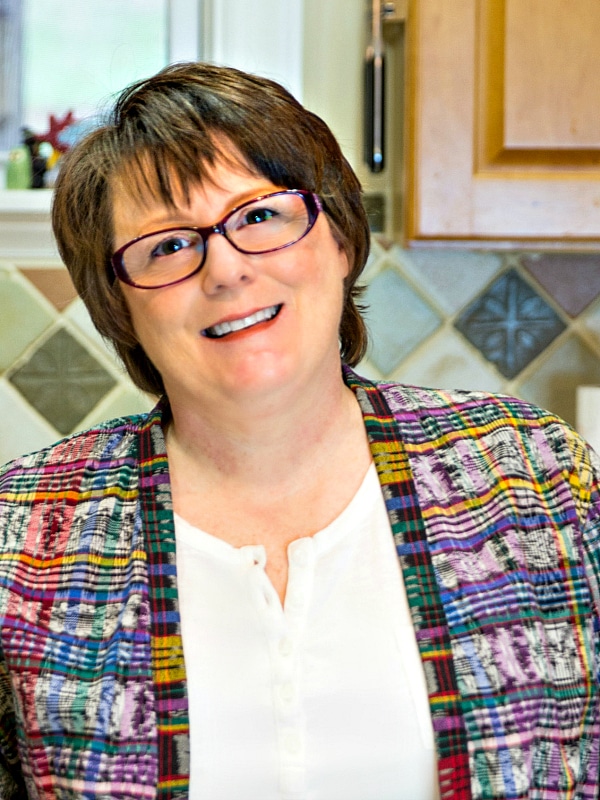 What are my qualifications to teach you baking and pastry? As a former working pastry chef and special educator, I marry my passions for both teaching and for baking into explaining techniques, methods, and developing the best possible recipes. For more info, you can read more about me.
If you'd like to receive new recipes and the occasional newsletter, I'd love for you to sign up for my Inbox Pastry Chef.
Thank you for spending some time with me today. Please don't forget to enter the giveaway! Our sponsors have 5 great prize packages for you!
Disclaimer: These posts and recipes are part of the week-long event, #HalloweenTreatsWeek but all opinions are 100% mine! We would like to Thank our amazing sponsors: Dixie Crystals, Adam's Extract, Wilton, Sweets and Treats Shop and Treat Street USA!