This easy onion jam recipe is really delicious and has a relatively short ingredient list.

I'll teach you how to make it, give you some ideas for variations, and suggest some delicious ways to enjoy it.

If you're a fan of savory jams, you may also enjoy my spicy bacon jam or my green tomato chutney.

For ease of browsing, you can find all my jam and condiment recipes in the same place. Thanks so much for visiting!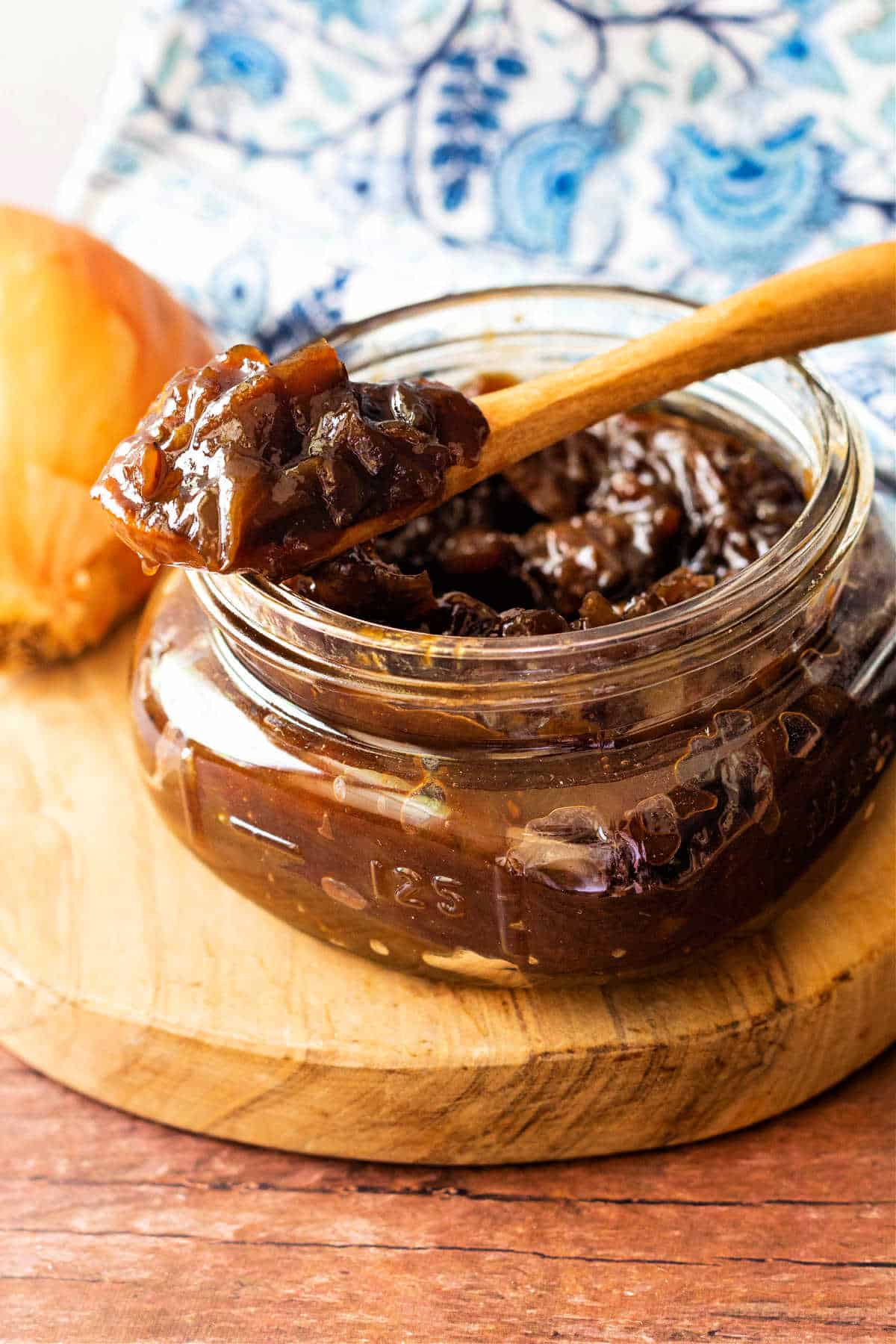 Watch my onion jam recipe web story here.
Why You Need to Make This Onion Jam
This is a well-balanced jam, friends.
It's just sweet enough, just smoky enough, just tangy enough, and just lip-smacking enough.
The recipe makes about 1 1/4 cups, or 10 oz of jam, which is plenty to enjoy without being overwhelming. Of course, you can double the recipe if you'd like to share with neighbors.
It's a fairly quick jam to make. Aside from about 10 minutes of prep, which is just measuring, chopping and gathering ingredients, cook time is about 40 minutes or so.
The Difference Between Onion Jam and Bacon Jam
Both types generally contain onion, but onion jam doesn't have bacon in it.
Neither is a traditional jam made with pectin, but rather they are cooked down until they have a "jammy" consistency.
Both bacon jam and onion jam can be made with a rustic texture or blended or run through the food processor until you like the texture.
How To Make It
This is a pretty straightforward jam to make.
Note that this isn't made like an American fruit jam–no pectin necessary!
Here's what's in it:
Ingredients and Substitutions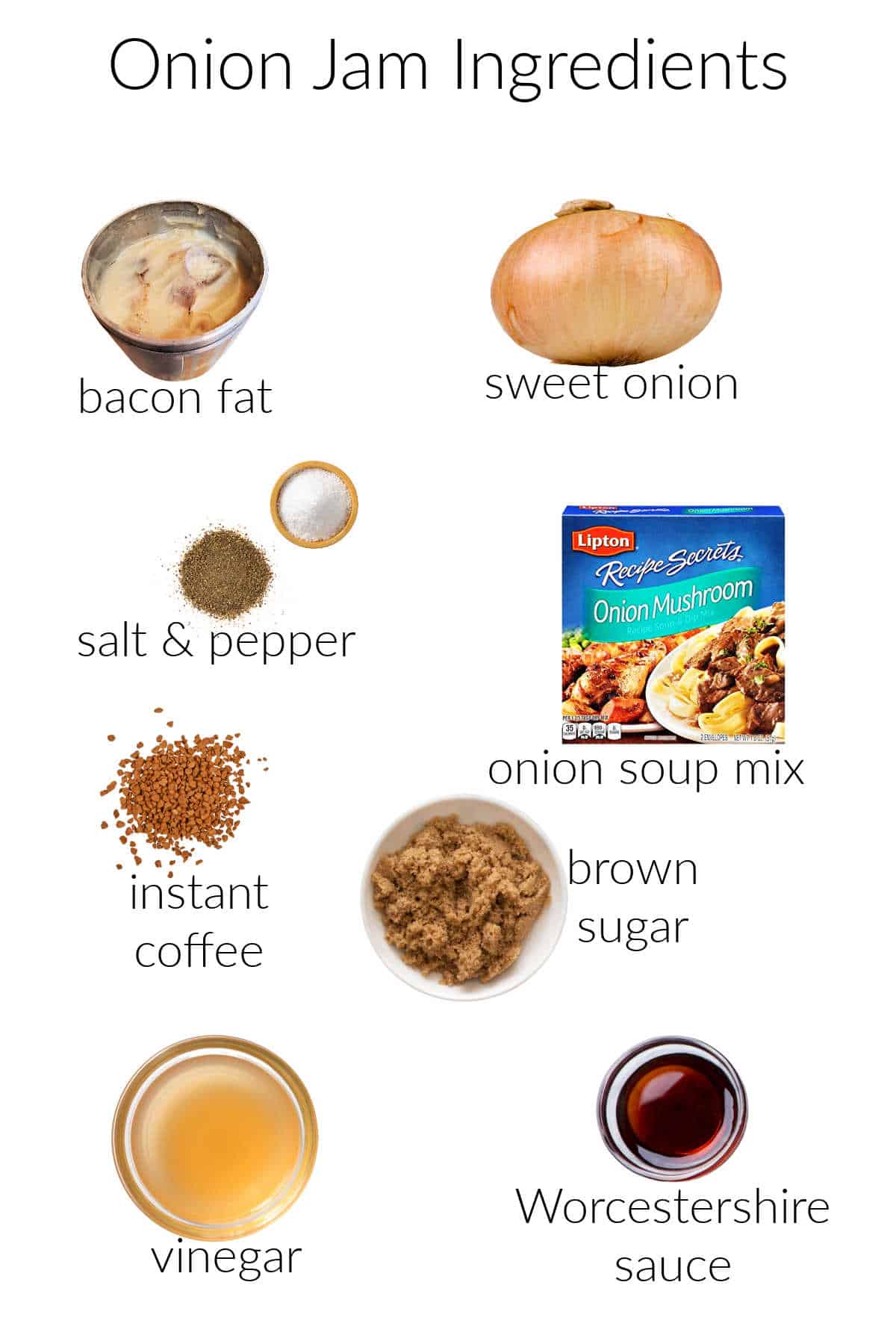 bacon fat: This is my preference, but to keep it vegetarian, or if you don't have bacon fat, feel free to use butter or your favorite oil
sweet onion: Obviously, the sweeter the onion is to begin with, the sweeter your jam will be. Use Vidalia or Walla Walla if you can find them. If not, you can use any onion. You may need to use a bit extra sugar depending on your onions and your personal taste
salt and pepper: Salt will bring all your flavors into focus without reading as "salty." I personally love the slight bite of black pepper, but you can certainly omit the pepper, or use white pepper if you prefer
onion soup mix: While not strictly necessary, the soup mix definitely amps up the onion flavor in this jam. Use your favorite dry onion soup mix. You could even use some vegetable stock concentrate such as Better than Bouillon
instant coffee: Adds some depth of flavor and "base notes." You won't be able to taste the coffee. It'll just make your jam taste that much better
water (not pictured): I add a little water to the onions to simmer them until soft before cooking everything down until jammy
brown sugar: I use dark brown. Light brown would also work. Other options include honey, maple syrup, agave syrup, sorghum, Thai palm sugar, coconut sugar, or golden syrup. I call for a base amount, but feel free to add more or less to make it to your preference
vinegar: I used cane vinegar, but any vinegar will do. For additional sweetness, consider balsamic or another sweeter vinegar. Red wine vinegar or apple cider vinegar are also solid choices
Worcestershire sauce: This ingredient is not vegetarian because it contains fish, but if that's not a concern, a few shakes of Worcestershire add some umami goodness to the mix. Substitutes are fish sauce, soy sauce, or coconut aminos to keep it vegetarian
Procedure
This is a very easy jam to make, friends.
The cook time is relatively short, too, as we're not trying to caramelize onions, rather just soften them and infuse and encourage all the different flavors to merge into one magical onion jam you will want to put on everything.
Here's the rundown:
Heat pan, and add fat and onions.
Add seasonings (salt, pepper, onion soup mix, instant coffee) and water.
Simmer until onions are soft.
Add sweetener, vinegar, and Worcestershire.
Cook down gently until jammy.
The end.
Equipment You May Need
I make this jam in a large saute pan.
It's the ideal shape and size, because the broad surface area allows the flavors to concentrate pretty quickly.
If you make it in a narrower pan with higher sides, it may take a bit longer to get "jammy," and the flavors may not be quite as concentrated.
Other equipment you may find helpful include:
Wooden spatula: I use this to stir, and the straight edge lets me stir while making sure there's minimal sticking
Variations
Smoky onion jam: Add a teaspoon of liquid smoke and 1 teaspoon of smoked paprika or chipotle powder. Add with the instant coffee
Onion bacon jam: Mince up about 4 oz raw bacon, cook the bacon until your desired doneness. Leave the bacon in the pan and proceed with the recipe
Spicy onion jam: Add 1/4 cup (more or less, to taste) of minced pickled jalapenos along with the onion soup and other seasonings. Add hot sauce to taste towards the end of cooking
Onion Peach jam: Add 1-2 ripe peaches, cut into bite-sized pieces, along with the onions. Mash them up a bit as they cook.
Tips for Success
If you forget to dice your onions before starting, you can always pulse the onion jam in the food processor until you get your desired texture.
Once the jam is very thick, make sure to stir almost constantly so the jam doesn't stick in the bottom of the pan.
Onion Jam Q & A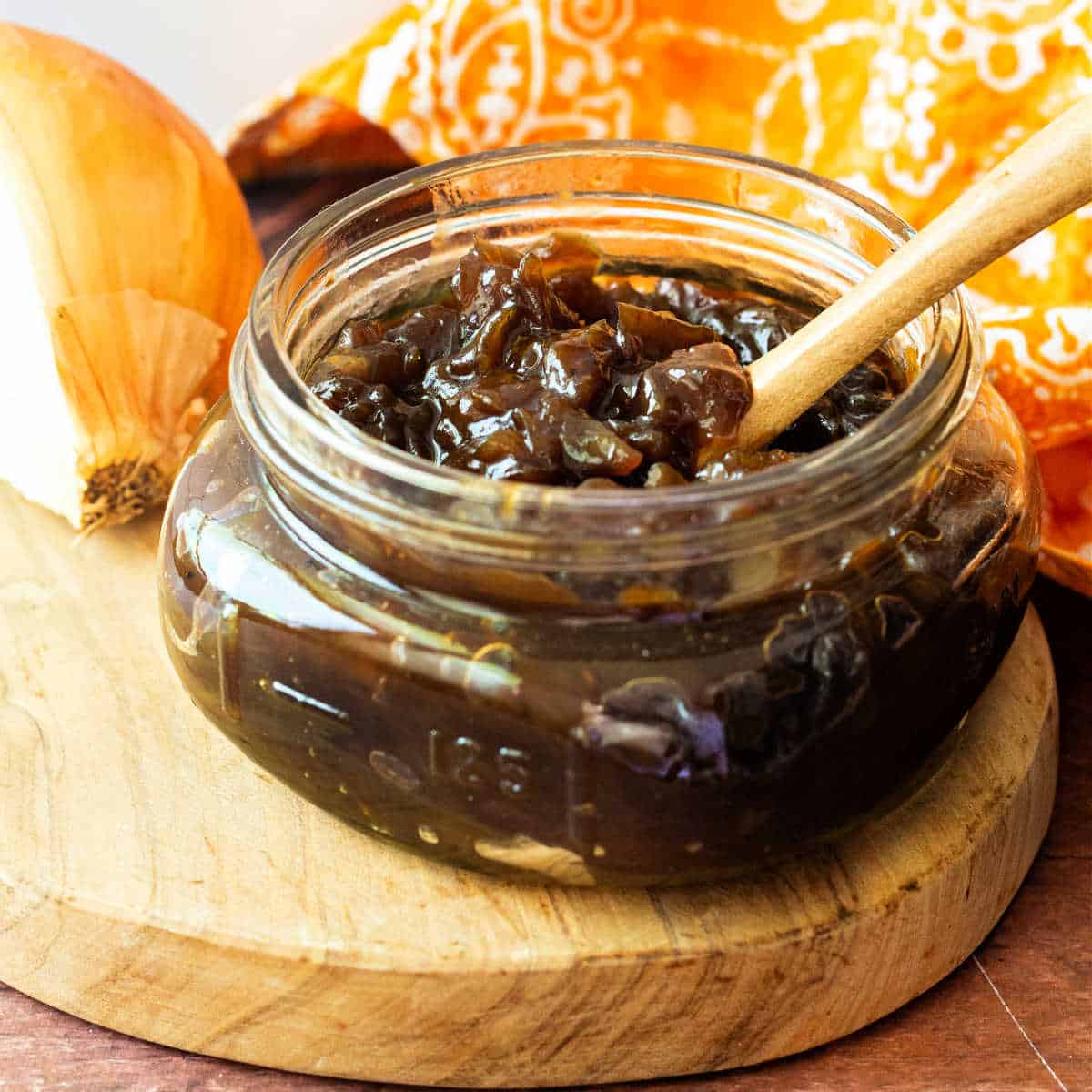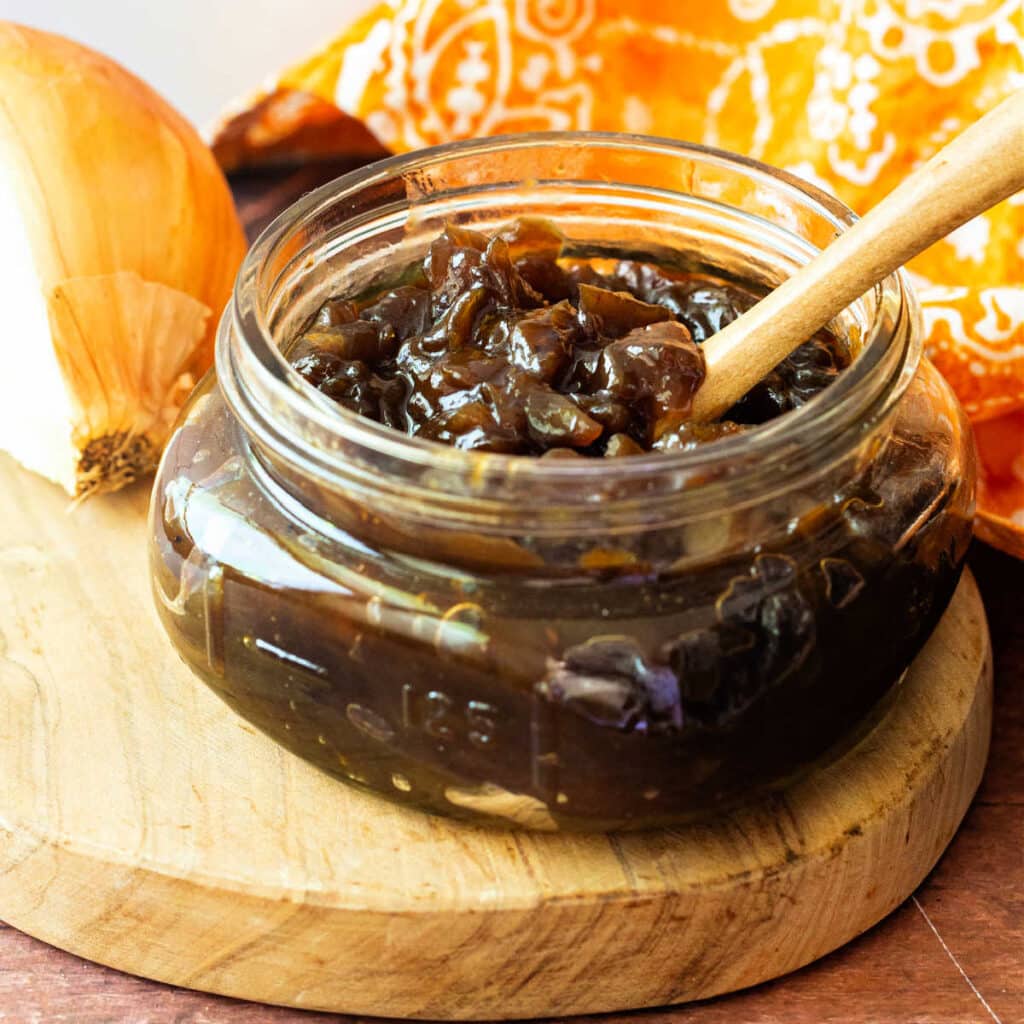 Does onion jam have pectin in it?
There is no added pectin in this recipe. There are some pectins in onions themselves, but I don't think it's enough to add to thickening the jam. This recipe achieves a "jammy" consistency through slowly cooking to concentrate flavor, evaporate liquid, and form a syrup with the remaining sugar.
How much does this recipe make?
I used 2 large onions, and ended up with about 1 1/4 cups of jam, 10 oz, or 10-ish servings. Your yield will depend on the size of the onions you use.
Can I double this recipe?
Absolutely. This is a very forgiving recipe, and you can make as much or as little as you want. I wouldn't go with less than I call for, because it would cook down too quickly and you wouldn't get quite the depth of flavor, but feel free to double, triple, etc, as needed.
Is it gluten-free?
As written, this recipe is gluten-free. If you use soy sauce in place of Worcestershire, it is not gluten-free. So sub tamari or coconut aminos if you have them.
How long will this jam keep?
Keep onion jam refrigerated, and it will keep for a couple of weeks. For best texture, warm it up a bit before serving.
Serving Suggestions
Serveitas an option on a cheese board. It would be 100% welcome with broiled goat cheese on crostini.
Use onion jam as a quiche filling. It's very flavorful, so you won't need much. maybe 1/4-1/2 cup dotted in your filling along with a bit of ham or cooked and crumbled sausage.
Spread it on a burger. Obviously, it will work well on my onion burger recipe, but onion jam will elevate almost any burger. Try it on my smashed double cheeseburger. Or mix some into the meat mixture in some meatloaf burgers.
Any breakfast sandwich will love the addition of a generous slathering, so just go for it.
I've been mixing spoonfuls of this jam into roasted vegetables after roasting. Try roasted green beans or roasted asparagus
If you like home fries or corned beef hash, add a couple of spoonfuls of this jam to the mix and you'll be a very happy person indeed!
Questions
It would be so helpful to me and to other readers that, when you make a recipe, you rate it and leave a comment. Whether it's a recipe or an informational post, your feedback helps others decide if the post is helpful or if the recipe works as advertised.

If you could leave a star rating, that would be very helpful. Thank you for being here!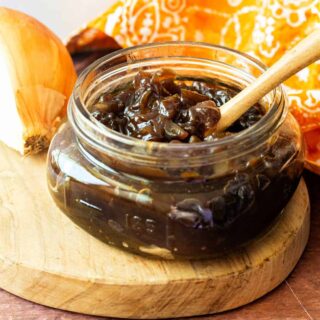 Easy Onion Jam Recipe
This is the best onion jam recipe, friends. Double onion flavor thanks to sweet onions and onion soup mix, depth from Worcestershire and instant coffee, a little zing from vinegar and just sweet enough thanks to some brown sugar.
Make this oniony condiment immediately for use on burgers or to serve as part of a cheese board or charcuterie plate.
Ingredients
2

Tablespoons

bacon fat

2

large sweet onions

diced

salt and pepper

to taste

2-3

Tablespoons

onion soup mix

2

teaspoons

instant coffee

¼

cup

water

¼

cup

dark brown sugar

¼

cup

vinegar

2

Tablespoons

Worcestershire sauce
Instructions
Heat a large pan over medium heat.

Add the fat, and then the onions.

Stir for a couple of minutes, then add salt, pepper, the onion soup mix, water, and instant coffee.

Give it another stir, bring it up to a boil, put on the lid, and simmer over medium heat for 10 minutes.

After 10 minutes, remove the lid and stir in the brown sugar, vinegar, and Worcestershire sauce. Cook over medium-low until most of the liquid has evaporated out and the mixture is jammy, about 45 additional minutes.

As the jam reduces and thickens, be sure to stir almost constantly to keep it from sticking.

Taste and add a touch more salt if necessary.

Cool, then cover and store in the fridge for up to 2 weeks.
Did You Make Any Changes?
Nutrition
Serving:
1
g
Calories:
78
kcal
Carbohydrates:
13
g
Protein:
1
g
Fat:
3
g
Saturated Fat:
1
g
Polyunsaturated Fat:
1
g
Cholesterol:
2
mg
Sodium:
415
mg
Fiber:
1
g
Sugar:
8
g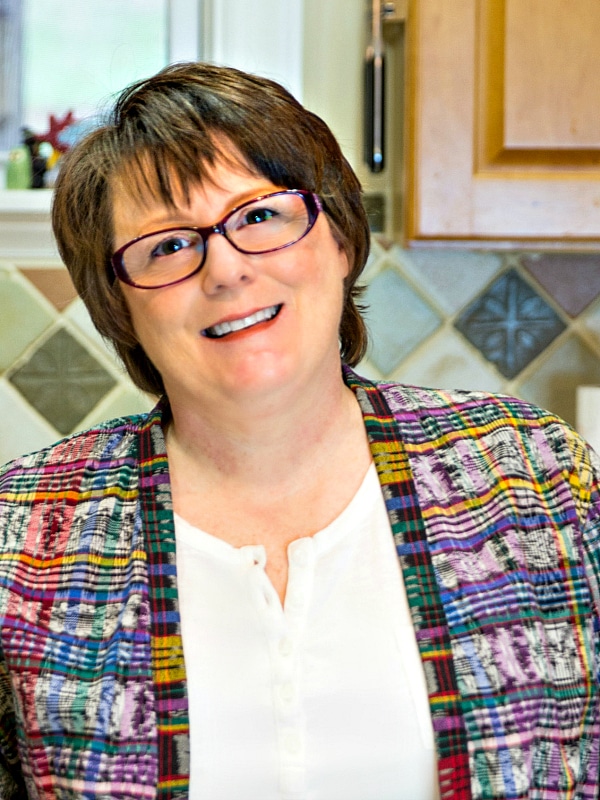 What are my qualifications to teach you baking and pastry? As a former working pastry chef and special educator, I marry my passions for both teaching and for baking into explaining techniques, methods, and developing the best possible recipes. For more info, you can read more about me.
If you'd like to receive new recipes and the occasional newsletter, I'd love for you to sign up for my Inbox Pastry Chef.
Thanks for spending some time with me today.
Can't wait for you to wow your family, friends, and yourself with this onion jam, you guys.
Take care, and have a lovely day.