Most Recent Update:
Meet the smashed bacon double cheeseburger, friends! You're going to love this guy!
I adore a good burger, and I have other epic burger recipes for you to try, so check them out too. Enjoy!
I like a good burger every once in awhile. I've made a couple of epic burgers in my time including my Got to be NC Burger, the Bloody Mary Meatloaf Burger, and even a copycat Big Mac I called the Big Smoky Mack. As tasty as these burgers were–and boy were they!–I didn't want to eat more than one, or maybe two over the course of a few days. After that, I was fine living in my burgerless world.
But today? Today I am bringing you a burger of such deliciousness, that I have eaten three of them in the past two days, one for breakfast this morning. Breakfast, people!
I call these guys Smashed Bacon Double Cheeseburgers, and I'd like to introduce you.
Just look at him, will you?
What is a Smashed Burger?
I don't have a Smashburger restaurant near me, but I have eaten smashed burgers before. I'm pretty sure you have, too. If you've ever ordered a burger at a diner, and your burger comes thin with crispy edges, then you've had a smashed burger.
To get the technique down, I read Kenji's post on Serious Eats about making them a couple of times. And his post on Ultra Smashing.
And then I got cooking, because there's only so much you can read and watch before you have to go for it. Besides, I was hungry.
Note that awesome soapstone chalk action!
What's the Point of Smashing a Burger?
Tons of flavor from all the Maillard reactions that happen when a burger is smashed against a searing hot piece of metal.
Fast cooking means the burger gets to your mouth in record time.
Since there's more surface area and a higher crust to interior ratio, a smashed burger is all about the savory umami goodness.
Is a Smashed Bacon Double Cheeseburger Juicy?
As long as you smash them one time right when they hit the griddle and then leave them alone, resisting the urge to smash them again when you turn them, they retain a reasonable amount of juiciness, which I upped with a couple of pieces of super melty American cheese and a nice layer of caramelized onions between the two patties.
They're not as juicy as a big fat burger, but what you lose in juiciness is more than made up for in crispy, savory, meaty goodness.
Plus, it is really pretty fun to smash a ball of ground meat super flat. So there's that.
Trust me, the bottom line is that you will want to make a smashed bacon double cheeseburger or 7 for yourself.
Get Your Tools Together
You will need to make sure you have a good surface to cook on–something the burger will stick to to build up a crust. Plus, you need a good Smasher and a tool to scrape the burger up off the griddle to flip it. Here are some recommendations to help you make the best possible smashed bacon double cheeseburgers.
And now, let's make some smashed bacon double cheeseburgers, shall we?
The Smashed Bacon Double Cheeseburger
Look at all that melted cheese, crispy bacon, and delicious browned meat! You really want this bacon cheeseburger, whether you double it or not!
Making these babies goes pretty quickly, so get all your condiments and fixin's together first before you start smashing.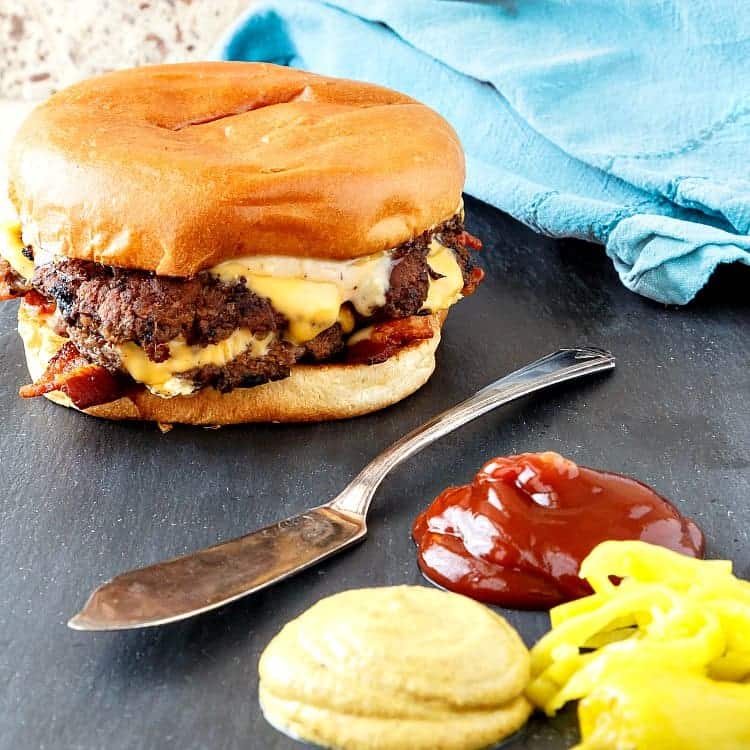 Smashed Bacon Double Cheeseburgers
These smashed bacon double cheeseburgers are all about the savory goodness. I chose my condiments pretty carefully to enhance the savory, beefy goodness, and you should too. Because wow, these are meaty and fantastic!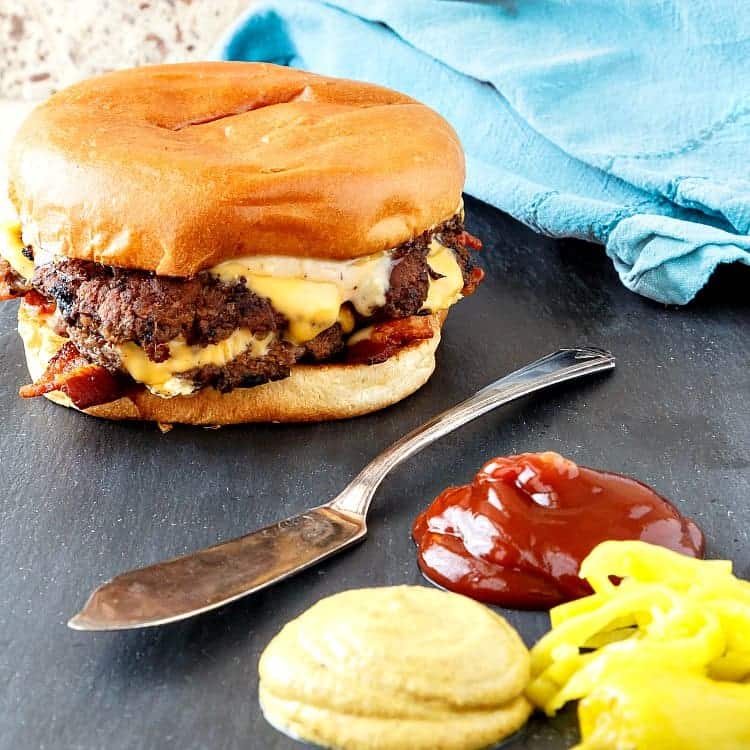 I think a straightforward smashed burger needs some straightforward condiments, don't you?
And there you have it, friends. A smashed bacon double cheeseburger is the stuff of dreams. Have mercy, but they are delicious. If you make them, be sure to tag me on instagram–I'm @onlinepastrychef over there. Use hashtag #pcorecipe so I'll see it!
And if you end up eating one of these for breakfast, don't say I didn't warn you!
Thanks for spending some time with me today, friends. Enjoy your cheeseburger(s), and have a lovely day.