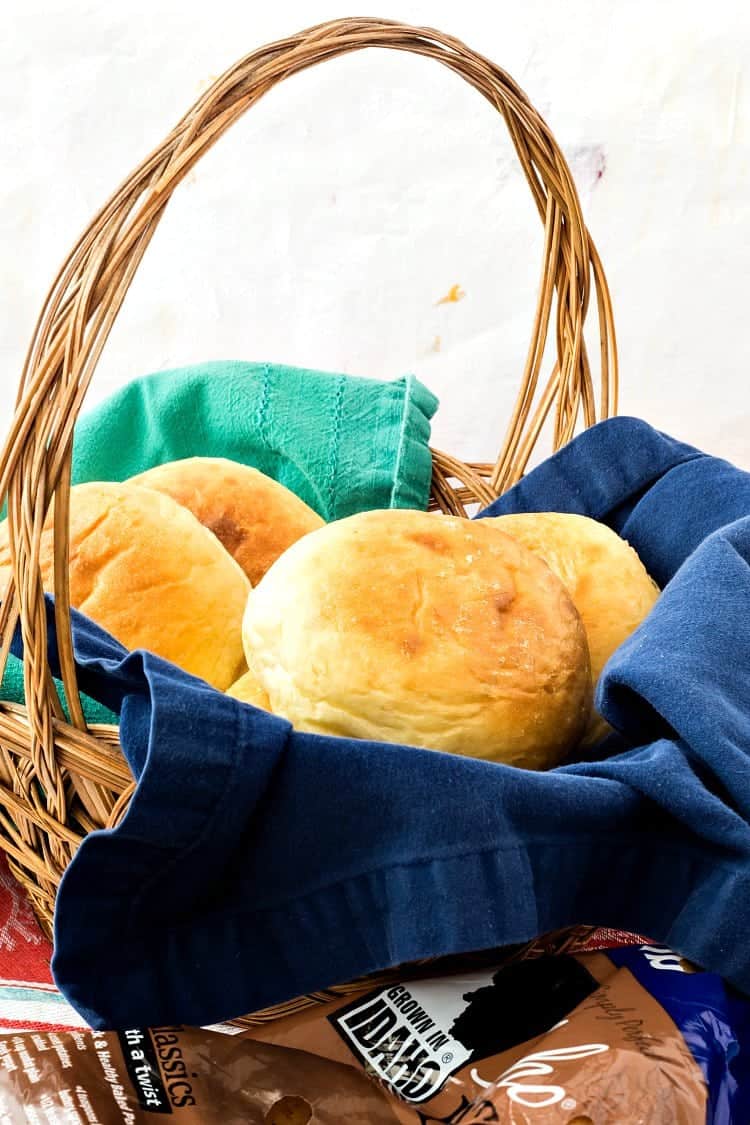 I'm proud to be working with Idaho® Potatoes to bring you this recipe for Soft Sandwich Buns. Thank you for supporting my partner brands.
I love a good, hearty grain bread. Shove as many seeds and nuts and whatnot into a crusty loaf, and I'm a happy girl. But man. Sometimes you just want a soft roll. One that has great flavor, but that is content to take a back seat to whatever you choose to put on it. A bread that sort of squishes when you bite into it, but one that can stand up to some hearty toppings, you know?
Like potato bread. Like these soft sandwich buns that I made with Idaho® Potatoes.
Why Are Soft Sandwich Buns Made with Potatoes So Soft?
I have been giving this question a lot of thought recently. And this is the conclusion I've come to. Keep in mind I don't necessarily have scientific data to back me up–this is conjecture, but it's conjecture based on what I know about how ingredients function and interact. And here's what I'm thinking. Using mashed potatoes in a bread is sort of a shortcut method for making bread using the Tangzhong method.
In the Tangzhong method, you take a portion of the flour out of the recipe, mix it with a portion of the water, and heat that together, stirring, until you end up with a thick, almost mashed potato-like, paste. Once it cools off, you then add that mixture back into the dough. What you're doing is pre-gelatinizing some of the starches in the flour, binding up the gluten in that portion of flour so it doesn't add to chewiness. The gelatinized starches hold onto water, keeping the resulting bread soft, springy, and moist for several days.
Boiling the potatoes to add to the dough yields similar results: a soft, springy bread that squishes nicely and stays moist for days. In Tangzhong, you usually take about 10% of the total weight of the flour and mix it with five times that amount of the liquid called for.
For simplicity's sake, let's say your recipe calls for 20 oz of flour. To make Tangzhong, you'd use about 2 oz of the flour and cook it with 10 oz (5 x 2) of the liquid called for. With potato bread, and specifically in this recipe for soft sandwich buns, I used 8 oz of mashed potato and 16 oz of flour. So rather than reducing available gluten by roughly 10% with Tangzhong, you end up reducing it by about 33% using potatoes (gluten from 24 oz of flour is replaced by gluten in 16 oz of flour and the 8 oz of potatoes). And that's why your bread ends up being super tender and soft while still retaining some chew. Thank you, potatoes, for being so awesome!
Soft Sandwich Buns with Idaho® Potatoes
Shop This Recipe
Here are my recommendations for products to use for best results. You'll want a heavy duty stand mixer if you'll be baking bread on a regular basis. Ditto a scale (for everything). The half sheet pans are workhorses you can use from everything to jellyrolls to sheet pan suppers, and the cooling racks are just as versatile.
Thank you for supporting PCO by shopping through my affiliate links.
Now that we have some of the science (or my best attempt at it) down along with product recommendations, let's just make some soft sandwich buns, shall we? Yes, let's.
SOFT IDAHOⓇ POTATO SANDWICH BUNS
These Soft IdahoⓇ Potato Sandwich Buns are flavorful, soft, and squishy, and they stay that way for days. Just because they're soft doesn't mean they won't hold up to a lot of fillings, so don't hesitate to use them as buns for heartier foods like burgers. You can also choose to make them a bit smaller and serve them as dinner rolls.
What You'll Need
2

medium IdahoⓇ potatoes

, peeled and cut into 1" chunks

Cold water to cover

2

teaspoons

kosher salt

2

ounces

unsalted butter

(½ stick)

6

ounces

whole milk

3

tablespoons

granulated sugar

1

large egg

1

large egg yolk

1 ½

teaspoons

kosher salt

1

pound

higher protein bread flour

(such as King Arthur)

1

tablespoon

active dry yeast

¼

cup

whole milk

, for brushing before baking
What To Do
Place the potatoes in a medium saucepan, and cover with water by about 1". Add 2 teaspoons kosher salt to the water.

Bring potatoes to a boil and then simmer for 10-12 minutes or until they offer no resistance when pierced with a knife.

Drain the water out of the pan. Put the lid on the pan and put the pan back on the burner (now turned off) for about 5 minutes. This will help the potatoes to dry. When ready, they will look a little "floury" on the outsides. If you have a stove whose burners do not retain heat (such as a gas stove), put over a very low flame to dry.

Weigh out 8 oz of the potatoes (about 1 cup, lightly packed), and put them in the bowl of your stand mixer. Fit the mixer with the paddle attachment and mix until smooth.

Cut the butter into 4-5 pieces and add to the mixer. Mix until the butter has melted.

Mix in milk, sugar, egg, egg yolks, and salt until you have what looks like potato soup.

Add the flour to the bowl, and top with the salt. Switch to the dough hook, and mix on low speed until the dough comes together, about 2-3 minutes.

Increase the speed to medium and knead until the dough is smooth, shiny, and supple, about 7-8 minutes.

Once the dough is shiny and stretchy, gather it into a ball. The dough will be fairly soft, so do the best you can.

Place the dough into a large, buttered or pan-sprayed bowl, spray the top with pan spray, and cover with a lint free kitchen towel or with plastic wrap.

Let rise in a warm place until doubled in volume, about 2 hours.

Spray a half sheet pan with pan spray and have it nearby.

Turn out dough onto a clean, smooth surface. Gently press out the gases from the dough.

Using your bench knife and scale, divide your dough into 12 3 ounce portions.*

Place these on your baking pan, cover with plastic wrap, and refrigerate for an hour.**

Meanwhile, prepare your work surface by dusting lightly with flour. Have a cup or so of extra flour handy as well.

Line 2 baking sheets with parchment paper, place racks in the top and bottom thirds of your oven, and heat the oven to 375°F.

Working with one piece of dough at a time, flatten dough out into a disc. Gather up all the edges of the disc and bring them to the center. Turn the dough so the smooth side is up, and add a sprinkle of flour to make it easier to work with.

Use your cupped hands to roll the ball on the counter, pulling the skin of the ball taut.

Place on one of the prepared pans.

Continue working in this way, adding a bit of flour as needed and placing 6 rolls on each of the pans.

Spray the tops lightly with pan spray, cover with plastic wrap, and let rise in a warm place until puffy, about 45 minutes.

When rolls are nice and puffy, gently brush them with milk. Put in the oven, and bake for 8 minutes.

Rotate the pans and switch rack positions. Continue baking for an additional 8-9 minutes, or until the rolls are a lovely medium golden brown.

Allow to cool on the pans for 10 minutes and then transfer to cooling racks to cool completely.

Buns will be extremely light and puffy once baked. As they cool, they will sink just a bit, and their tops may wrinkle a little. This is normal, and your rolls will end up tender yet chewy with a nice, even crumb.

Store at room temperature, well covered, for 3-4 days. For longer storage, place in freezer bags, pressing out as much air as possible, and freeze for up to a month.
Recipe Notes
*For Dinner Rolls, divide dough into 18 2 ounce portions and bake 9 per tray. You can also place them fairly close together in a parchment-lined 10" cake pan to bake.
**The dough is very soft at room temperature. Chilling it makes it easier to work with. If you are concerned about the dough warming up as you shape each roll, only take 4-6 portions out of the fridge at a time.
And there you have it. Soft sandwich buns that squish like kid bread but are chewy and sturdy to stand up to a Dagwood or a burger. I hope you enjoy them as much as we did. And please check out my recipe page on the Idaho® Potatoes site for all my recipes featuring Idaho® Potatoes!
Serving Suggestion: hard salami, provoline and thinly sliced sweet peppers with grainy, spicy mustard. Yes please.
And there you have it, friends. Soft Sandwich buns made with Idaho Potatoes along with my best guess for why using mashed potatoes in baked goods works so well. Enjoy!
Thank you for spending some time with me today. Take care, and have a lovely day.