I think you will enjoy adding this spicy ketchup recipe to your stable of condiments.

It is spicy, a bit smoky, and packs in a ton of flavor. Much less sweet than standard, store-bought tomato ketchup, this spicy version may just become you go-to!
What this homemade ketchup recipe does have is some spiciness and a ton of flavor. Your Whole 30 will thank you, and you may just decide you like making your homemade ketchup and customizing it however you want!

You may also enjoy my tangy, delicious cranberry ketchup recipe.

For ease of browsing, here are all of my condiments and jams. Thanks for stopping by!
Why Make This Spicy Ketchup?
Well, because it's delicious.
It's tangy with apple cider vinegar and smoky with chipotle.
It's rich and thick but isn't "chunky."
It's similar enough to "regular" ketchup that your kids will probably like it but it is both more flavorful and less sweet. Everybody wins!
If this sounds like your kind of ketchup, I have a favor to ask:
When you do make this recipe, it will help me and other readers if you:
✅Rate the recipes using the stars in the recipe card⭐⭐⭐⭐⭐
✅Leave a review when prompted in the recipe card✍️
✅Leave a comment on the post📝
Thank you!😘
How to Make This Recipe
Ketchup is seriously easy to make. There are a few ingredients you'll need to gather for this version, and then you're good to go.
Ingredients and Substitutions
Here's what you'll need.
onion: onion is what you need to start building up your flavors. Use sweet or yellow here
avocado oil: or use olive oil. You'll need a bit of oil for sauteeing the onion. It also adds just a bit of richness to the otherwise-fat-free recipe. If you prefer a fat-free ketchup, you can saute the onions in just a bit of water until they soften and start taking on a bit of color
tomato puree: make sure your puree has no added sugar. You can also sub crushed tomatoes, diced tomatoes, or even whole canned tomatoes since you'll be blending it all up anyway
salt: helps to bring out all the flavors
apple cider vinegar: provides tang which helps to wake up the flavors of almost anything you put this ketchup on
date syrup: provides just a hint of sweetness without having to use any refined sugar. If using refined sugars doesn't bother you, you can substitute brown sugar. Or use a touch of honey or sorghum syrup
chipotle in adobo: These come in cans in the grocery store. You'll be mincing up some of the dried smoked jalapenos (which is what chipotles are) as well as using a little of the sauce they're packed in
garlic powder: You can also substitute granulated garlic or even minced garlic
smoked paprika: provides smokiness and heat. If you prefer to keep your ketchup on the less smoky side, substitute mild chili powder or sweet paprika. If you want it hotter, use extra smoked paprika, or add a touch of cayenne in addition to the smoked paprika
ground cinnamon: most ketchup contains a bit of cinnamon, and I love the warmth it brings to this recipe. Use more or less than called for according to your taste
ground clove: Not strictly necessary, but adds an almost cooling quality. Substitute ground allspice here, or you could even get away with using just a dash of pumpkin spice blend
Procedure
As I said, this stuff is seriously easy to make.
Here's the rundown:
saute onion in the avocado oil along with the salt
put the sauteed onions in the jar of your blender
add all the rest of the ingredients to your blender and puree
return all to the pot and simmer for about 40 minutes until thickened
cool and refrigerate for up to 3 weeks
Conversely, you can add all your ingredients straight to the pan, puree with your immersion blender, and simmer until thickened to your liking.
Ketchup-Making Tips
Puree your ketchup before or after cooking it down. Either way will work.
This recipe is easily doubled or cut in half. The base recipe makes about 2 cups of ketchup.
Serving Suggestions
Use your lovely smoky ketchup the way you would use any ketchup. I rather like mine on scrambled eggs personally.
Feel free to slather it all over a burger, too. It would be great on my bacon double smashed burger or this pork burger with Hatch chiles.
And if you were my mom, you'd put it on mac & cheese. I leave that up to you, though!
Spicy Ketchup Q & A
How long will this ketchup keep?
Keep your spicy ketchup refrigerated and use it up within 4 weeks or so.
Can I can ketchup?
I am not a canner, so I honestly don't know how well it will can. To be on the safe side, I would use a recipe specifically formulated for canning.
Questions?
It would be so helpful to me and to other readers that, when you make a recipe, you rate it and leave a comment. Whether it's a recipe or an informational post, your feedback helps others decide if the post is helpful or if the recipe works as advertised.

If you could leave a star rating, that would be very helpful. Thank you for being here!
Spicy Ketchup Recipe
This spicy ketchup packs a good amount of heat and smoke, making it great alone or as a base for barbecue sauce. Good stuff!
Ingredients
2

Tablespoons

avocado oil

or olive oil

¾

cup

sweet onion

diced

½

teaspoon

kosher salt

2

cups

tomato puree or sauce

homemade or store-bought

6

Tablespoons

apple cider vinegar

1/4-1/3

cup

date syrup

or substitute brown sugar, honey, or sorghum syrup to taste

1

chipotle in adobo

minced

2

teaspoons

adobo sauce

from the can of chipotles

2

teaspoons

smoked paprika

½

teaspoon

garlic powder

½

teaspoon

cinnamon

⅛

teaspoon

ground cloves

or allspice
Instructions
Heat a medium saucepan over medium-high heat. Add the oil and then the diced onion and salt.

Saute for 5 minutes until the onions are somewhat softened and have taken on a bit of color.

Carefully transfer the onions to your blender jar. Add the rest of the ingredients to the blender and puree until smooth.

Return the mixture to the saucepan and bring to a boil. Turn the heat down to maintain a simmer and simmer for about 40 minutes, stirring fairly frequently to prevent sticking.

Transfer to a container. Cool and then store in the fridge for up to 4 weeks.
Did You Make Any Changes?
Notes
If you want your ketchup to have a bit of extra texture, you can skip the blending and leave it a little chunky. In that case, you really have more of a tomato chutney.
Storing
Store your ketchup in the fridge for up to four weeks. I don't recommend canning this ketchup, because I'm not sure of the pH.
Nutrition
Serving:
2
Tablespoons
Calories:
41
kcal
Carbohydrates:
5
g
Protein:
0.7
g
Fat:
2
g
Sodium:
221
mg
Fiber:
1
g
Sugar:
3
g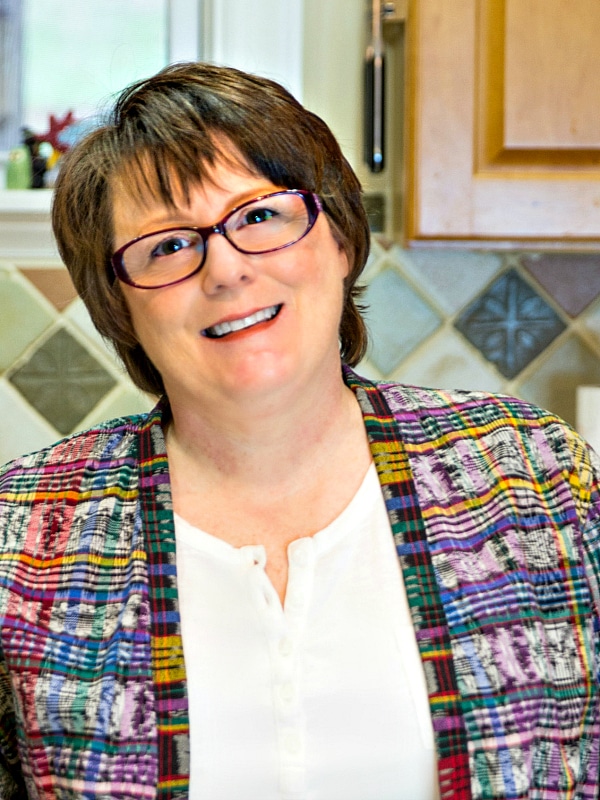 What are my qualifications to teach you baking and pastry? As a former working pastry chef and special educator, I marry my passions for both teaching and for baking into explaining techniques, methods, and developing the best possible recipes. For more info, you can read more about me.
If you'd like to receive new recipes and the occasional newsletter, I'd love for you to sign up for my Inbox Pastry Chef.
And there you have it, friends. I hope you love this smoky, spicy ketchup recipe!
Thanks for spending some time with me today. Have a lovely day.