Most Recent Update:
If you are doing a Whole30, you know that condiments are what get you through. There are very few store-bought condiments that are Whole30-compliant. And that's where this Whole30 Ketchup recipe comes in!

This ketchup contains no sugar, no grains, no alcohol, no beans or legumes, no carageenan, no dairy. It does contain date syrup, which is nothing more than dates stewed in liquid and then blended.

What this ketchup recipe does have is some spiciness and a ton of flavor. Your Whole30 will thank you, and you may just decide you like homemade ketchup and keep making it!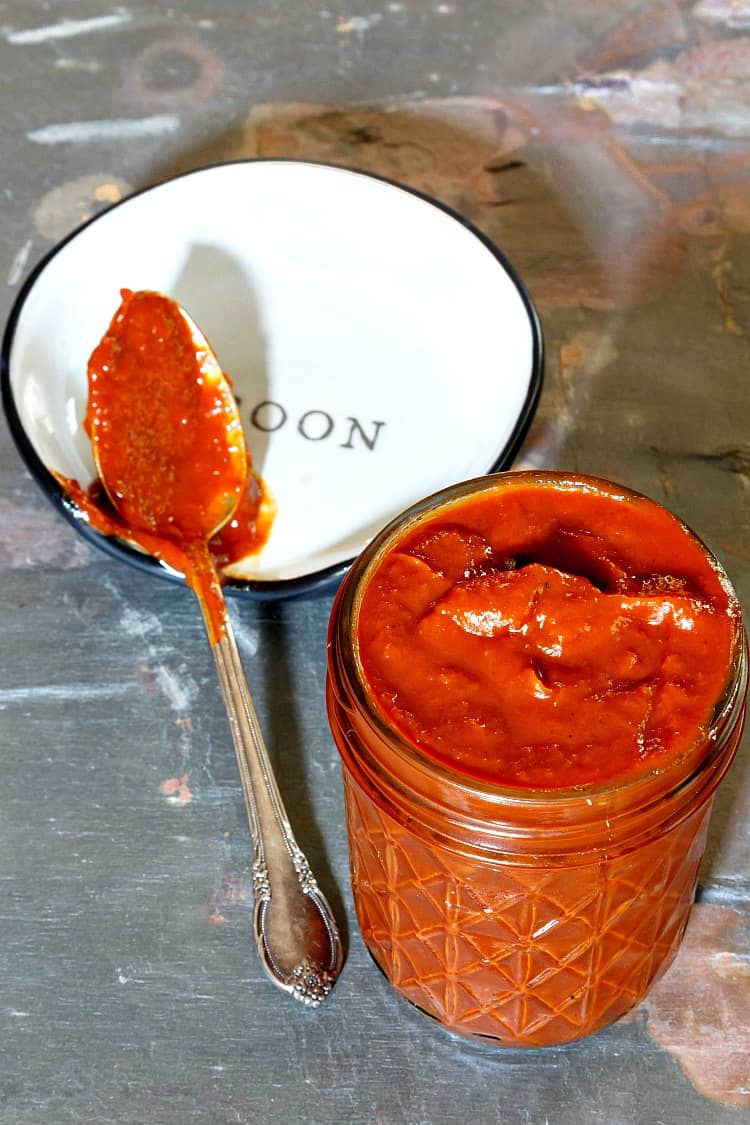 The Beloved and I did a Whole30 in April/May of this year. There's so much cooking. So much cooking! Whenever I could find a prepared product that was "compliant," I bought it to cut down even just a bit on The Cooking.
Now that we're not on Whole 30 but are trying to still eat "Whole 30-ish during the week," I have time to tinker with some Whole 30 condiments to have on hand.
This Whole30 ketchup is rich and thick, smoky and spicy, and it sweetened with dates.
What Makes Ketchup Whole30 Compliant?
Whole30 gives your body a 30-day break from 5 groups of foods:
Sugar and sugar substitutes
Alcohol
Grains
Beans and Legumes
Dairy
Whole30 ketchup generally uses dates for sweetness and contains none of the other Whole 30 Big Bads.
Can I Use Paleo Ketchup?
Probably not for Whole30. Paleo folks can have honey, so many paleo ketchups use that as a sweetener.
Sadly, honey is a no-go on Whole30. Some paleo ketchups might work for you, but don't take it for granted. Check your labels.
Can I Buy Whole30 Ketchup?
Yes! Especially if you are in the thick of Whole 3o and the thought of making one more thing from scratch makes you want to cry.
Here are two great options:
Is Whole30 Ketchup Keto?
At 4 grams of net carb per serving (5 grams carb, 1 gram fiber and 3 grams sugar), this whole30-compliant ketchup won't break your ketogenic diet when used in moderation.
What Can I Put My Whole30 Ketchup On?
Use your lovely homemade ketchup the way you would use any ketchup. I rather like mine on scrambled eggs personally. Here are some other Whole30 recipes you'll want to make and then slather in ketchup!
Let's Make This Spicy, Smoky Whole30 Ketchup
Just look at that! Thick and gorgeous. Since not everyone likes the same level of smokiness and heat, check the recipe notes for variations.
Once you're off Whole30, you might decide to reintroduce sweeteners. In that case, feel free to sub in honey for the date syrup or chopped dates in this recipe. Or you could try my super good Cranberry Ketchup recipe. Enjoy!
And there you have it, friends. Now, if you're on Whole30, you can still enjoy ketchup!
Thanks for spending some time with me today. Have a lovely day.