There is still plenty of fruit to be had even this late in the summer in North Carolina. But I'm tired of the heat. So I'm making "transitional jams," like this gorgeous peach tomato jam right here. Made with beautifully fresh summer peaches and tomatoes, but spiced with subtle fall flavors. Call it a summer-into-fall condiment.
This jam is definitely on the sweeter side, so it's not a savory number like my plum chutney or savory fig jam. But don't let that stop you from using it in both sweet or savory preparations. It would make a great jammy base for a tomato tart or a peach tart. Or serve it spread on a ham sandwich or as a dip for a Monte Cristo!
If you love the tomato peach combo, you may like my summer peach and tomato Panzanella also.
For ease of browsing, you can find all my condiment and jam recipes in one place. Thanks so much for being here!
Why You Should Make This Recipe
First of all LOOK AT THAT COLOR! I mean, it's beautiful.
Granted, I took the photos in bright sunlight so it would really shine, but even straight out of the fridge and under fluorescent lighting, it's a really lovely jam.
Another reason to make it is that it's a little bit different. Of course, you can use it as you would any other jam, but the combination of summer fruit with fall flavor is a little unexpected and very, very welcome.
Also, it's easy to make. None of the jam recipes on my site require additional pectin. I think the whole pectin thing freaks folks out, and they think it will be hard to make.
This one is decidedly not hard to make.
Without added pectin, all you need is time to cook it down so it gets nice and thick when chilled.
How to Make Peach Tomato Jam
You guys ready? This is a pretty straightforward one. Here's what you'll need:
Ingredients and Substitutions
Peaches: Use organic if you can get them. Either way, organic or conventional, wash, peel, and remove the pit. You can use fresh or frozen peaches or substitute nectarines
Tomatoes: Wash, core, and cut in pieces. No need to peel them if you don't want to, because you'll be running it through a food mill which will get rid of the vast majority of the skins
Sugar: I used regular granulated sugar here. You could also use raw sugar or any combination of sugar or honey that you'd like. I used a full 1 1/2 pounds (about 3 cups), but for a less sweet (although still sweet) jam, you could reduce that to one pound/about 2 cups
Apple Cider Vinegar: I like to use ACV in fall jams because it just feels more fall-like while still giving you the acid you need to balance out the sweetness. You may use lemon juice if you'd rather
Salt: I can't leave it out. I just can't. You may consider it an optional jam ingredient and omit it, especially if you are on a lower-sodium diet. I consider it essential for bringing out flavor and counteracting bitterness
Cinnamon Sticks: I used two, but my cinnamon sticks are also elderly. If you have fresh cinnamon sticks, you could use only one. It would also be fine to use ground cinnamon here, although it will muddy the color slightly. Use 1-2 teaspoons of ground cinnamon
Ground Ginger: I use roasted ginger which has a bit of a deeper flavor. Use the ground ginger you have, and if you happen to have fresh ginger, a couple of teaspoons of grated fresh ginger would also provide a welcome zing.
Allspice Berries: I stayed on the conservative side with the allspice since it's a strong flavor. I added 6 whole berries. If you are a super fan of allspice, use more. If you don't like it at all, omit it. You could also use a pumpkin spice blend in place of the cinnamon-ginger-allspice.
Procedure
Making jam–especially without pectin–is pretty easy.
Place all your ingredients in a heavy-bottomed saucepan and heat to boiling.
Cook until all the fruit is very soft.
Run the mixture through a food mill, discarding the skins and any bits of allspice berries. Hold onto the cinnamon sticks. Don't forget to scrape down the underside of your food mill to get all the pulp that will inevitably accumulate there.
NOTE: The above photo is from the post about how to make my summer tomato jam. Still, it's the exact same procedure you'll use here.
Put everything back into the pot and continue cooking at a medium boil until the temperature reaches about 219-220F. Stir often so it doesn't stick.
Pour into a pitcher and then fill clean jars with the mixture.
Allow it to cool and store in the fridge for 3-4 weeks
Equipment You May Need
If you are a Fancy Person and are serious about making jam, you may want to invest in a copper jam pot.
Even though I make a fair bit of jam, it's usually in smaller amounts, and I find that my trusty saucier works just fine.
I do recommend you use a pan with sloped sides, whether copper or stainless steel, because it's easier to keep the jam from sticking in the corners.
And I highly recommend getting a food mill to produce jams with a lovely, consistent texture. I use and love this OXO food mill and can highly recommend it.
There are some models that cost a bit less than the OXO, but for the money, the little fit that stick out on the bottom of the OXO are worth their weight, because you can set the mill right on top of a bowl rather than trying to awkwardly hold it above the bowl with one hand while cranking it with the other.
Tips for Success
You can control the texture in a couple of ways:
Using different discs on the food mill: the finer the disc, the smoother the jam
The temperature to which you cook it: Cook to about 216-217F, and you'll have a looser jam. Cook to 220F-221, and you'll end up with a firmer set.
Don't forget to scrape the back of the food mill–a lot of good stuff ends up getting stuck there. Just scrape it off and into your bowl with a spatula.
You Have Questions. I Have Answers.
Can I make this jam shelf-stable?
I am not a canner, so I do not optimize any of my recipes to achieve the pH necessary for canning. If you want to can yours, please find a peach tomato jam written specifically for canning.
If I can't can it, how long does it keep?
Your jam will last a good 3-4 weeks in the fridge. For longer "keepability," you can freeze it. It won't freeze solid because of the sugar content, but you can extend its life by up to 5-6 months or so.
Is it gluten-free?
Yes, as written it is a gluten-free recipe. Check your ingredients to make sure none is produced on shared equipment.
Can I use sugar substitutes?
Yes, you can. Know that any jam you make with erythritol will crystallize upon cooling, so use a sugar substitute that does not contain erythritol such as allulose, Bocha Sweet or xylitol. (Thank you, Carolyn from All Day I Dream About Food, for this valuable information!) NOTE: xylitol is incredibly toxic to dogs, so if you're a dog owner, be very careful with it in the house or stay away from it altogether.
Serving Suggestions
Since this is a sweet jam that can be nudged in the savory direction by what you serve it with, you have a lot of options:
A Note About Measurements
For convenience, consistency, and accuracy, almost all my recipes are written by weight, either in ounces and/or grams, even the liquids.
I strongly encourage you to purchase a kitchen scale and learn to use it.
This is the one I used for years. I love it and highly recommend it:
Best for Home Use
Escali Primo Digital Food Scale
Don't let its small price and small size fool you. The Escali Primo is an accurate and easy-to-use food scale that I have used for years. It's easy to store, easy to use, has a tare function, and easily switches between grams and ounces/pounds for accurate measurements.
This is an affiliate link which means I earn from qualifying purchases. Your price is unaffected.
It would be so helpful to me and to other readers that, when you make a recipe, you rate it and leave a comment. Whether it's a recipe or an informational post, your feedback helps others decide if the post is helpful or if the recipe works as advertised.

If you could leave a star rating, that would be very helpful. Thank you for being here!
Peach Tomato Jam Recipe
Brilliantly colored peach tomato jam is a sweet jam combining two summer favorites spiced for fall. A great transitional jam to bring the last of your summer produce into the fall with you!
Ingredients
¾

pounds

peach slices

skins on so organic if you can get them

1 ¼

pounds

cored ripe tomatoes

1

pound

sugar

See NOTES

¼

cup

apple cider vinegar

1 ½

teaspoons

kosher salt

2

cinnamon sticks

1

teaspoon

ground roasted ginger

or regular

6

whole allspice berries
Did You Make Any Changes?
Notes
To make an even sweeter jam, you can use up to 1 1/2 pounds of sugar, or about 3 cups.
You may substitute lemon juice for the red wine vinegar if you prefer. I like the bite of the red wine vinegar, especially with a jam I wanted to read more as a fall-type jam.
The jam will keep in the fridge for a good 3-4 weeks, especially if you use the larger amount of sugar. For longer storage, you may freeze it for up to 6 months.
Nutrition
Serving:
2
Tablespoons
Calories:
132
kcal
Carbohydrates:
33
g
Protein:
1
g
Sodium:
121
mg
Fiber:
1
g
Sugar:
32
g
And there you have it, friends. I really hope you enjoy the jam!
Take care, and have a lovely day.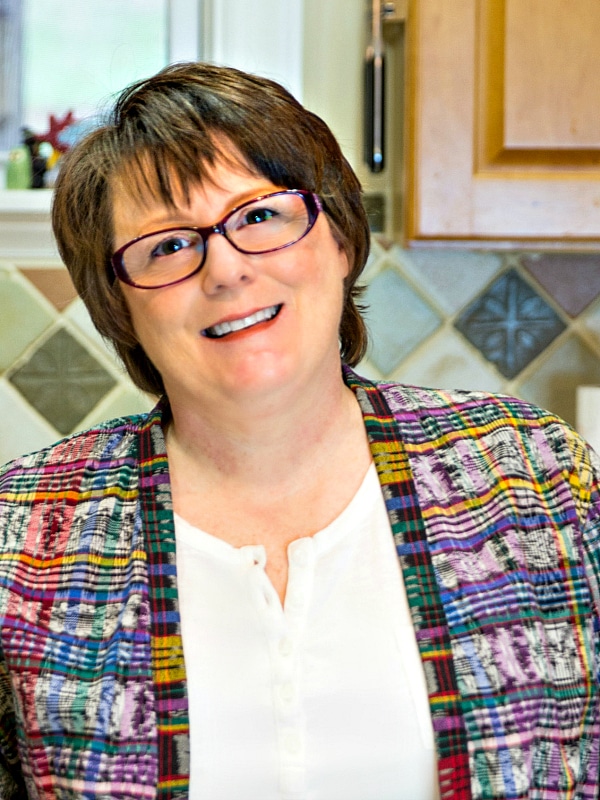 What are my qualifications to teach you baking and pastry? As a former working pastry chef and special educator, I marry my passions for both teaching and for baking into explaining techniques, methods, and developing the best possible recipes. For more info, you can read more about me.
If you'd like to receive new recipes and the occasional newsletter, I'd love for you to sign up for my Inbox Pastry Chef.