In my quest to find uses for spent grains from brewing, I bring you this crunchy spent grain granola recipe. This granola is flavored with peanut butter and cinnamon and is studded with snipped dried apricots, pepitas, and pecans.

The spent grains lend it a particularly crunchy texture making it great to serve as a breakfast cereal over milk or yogurt.

You may also like to give my no-bake spent grain granola bars or my chocolate granola with cherries and almonds recipes a try. Note that you are welcome to use spent grains or substitute oats if you don't have any.

For ease of browsing, you can find all my breakfast recipes in one place. Thanks so much for visiting!
What's So Great About This Recipe
If you are a fan of homemade granola, there are lots of reasons to love this version.
Makes a big batch–a good 12 1/2 cup servings.
Stays crunchy–really crunchy!
Sweetened naturally with malt syrup (as a nod to brewing) and honey
Since the malt syrup is one of the stickiest sweeteners known to mankind (for real, y'all), the granola holds together in nice, crunchy nuggets.
Pecans, pepitas, and apricots add flavor, texture, healthy fats, natural sweetness, and a nutritional boost.
Another use for spent grains, which is always appreciated by homebrewers!
If you don't have spent grains on hand because you're between brewing sessions, you can still make this granola by substituting oatmeal for the cracked spent grains.
Where To Find Spent Grains
If you're a home brewer, you're set. Just keep some of the grains you use for brewing. You can use them wet in my soft spent grain sandwich bread or read on to learn how to dry them.
If you're not a brewer, find homebrewers by checking out your local homebrew shops or bottle shops to see if they have groups that meet.
You can also do what I did and join a local homebrew Facebook group and ask the members to save you some of their grain.
Since most folks just toss their spent grains, they should be happy to let you take some. You can offer them some granola in return!
Another option is to check with local microbreweries to see if they already have a farmer they give them to (they can be fed to livestock) or if you could have some.
For an idea of how much use you can get out of a gallon, a local homebrewer (thanks, Kevin!) saved me a gallon zip-top bag, and I have been able to make 7 recipes out of that amount of grains.
How to Dry Spent Grains
Drying spent grains is easy.
Since they are cracked for brewing and not rolled, they can be a little "spiky" when dried. Here's a photo of some. You can see that they are a bit "pointy."
Because they are so pointy, you really don't need to toast them. They're crunchy enough when dried without browning them at all.
Spread out your spent grains (about half of a one-gallon zip-top bag per half sheet/jelly roll pan) on a half-sheet pan or pans.
Place in your oven on the lowest setting possible. Mine is 170F, so that's what I used.
Stir the grains every couple of hours so they dry evenly. You can also swap the pans so the bottom one gets some top rack time, too.
You will know your grains are completely dry when you no longer feel any moisture at all. If you wear glasses, your glasses won't steam up at all when you open the oven door, and the grains will be much lighter and move around in the pan very easily.
Drying your grains could take up to a good 8 hours or so. Even though it's a mostly hands-off process, just know your oven will be tied up pretty much all day long.
Once they're dried, let them cool to room temperature and store them in an airtight container. No need to refrigerate them once they are completely dry.
How to Make This Recipe
Ingredients
There are 3 basic parts to this recipe: the dry ingredients, the "goo" or wet ingredients, and the mix-ins.
Here are the players.
First up, the dry ingredients:
dried spent grains: The grains I used were from a relatively new style of beer called a New England IPA (Imperial Pale Ale). Kevin (wonderful spent grain donor) told me that this is what was in my mix:2-row (barley), flaked oats Vienna malt, carapils/dextrine malt, caramunich III, and Cara ruby. Since I'm not a homebrewer, I don't know what most of this is, but I take Kevin at his word!
flaked coconut: I prefer unsweetened, although you could certainly use the Angel Flake kind from the grocery store.
chopped pecans: I don't "pre-toast" the pecans because they'll get toasted during baking. Just chop them and toss them in
rolled oats: I use Bob's Red Mill old-fashioned oats. Since the spent grains are very crunchy, you could also use quick oats here for a bit of a softer texture overall
pepitas: I buy mine pre-toasted and salted, because I like to put them in salads. If you have raw pepitas, they'll toast during baking, so no worries there
Next up, the wet ingredients:
malt syrup: NOTE: malt syrup is the most ridiculously sticky substance in the universe. Spray your measuring cup with some pan spray to make it easier to get all of it out once you measure it. Malt syrup is also decidedly less sweet than sugar or honey. You'll see I only used a small amount of malt syrup in the recipe. I wanted to use it since it's another nod to homebrewing. You are welcome to just substitute an equal amount of honey for the malt if you don't want to buy it "special" for making this granola. Although it's also great for making homemade pretzels.
honey: Provides the bulk of the sweetness
natural peanut butter: You can substitute almond butter or your favorite nut butter for the peanut butter
coconut sugar: Provides a bit of extra warmth and sweetness to the granola
cinnamon: The main flavoring
oil: I used olive oil. You can also use any neutral vegetable oil or even melted coconut oil
kosher salt: Brings out all the flavors. Don't leave it out, or your granola will taste flat and sad
vanilla extract: Rounds out and mellows the flavor
Last up, the mix-ins.
Even though I listed pepitas and pecans in the dry ingredients, they are also mix-ins because you can easily substitute other ingredients for them:
pepitas: possible substitutes include sunflower seeds, sesame seeds, hemp seeds or hearts, additional nuts
pecans: possible substitutes include pretty much any other nut you can think of, or additional seeds if you there is a nut allergy
dried apricots: I snipped mine into small pieces. You could sub in almost any dried fruit, or a mixture, that you like. Be sure to add the dried fruits to the mixture after it comes out of the oven to avoid either burning the fruits or making them too hard to chew.
Procedure
Spent grain granola, like all granola, is really easy to make.
Once you have a batch or two under your belt, you'll be off to the races, using all sorts of ingredients and flavorings and making it your own.
Here's the basic how-to:
Use a sturdy whisk or spoon to mix together all your wet ingredients, including cinnamon, salt, and coconut sugar.
Pour/scrape the wet ingredients over the dry ingredients–everything but the apricots.
Mix well. I find doing this in my stand mixer requires the least elbow grease, but if you don't want to lug yours out or you don't have one, stir and stir with a wooden spoon until all the dry ingredients are evenly coated with the granola "goo."
Spread on two Silpat-lined half sheet pans.
Bake at 325F for 30-40 minutes, stirring and rotating the pans from top to bottom every 10 minutes.
Once out of the oven, sprinkle the snipped dried apricots evenly over both pans. Allow to cool completely.
Store in an air-tight container at room temperature.
Tips for Success
This is a fairly straightforward recipe, but here are a few tips to make sure that your spent grain granola turns out as well as it possibly can.
Don't crowd your pans. While you might be tempted to bake on one pan to save having to do some dishes, your granola will bake up more evenly if you spread it out on 2 pans. Every time you stir, rotate your pans from front to back and switch racks. The pan on top will always brown more quickly, so make sure each pan gets a stint on the top rack.
Wait until your granola is out of the oven to add the dried fruits. If you add the fruit to the mix before baking, the fruit could burn or end up really hard, making it difficult to chew.
Spent Grain Granola Q & A
Is there alcohol in spent grains?
No. The grains are used to make the "wort," which does not contain alcohol. Alcohol is produced during fermentation, when yeast is introduced to the wort. This happens after the grains are removed, so there is no alcohol in spent grains making it safe even for kids to eat without worry.
Is this granola gluten-free?
No, it's not. Most grain bills for making beer include gluten-containing grains including barley and/or wheat. And malt syrup is made from barley as well, so it is not gluten-free. To make it gluten-free, you'd have to leave out the spent grains and use gluten-free rolled oats and/or other non-gluten containing flakes and ingredients such as hemp hearts, rolled amaranth, or rolled quinoa in place of the spent grains. And use honey or maple syrup in place of the malt syrup. Make sure all other ingredients are gluten-free as well.
What if my granola gets soft when I store it?
This can happen, especially if your apricots are especially moist. Mine were, and I ended up having to crisp my now slightly limp spent grain granola back up. Pour all the granola, including the fruit, onto a sheet pan and put it in the oven set to the lowest setting. The lowest mine will go is 170F, so that's what I went with. Dry the granola, stirring occasionally, for 30-45 minutes. Remove it from the oven, allow it to cool completely, and store in an air-tight container.
Serving Suggestions
Serve this as a breakfast cereal with milk.
Top your favorite cereal with some granola and add milk. I like mine on top of Cheerios.
Use as a crunchy topping for oatmeal.
Use this granola and some fresh fruit to top yogurt.
Serve along with some homemade jam to stir into yogurt. I frequently use my mixed berry jam.
Eat it straight up as a snack.
It would be so helpful to me and to other readers that, when you make a recipe, you rate it and leave a comment. Whether it's a recipe or an informational post, your feedback helps others decide if the post is helpful or if the recipe works as advertised.

If you could leave a star rating, that would be very helpful. Thank you for being here!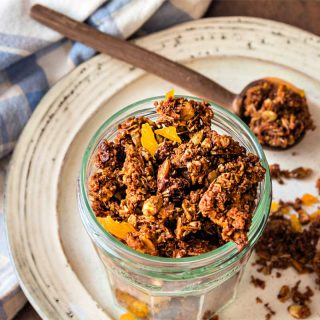 Crunchy Spent Grain Granola Recipe
A fantastic recipe for homebrewers to use some of their spent grains from brewing beer, this spent grain granola is super crunchy, just sweet enough, and delicious stirred into a bowl of yogurt.

Make this granola vegan by switching out honey for maple syrup or sorghum syrup.
Ingredients
1 ½

cups

dried spent grains

1 ½

cups

old fashioned oats

I prefer this texture, but you could also use quick oats

½

cup

unsweetened flaked coconut

½

cup

roasted and salted pepitas

½

cup

coarsely chopped pecans

⅓

cup

malt syrup

⅓

cup

honey

or use 2/3 cup of honey in place of malt syrup and honey

⅓

cup

coconut sugar

or substitute brown sugar

½

cup

natural peanut butter

¼

cup

neutral vegetable oil

olive oil, or melted coconut oil

4

teaspoons

ground cinnamon

1

teaspoon

vanilla extract

1/2-1

teaspoon

kosher salt

to taste

½

cup

chopped dried apricots

raisins, cherries, or other dried fruit (optional)
Instructions
Line 2 half sheet pans with Silpat or parchment.

Set your oven racks in the top and bottom thirds of the oven.

Heat your oven to 325F.

Add the dried spent grains, the oats, coconut, pepitas, and pecans to the bowl of your stand mixer. If you don't have a stand mixer, place them in a large bowl.

In a medium bowl, mix together the malt syrup, honey, coconut sugar, peanut butter, oil, cinnamon, vanilla, and salt.

Whisk until smooth.

Pour/scrape the wet ingredients over the dry ingredients.

Mix on low speed until all the dry ingredients are lightly coated with the wet ingredients.

Scrape half of the mixture onto each of the prepared sheet pans.

Spread out in an even layer with a silicone spatula or an offset spatula.

Bake for 30-40 minutes, stirring well and then spreading the mixture back out, every 10 minutes. Rotate the pans from top rack to bottom and from bottom to top each time you stir.

Granola is done when deeply golden brown.

Remove from the oven and sprinkle the apricots evenly over the 2 pans of granola.

Mixture will crisp up as it cools.

Store in a sealed container at room temperature for up to 2 weeks.
Did You Make Any Changes?
Notes
To Crisp Up If It Gets Soft
Pour all the granola onto a sheet pan and bake at the lowest possible oven temperature for 30-45 minutes. Mixture will crisp up as it cools. Once it has cooled completely, store in an air-tight container.
Variations
Switch up your spent grain granola by varying the spices, the nut butter you use, and mix-ins. A bit of minced crystallized ginger would be a great extra addition, too. Maybe 1/4 cup for the entire batch.
Nutrition
Serving:
1
g
Calories:
296
kcal
Carbohydrates:
38.2
g
Protein:
7.3
g
Fat:
13.6
g
Saturated Fat:
3
g
Sodium:
107
mg
Fiber:
3.8
g
Sugar:
18.8
g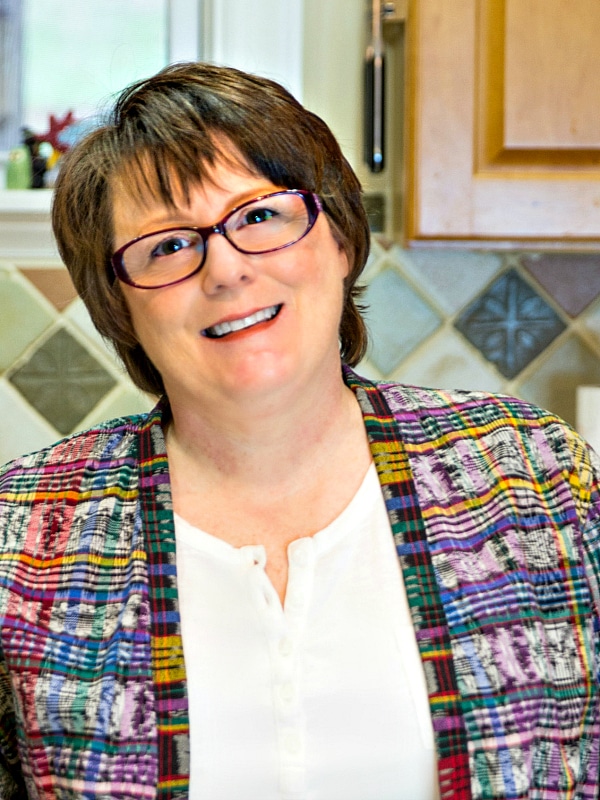 What are my qualifications to teach you baking and pastry? As a former working pastry chef and special educator, I marry my passions for both teaching and for baking into explaining techniques, methods, and developing the best possible recipes. For more info, you can read more about me.
If you'd like to receive new recipes and the occasional newsletter, I'd love for you to sign up for my Inbox Pastry Chef.
Thanks for spending some time with me, friends. I hope you enjoy the spent grain granola.
Take care, and have a lovely day.
Watch my New Year's Brunch Recipes web story here.