Hi, friends! Today I am very excited to bring you this ridiculously delicious recipe for chocolate granola with dried cherries and almonds. If you're a chocolate-covered cherry fan, this granola recipe will knock your socks off!

I'll show you how to make it and give you all sorts of ideas for variations along with some Granola Making Tips to make the process fun and easy!

You may also be interested in my spiced pepitas recipe–they'd be a great addition to this granola (or any granola). If you're interested in no-bake granola bars, try my spent grain granola bars.

For ease of browsing, you can find all my breakfast recipes in one place, too. Thanks for visiting!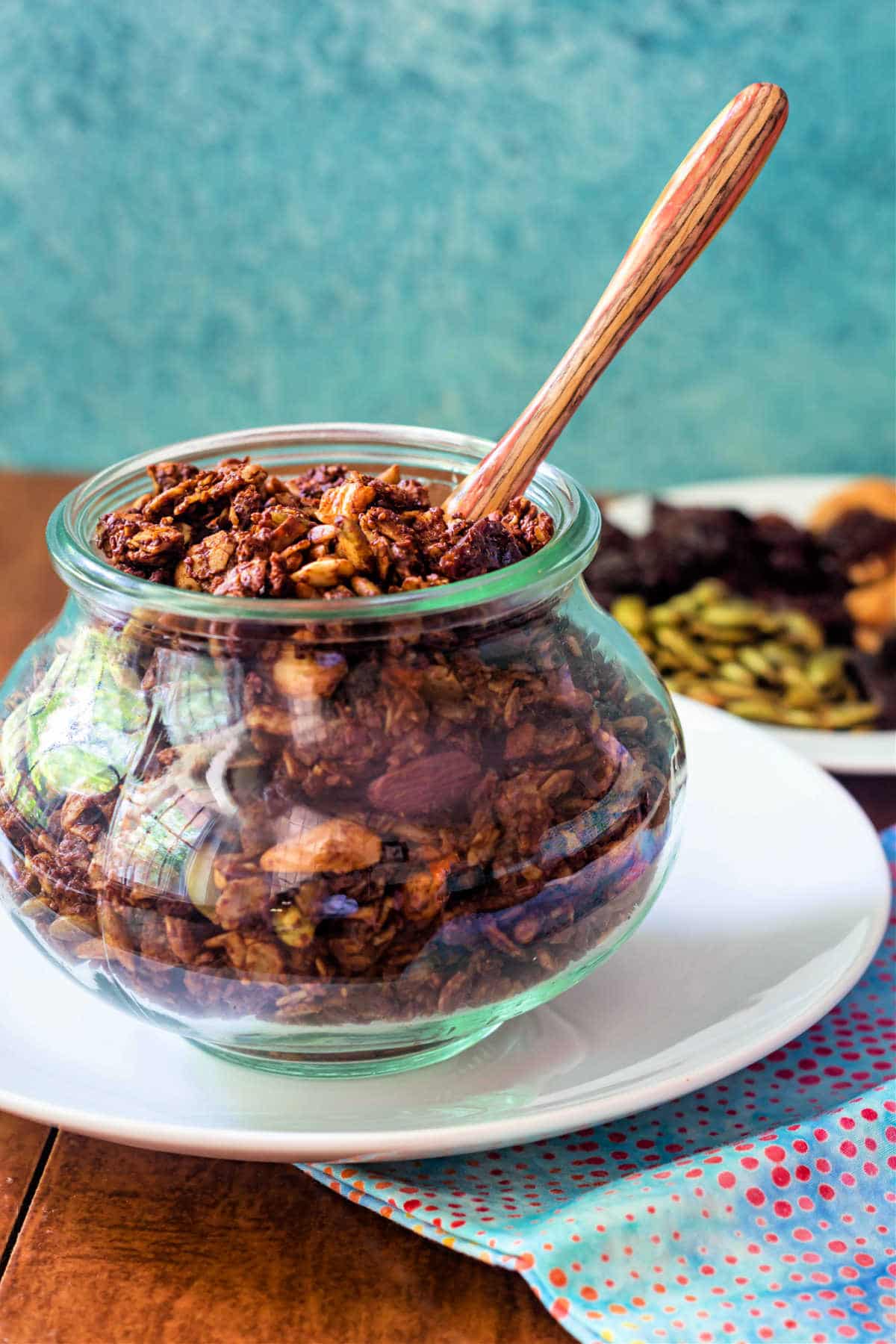 Why This Recipe Rocks
First of all, hats off to my friend Beth from OMG Yummy! She is the reason I've been making granola recently. And lots of it.
Her olive oil granola is a great base recipe, and I've used that as a springboard to making all sorts of flavors.
Know that granola is generally a pretty free-form recipe, so variation is the name of the game.
Here are some things that will make you fall in love with this particular chocolate granola!
No refined sugar. It's sweetened with a mix of coconut sugar and sorghum syrup, so if you're avoiding refined sugar, this is a great way to go.

Two kinds of chocolate: first, there's cocoa powder mixed into the granola "goo" that gets mixed into the oats and other dry ingredients. Then, once it comes out of the oven, you sprinkle finely chopped dark chocolate over the hot granola, let it melt, and then stir it in so all the granola nuggets get a very light coating of chocolate. Magic!

Good fats: I use avocado oil along with roasted sunflower seeds, pepitas, and some unsweetened flaked coconut to provide a lot of good fats. So, while you don't necessarily need to eat All The Fat In The World, at least you'll know this granola contains healthy ones!

Large batch recipe: This recipe makes a very lot of granola–enough to fill a half-gallon container–so if you're feeding a crowd or just can't get enough chocolate granola, this is the recipe for you. Also know that it's very easy to scale it up or down to make exactly the amount you'd like to have.
How to Make It
Here's the short form:
Figure out your flavors.
Mix dry ingredients in one bowl
Mix wet ingredients in another bowl
Mix the wet into the dry.
Spread out on trays and bake until golden brown, about 30-40 minutes.
Now let's get into a bit more detail.
First up, here are the dry ingredients you'll need:
Note: All sales links are affiliate links.
Rolled oats: I use Bob's Red Mill, but any "old-fashioned" oatmeal will do. I wouldn't use quick-cooking or instant, because it's very thin and you run the risk of burning it.

unsweetened coconut: You can use sweetened if you like, or even use the wide "ribbons" of coconut. But if you use sweetened, then you're introducing some refined sugar to a recipe that otherwise is refined-sugar-free. Just so you know.

But the granola police won't come get you, so use what you have and what you like! NOTE: Don't like coconut? Leave it out and up the amount of oats, nuts, or seeds by the same amount.

chopped nuts: I used roasted mixed nuts because that's what I had. The classic combination would be almonds, but hazelnuts or peanuts would even be great. Again, use what you have.

The nuts I used were already roasted and lightly salted. Use whatever combo of nuts you like, or if you don't like them or have an allergy, sub in more of another or combo of other dry ingredients. See? Easy and so customizable!

sunflower seeds: For just a bit of nuttiness, added crunch, and good fats. You can certainly use all sunflower seeds or all pepitas instead of using some of each

pepitas: I add these for the same reason I add the sunflower seeds
And here are the wet ingredients you'll need:
coconut sugar: For sweetness. Feel free to substitute granulated white sugar or brown sugar

sorghum syrup: For sweetness and gooiness to help the granola form clusters. I love sorghum, which is sort of like mild molasses in flavor. You could also use molasses, maple syrup, agave nectar, or honey here

cashew butter: I love the neutral flavor and slight sweetness of Big Spoon Roasters (it has some coconut nectar and coconut oil in it), but you could just as easily use a natural peanut butter or almond butter instead. Hazelnut butter would be Amazing as well

avocado oil: has a nice, neutral flavor and is a healthy fat (in moderation). You may also substitute olive oil or melted coconut oil. Feel free to use any vegetable oil as any will work. I just prefer the less processed oils I specifically mention.

cocoa powder: A judicious amount of cocoa powder yields a light chocolate flavor without needing extra sweetener. You could absolutely use more than I call for here, especially if you like a granola that's a little bit less sweet

cinnamon: I just feel like there should always be cinnamon in granola! You can leave it out, use more or less than called for, or experiment with adding different spices as well here

vanilla extract: rounds out and mellows the flavors

salt: brings out the flavor of all the ingredients and counteracts any bitterness from the cocoa powder

almond extract: adds a distinct almond note to the "goo," which really goes beautifully with the chocolate and dried cherries
The Extras
You could stop with all the already-mentioned ingredients and have a very solid chocolate granola. But adding just a couple of extra ingredients ups the flavor and the texture of the granola.
Here are the extras, the supporting players:
Dried tart cherries: Dried sweet cherries would work as well. If you're not a cherry fan, chopped dried apricots would also be amazing, or go with currants, raisins, or golden raisins.

You could also use freeze-dried fruit for more intense flavor. Freeze-dried raspberries, cherries, or strawberries would all be a welcome addition. NOTE: If using freeze-dried fruit, chop it fairly finely as the flavor is quite intense.

Chopped dark chocolate: You don't need much, but it really makes a big difference in flavor. I used only 1 ounce or chopped chocolate per tray of granola.

Mini chocolate chips will work here as well. Or have fun with other flavors, like white chocolate chips or butterscotch chips. Just make sure they melt evenly so you can mix them in.

If you prefer whole pieces of chocolate, wait until the granola has cooled completely before adding the chopped chocolate or chocolate chips.
Instructions
Here's what you'll do to put this chocolate cherry awesomeness together, friends:
Mix up all the dry ingredients in a large bowl.
Mix up all the wet ingredients (I always include the spices, flavorings, and sugar in with the wet for better distribution) in a medium bowl.
Mix the wet into the dry.
PRO TIP: If your "goo" is super stodgy like this recipe, use your stand mixer or hand mixer for even mixing without making a big fat mess.
Spread half the "raw" granola onto each of two Silpat-lined baking sheets.
Bake at 325F for 30-40 minutes, stirring every 10 minutes.
Remove from oven and sprinkle the chopped cherries and chocolate evenly over the pans of granola.
PRO TIP: Store your completely cooled granola in airtight containers. I don't have great ones, so I fit a piece of foil or plastic wrap over the container opening so that when the lid is seated, it makes a tighter seal.
Equipment List
You don't need a ton of specialty equipment to make granola. You may already have some of these items on hand. All sales links are affiliate links.
large bowls for the wet and dry ingredients
silicone spatulas for scraping the wet ingredients into the dry and also for mixing the melted chocolate into the baked granola
a sturdy whisk for mixing the wet ingredients together
half sheet pans or jelly roll pans for baking the granola
Silpat or parchment sheets to line the pans
An offset spatula for spreading the granola onto the prepared pans
A cooling rack to place your pans on while it cools to room temperature
Serving Suggestions
I eat my granola on top of a mix of low-fat Greek yogurt and either vanilla or honey Greek yogurt, and it's really good that way.
I also wouldn't say no to a healthy spoonful of my mixed berry jam on top.
You can also serve it as a cold cereal with just milk poured over or sprinkled on another breakfast cereal for added texture and chocolate cherry goodness.
For dessert, consider raining a handful down over a bowl of brownie malt ice cream, or as a crunchy topping for a brownie sundae.
Chocolate Granola Q & A
Is this granola gluten-free?
I use Bob's Red Mill gluten-free rolled oats in this recipe. As long as you check all your labels to make sure none of your ingredients are made on shared equipment or lines, this should be gluten-free as there are no naturally gluten containing ingredients listed.
How long will it keep?
Because it's baked for a good long time and also coated in a chocolately watertight coating, your granola should stay fresh and crunchy for 2 weeks when stored in a tight-sealing container at room temperature.
Can I make this into chocolate granola bars?
This is a fairly coarse granola, so it won't compact and bake well into bars. Substitute quick cooking oats for the rolled oats, and you will be able to press it down well into a baking pan so they hold into bars. For a sure thing, try this chocolate granola bar recipe. Lots of good tips for success for you, too.
It would be so helpful to me and to other readers that, when you make a recipe, you rate it and leave a comment. Whether it's a recipe or an informational post, your feedback helps others decide if the post is helpful or if the recipe works as advertised.

If you could leave a star rating, that would be very helpful. Thank you for being here!
Cherry Almond Chocolate Granola Recipe
This chocolate granola recipe is full of nuts and seeds for good fats, contains no refined sugar, and is beautifully accented with dried cherries and melted chocolate. A healthy-ish, somewhat decadent granola equally at home in a bowl of yogurt, as a breakfast cereal, or layered into an ice cream sundae!
Ingredients
3

cups

rolled oats

1

cup

unsweetened flaked coconut

1

cup

roasted nuts of choice

coarsely chopped (almonds or mixed nuts containing almonds)

`1/2 cup roasted pepitas

½

cup

roasted sunflower seeds

½

cup

coconut sugar

½

cup

cashew butter or almond butter

½

cup

sorghum syrup

maple syrup, or honey

¼

cup

avocado oil

¼

cup

cocoa powder

1

Tablespoon

cinnamon

2

teaspoons

vanilla

½

teaspoon

almond extract

½

teaspoon

salt

½

cup

dried tart cherries

2

oz

finely chopped dark chocolate
Instructions
Preheat oven to 325F.

In a large bowl, combine the oats, coconut, nuts, pepitas, and sunflower seeds.

In a medium bowl, combine the coconut sugar, nut butter, sorghum syrup, avocado oil, cocoa powder, cinnamon, extracts, and salt. Whisk well. Mixture will be thick. You can heat it for a few seconds in the microwave to thin it out if you'd like.

Stir the wet ingredients into the oat mixture until all is evenly coated. Use your stand mixer to make life a bit easier.

Spread out evenly onto 2 sheet pans lined with either Silpat or parchment paper.

Bake for 30-40 minutes, stirring every 10 minutes, until you can see that the oats have turned golden brown.

Remove from the oven and sprinkle half the cherries and half the finely chopped chocolate over the granola while it's still hot.

Stir each pan very well to distribute the melted chocolate evenly so all the granola is coated with a very thin layer.

Cool completely and then store in an airtight container at room temperature for up to 2 weeks.
Did You Make Any Changes?
Nutrition
Serving:
1
g
Calories:
227
kcal
Carbohydrates:
31.6
g
Protein:
5.4
g
Fat:
10
g
Saturated Fat:
3.2
g
Polyunsaturated Fat:
14
g
Cholesterol:
1
mg
Sodium:
94
mg
Fiber:
4
g
Sugar:
15.6
g
And there you have it, friends! I hope you really dig this chocolate granola recipe as much as we do here at our house, and if you'd like other granola recipes, let me know–I love creating all the flavors!
Please consider signing up for my newsletter so you always know what's cooking and baking around here. Here's how: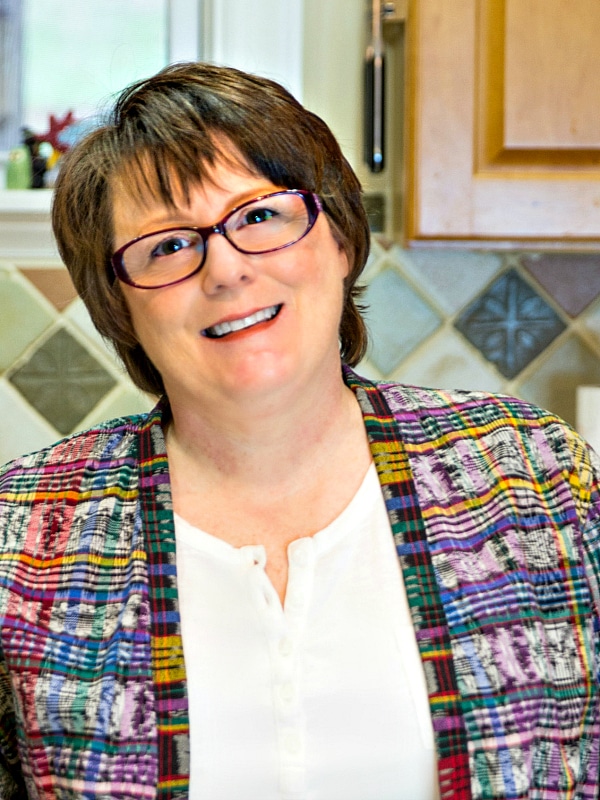 What are my qualifications to teach you baking and pastry? As a former working pastry chef and special educator, I marry my passions for both teaching and for baking into explaining techniques, methods, and developing the best possible recipes. For more info, you can read more about me.
If you'd like to receive new recipes and the occasional newsletter, I'd love for you to sign up for my Inbox Pastry Chef.
Thanks for spending some time with me today. Take care, and have a lovely day!
Watch my New Year's Brunch recipe web story here.