Halloween sable cookies are sandy, crumbly cookies that are a just-sweet-enough Halloween treat.

Two doughs, one flavored with cinnamon and the other colored orange, get sandwiched together, rolled up, then sliced for fun, slice and bake Halloween cookies.

I'll show you how to make and roll out the dough as well as show you how to get the two doughs to stick together for easy rolling and perfect pinwheels.

For a savory Halloween treat, you may want to give my Halloween deviled eggs or my pimento cheese spread brain recipes a try.

And for ease of browsing, you can find all my cookie recipes in one place. Thanks so much for being here. Remember to scroll down to see all of today's #HalloweenTreatsWeek recipes, too.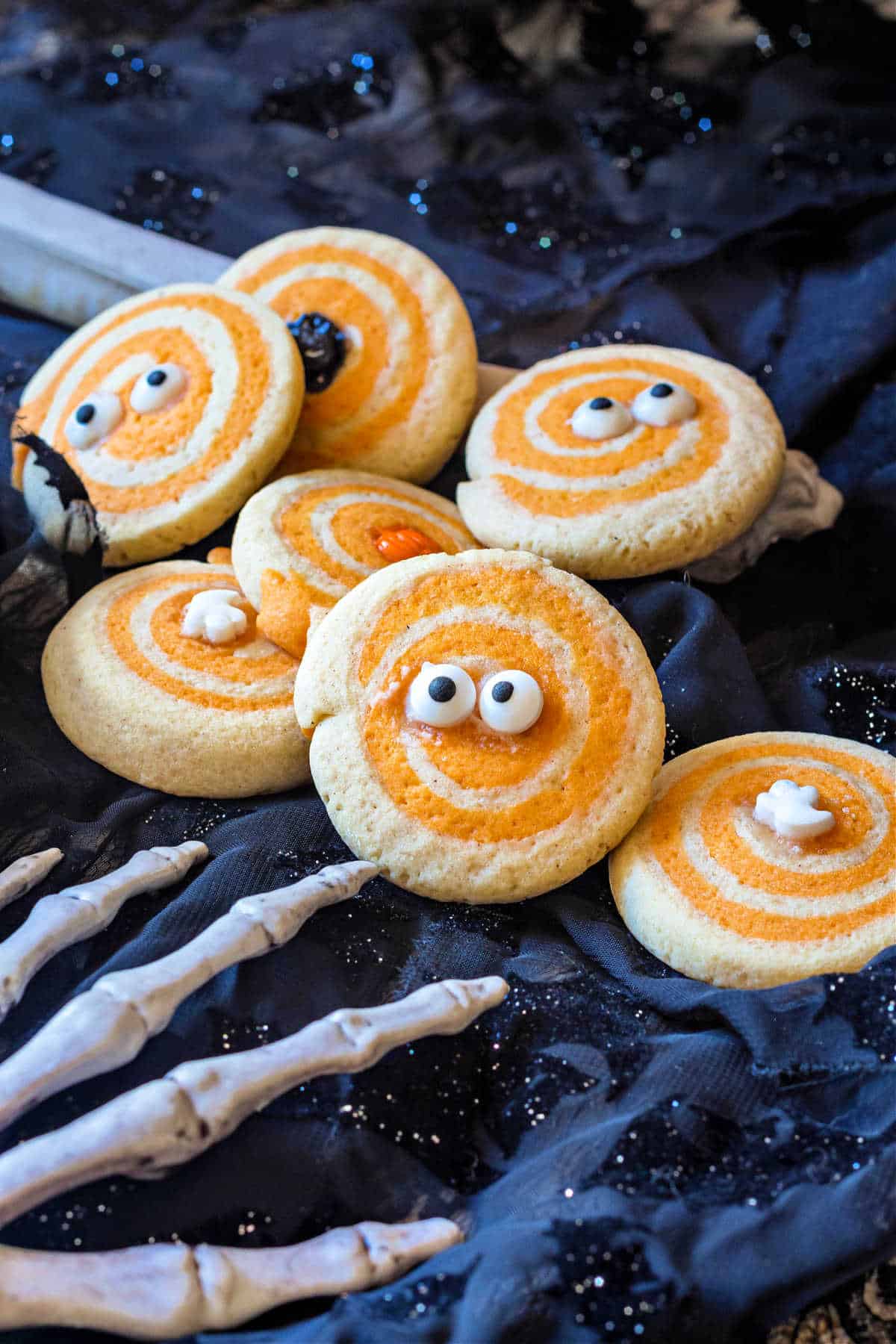 Why You Need to Make These Cookies
With all of the overly-sweet candies available at Halloween, and often cookies decorated with overly-sweet Halloween candy, it's nice to offer something a bit more on the restrained side.
Sable cookies, which are made from the same sweet, egg-enriched dough that you'd use for the base of a French tart, are sturdy yet crumbly and just-sweet-enough.
The decoration is fairly understated with the orange swirl in the white dough, and the recipe is very easy to adapt to other colors and flavors.
The Difference Between Sable Cookies and Shortbread Cookies
The main difference between sable cookies and shortbread cookies is egg.
Sable dough contains egg while shortbread traditionally is made only with sugar, butter, salt, and flour.
Sable cookies are more similar to American butter cookies and can contain either yolks alone or whole egg.
My recipe calls for whole egg which makes for a slightly sturdier cookie (or tart shell) since the water in the whites will activate some gluten in your flour.
How To Make
The hardest thing about making Halloween sable cookies is getting the swirl in there, but I'll show you how to do that.
It's not hard. It's just a bit of a process.
Here's what you'll need:
Ingredients and Substitutions
Unsalted butter: I always call for unsalted butter since a)It is usually fresher, and b)you can control the amount of salt you're adding. If all you have is salted, you will just have to cut down on the amount of salt you add by about half
Sugar: Regular granulated sugar. You can substitute brown sugar for a portion of the granulated sugar if you don't mind your dough being a darker color. Or you could make the cinnamon dough with brown sugar and make the orange dough with granulated sugar
Salt: I use Morton's kosher salt. If you use Diamond, you may need a bit more than I call for, and if you use table salt or fine sea salt, you will probably need less.
All-purpose flour: This provides the bulk and structure for the sable dough. You can substitute cake flour for an even more crumbly, delicate cookie if you'd like. You can also replace 1/2 oz of flour with an equal weight of cornstarch with similar results
Egg: Adds some fat, emulsifiers, protein, and water. The water in the whites yields a slightly sturdier, less crumbly cookie than using all yolks. You'll also need a beaten egg white to stick the two layers of dough together before rolling them up
Cinnamon: If you are not a fan of cinnamon, substitute your favorite baking spice here. Apple pie spice, pumpkin pie spice, ground ginger, etc
Orange food coloring: I use gel colors so it doesn't affect the consistency of my dough
Procedure
I go into great detail in the recipe, but in a nutshell, you'll:
Make both doughs and press into a generally rectangular shape.
Roll dough out into sheets.
Glue the sheets together with egg white and roll up like a cinnamon roll.
Slice cookies, press them to about 1/4″ thick.
Bake, cool, and decorate (or leave plain).
Equipment You May Need
You can make this dough in a stand mixer or with a hand mixer.
If you have a strong arm, you can even make it with a wooden spoon and a big old bowl.
A pizza wheel comes in handy for cutting the edges of the dough so they are even, and you will want sturdy half-sheet pans that don't warp in the oven.
I line my pans with parchment paper already cut to fit onto half-sheet pans. Nice and easy!
Variations
You can vary this dough in any number of ways, using different spices, extracts, and/or citrus zest.
To make chocolate dough as part of your sable cookies, substitute an ounce of cocoa powder for an ounce of your flour. Then you can make chocolate pinwheels.
Change out the colors, or do a subtle pinwheel with lemon-ginger dough rolled together with cinnamon orange dough.
You really are only limited by your imagination.
Another fun way to add texture is to brush the outside of the log of dough with more egg white and then roll firmly in seasonal sparkling sugar or jimmies before slicing, pressing, and baking.
You can also dip the glass you use to flatten the cookies in sanding sugar rather than flour. This will give your cookies subtly sparkling tops.
Visual How-To
Here is what your dough should look like as it is finishing mixing. It doesn't have to come together into a ball, but you do want all the flour to be incorporated evenly.
Shaping the Dough
From top left:
Brushing the dough with egg white–note how thin the coating is
Stacking the orange dough on top of the cinnamon dough and brushing the orange dough with egg white.
The dough all rolled into a log.
Dough cut into 1/2″ slices.
The sliced cookies on the sheet pan.
Using the bottom of a floured glass to evenly flatten the cookies to about 1/4″.
The cookies ready for baking.
Baked cookies with decorations glued to the center of each with slightly more corn syrup than strictly necessary!
Tips for Success
If you are concerned about rolling an even thickness of dough, roll the dough between two chopsticks. This will ensure you have a consistent thickness. Alternaltely, you can purchase rolling pin guides/spacer bands.
For the most tender cookies, make two separate batches of dough, one with cinnamon in it and one with orange food coloring. If you knead in the color and cinnamon after the dough is made, you will end up with tougher cookies.
Since some sugar decorations can melt in the oven, it's best to bake the cookies plain and then attach the decorations with a dot of frosting, powdered sugar glaze, or corn syrup.
Halloween Sable Cookies Q & A
Can I make these cookies vegan?
Yes, you can substitute plant-based butter for "regular" butter. As plant butter is generally a bit softer than cow butter, your cookies may spread a bit more.
Can I make them gluten-free?
The easiest way to make these sable cookies gluten-free is to use a cup-for-cup gluten-free flour blend in place of the all-purpose flour.
How long do they last?
Store them in an airtight container for up to 5 days. Freeze in a zip-top freezer bag with as much air pressed out as possible for up to 2 months.
More Halloween Cookies
If you're planning a Halloween cookie tray, consider making some of my malted milk ball spider cookies and maybe these cute decorated Halloween black and white cookies.
These adorable and tasty Hocus Pocus spellbook brownies would also be a hit, especially because nobody wants a cookie tray with only round cookies on it.
You may also want to give my soft and chewy sugar cookies a try. It's easy to decorate them with a Halloween theme.
And for a quick and easy, semi-homemade treat, buy some ready-made shortbread cookies and add your own Halloween icing and sprinkles.
Questions
A Note About Measurements
For convenience, consistency, and accuracy, almost all my recipes are written by weight, either in ounces and/or grams, even the liquids.
I strongly encourage you to purchase a kitchen scale and learn to use it.
This is the one I used for years. I love it and highly recommend it:
Best for Home Use
Escali Primo Digital Food Scale
Don't let its small price and small size fool you. The Escali Primo is an accurate and easy-to-use food scale that I have used for years. It's easy to store, easy to use, has a tare function, and easily switches between grams and ounces/pounds for accurate measurements.
This is an affiliate link which means I earn from qualifying purchases. Your price is unaffected.
It would be so helpful to me and to other readers that, when you make a recipe, you rate it and leave a comment. Whether it's a recipe or an informational post, your feedback helps others decide if the post is helpful or if the recipe works as advertised.

If you could leave a star rating, that would be very helpful. Thank you for being here!
Halloween Sable Cookies Recipe
Halloween sable cookies are crumbly butter cookies that are flavored with cinnamon (or pumpkin spice if you'd rather) and rolled together with orange dough to make a simple pinwheel pattern.
Eendlessly customizable with citrus zest, spices and colors, these slice-and-bake cookies are not too sweet and are a nice, crunchy bite of Halloween fun.
Ingredients
For the Cinnamon Dough
4.5

oz

unsalted butter

1 stick and 1 Tablespoon, slightly softened

3.5

oz

granulated sugar

1/2 cup

¼

teaspoon

kosher salt

I use Morton's

2

large eggs

8.75

oz

flour

245 grams, or about 2 cups

½

teaspoon

ground cinnamon
For the Orange Dough
4.5

oz

unsalted butter

1 stick and 1 Tablespoon, slightly softened

3.5

oz

granulated sugar

1/2 cup

¼

teaspoon

kosher salt

I use Morton's

2

large eggs

8.75

oz

flour

245 grams, or about 2 cups

4-5

drops orange gel food coloring
For Shaping
1

egg white

beaten

Prepared icing

powdered sugar glaze, or corn syrup to use as "glue."

Small candy Halloween decorations such as black cats

ghosts, candy eyes, etc.
Instructions
For the Cinnamon Dough
Cream the butter, salt, and granulated sugar together until nice and creamy, about 3-4 minutes with a stand mixer.

Crack the eggs into a bowl, beat them lightly, and with the mixer on low speed, drizzle them into the mixer gradually, in about 6 additions over 2 minutes. Scrape the sides of the bowl as necessary.

Whisk the flour and cinnamon together, and with the mixer off, add the whole amount.

Mix on low speed until all the flour is uniformly moistened and you have a nice, stiff dough.

Scrape the dough out onto plastic wrap, and wrap it tightly, pressing it into a rectangle. Refrigerate while making the orange dough.
For the Orange Dough
Follow the same steps above, omitting the cinnamon and adding the food coloring with the butter, salt, and sugar.

Scrape finished dough onto plastic wrap, wrap it tightly. and refrigerate both doughs for at least 2 hours or overnight.
To Shape and Bake
Set a rack in the upper and lower thirds of your oven, and preheat to 325F.

Remove the dough from the fridge, unwrap, and cut each rectangle into two equal pieces. Rewrap one of each and work with the remaining two.

One piece at a time, place each piece on a lightly floured surface and lightly flour the top of the dough.

Roll each piece into about a 1/4" thick rectangle, all roughly the same size. Your rectangles should be about 10" long.

Brush as much flour off the dough as you can.

Brush the cinnamon sheet of dough with a very thin coating of beaten egg white and top with the orange sheet, lining up your rectangles as well as you can.

Use a pizza wheel to cut the two long edges of the rectangle of dough so they are straight. This will make it easier to roll up.

Brush the orange sheet of dough with a very thin coating of egg white. Roll up from one of the long ends. Press the seam together as well as you can, roll up in plastic wrap and refrigerate.

Repeat steps 3-7 with the other pieces of dough. Each roll of dough will fit on 1 cookie sheet. You can save some to bake now and freeze some of the dough for later.

Once all your dough is prepared, slice off each uneven end of your rolls of dough.

Cut each roll into about 16 1/2"-thick slices.

Place on a Silpat- or parchment-lined baking sheet. The cookies will not spread much, so you can have them relatively close together. You should easily be able to get 16 cookies on each pan.

Lightly spray the bottom of a flat glass or a measuring cup with pan spray, then dip in flour, knocking off the excess.

Use it to gently press down on each cookie until they are about 1/4" in diameter.

Reflour the glass as necessary so the cookies don't stick.

Bake on racks for about 15 minutes, rotating the pans and switching racks halfway through baking.

The cookies are done when the bottoms are lightly golden brown and the edges are just beginning to color.

Remove to cooling racks to cool completely.

Once cool, use little dots of icing or corn syrup to attach small Halloween decorations to the centers of each cookie.

Let dry, then store in an airtight container for up to 5 days.
Did You Make Any Changes?
Notes
Variation
You can also brush the outside of the logs of dough very lightly with egg white and then roll the logs in Halloween sprinkles or sparkling sugar before slicing, pressing, and baking.
For chocolate dough, substitute 1 oz coca powder for 1 oz of flour and whisk the two together before adding to your dough.
Storing
Keep the cookies in an airtight container or cookie tin. They will be fine at room temperature for up to five days.
Freezing
For longer storage, store in a freezer bag with a zip top for up to 2 months. Press as much air out of the bag as possible before sealing.
Nutrition
Serving:
1
g
Calories:
184
kcal
Carbohydrates:
27
g
Protein:
3
g
Fat:
7
g
Saturated Fat:
4
g
Polyunsaturated Fat:
3
g
Cholesterol:
40
mg
Sodium:
35
mg
Fiber:
1
g
Sugar:
14
g
Thanks for spending some time with me today.
I hope you enjoy making (and eating) these understated but cute and very tasty Halloween sable cookies!
Take care, and have a lovely day.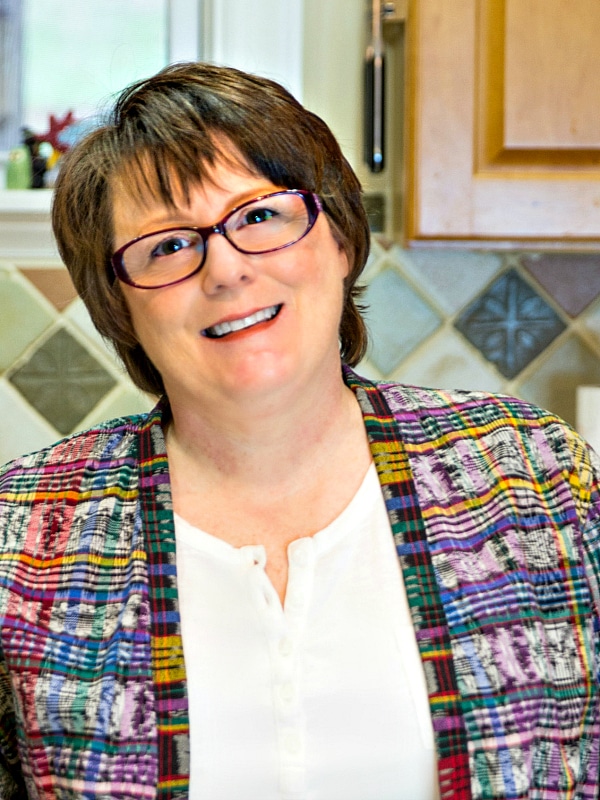 What are my qualifications to teach you baking and pastry? As a former working pastry chef and special educator, I marry my passions for both teaching and for baking into explaining techniques, methods, and developing the best possible recipes. For more info, you can read more about me.
If you'd like to receive new recipes and the occasional newsletter, I'd love for you to sign up for my Inbox Pastry Chef.