I hope you're ready for the incredible goodness of this cowboy pinto beans recipe, friends! Seasoned with country ham hocks, chipotle, and cilantro, these Instant Pot Mexican-inspired charro beans will fill you up and make you so happy!

And if you're a fan of cooking in your Instant Pot, you may enjoy my Mexican crack chicken or my smoky beef carnitas Instant pot recipes.

For ease of browsing, here are all of my side dish recipes in one place. Thanks for stopping by!
Cowboy pinto beans
This recipe is AMAZING!!! I've probably made it 8 times in the past year, and my family wishes I would make it more often. The flavor is amazing!

Reader Lindsey
Y'all. I'm from the south, but I came late to the world of pinto beans. I feel like a bad southerner!
A friend and I met at a little Mexican taqueria for lunch last week, and they served charro pinto beans. And I fell in love with them. So much flavor!
I didn't ask how they made theirs, but I know there was a ton of cilantro in them. Once I got home, I did some reading and research and found a bunch of pinto bean recipes I could make.
I specifically looked up charro beans.
It doesn't seem like there is one exact way to make them, so I settled on using what I had in the house, which is always a good plan when you're trying to make a budget-friendly meal!
Q & A
What Are Charro Beans?
Charro is the Mexican word for "cowboy," so charro beans can be translated to "cowboy beans." Charro beans are usually cooked with cumin, chipotles, and some sort of meat (or meats) for flavor.

They are often really soupy and can serve as a soup or a side dish, depending on how soupy you make them. The broth is really flavorful!
Do charro beans have other names?
Yes. They're called Frijoles Charro in Spanish. In the US, they're called either charro beans or cowboy beans.

American cowboy bean recipes often seem to contain several types of beans and are sweetened with brown sugar or barbecue sauce. That sort of recipe is more akin to what I grew up knowing as "baked beans."

My version of cowboy beans is much more akin to a traditional charro beans recipe since it only contains pinto beans, is not sweetened, and contains chipotle and cilantro.

You may even hear charro pinto beans called borracho beans. That means you cook them with beer rather than stock–I vote a dark Mexican beer such as Negro Modelo. Borracho is the Spanish word for drunk, so borracho beans can also be called drunken beans!
Can I cook pinto beans in a Slow Cooker?
Absolutely. In that case, put the whole ham hocks in your slow cooker with the beans and all the rest of the ingredients (except for the ground beef which you still need to cook separately and stir back in) and cook on high for a good five hours or until the beans and the hocks are tender.

Be sure to shred the hocks and and discard bones after cooking. Skim off any fat from the surface of the beans after cooking
Do I have to brown my meat? Can't I just put it all in at once?
You can throw everything in at one time, especially if you're using a slow cooker, but your finished pintos will have more flavor if you take the time to brown both the hocks and the ground beef before adding to the pot.
How long does it take pinto beans to cook?
If you soak them first (at least 4 hours and up to 12), it will take about 25 minutes in an Instant Pot.

If you cook your pintos in a slow cooker, it will take about 5 hours.

If you're cooking on the stove top, it will take about 1 1/2 hours.

Do I really have to soak the beans before cooking?
You don't really need to soak the beans before cooking. It isn't strictly necessary.

I like to because it does cut the cooking time down a bit, which is nice if using ham hocks. But if you don't have time or forget to soak your beans, just add an additional 20 minutes to your Instant Pot cooking time. Allow natural pressure release for 20 minutes.

Cilantro tastes like soap. Do I have to use it?
I am really sorry that your genetics don't let you enjoy cilantro. Boo. The good news is that you can absolutely leave it out. It won't taste the same of course, which is a good thing if you think it tastes like soap.

You can substitute some dried Mexican oregano, but you won't need much–maybe a teaspoon or 1 1/2 teaspoons for the whole pot. If you want a green garnish, you can use flat leaf parsley or even just a bit of chopped oregano.
What if I don't have ham hocks? What other meat can I use in my pinto beans?
Feel free to use bacon, "streak o' lean," or chorizo for seasoning.

If you use any of these options, you won't need to add oil to your Instant Pot before searing.

If using bacon or chorizo, remove the cooked meat from the pot and stir back in at the end of cooking. If using streak o' lean, you can spoon off the extra rendered fat and then leave the rest in the pan and continue with the recipe.
What about salt? Should I salt these before or after cooking?
If you use country ham hocks like I did, there will be plenty of salt from the beginning, and you may not need to add anymore.

If using a different meat or making them vegetarian, I salt at the beginning and adjust as necessary at the end of cooking. I don't subscribe to that whole don't-salt-til-the-end-of-cooking thing.

How long can I keep my beans in the fridge?
To be safe, I'd say no longer than a week. If you end up with more pinto beans than you think you will eat in a week, share with friends or freeze (see below).

NOTE: The longer they stay in the fridge, the less juicy they will be since the beans will reabsorb the broth.

Can I freeze pinto beans?
Yes you can. Beans freeze really well. I like to portion mine in freezer bags, spread them out flat, and then stack in the freezer. They should keep for a good 3-4 months.
Pro Tip
If you don't have ham hocks, you can stir in a couple of large spoonfuls of bacon jam. That will lend a delicious smoky flavor to your charro beans, and you will be happy to have been able to skip a few steps!
Start with leftover pulled pork to save some time
If you don't want to use ham hocks, this is a great time to pull out any leftover pulled pork you might have in your fridge or freezer.
If you need extra smoky flavor, add some liquid smoke.
Since the beans are the stars of the show, the meat is basically there for seasoning, so any deeply flavored leftover bits of meat, mainly pork, would work well here.
Ingredients and equipment for making this recipe
If you don't have an Instant Pot or other multi cooker, I really do recommend getting one. Even if you get a 3 quart IP, it's great for making rice. I've even heard it does a better job with rice than a rice cooker!
You'll also want some tongs, pinto beans, dried chipotle powder (which I prefer to the chipotle peppers sold in adobo sauce since it lasts a long time and I rarely have time to use up a whole can), and cumin. Wooden ladles are always nice to have, as is a beautiful bowl for serving.
How to cook ham hocks in an Instant Pot
The first thing you need to do is cook your ham hocks.
It's not hard, but it takes a while, even when using an Instant Pot.
Turn your Instant Pot to "Saute."
Once hot, add a tablespoon of vegetable oil and then brown the hocks on all sides. This will take about 15 minutes.
Pour in about 3/4 cup low sodium chicken stock and put on the lid. Turn off "Saute" and set to high pressure for 45 minutes. Allow natural pressure release for 20 minutes and then manually release the rest of the pressure.
Remove lid and shred the meat from the hocks. Discard skin, fat and all the liquid in the pan as it will make the beans taste way too salty (and that's coming from me, an Aggressive Salter!)
Put the meat back in the Instant Pot and continue with the recipe.
You can also use this technique to cook smoked hocks or any other tough cut. And if you're a fan of pulled pork and like to make a lot at a time, check out this post on what to do with leftover pulled pork. Lots of ideas here for you.
How to cook these beans in your pressure cooker
You can use all sorts of different meats to flavor your beans, or you can leave meat out altogether to make a vegetarian version of cowboy beans. If you use a tough cut like I did (ham hocks), a large part of the time is taken up cooking them.
Cook the meat you are using for seasoning
Whether using bacon, hocks, chorizo, or any other type of meat, turn your Instant Pot to the saute setting and heat for 2 minutes. Add a bit of vegetable oil, and cook the meat until done, pressure cooking for the hocks. Depending on the cut, either remove and refrigerate until later or leave it in the pot, spooning/pouring off any fat if it's more than about 1 Tablespoon.
Add the rest of the ingredients to the pot
Add the rest of the ingredients except for the ground beef. Put the lid on your Instant Pot and cook on high pressure for 25 minutes and allow natural pressure release for 15.
Reduce the cooking liquid and cook the ground beef

After 15 minutes of natural release, carefully release the rest of the pressure manually.
Remove lid, stir, and turn your Instant Pot to "Saute." Allow to come to a boil and reduce the cooking liquid for about 15 minutes, stirring frequently.
Meanwhile, cook the ground beef until no pink remains, then stir into your beans.
Simmer 5 minutes before serving plain or over rice.
Make it a meal
Wondering what to serve alongside your cowboy beans?
Consider keeping things simple and serving with jalapeno cheddar cornbread for sopping up juices.
You could also serve these beans as a side dish to a bacon double cheeseburger or these amazing Gordita burgers, maybe along with some chipotle ranch pasta salad, or go a more traditional route and make them to serve with Chicken and Chorizo Enchiladas.
More delicious bean recipes
If you are a fan of pinto beans or pretty much any kind of beans, here are some more recipes you might like, both from my blog and from around The Internet.
Instant Pot charro beans recipe
It would be so helpful to me and to other readers that, when you make a recipe, you rate it and leave a comment. Whether it's a recipe or an informational post, your feedback helps others decide if the post is helpful or if the recipe works as advertised.

If you could leave a star rating, that would be very helpful. Thank you for being here!
Instant Pot Pinto Beans: Charro Beans
Pinto Beans cook up super creamy and flavorful with country ham, ground beef, and spices in my spin on Mexican charro beans. Plus you can save time cooking in your Instant Pot!
Ingredients
1

pound

pinto beans

picked over and rinsed

1

Tablespoon

vegetable oil

2

small country ham hocks

1

quart

low-sodium chicken broth

divided use

1

can tomatoes and green chiles

I used RoTel

a few shakes of Liquid Smoke

optional

1

medium onion

diced

1

cup

cilantro

roughly chopped

4

teaspoons

chipotle powder

more or less to taste

2

teaspoons

cumin

1

Tablespoon

hot sauce

to taste

2-4

cups

water

depending on how soupy you like your beans*

1

pound

ground beef
Instructions
Soak rinsed beans in cold water for 4 hours. Drain and set aside.

Heat your Instant Pot on the Saute setting for 2 minutes. Add the vegetable oil, and then brown the hocks on all sides, about 15 minutes.

Add 3/4 cup chicken broth to the pot, turn off saute and lock on the lid. Make sure vent is set to "sealing." Set your Instant Pot to manual high pressure for 45 minutes. Allow natural release for 15 minutes.

Release the rest of the pressure manually, remove lid, and shred meat. Discard skin, bones, and all the liquid in the pot or your beans will be way too salty.

Return the shredded meat to the pot and add the soaked beans, RoTel, Liquid Smoke (if using), onion, cilantro, chipotle powder, cumin, and hot sauce.

Add the rest of the quart of broth and an additional 2-4 cups of water. (See Notes)

Lock the lid back on and set to manual high pressure for 25 minutes. Make sure vent is set to "sealing." Allow 15-20 minutes of natural pressure release, and then carefully release the rest of the pressure manually.

Remove lid, stir the pot, turn back to saute to let the cooking liquid reduce for 10-15 minutes, stirring occasionally so the beans don't stick.

While the liquid is reducing, brown the ground beef in a skillet until no pink remains. Drain off fat and add to the beans.

Stir and simmer for 5 minutes.

Taste and adjust seasonings as necessary.

Serve as is as a soup or side or pour over rice. Garnish with more chopped cilantro, diced onion, salsa, sour cream–pretty much whatever sounds good to you!

Refrigerate leftovers up to a week or freeze in batches for 3-4 months.
Did You Make Any Changes?
Notes
I made these beans with 2 additional cups of water, and they were plenty soupy once they were done cooking. After refrigerating overnight, most of the soupiness was gone, so if you want your beans to stay nice and soupy for days, go ahead and use 4 cups of water rather than 2.
For reference, here's a picture of my pinto beans in a bowl right after I made them. You can see how much soupier they are than when refrigerated overnight. They'll still taste fantastic–I just want you to know!
Notice there is no additional salt in this recipe. The country ham hocks are crazy salty, so my beans didn't need anymore salt. But if you use bacon or a different meat, you may need to add salt. Just taste after you reduce the liquid and add the ground beef, and then decide if it needs additional salt.
Nutrition
Serving:
1
/8
Calories:
507
kcal
Carbohydrates:
40.9
g
Protein:
44
g
Fat:
17.1
g
Saturated Fat:
6
g
Cholesterol:
107
mg
Sodium:
1550
mg
Fiber:
10.3
g
Sugar:
1.9
g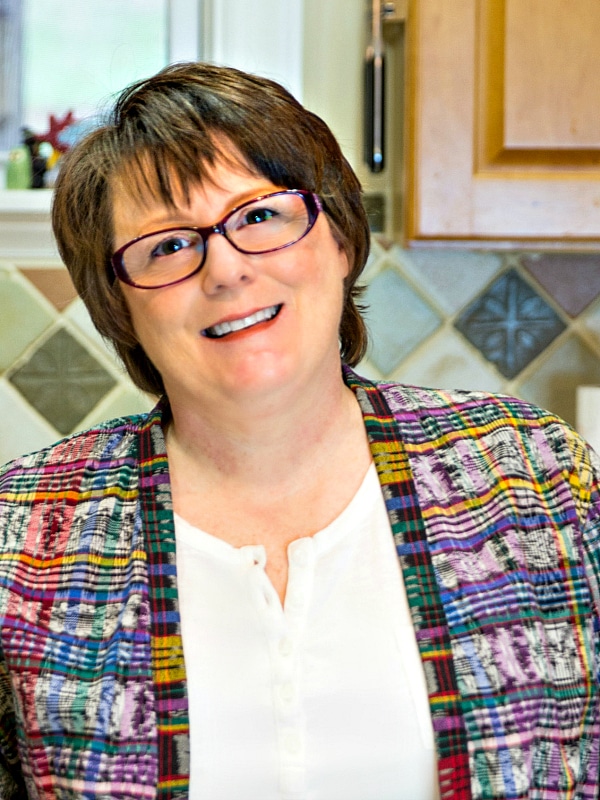 What are my qualifications to teach you baking and pastry? As a former working pastry chef and special educator, I marry my passions for both teaching and for baking into explaining techniques, methods, and developing the best possible recipes. For more info, you can read more about me.
If you'd like to receive new recipes and the occasional newsletter, I'd love for you to sign up for my Inbox Pastry Chef.
And there you have it, friends. I really hope you enjoy them as much as we do!
Thanks for spending some time with me today. Take care, and have a lovely day.