Watch my beef carnitas web story here.
I purchased the meat for this recipe at Fickle Creek Farm here in NC.
Why These Carnitas Are So Good
There are a couple of really great things about these beef carnitas, you guys.
Thing 1: they're spicy. Lots of times, carnitas can be just a bit bland. This is okay if you're going to add a lot of toppings, but sometimes you want the meat itself to be spicy.
Thing 2: they're moist and lip-smacking. Carnitas can be dry. Not these. I show you what to do to ensure they stay moist and perfect, even after 2-3 days in the fridge.
Thing 3: these beef carnitas happen to be Whole30 compliant. That's right. We're doing Whole30 right now, and in order to eat what I made, I had to make sure the recipe follows the rules for Whole30.
So, these beef carnitas contain:
no added sugar
no alcohol
no dairy
no grains of any sort
no beans or legumes
That is not to say you couldn't add beans or cheese as a topping for your carnitas taco. I'm just saying that, when it comes out of the InstantPot, these guys are totally compliant.
Serving Suggestion: Lettuce Wraps!
Keep them compliant by serving them over cauliflower rice or in a lettuce wrap. And try some spicy taco sauce from my friends at Red Duck Foods. Both their mild and spicy taco sauces are Whole30 compliant. Which, if you have ever done Whole30, will make you shout hallelujah.
What Can I Serve Carnitas With?
I like to use my beef carnitas as a nacho topping and smothered in spicy queso. They also make a great filling for burritos or for chimichangas.
My Instant Pot Cowboy Pinto Beans would also make a great side dish. Some other likely possibilities include Mexican Street Corn Salad, Easy Refried Beans, and Mexican Pickled Vegetables.
Are Beef Carnitas Keto?
By themselves, these beef carnitas are not keto.
This is because keto requires high fat, low carb and moderate protein.
The carnitas by themselves are too high in protein to be considered keto.
You could use them as part of a small part of a larger keto meal that also contains good fats.
For example, you could top a few spoonfuls of carnitas with guacamole and serve it over cauliflower rice. Check your macros to make sure it's still not too much protein.
Instructions in a Nutshell
Watch the video I made so you can see all the steps to make beef carnitas, whether you're using an Instant Pot or a Dutch oven. In a nutshell, here they are all written out:
Cut up meat.
Brown meat in oil.
Put in Instant Pot or Dutch Oven with seasonings and liquid and cook until very tender
Remove from cooker and break up slightly.
Reduce the juices. While the juices are reducing,
brown the meat really well only on one side in a cast-iron skillet.
Stir the reduced juices back into the browned meat.
While there are a fair number of steps in the Carnitas Procedure, none are difficult.
All you need is your trusty InstantPot, but you can also make them in a Dutch oven.
Once they come out of the pot, you'll also need a large cast iron skillet or other heavy skillet to crisp them up in.
How to Keep Them Your Beef From Drying Out
I know it seems counter-intuitive with a moist cooking method, but braised and pressure-cooked meats can turn out dry if you're not careful.
Your meat can dry out if you do one of two (or both) things:
separate the meat from the juices before they cool down and/or
use quick release on your multi-cooker
In the first case, once the meat cools separate from its juices, no amount of reheating with the juices will make that meat reabsorb that moisture. So even if you use a ton of sauce or gravy or cooking juices, the meat will still be dry.
Always cool meat in the cooking juices so it can gently reabsorb the liquids as it cools.
In the second case, using a quick pressure release basically "squeezes" all the juices out of the cooked meat.
Your best bet to avoid this is to do natural pressure release for as long as it takes for the pressure to completely release naturally. This could take up to 30 minutes.
If you don't have the time, you can split the difference and still end up with moist carnitas (or any meat) by using natural pressure release for the first 15 minutes and then by carefully "pulsing" the release valve to allow for quick release of the remaining pressure a little at a time.
Once the pressure is released, remember to let the meat cool in its juices or all your hard work will still leave you with dry meat.
Looking for a more traditional pork carnitas recipe? Try my friend Beth's recipe for Instant Pot Carnitas!
Before we get to the recipe, I want you guys to see the other dishes and farm profiles my fellow bloggers have been working on. Please take a visit!
NC Beef Link List
Four other bloggers. Four unique North Carolina farms producing beef. Four spectacular recipes.
Recipe
The chuck from Fickle Creek Farm worked really well in these carnitas, you guys. Often, grass-fed beef can be a bit dry because it is generally leaner than grain-fed beef. But like Bryan said, because of the rich diversity of food in the pastures, Fickle Creek's meat isn't quite as lean as other grass-fed beef.
That, plus the technique of stirring back in the cooking juices keeps these Instant Pot beef carnitas moist and Succulent. They are So Good.
The recipe may seem a bit daunting, but that's only because there's a process you need to follow. Here's a slightly more simplified list of steps to making beef carnitas than I shared above:
brown the meat
cook the meat
crisp the outside of the meat up in a pan
break up the meat and stir in the cooking liquid.
Once you get the steps down, it will not feel so daunting. I promise.
I hope I've convinced you how delicious these smoky beef carnitas are, whether or not you make them in an instapot, you really will want to make them.
And now, on with the recipe. Let's make these carnitas, shall we?
It would be so helpful to me and to other readers that, when you make a recipe, you rate it and leave a comment. Whether it's a recipe or an informational post, your feedback helps others decide if the post is helpful or if the recipe works as advertised.

If you could leave a star rating, that would be very helpful. Thank you for being here!
InstantPot Smoky Beef Carnitas
If you like your beef carnitas shredded and spicy, smoky, crispy-yet-moist, these Instant Pot beef carnitas are right up your alley.
This recipe is for 3 pounds, but you can easily scale up and cook 5 pounds in a 6-quart InstantPot or Dutch Oven. So many ways to enjoy beef carnitas.
Pictured in the recipe is just one: smoky beef carnitas lettuce wraps. Enjoy
Ingredients
2-3

tablespoons

avocado oil or olive oil

3

pounds

chuck roast

cut into 2-3″ cubes

kosher salt and freshly ground black pepper

1

large yellow onion

cut into half moons

3-6

cloves

garlic

smashed (depending on how much you like garlic)

3-4

tablespoons

chipotle powder

depending on how spicy you like things

1

tablespoon

cumin

1

tablespoon

oregano

preferably Mexican oregano

3

cinnamon sticks

2

tablespoons

coconut cream

the thick layer at the top of a can of coconut milk, not cream of coconut

2

oranges

zest and juice

1 ½

cups

chicken or beef stock
To Finish the Carnitas
3

tablespoons

avocado oil or olive oil
Instructions
Generously season your cubed chuck roast with salt and pepper.

Set your InstantPot or multi-cooker on the saute setting. Allow to heat for 5 minutes. Add the oil.

Once the oil is hot, add the beef in batches so as not to crowd the pan. Brown well on one side, seasoning the other side with salt and pepper if you hadn't done so earlier.

Turn the meat and brown the other side. Remove to a bowl or plate while you brown the rest of the meat.

With the cooker still on saute, add the onions, garlic, chipotle powder, cumin, oregano and cinnamon sticks along with another heavy pinch of salt and freshly ground black pepper.

Add the meat, along with any juices that accumulated in the bowl or plate, in an even layer. Top with the coconut cream, the juice and zest from the 2 oranges, and the stock.

Put the lid on the InstantPot and choose the meat/stew setting–or 35 minutes at high pressure.

Once the timer goes off, allow natural release for 30 minutes and then manually release the rest of the pressure. Remove the lid.

Skim off most of the fat, and then remove the meat to a bowl. Discard the cinnamon sticks.

Turn the InstantPot back onto saute and bring the cooking liquid to a boil. Allow to reduce while you continue with the next steps.

Using 2 forks, break up each chunk of meat into 2 or three pieces.

Heat a cast iron pan over medium-high heat, add the second amount of oil, and heat for a few seconds.

Arrange all the pieces of meat in a single layer. I had just enough room to do 3 pounds of beef in my 12″ skillet. If you are cooking more beef or have a smaller pan, you will need to do this in batches.

Let the meat fry in the oil until very crisp and dark brown, but not charred. Check every minute or so to make sure you don't burn your carnitas!

Once the meat is nice and crisp on one side, place it back in the bowl.

Start shredding the meat with the forks. Add 1/4 cup of the reduced cooking liquid, and mix into the meat while continuing to shred. Repeat this 3 more times for a total addition of about 1 cup of reduced cooking liquid.*

Press plastic wrap onto the surface of the meat and refrigerate until cold.**

Serve as taco meat, burrito filling, a topping for nachos, on a burger, or in any other way that sounds good to you.*** Enjoy!
Did You Make Any Changes?
Notes
*You will have a fair amount of cooking liquid. To stir back into the meat, you'll want to reduce the liquid on the saute setting for about 10-15 minutes. When you scoop up the liquid, you'll also get bits of onion and garlic. Good stuff. Once you've used the cup of meat, you can reduce the remaining liquid until syrupy. Press through a fine mesh strainer and use it as taco sauce. You will not be sorry.
**You can eat the carnitas immediately, but I think the flavor is better after having a rest in the fridge. And with the technique of stirring the cooking liquid back in as you shred the meat, you can be sure your carnitas will not be dry, even after a few days in the refrigerator.
***As pictured, I stuffed the carnitas into romaine leaves and then topped with red onion, sweet yellow pepper, a slaw made of cabbage with salt, vinegar, orange juice, lime juice, and cumin, and some of the reduced cooking liquid.
Nutrition
Calories:
284
kcal
Carbohydrates:
4
g
Protein:
22
g
Saturated Fat:
7
g
Cholesterol:
78
mg
Sodium:
243
mg
Fiber:
1
g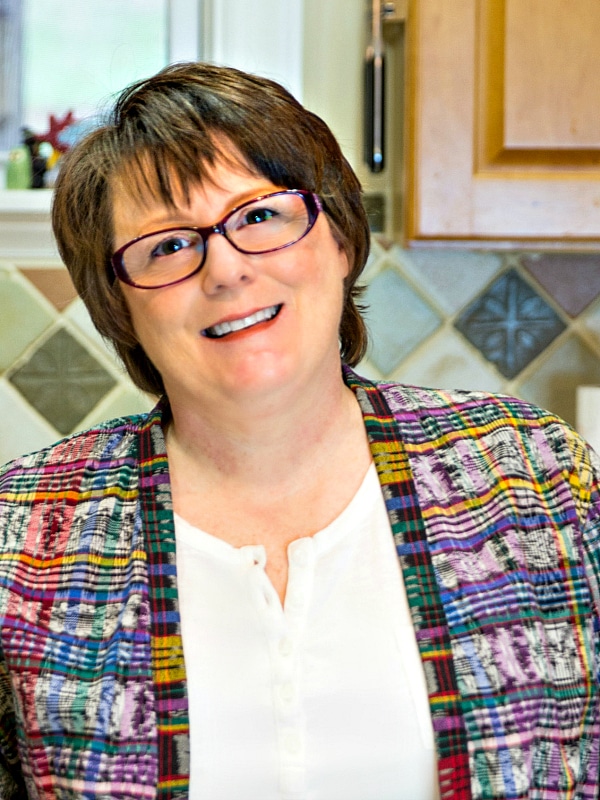 What are my qualifications to teach you baking and pastry? As a former working pastry chef and special educator, I marry my passions for both teaching and for baking into explaining techniques, methods, and developing the best possible recipes. For more info, you can read more about me.
If you'd like to receive new recipes and the occasional newsletter, I'd love for you to sign up for my Inbox Pastry Chef.
NC Department of Agriculture & Consumer Services
I am working with the North Carolina Department of Agriculture & Consumer Services to bring you profiles of beef-producing farms in North Carolina who sell their beef at non state-supported farmers' markets. We are very fortunate here in NC to have so much variety and so many choices when it comes to purchasing meat, fruit, vegetables, and more from local vendors. Today, we are profiling 5 farms who are selling their beef in the Triangle area (Raleigh/Durham/Chapel Hill).
I had the pleasure of meeting Bryan Horton from Fickle Creek Farm at the Western Wake Farmers' Market on the first Saturday of the Spring market to hear about their meat and to buy some for today's recipe. Here's the video I shot, and then read on for some fun facts about the farm!
Fickle Creek Farm
Between the questions I asked the farmer and information I found online, I have put together this list of fun facts about Fickle Creek Farm.
What started off small with just a handful of animals has turned into a 215 acre operation producing beef, pork, lamb, chicken, eggs, and produce.
Fickle Creek Farm uses Great Pyrenees dogs to guard their flocks and herds against predators.
Their cattle graze on pesticide-free pastures. As mentioned in the video above, Fickle Creek is not certified "Grass-Fed," but everything the cattle eat grows in the pasture.
All the animals at the farm are rotationally grazed, which means they are moved from paddock to paddock within a pasture. This allows parts of the pasture to get a break from grazing, preventing overgrazing and also promoting optimal grass growth.
Fickle Creek Farm participates in their local economy by taking care to purchase and sell close to home. For example, the most distant point of sale for the farm is only 35 miles, and they purchase all the livestock from within 50 miles of the farm.
Fickle Creek Farm offers an apprenticeship program for aspiring farmers.
There is an on-location AirBnB if you'd like to have a getaway on the farm.
They offer farm tours on the first Sunday of each month. Find out more about the Fickle Creek Farm Stay program.
Every time I speak with a local farmer or vendor at a farmers' market, I am impressed by their dedication and passion. And always by their products. The beef from Fickle Creek Farm is no exception. I used a 3 pound chuck roast to make some pretty spectacular beef carnitas.
NC Beef Love
I'd like to thank Noah and Bryan from Fickle Creek Farm for their time and for their truly excellent beef.
Thanks also to the North Carolina Department of Agriculture & Consumer Services for supporting small farms throughout North Carolina and for sponsoring this post. Thanks as well to my fellow bloggers for coming up with some really creative and mouth watering recipes using NC Beef.
And thank you for spending some time with me today.
Enjoy the Instant Pot beef carnitas, take care, and have a lovely day.