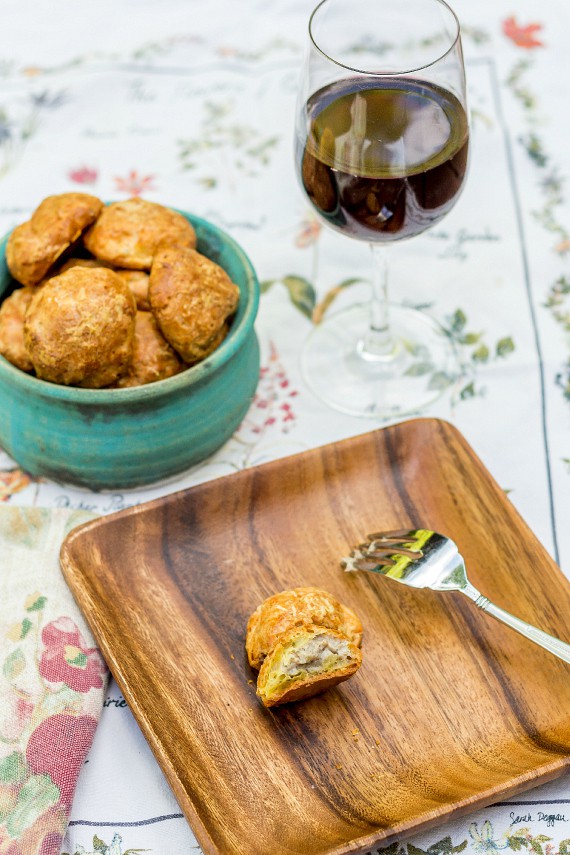 Well that sounds very schmancy, doesn't it? As befits our Progressive Eats theme this month: Flavors of France brought to us by the most excellent Jane of The Heritage Cook. Thanks for picking a fancy theme and making me stretch a bit, Jane!

Welcome to Progressive Eats, our virtual version of a Progressive Dinner Party. This month's theme is the Flavors of France and is hosted by Jane Bonacci who blogs at The Heritage Cook. Join us and make something unique and delicious!
If you're unfamiliar with the concept, a progressive dinner involves going from house to house, enjoying a different course at each location. With Progressive Eats, a theme is chosen each month, members share recipes suitable for a delicious meal or party, and you can hop from blog to blog to check them out.
We have a core group of 12 bloggers, but we will always need substitutes and if there is enough interest would consider additional groups. To see our upcoming themes and how you can participate, please check out the schedule at Creative Culinary or contact Barb for more information.
Like most of us who say we like a particular kind of food–Italian, Thai, Indian, etc–I have never been to the countries where those cuisines originated. That means, by and large, what I like are the general flavor profiles presented to me as a Westerner when I go out to eat. Italian: basil, oregano, tomato. Thai: lemongrass, wild lime, ginger. Indian: cumin, turmeric, fenugreek.
And then there's France. I haven't been there either, but when I think France, I think Herbes de Provence and French pastries and lavender, mother sauces and pastry cream. I think wine and butter and peasant food. And I also think The French Laundry. I have a very tenuous connection to that venerable French-American restaurant in the Napa Valley. One of the chefs I worked for staged under Thomas Keller at The French Laundry for a relatively short period of time. I'm sure what he learned during his tenure there could fill volumes.
Chef rarely talked about his time at The French Laundry, most likely because he was too busy yelling at all of us and producing truly sublime food. If he could just have gotten the whole yelling thing under control. I mean, it's not like he staged under Gordon Ramsey.
At any rate, one little treat I learned from him that he learned in Yountville and then had me make for private parties was the magical combination of a warm gougere–a savory cream puff with cheese added to the dough and sprinkled on top before baking–filled with thick, creamy mornay sauce. Cheese sauce in a crispy cheese puff. Cheese in cheese. Sexy, right? For Flavors of France, I decided to spin that combination and use as many French flavors as I could shove in there without the whole thing turning into a muddy mess.
It might not look like much, but this sauce is about as rich, creamy and mushroomy as you can get. And it's actually fairly low in fat (but mainly because you only use a little in each gougere)!
I added a touch of Herbes de Provence to the dough along with a generous amount of gruyere cheese. And rather than make a mornay sauce, I decided to go with a bechamel aux champignons. Like I said, that sounds all schmancy (most French terms sound pretty schmancy even if they aren't), but all I made was a thick white sauce blended together with duxelles–a minced mushroom-shallot-thyme spread. It's like super creamy, super concentrated cream of mushroom soup, but infinitely better than what you can get in a can.
I haven't tested out this theory, but I'm pretty sure you could thin this out with vegetable stock, mushroom stock or more milk and end up with an excellent cream of mushroom soup. Who needs a can, right?
So, now that I have all the explanation out of the way, let's get to it, shall we? And please visit all the very talented cooks and bakers who have turned Progressive Eats into a monthly feast of epic proportions.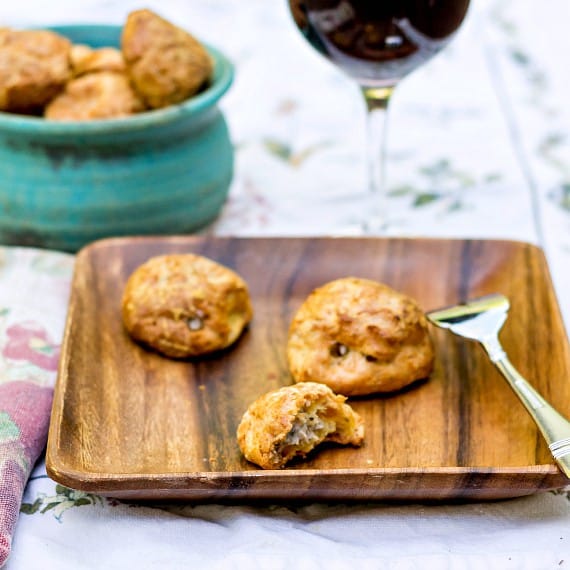 Gougeres with Bechamel aux Champignons for Progressive Eats
Total Time:
1 hour
15 minutes
Ingredients
For the Gougeres
3 oz water
1 oz whole milk
1 1/2 oz unsalted butter
heavy pinch of salt
1/2 teaspoon Herbes de Provence
2 oz all purpose flour
2 eggs, , beaten
3 oz finely grated Gruyere cheese, , divided
For the Beschamel aux Champignons
1 Tablespoon unsalted butter
heavy pinch of salt
freshly ground pepper, (black or white--either is fine)
1 Tablespoon all purpose flour
6 oz (3/4 cup) whole milk
1/4 cup duxelles, (recipe follows)
For the Duxelles
1 cup cleaned and trimmed mushrooms, , sliced or cut into pieces
1 Tablespoon unsalted butter, , divided
2 Tablespoons minced shallot, (I didn't have shallot, so I used mostly onion with 1 clove of garlic and nothing awful happened)
salt and freshly ground pepper, , to taste
about 2 teaspoons fresh thyme leaves
2 Tablespoons dry white wine or dry sherry, (I didn't have either so I used some red wine vinegar and nothing awful happened)
Instructions
For the Gougeres
Preheat your oven to 450F and set a rack in the middle. Be proud of yourself that you remembered to do this first.
Bring the water, milk, salt, Herbes de Provence and butter to a boil.
Dump in the flour all at once and cook over medium heat, stirring manically, until the mixture resembles mashed potatoes, pulls away from the sides of the pan and into a big clump and leaves a slight, dry film on the inside of the pan, about 2-3 minutes.
Transfer to the bowl of a stand mixer fitted with the paddle attachment or prepare to stir madly awhile longer.
Mix for a minute or so to cool off the dough, then add almost all the beaten egg (reserve about a Tablespoon) and mix in thoroughly. Test to see if batter runs very slowly off the end of the beater and ends in a point. If it doesn't flow or it ends in a raggedy point, add the rest of the egg and beat it in. You should be good to go.
Thoroughly mix in 2/3 of the grated cheese.
Drop about 2 teaspoons of the dough into tiny mounds on a Silpat- or parchment-lined baking sheet. Leave about 1" of space between each wee mound. You can pipe them if you want, but it goes quickly with spoons too.
With a wet finger, press down any little points of dough that might be sticking up.
Divide the last ounce of cheese evenly among the wee gougeres and bake for ten minutes.
Reduce the heat to 375F and bake another 10 minutes. You may need to cover the pan loosely with foil at the five-minute mark.
Reduce the heat to 325F and bake for another 10 minutes for a total of 30 minutes.
Turn off the oven, crack the door open and let the gougeres cool to just warm.
Fill each puff with about 1-2 teaspoons of the bechamel aux champignons.
For the Bechamel
Melt the butter over medium heat. When it's sizzling, add the flour.
Stir well and cook, stirring occasionally, for 2-3 minutes or until it's a golden blonde color. Lightly season with salt and pepper.
Pour in the milk slowly, whisking all the while to prevent lumps.
Bring the mixture to a boil, whisking frequently.
When it comes to a boil, reduce the heat and keep it at a low simmer, whisking occasionally, until it has thickened.
Put the bechamel in your blender and add the duxelles. Blend on low speed. It doesn't have to be completely smooth, but it needs to be smooth enough that you can pipe it without little bits getting stuck in your piping tip. Cool to warm.
For the Duxelles
Mince the mushrooms very finely in the bowl of your food processor. If you have a mini one, now would be the perfect time to use it.
Melt half the butter over medium high heat. Add the mushrooms, seasoning with salt and pepper, and stir until they release their juices. Cook some more, stirring, until the mushrooms are dry again and have darkened in color.
Add the second half of the butter along with the shallots (or onions and garlic) and the thyme.
Cook until the shallots have softened.
Add the wine and cook until dry.
Notes
You can make the duxelles the day before and refrigerate it until you're ready for it. Make the bechamel while your gougeres are in the oven.
For filling the gougeres, I do love my Bismarck tip, but you can use any tip with a smallish opening. You may have to poke a hole in the side with the tip of a knife first, though.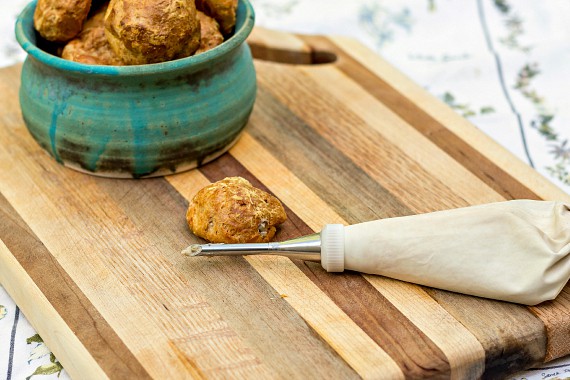 Crispy, warm and creamy in every bite. So much flavor. You are going to love these!
Join us for the Flavors of France!
Appetizers
Salad
Soups
Main Course
Bread
Veggies/Sides
Zucchini Summer Squash Tomato Gratin from Jeanette's Healthy Living
Drinks
Desserts
What an amazing feast, right? I do hope you enjoyed the Flavors of France as presented to you by your friendly neighborhood Progressive Eats bloggers. It's my hope that you wills top by everyone's blog and leave them a comment.
Thanks for spending some time with all of us today. I know I appreciate it.
Have a lovely day, and enjoy the gougeres.
Related articles across the web