Here is yet another version of my "Van Halen" Pound Cake. I consider this to be the best lemon pound cake ever. Flavored with lemon in the form of zest, juice, and just a few drops of lemon oil, it is the triple threat of lemon pound cake recipes.

I also include a video of how to use the creaming method to make this pound cake. If you love lemony cakes, you may also enjoy my lemon corn buttermilk pound cake.

And you can find all my pound cake recipes here.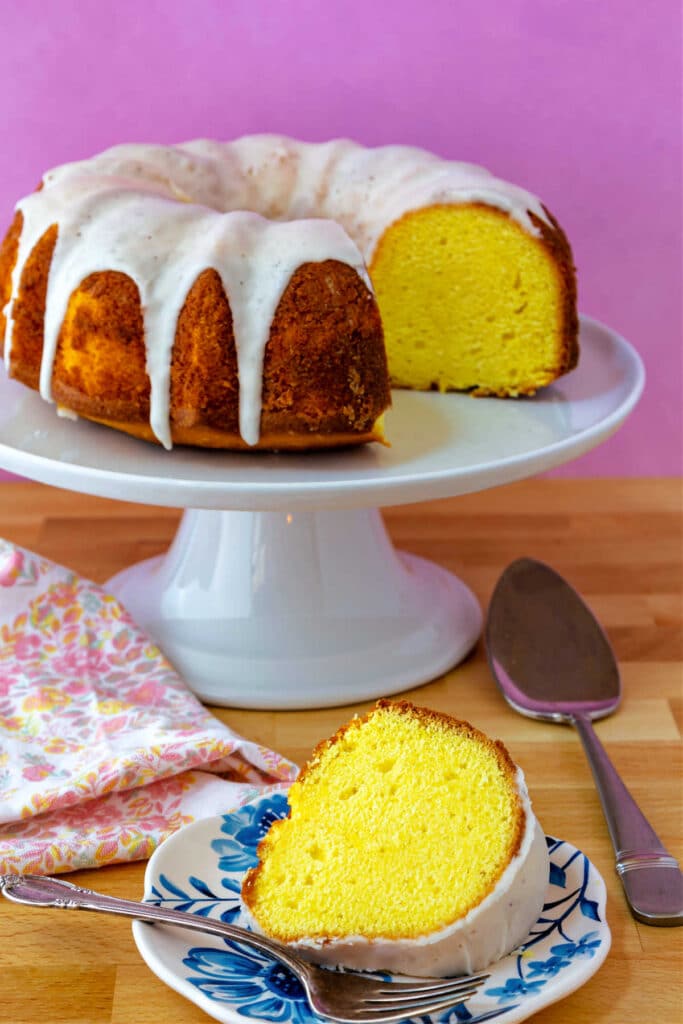 Watch my best lemon pound cake web story here.
What Makes This Recipe So Great
The key to making the best any-kind-of-pound-cake is to layer in the main flavor/s in as many ways as possible. In the case of lemon pound cake, you could absolutely just use some lemon extract and call it a day.
But, if you want to achieve the most lemony, best lemon pound cake in all the land, you'll have to do a bit more than just that.
This cake has lemon in all its forms:
lemon zest, and lots of it. This is where all the essential oils live, in the yellow outside skin
lemon juice, because just using the zest gives you the perfume of lemon but not the sourness. Using juice brings the tartness you expect from a lemon dessert
lemon extract or lemon oil, but only a touch. I find that using too much of either one can taste artificial, so I use just enough to give the lemon flavor a bit of punch
And last, because we love the tartness of lemon so much, I add an additional tart ingredient. In the video, I used Greek yogurt.
You can also achieve that lovely tang by using buttermilk and, to a lesser extent, sour cream.
Of course, the glaze is a great place to reinforce the flavor of the cake, so the holy trinity of zest, juice, and extract or oil come to play in the glaze, too.
How Did You Make It Yellow?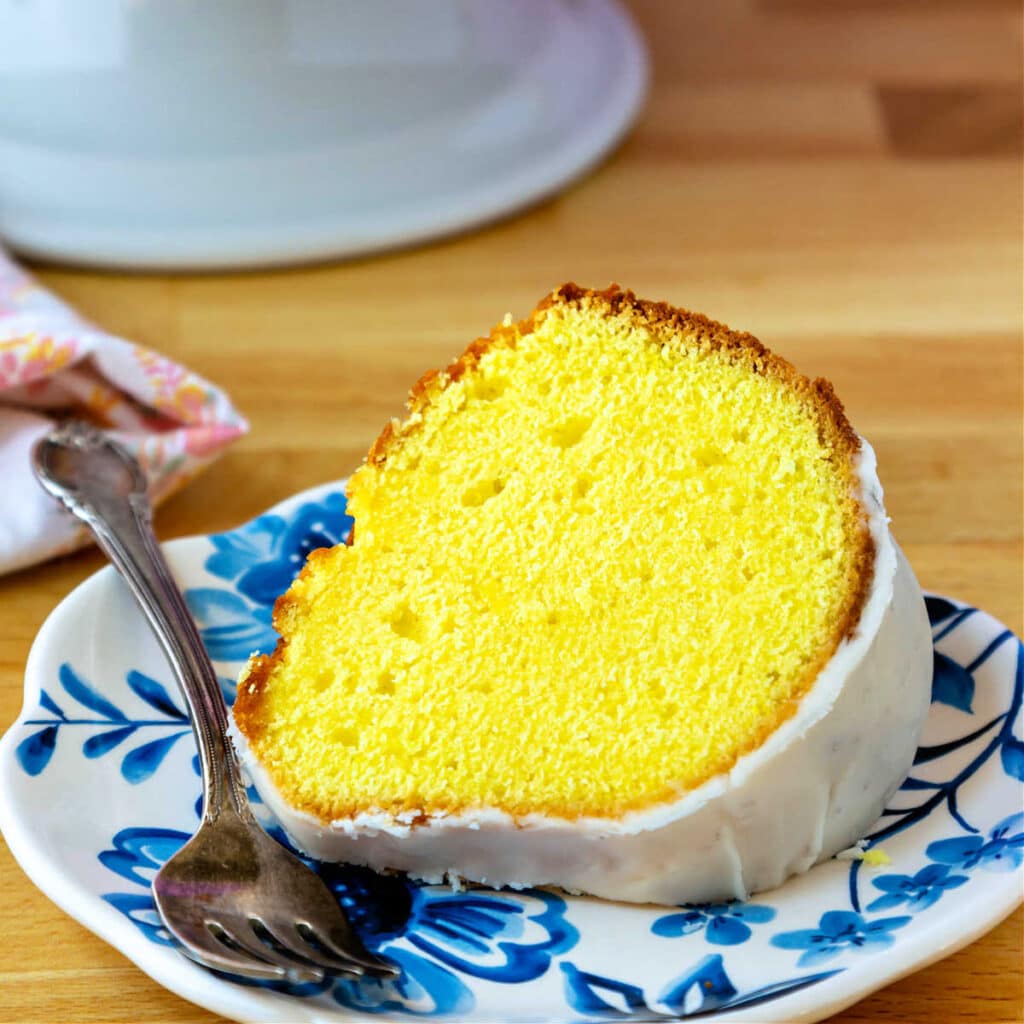 Worry not. No artificial dyes were sacrificed to make this lemon pound cake a sunny, lemon yellow.
I added a mere 1/4 teaspoon of turmeric to the sugar and butter mixture. The cake, which would already be a pale yellow because of the zest and egg yolks only need a little bit of urging to look like sunshine.
And no, you cannot taste the turmeric at all.
Procedure
Ingredients
Here's what you'll need to make the best and most lemony lemon pound cake you'll ever taste.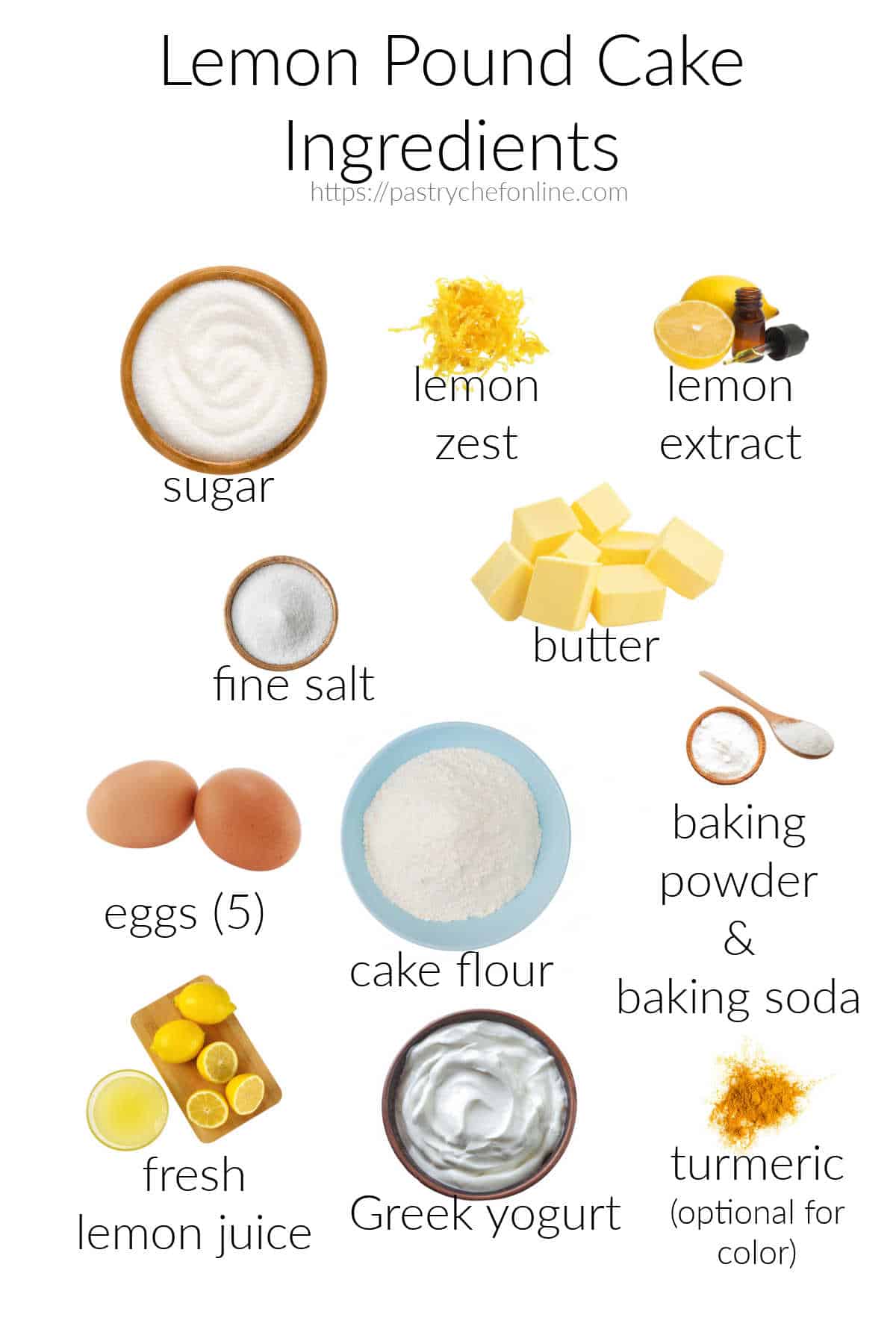 unsalted butter: make sure it's cool butter. You don't want it soft, just pliable. Keep the temp between 65-68F.
sugar: regular granulated. It's the action of creaming the butter together with the crystalline sugar that tears holes in the butter, which in turn allows for an even rise and crumb once the rest of the ingredients are added
fine sea salt: you can also use table salt. If you sub with kosher salt, you'll have to use a touch more since kosher salt crystals are larger and don't pack together as tightly
lemon zest: use a Microplane to get small, feathery pieces of zest.
lemon extract: substitute lemon oil if you like. But only use about 3 drops since it's more concentrated than lemon extract
eggs: I use large eggs. Take them out of the fridge a good 45 minutes to an hour before baking
cake flour: you can also use all-purpose flour. Your cake won't have quite as fine a texture, but the difference is very slight
baking powder: leavener
baking soda: the baking soda is here primarily to counteract the acidity from all the lemon components. Make sure your baking soda doesn't have any lumps in it
Greek yogurt: full fat or low fat. Don't sub fat-free. You can also use buttermilk if you have it, or a mixture of the two
lemon juice: Provides the rest of the liquid as well as tart, lemon flavor
turmeric: 1/2 teaspoon provides a sunny lemon color without any flavor that I can detect, and my palate is pretty sensitive. You could also use a few drops of yellow food coloring or just leave coloring out altogether. Your call.
Procedure
Like most butter cakes, this one is made using the creaming method.
In short, here are the steps:
cream together butter, sugar, salt, lemon zest, optional turmeric, and extract. Fat carries flavor, so it makes sense to add the salt, zest, and extract at the same time you add the butter
Whip eggs well then drizzle them into the batter, a little at a time.
Whisk together dry ingredients: flour, baking powder, and baking soda.
Whisk together the Greek yogurt and lemon juice. Note, you can make this cake with buttermilk in place of the Greek yogurt as well.
Alternate adding the dry and wet ingredients in 5 additions, beginning and ending with dry. (dry-wet-dry-wet-dry)
Scrape batter evenly into your prepared pan.
Visual How-To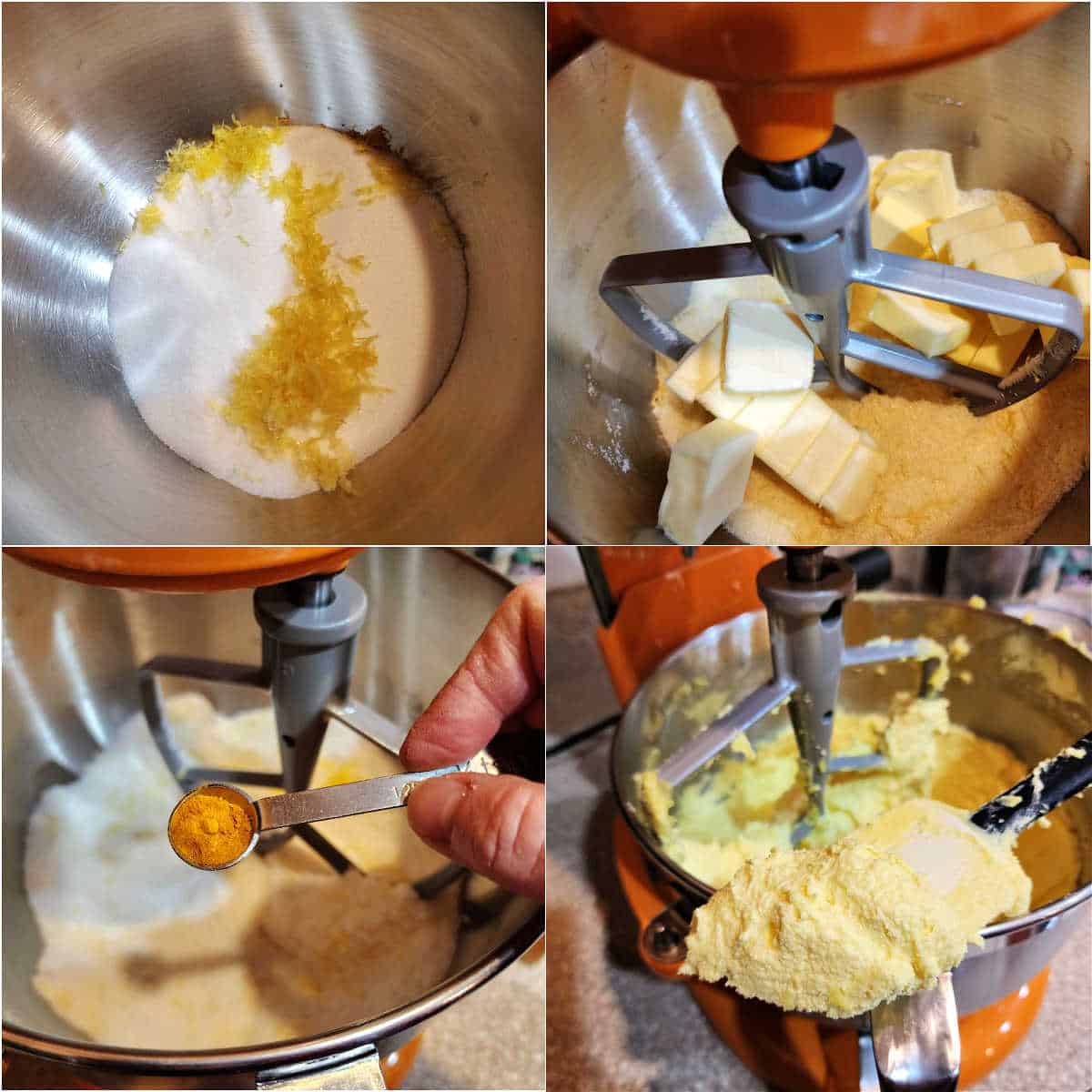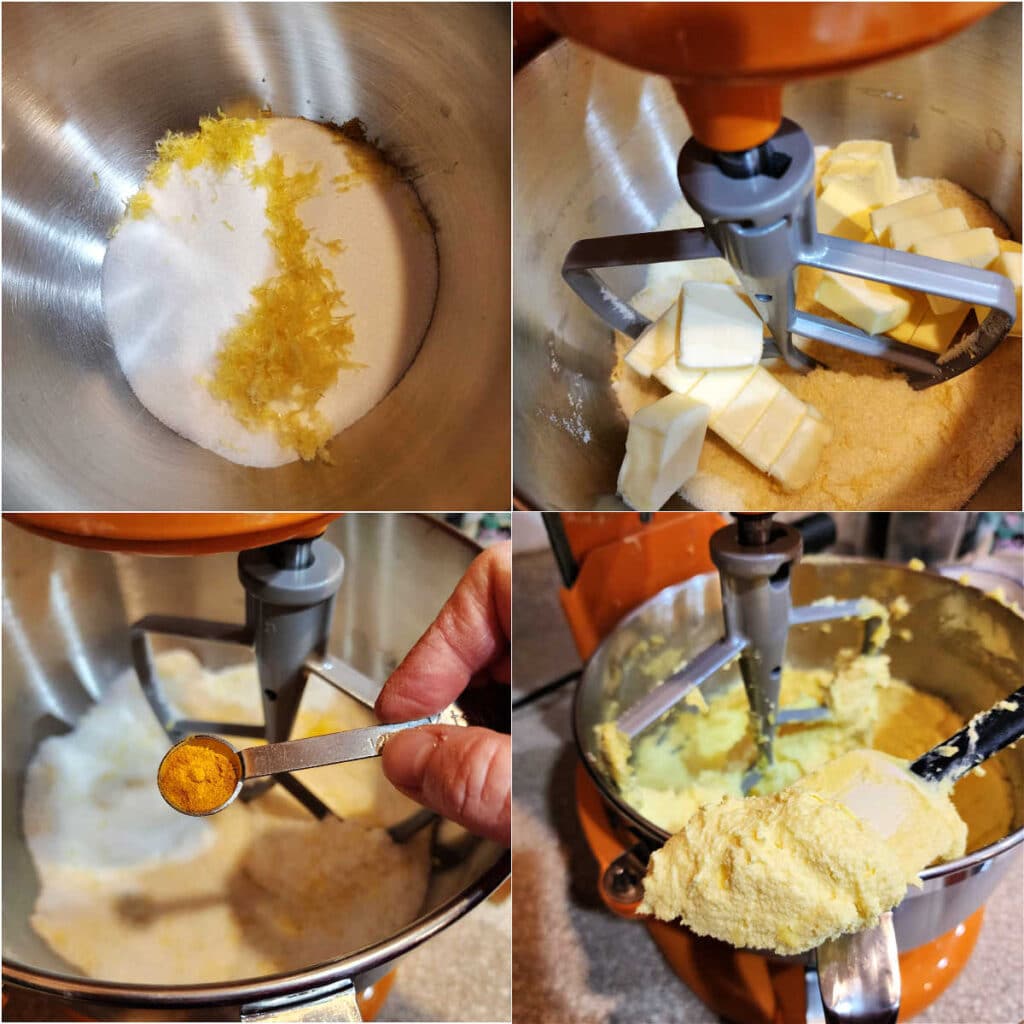 Put the sugar, lemon zest, salt, and lemon extract in your mixer bowl. Mix well so the zest perfumes the sugar and it turns a very pale yellow.
Add the butter and turmeric, if using.
Beat on medium speed until light and fluffy.
NOTE: The sugar will not completely dissolve during this stage because there is not enough water in the butter to dissolve it all the way.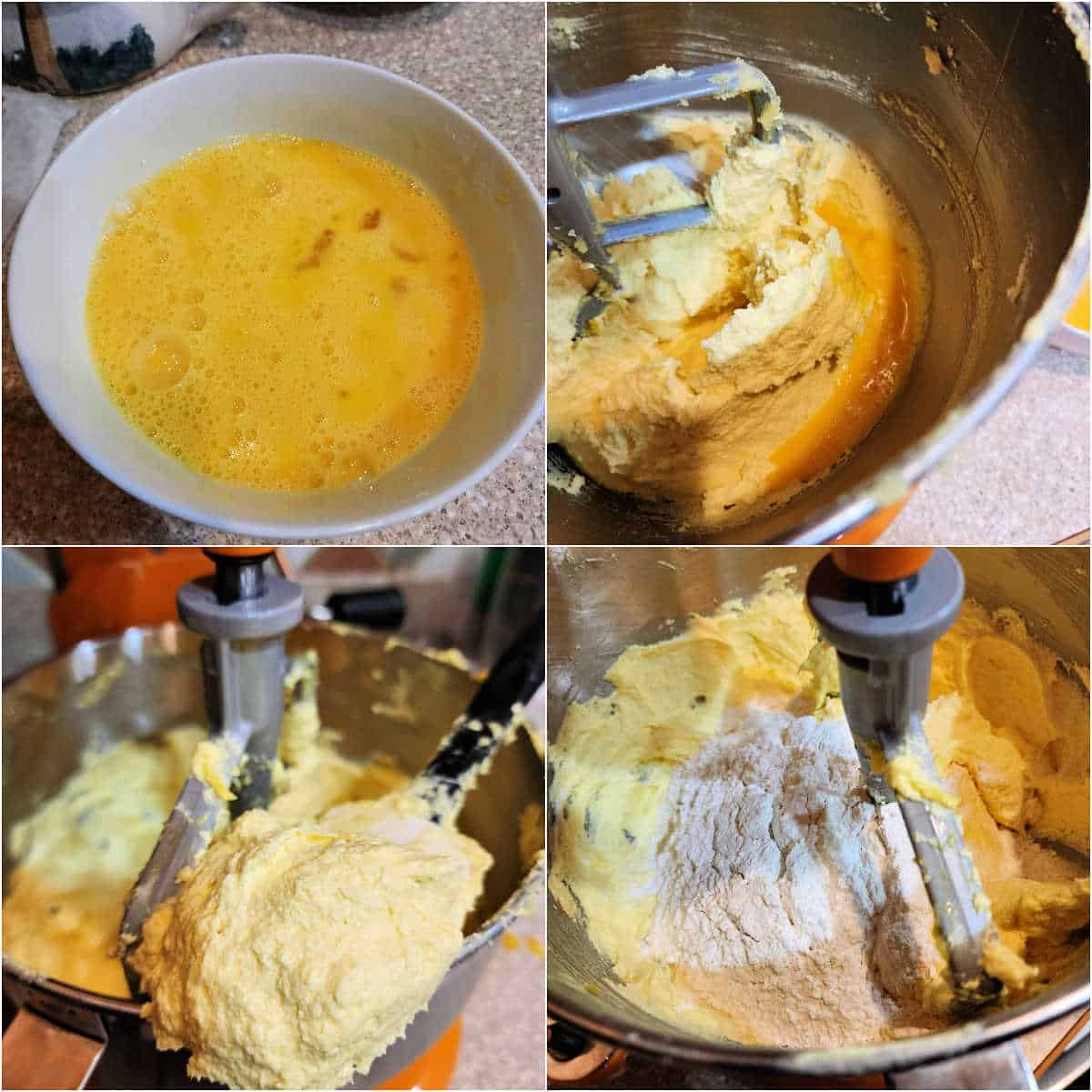 Beat the eggs together.
Add them in small additions, beating well between each. Scrape the bowl every once in a while. Adding the eggs should take about five minutes.
Notice how much creamier the batter looks at this point. Nice and thick and billowy.
Add the flour and leavening and Greek yogurt/buttermilk and lemon juice mixture alternately, beginning and ending with the flour mixture.
NOTE: Only allow a few seconds between one addition before adding the next. The mixture won't be completely combined, but that's okay.
Once everything is in, scrape the bowl really well, making sure to get down to the bottom.
Then turn the mixer on high for about 3 seconds. That will be enough to bring everything together beautifully.
The batter will be thick and billowy. Scrape it evenly into your pan-sprayed-and-well-floured 12-cup Bundt pan and then spread it out evenly.
Bake until deep golden brown and well-risen with a sunshiny crack all around the center of the cake.
Let the cake cool in the pan for about 20 minutes before turning it out onto a rack to cool.
NOTE: For a very moist cake, wrap the still-hot cake with plastic wrap, The wrap will prevent evaporation as the cake cools, leaving all the moisture in the cake where it belongs.
Equipment You May Need
You can certainly make this cake–most cakes, really–with a hand mixer, but nothing does as good a job at creaming butter and sugar together than a stand mixer.
This is the one I recommend:
Best Mixer for Home Bakers
KitchenAid Artisan Series 5-Qt. Stand Mixer with Pouring Shield
This is my pick for the best mixer for home bakers. Many people will recommend a bowl-lift mixer, and I have one myself, but for ease of adding ingredients, tilt head is the way to go. The Artisan looks great, comes in a bunch of colors, and is a workhorse for people who bake every day. It's more than sufficient for the occasional baker, and it should last you for years and years.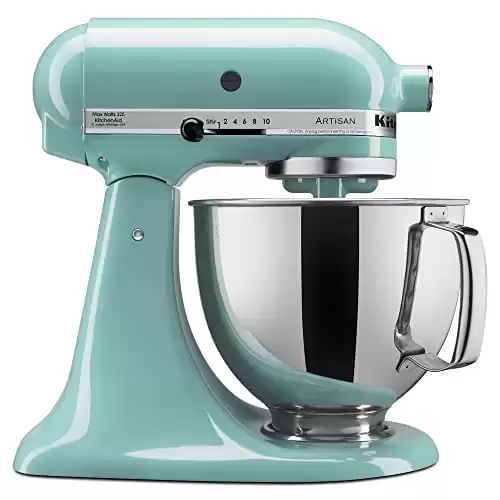 This is an affiliate link which means I earn from qualifying purchases. Your price is unaffected.
This pound cake, like almost all my pound cake recipes, is scaled to fit in a 12-cup Bundt pan. Most of the specialty Bundts only hold 10 cups, so make sure you have a "classic" Bundt pan or be prepared to have leftover batter to make into a few cupcakes.
My Choice
Nordic Ware Pro Cast Original 12 Cup Bundt Pan
Not only is Nordic Ware THE name in Bundt pans, this particular pan is nice and sturdy and has that classic, timeless shape. It also holds 12 cups of batter, and it is the perfect size for all my pound cake recipes.
This is an affiliate link which means I earn from qualifying purchases. Your price is unaffected.
Variations
You can use this same recipe to make a lime, orange, or even grapefruit pound cake. Just swap out the zest, juice, and extract.
As written, it will work with any citrus, so you can make your favorite.
Tips for Success
Make sure your butter, eggs, lemon juice, and yogurt or buttermilk are all at cool room temperature before you start. That way, you won't be adding cold stuff on top of butter than you worked so hard to cream. It'll just seize back up again, and your batter will get all curdled looking.
Bake the cake on the rack that is one below dead center of the oven. That way, the center of the pan will be in the center of the oven, and you'll get the most even bake possible.
Lemon Pound Cake Q & A
Can I make this gluten-free?
I am not a gluten free baker, but I believe you can substitute any "cup for cup" type gluten-free flour blend and have good results. Let the batter sit for 30 minutes before baking to give all the flours a chance to fully hydrate.
Can I make this dairy-free?
Yes. Substitute a vegan "stick butter" (not in the tub) and use soy or coconut yogurt.
Can I freeze this cake?
Absolutely. It will keep just fine on the counter for 4-5 days, and for longer storage, you can freeze individual slices or the whole cake by wrapping in plastic wrap and then placing wrapped slices in a freezer bag (or wrapping the whole cake in foil after wrapping in plastic wrap). Freeze for up to 3 months, and let the cake thaw at room temperature, still wrapped.
Serving Suggestions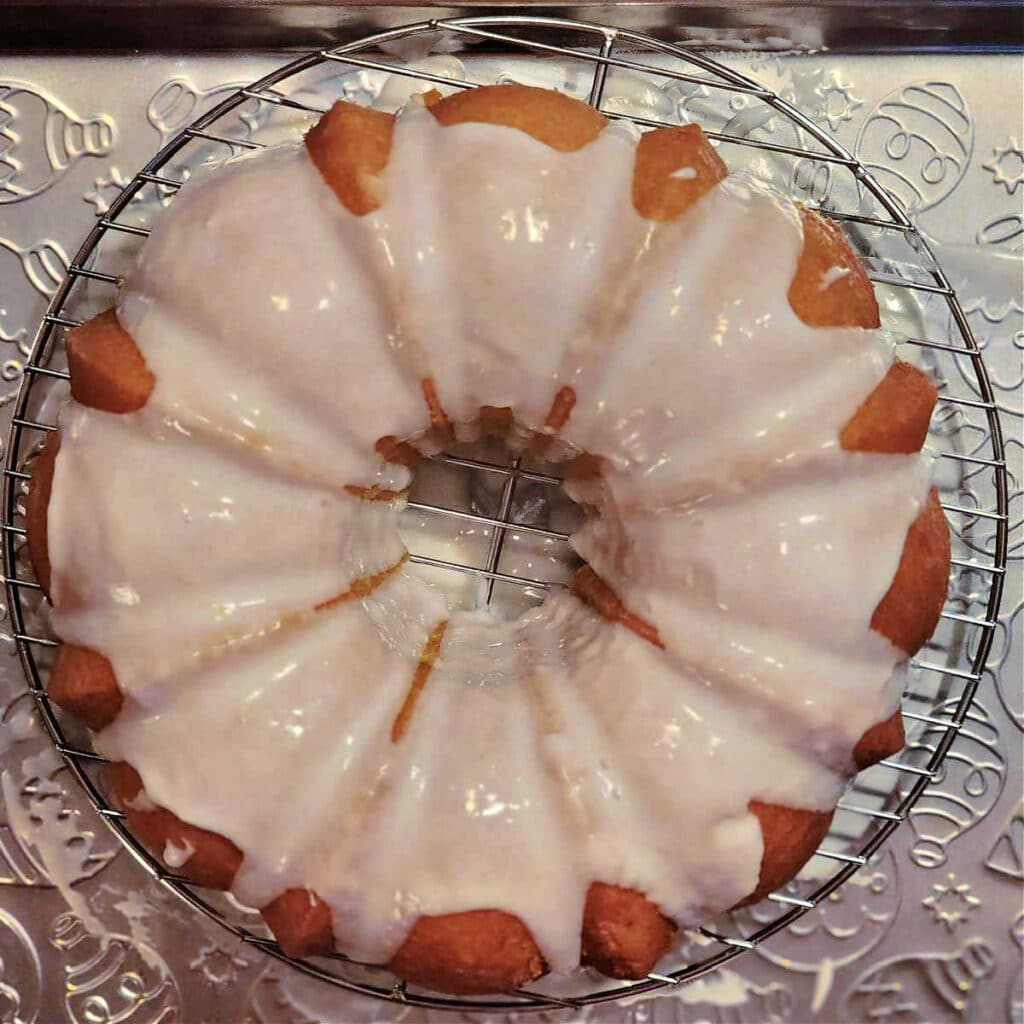 This cake doesn't need much accompaniment, honestly.
I like a tart lemon glaze made with just powdered sugar, lemon zest, a tiny pinch of salt, and freshly squeezed lemon juice.
You could also frost the cake if you'd like. I think a heavy frosting would overpower the velvety texture of the cake, so maybe frost it with some stabilized whipped cream or serve slices with some whipped cream.
Questions?
A Note About Measurements
For convenience, consistency, and accuracy, almost all my recipes are written by weight, either in ounces and/or grams, even the liquids.
I strongly encourage you to purchase a kitchen scale and learn to use it.
This is the one I used for years. I love it and highly recommend it:
Best for Home Use
Escali Primo Digital Food Scale
Don't let its small price and small size fool you. The Escali Primo is an accurate and easy-to-use food scale that I have used for years. It's easy to store, easy to use, has a tare function, and easily switches between grams and ounces/pounds for accurate measurements.
This is an affiliate link which means I earn from qualifying purchases. Your price is unaffected.
It would be so helpful to me and to other readers that, when you make a recipe, you rate it and leave a comment. Whether it's a recipe or an informational post, your feedback helps others decide if the post is helpful or if the recipe works as advertised.

If you could leave a star rating, that would be very helpful. Thank you for being here!
Lemon Pound Cake
Put together using my modified creaming method, this cake has a fine, dense crumb yet it melts in your mouth. I hope you will enjoy it.
Ingredients
19

oz

granulated sugar

12

oz

unsalted butter at cool room temperature

1

gently rounded teaspoon fine sea salt

Zest of 4 small-ish lemons or 2 large

(use a Microplane for best results)

½

teaspoon

lemon extract or 3 drops of lemon oil

Optional, for color 1/4 teaspoon ground turmeric

5

large eggs

lightly beaten

13

oz

cake flour

¾

teaspoon

baking powder

¼

teaspoon

baking soda

8

oz

thick Greek yogurt

(without gums or other additives) or sour cream or buttermilk

2

oz

freshly squeezed lemon juice

strained
Instructions
Set your oven rack to one below the center and preheat the oven to 350F.

Spray a 12-cup Bundt-type pan thoroughly with pan spray, then flour your pan very well. Knock out the excess flour. If you only have a 10-cup Bundt-type pan, you'll have about 1 1/2 cups of batter left over. You can use this to make a 6" cake or maybe 4-5 cupcakes. Go ahead and prepare those pans if necessary. *Set aside.

Cream together butter, sugar, salt, zest, extract/oil and optional turmeric until very light and fluffy. Take your time here; it could take 8 minutes or more. You want your creamed mixture to be very pale in color (this lets you know that you've incorporated a lot of air into the mix) and very thick and fluffy. Scrape down your mixing bowl as necessary.

While the butter mixture is creaming, whisk together your flour, baking powder, and baking soda. If after whisking, the flour seems a bit lumpy, go ahead and sift the dry ingredients. Set aside.

Whisk together the yogurt/sour cream/buttermilk and lemon juice. Set aside.

Once the butter/sugar mixture is beautifully light, drizzle in the beaten eggs, a bit at a time, over a period of about 5 minutes. Scrape the bowl as necessary.
Alternately add the dry and wet ingredients, beginning and ending with dry, in this manner:
Add half the dry

Add half the wet

Add half of the remaining dry ingredients

Add the rest of the wet ingredients

Add the rest of the dry ingredients.

Mix on low for only about 5 seconds between additions. Scrape the bowl as necessary, making sure to get down to the bottom, but don't worry too much about completely mixing.

Once all your ingredients are combined, scrape the bowl and fold by hand for a few seconds.

Put the bowl back on the mixer and mix on high speed for no more than three seconds.

Scrape the batter into your prepared pan(s).

Bake for about an hour until the cake is well-risen, deeply golden brown, and has a crack running around the center of the top of the cake (pound cakes do this. It's okay). A thin knife or a skewer inserted into Said Crack should come out clean. This will take about an hour, give or take, depending on your oven.

Let the cake cool in the pan for 20 minutes (10 minutes if you've made a small extra cake) then turn the cake out.

Wrap tightly in plastic wrap and refrigerate until cool. I promise this will not give you a soggy cake, just a very moist and wonderful cake.
Optional
When just barely warm, you can glaze the cake with a mixture of powdered sugar, lemon juice, lemon zest, just a pinch of salt.
Did You Make Any Changes?
Notes
Helpful Hints
Spend as much time as you need to on the creaming of the butter and sugar. This is what ensures a tight yet melting crumb. Make sure the mixture stays cool–under 70F. If it starts to warm up past that, refrigerate everything for 15 minutes and then cream until the mixture is almost white, very light, and fluffy.
Grease and flour your pan very well, first brushing in a liberal amount of melted Crisco and then adding flour. Tap the pan and angle it all around to be sure to get as full coverage as possible. Bang the excess out into the trashcan. You can also use "pan lube."
Allow your cake to cool for 20-30 minutes in the pan before turning it out onto a rack.
For the moistest cake, wrap the cake completely in plastic wrap while still warm. This will keep excess moisture from evaporating out of the cake.
Glaze is not necessary although it's often appreciated! A simple dusting with powdered sugar could be enough, especially if you're enjoying your lemon pound cake with a cup of tea or coffee.
The cake will keep, covered at room temperature, for a good 5 days. For longer keeping, freeze the whole cake, or freeze individual slices. Wrap in plastic wrap and then put in freezer bags for up to 3 months. Thaw at room temperature. Do not refrigerate the cake as refrigeration encourages staling, and we don't want that.
Nutrition
Serving:
1
g
Calories:
285
kcal
Carbohydrates:
37
g
Protein:
3
g
Fat:
15
g
Saturated Fat:
8
g
Polyunsaturated Fat:
5
g
Cholesterol:
74
mg
Sodium:
156
mg
Fiber:
1
g
Sugar:
23
g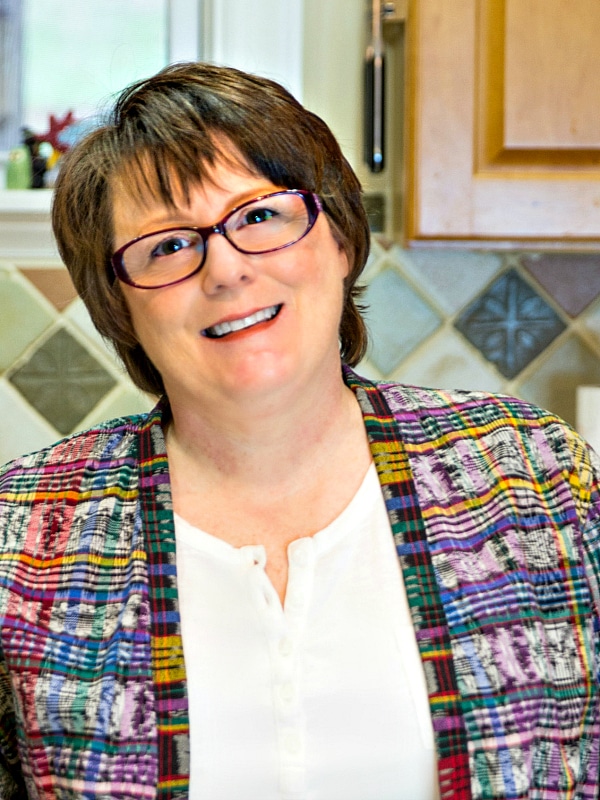 What are my qualifications to teach you baking and pastry? As a former working pastry chef and special educator, I marry my passions for both teaching and for baking into explaining techniques, methods, and developing the best possible recipes. For more info, you can read more about me.
If you'd like to receive new recipes and the occasional newsletter, I'd love for you to sign up for my Inbox Pastry Chef.
So, there you have it. I hope you love this sunshiny lemon pound cake as much as we do!
Thanks so much for watching and reading. I hope you have a lovely day.
See my best lemon Bundt cake recipe web story here.