Hello friends! I have a great appetizer recipe for you today. We're making caraway rye crackers that you will definitely want to pair with my delicious hot Reuben dip (coming soon)!

The crackers are very easy to make and are sturdy enough to hold up to the delicious dip. Serve this crackers and dip combo at your next get together. They're perfect for cooler weather entertaining!

You may also enjoy my spent grain crackers or my saffron crackers.

For ease of browsing, here are all of my appetizer recipes in one place. Thanks for stopping by!
What's So Great About These Crackers
First of all, friends, homemade crackers are easy to make. Just because you can buy them in the store doesn't mean you can't make them at home.
And when it comes to specialty crackers like rye crackers, homemade may be your only option.
Here's what makes these crackers so dang tasty:
The recipe is written in grams, so it is very precise and almost impossible to mess up. Make sure you have a kitchen scale and these will come together in no time.
They only contain 8 ingredients (not including the salt for sprinkling on top)
They are easy to mix: everything goes into the stand mixer at the same time to get mixed and kneaded (and yes, you can use a bread machine for mixing and kneading if you don't have a stand mixer).
This recipe makes a very lot of crackers!
Depending on how thin you roll them, these crackers are either crispy (rolled very thin) or crunchy (if rolled a little less thin).
The caraway and salt make them flavorful enough to eat on their own, but a little Reuben dip never hurt anyone!
How to Make These Guys
The ingredient list is pretty straightforward. You may not have the rye flour or the caraway seeds, but I bet you have almost everything else.
Here's an ingredient list with possible substitutions for you:
rye flour
whole wheat flour
specialty flour such as 7 grain (optional) You can always just make up the difference by only using rye flour and whole wheat flour.
baking powder gives them just a bit of puff so they don't bake up too hard.
warm water
extra virgin olive oil: infused oils are nice and will bring a bit more flavor to your crackers. If you have one of those oil and vinegar stores near you, you'll find many infused olive oils to choose from.
caraway seeds: technically, you can leave out the caraway seeds, but I love the flavor. If you're not a fan, consider subbing in some sesame seeds, nigela seeds, fennel seeds, or even poppy seeds
kosher salt
large flake finishing salt: you can absolutely sprinkle the tops of your crackers with kosher salt, but there are some really wonderful finishing salts out there you might enjoy. Maldon is a wonderful flaky salt from England, or consider sel gris or fleur de sel from France.
Mixing Method
Since everything goes into your mixer at one time, this recipe is made using the "straight dough" method.
Which is just shorthand for everyone into the pool at once.
Couldn't be easier. Mix until combined and then knead for about 10 minutes.
Do be sure to let your dough rest for about an hour to allow the gluten to relax so they are easier to roll out.
This rest also allows the flour to fully hydrate before rolling.
You Have Questions? I Have Answers!
Are these crackers gluten free?
No they aren't. The whole wheat flour contains gluten, and to a lesser extent, rye flour also contains gluten. There is really no way to make a gluten free rye cracker since rye contains gluten.
Are these crackers vegan?
Yes! As written, this cracker recipe is naturally vegan.
What if I don't have rye flour?
To make rye crackers, you really need rye flour, but if you don't have any, you can use 100% whole wheat flour or even a mixture of whole wheat and white flours to replace the amount of rye flour called for.
What if I don't have a pizza cutter?
No worries at all. For rustic crackers, you can just bake full sheets, let them cool, and break them into irregular shapes. You can also cut them out with cutters. I like using a pizza wheel because there is no waste. No need to re-roll scraps.
How do I store my crackers?
In an airtight container, they should be fine at room temperature for 3-5 days. If they start to lose their crispness/crunchiness, you can spread them out on a pan and refresh them in a 350F oven for 1-2 minutes and let cool.
Can I freeze them?
Since the moisture content in crackers is so low, there is no need to freeze them. But you can roll out your sheets of dough and freeze those to bake at your convenience. Well-wrapped, the dough should be fine in the freezer for 3-4 weeks. Bake them from frozen–no need to thaw.
Accompaniments
Of course, you can eat these crackers one after the other like Sandi Duncan used to eat her Wheat Thins, but I also have some recipes that would go well with these guys.
My red sauce, otherwise known as the best sauce to pour over a block of cream cheese, would be happy to sit upon these crackers for a ride up to your mouth.
Also consider making some savory fig jam to spread on the crackers along with some goat cheese. Nobody would be mad about that!
And if you're a Southerner like me, pimento cheese is always an excellent idea. Enjoy!
A Note About Measurements
For convenience, consistency, and accuracy, almost all my recipes are written by weight, either in ounces and/or grams, even the liquids.
I strongly encourage you to purchase a kitchen scale and learn to use it.
This is the one I used for years. I love it and highly recommend it:
Best for Home Use
Escali Primo Digital Food Scale
Don't let its small price and small size fool you. The Escali Primo is an accurate and easy-to-use food scale that I have used for years. It's easy to store, easy to use, has a tare function, and easily switches between grams and ounces/pounds for accurate measurements.
This is an affiliate link which means I earn from qualifying purchases. Your price is unaffected.
Caraway Rye Crackers
These crispy, crunchy caraway rye crackers have bold flavor from the caraway seeds. They're a perfect complement to any cheese, especially a Gruyere, and of course they're wonderful with Reuben dip too!
Ingredients
128

grams

1 cup rye flour

64

grams

1/2 cup whole wheat flour

64

grams

1/2 cup 7 grain flour blend (or just use 128 grams of whole wheat flour)

150

grams

1/2 cup + 2 Tablespoons warm water

22

grams

2 Tablespoons extra virgin olive oil plus more for brushing (I used a blood orange infused oil)

8

grams

1 1/2 Tablespoons caraway seeds

½

teaspoon

baking powder

6

grams

very slightly generous 1 teaspoon kosher salt

Coarse salt for sprinkling

(I used Fleur de Sel)
Instructions
Whisk the salt and baking powder into the flours thoroughly, then combine all the ingredients in the bowl of your stand mixer.

Mix with the paddle attachment on low speed until the ingredients come together.

Switch to the dough hook and knead for about 10 minutes. You will have a firm but slightly sticky dough.

Wrap in plastic wrap and let sit out for an hour or so.

Preheat the oven to 425F.

Divide the dough into thirds. Keep the rest covered while working with each third.

Roll out the first third of dough between 2 sheets of parchment. Get the dough as thin as you can, about 1/16" if you can manage it. You may have to remove the parchment and smooth it out occasionally if it gets wrinkles in it.

Once the dough is as thin as you can get it, brush lightly with another 2 teaspoons of olive oil and sprinkle on just a bit of coarse salt.

Use a pizza wheel or pastry cutter to cut the crackers into your preferred shapes/sizes.

Bake for about 10 minutes, turning the pan once halfway through the baking time.

The crackers are done when they start to turn a bit golden brown and are crisp. Usually the ones on the outsides are done first, so I take them off and let the rest finish baking. It could take anywhere between 8-13 minutes for the crackers to bake thoroughly so watch them like a hawk and be prepared to remove them in waves as they finish baking.

Let the crackers cool on a wire rack.

Repeat the process with the other two pieces of dough.
Did You Make Any Changes?
Notes
Ingredient Substitutions
If you don't like caraway seeds, you may leave them out or substitute with your favorite seeds such as fennel, sesame, nigela, or poppy seeds.
If you don't have a specialty flour such as 7 grain like I used, you can make up the difference in regular whole wheat flour.
Freezing
You can roll out sheets of dough, slice them into whatever shapes you want, and then freeze the sheets for up to 4 weeks. Bake from frozen. They may take a minute or two longer than usual.
Storing
Store in an airtight container for up to five days. If they get a little soft, refresh them in a 350F oven for 1-2 minutes and then let cool completely. They will recrisp nicely.
Nutrition
Serving:
4
crackers
Calories:
30
kcal
Carbohydrates:
5.3
g
Protein:
0.9
g
Fat:
0.7
g
Saturated Fat:
0.1
g
Sodium:
322
mg
Fiber:
1
g
Sugar:
0.1
g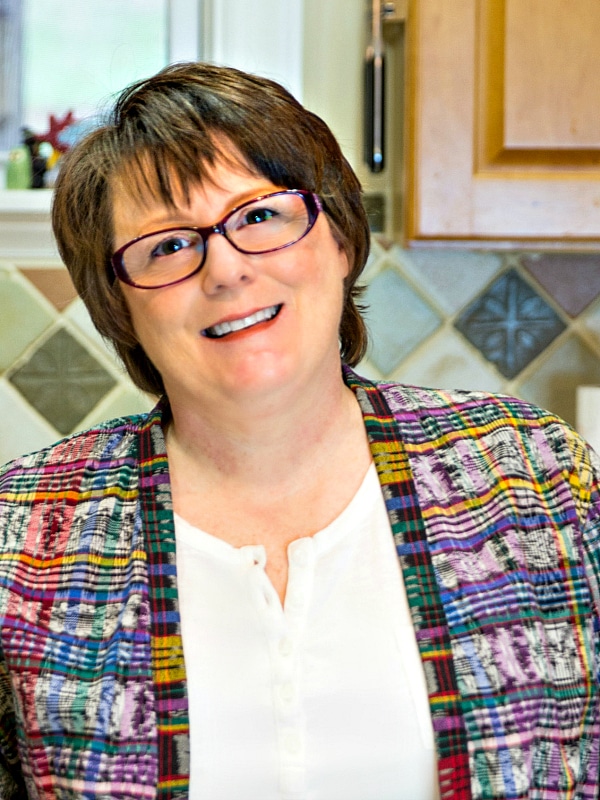 What are my qualifications to teach you baking and pastry? As a former working pastry chef and special educator, I marry my passions for both teaching and for baking into explaining techniques, methods, and developing the best possible recipes. For more info, you can read more about me.
If you'd like to receive new recipes and the occasional newsletter, I'd love for you to sign up for my Inbox Pastry Chef.
And there you have it, friends. Delicious hearty caraway rye crackers that would be at home on any cheese plate.
Thanks for spending some time with me today. Take care, and have a lovely day.