Friends, these brown butter toffee chocolate chip cookies are Something Else! With the butterscotch notes of browned butter and dark brown sugar, the mix of chocolate and toffee chips, and the sprinkling of salt on the top, these cookies truly sing.

I will show you how to make them as well as offer some variations for mixins and even for flavoring the dough.

For your cookie-eating pleasure, you may also enjoy my chocolate-chocolate chip shortbread cookies.

And for ease of browsing, you can find all my cookie and bar recipes here. Thanks so much for visiting!
Watch my best brown butter chocolate chip recipe web story here.
Why You Have to Make These Cookies
These are cookies with Dimension.
They are crisp on the edges and chewy in the center.
The dough is nice and butterscotchy, thanks to the browned butter.
The touch of espresso powder in the dough doesn't read as "coffee," but it brings a bit of depth to the cookie.
The mix of toffee chips and dark chocolate chips yields a nice balance of sweet, crunchy, creamy, and slightly bitter.
A judicious amount of finishing salt adds a bit of sparkle on the tongue.
These truly are the best brown butter chocolate chip cookies ever.
How to Make Brown Butter Toffee Chocolate Chip Cookies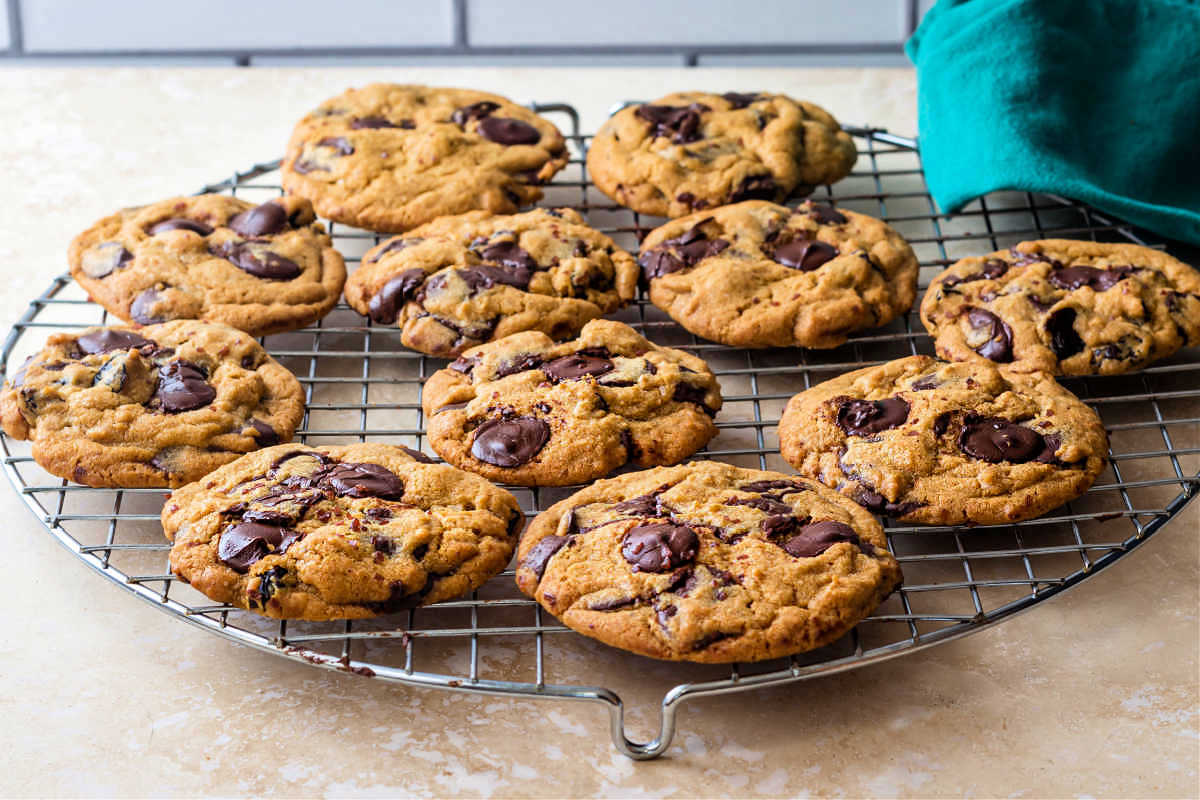 The first step to making these cookies is to make browned butter.
It's not hard to make.
And for even more browned butter flavor, add a heaping teaspoon of powdered milk to the butter. Those milk solids will also brown and give you even more flavor!
Ingredients and Substitutions
brown butter: You can skip the browning step, but you'll be missing out on that deeper flavor and chewier texture. Make it extra "brown" by adding a spoonful of powdered milk to the butter when it's browning. You can use salted or unsalted butter. If using salted, you may need to adjust the amount of additional salt. NOTE: To make a gooey-er cookie, add 1 oz whole (not browned) butter to the recipe
sugar: regular granulated. You could use a sugar substitute here like Locanto or Swerve.
brown sugar: I like dark brown sugar. This would also be a great place to use coconut sugar, both for the color and for the caramel notes.
salt: Even if you're using salted butter, you'll want some extra salt. It brings out so much flavor in the rest of the ingredients. It also will counteract any bitterness from the espresso powder.
egg: 1 large egg. You could also use a flax egg here: 1 Tablespoon ground flax to 3 Tablespoons water
espresso powder: Or instant coffee. If your instant coffee has large crystals, you can crush it to a powder with the back of a measuring spoon. For overkill, use a mortar and pestle! You can also substitute just a touch of cocoa powder. 1-1 1/2 teaspoons. You're just looking for a little extra depth of flavor in the base.
vanilla: Helps to round out all the flavors.
bread flour: Lends to the chewiness of the cookie. If you want a less chewy cookie, use the same amount of all-purpose flour
baking powder: Adds a little puff–not much, but it does give the cookies the merest bit of lift.
baking soda: Counteracts the acidity of the molasses in the dark brown sugar and assists in browning
dark chocolate chips: For bittersweet chocolate flavor. Use good quality chips or a chopped dark chocolate bar.
toffee chips: provides milky sweetness and extra brown butter-butterscotchy goodness.
finishing salt: provides a little "sparkle" both to the eye and on the tongue. I use Hawaiian Alaea sea salt. Maldon would be a nice addition instead. For a bit of a smoky note, use a smoked salt.
Procedure
Like most cookies made with The Creaming Method, this is a very straightforward recipe.
You do have to remember to brown the butter and then give it time to resolidify, but you can brown the butter up to a week or two in advance and be ready to go:
Here's the rundown:
Brown the butter.
Cream solid browned butter, sugars, salt, and flavorings.
Beat in the egg.
Whisk dry ingredients together and mix into the dough.
Add the mix-ins.
Chill for an hour and up to 48 hours.
Portion, top with extra chips and finishing salt, and bake.
Recommended Equipment
You can make this cookie dough with a stand mixer or a hand mixer. And if you're patient, you can even do it with a wooden spoon and a bowl.
I am not that patient!
Bake on rimmed baking sheets lined with a piece of parchment. Although you can use Silpat, my preference is parchment for cookie baking.
If you have cookie sheets with no rim, they will take slightly less time to bake.
I weighed my dough with my kitchen scale and divided by 18 to get evenly sized cookies. Each portion of dough weighed about 1.2 oz.
You can also use a cookie scoop to get even cookies.
Variations
The beauty of this kind of cookie is that you can switch up the flavors by altering your mix-ins and by using different flavorings in your dough.
Here are some variations that will work beautifully:
Cherry Chocolate Chip Cookies: Add 1/4 teaspoon almond extract to the dough. Use 2 oz dried cherries and 4 oz dark chocolate chips for the mix-ins
Orange Toffee Chip Cookies: Add the zest of 1 orange to the dough
Chocolate Chocolate Chip Cookies: Add 3 Tablespoons cocoa powder to the dough and decrease the bread flour to 4.5 oz. Use a mixture of white and dark chocolate chips
Espresso Chocolate Chip Cookies: Increase the amount of espresso powder in the dough to 1 Tablespoon (or more, to taste)
Visual How-To
Note that for this particular batch of dough in these video clips, I used 1 teaspoon of cocoa powder rather than 1 teaspoon of espresso powder. That is why the dough is a bit darker in color than the cookies you see in the photos.
I also used a mixture of dried cherries and dark chocolate chips.
Here's what your dough will look like after you add the egg but before you add in the dry ingredients. It should be nice and creamy and uniform in texture.
Taking the time to pack the dough into a bowl and refrigerate it for at least an hour or up to two days allows the flour to fully hydrate and all the flavors to blend together.
You don't have to do it if you truly don't have the time, but it's a good chance to catch up on some Netflix.
For added eye appeal as well as extra flavor, add additional chocolate chips (and in this case, dried cherries since that's what I put in mine) to the top of your dough balls before baking. This is also when you'll add a tiny sprinkle of finishing salt.
And I just wanted to show you an unedited clip of the finished brown butter cookies. Because they are beautiful.
Tips for Success
Brown the butter up to a couple of weeks in advance. For extra flavor, add a heaping teaspoon of dried milk powder to the butter so it will brown also.
For crisper cookies, use just the brown butter and bake for 18-19 minutes. For chewier, gooier cookies, add an additional 2 tablespoons of "regular" butter and bake for about 16 minutes.
Ripening the dough in the fridge for at least an hour helps to fully hydrate the flour and deepen the flavors. You can refrigerate the dough for up to 48 hours.
Brown Butter Chocolate Chip Cookie Q & A
Can I bake these from frozen?
Yes. Portion out the dough, add the additional chips and salt to the top, and the freeze on cookie sheets. When frozen solid, pop them all in a freezer bag. Bake at 325F until done. They will take an extra few minutes to bake, but then you will have fresh cookies whenever you want.
Can I make these gluten-free?
Yes. Use your favorite cup for cup gluten-free flour blend in place of the bread flour. My friend Jane also has her own gluten-free flour mix that works well if you're interested in checking that out.
Can I use other flours?
Yes. You can substitute all-purpose flour for the bread flour. You can also use part whole wheat flour for a portion of the bread flour. 2.5 oz each would work well.
How long will they keep?
Store them in an airtight container at room temperature for up to 5 days. For longer storage, freeze in an air-tight freezer container or freezer bag for up to 3 months.
Serving Suggestions
Obviously, you can eat these cookies as is, or dunk them in milk.
But they would also make great cookies for ice cream sandwiches. My French vanilla ice cream recipe would be excellent sandwiched between these discs of toffee brown butter goodness. Another option would be nutty, buttery buttermilk pecan ice cream.
Use them as the base for an ice cream sundae by heating them in the microwave, scooping on your favorite ice cream, storebought or homemade, and drizzling with hot fudge sauce or butterscotch sauce.
And don't forget the whipped cream on top.
If you're interested in a full-on chocolate cookie, you may want to check out my soft chocolate cookies. They are Very Chocolatey and tasty!
More Really Great Cookie Recipes
Sometimes just a slight tweak to a recipe, say from using whole butter to browned butter, and really make all the difference when it comes to flavor and texture.
If you'd like to explore more brown butter cookie recipes, check out my peanut butter cookies or my pecan sandies recipes.
Both cookies take a cookie jar staple and elevate them to something really special with the use of brown butter.
And for pure, old-fashioned goodness, it's hard to beat my soft chewy sugar cookies and snickerdoodles.
Questions
For convenience, consistency, and accuracy, almost all my recipes are written by weight, either in ounces and/or grams, even the liquids.
I strongly encourage you to purchase a kitchen scale and learn to use it.
This is the one I used for years. I love it and highly recommend it:
Best for Home Use
Escali Primo Digital Food Scale
Don't let its small price and small size fool you. The Escali Primo is an accurate and easy-to-use food scale that I have used for years. It's easy to store, easy to use, has a tare function, and easily switches between grams and ounces/pounds for accurate measurements.
This is an affiliate link which means I earn from qualifying purchases. Your price is unaffected.
It would be so helpful to me and to other readers that, when you make a recipe, you rate it and leave a comment. Whether it's a recipe or an informational post, your feedback helps others decide if the post is helpful or if the recipe works as advertised.

If you could leave a star rating, that would be very helpful. Thank you for being here!
Brown Butter Toffee Chocolate Chip Cookies
These brown butter toffee chocolate chip cookies are a finely tuned, well balanced cookie. Crispy on the outside, chewy on the inside. For me, it is perfect.
Ingredients
1

stick butter

browned and chilled

2.5

oz

dark brown sugar

2.5

oz

granulated sugar

1

teaspoon

espresso powder

1

teaspoon

vanilla extract

½

teaspoon

kosher salt

1

large egg

5

oz

bread flour

¼

teaspoon

baking powder

¼

teaspoon

baking soda

3

oz

toffee chips or chopped chocolate-covered toffee candy bar

3

oz

dark chocolate chips or chopped dark chocolate bar
To Finish Before Baking
extra chocolate chips and/or chopped toffee pieces

flaky finishing salt
Instructions
Cream the butter until smooth.

Add the sugars, espresso powder, vanilla, and salt and mix on low speed until creamy.

Mix in the egg until thoroughly combined, scraping the bowl as necessary.

Whisk together the flour, baking soda, and baking powder, and dump into the mixer while it is off.

Turn the mixer on low and mix until just combined. Scrape the bowl.

Remove the bowl from the mixer, scrape the beater and make sure most of it gets back into the bowl.

Dump in the chopped chocolate and chocolate chips (or whatever combination of mix-ins you are using) and stir/fold them in with a sturdy spatula or wooden spoon.

Pack the dough into a container and cover the surface with plastic wrap.

Refrigerate for at least an hour or up to 24 hours. I could only stand to wait for 3 hours, just in case you were wondering.

About 30 minutes prior to baking, preheat the oven to 325F (350F for cookies that spread a bit less and brown a bit more). Set racks in the top and bottom thirds of the oven.

Line your baking sheets with parchment paper.

Portion your dough into 18 pieces, each about 1.2-1.4 oz. Roll into rough balls.

Press a few chocolate chips and/or toffee pieces on top, pressing down to flatten the dough balls into rough discs.

Sprinkle each with a tiny bit of finishing salt.

Bake for 10 minutes.

Switch the pans from top to bottom and from front to back, and if baking at 325, bake an additional 6 minutes for chewier cookies and 9 minutes for crunchy cookies. If baking at 350F, an additional 6 minutes should be all you need.

Remove to a rack. Let cookies set up on the sheet for 3 minutes before removing them to a rack to cool for as long as you can stand it.
Did You Make Any Changes?
Notes
Store cookies at room temperature for up to 5 days. For longer storage, freeze airtight for up to 3 months. Take a cookie or 3 out as needed and warm in the microwave for 5-7 seconds.
VARIATIONS
Leave out the toffee chips and use 2 oz dried cherries and 4 oz dark chocolate chips. Add 1/4 teaspoon almond extract to the dough.
Add the zest of 1 orange to the dough.
Add 3 Tablespoons cocoa powder to the dough. Reduce the bread flour to 4.5 oz, and use a mixture of white chocolate chips and dark chocolate chips. Or dried cherries and white chocolate chips.
Increase the espresso powder to 1 Tablespoon (or more) for espresso toffee chip cookies.
Nutrition
Serving:
1
g
Calories:
185
kcal
Carbohydrates:
22.6
g
Protein:
2
g
Fat:
9.9
g
Saturated Fat:
6.1
g
Polyunsaturated Fat:
4
g
Cholesterol:
27
mg
Sodium:
152
mg
Fiber:
0.6
g
Sugar:
15.7
g
Thanks for reading and spending some time with me today. Have a lovely day.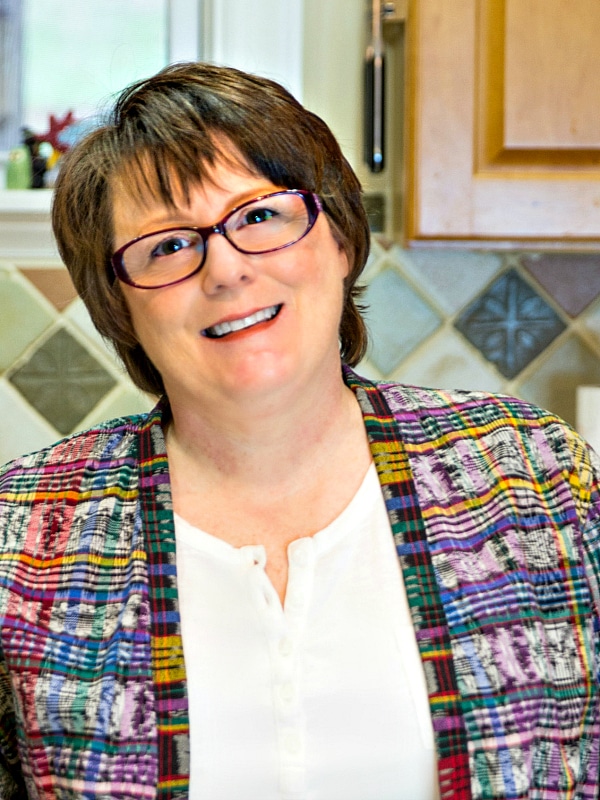 What are my qualifications to teach you baking and pastry? As a former working pastry chef and special educator, I marry my passions for both teaching and for baking into explaining techniques, methods, and developing the best possible recipes. For more info, you can read more about me.
If you'd like to receive new recipes and the occasional newsletter, I'd love for you to sign up for my Inbox Pastry Chef.
Watch my brown butter toffee chocolate chip cookie web story here.