There were two cafeterias in our high school. One was the meat and vegetable "standard" high school cafeteria of the early 1980's, complete with plump, mostly pleasant, hairnetted lunch ladies serving up homemade green beans and corn bread, meatloaf and chicken. The other was the fast food cafeteria. Burgers and dogs and pizza, oh my. All with a side of fries with nary an actual vegetable in sight, unless you counted the fries and the ketchup.
Guess which cafeteria I ate in?
If you guessed the traditional cafeteria, you are wrong. I wanted nothing to do with the vegetables, and pizza and fries for lunch every day for two hundred school days a year sounded like heaven to me. I used to tear off a tiny corner of my ketchup pack and paint a stripe down the center of each of my limp fries. I was odd that way. Or meticulous, depending on how you look at it.
Even when I taught school as recently as ten years ago, I was a huge but secret fan of the school pizza. The only thing about it that was Italian was the name. I think it's pretty much just a cheeseburger in pizza form: ground beef, cheddar and fake mozzarella on a foldable crust, but there's just something about it. Something near and dear to my fast food cafeteria-loving heart about school pizza.
Once I left education though, I never pined for school pizza. I honestly never really even thought about school pizza until last week.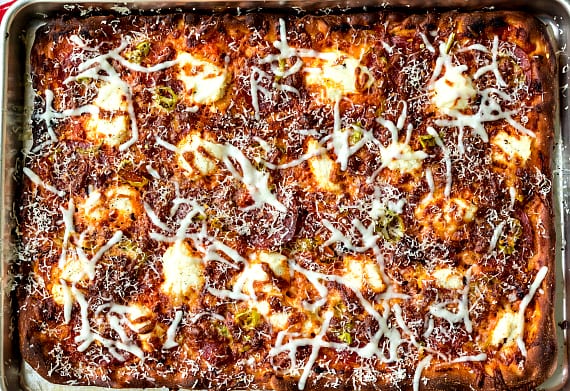 The Beloved and I went out for lunch at our favorite local Italian place last Saturday. I ordered the tortellacci: meal-filled tortellini on steroids swimming in vodka sauce. I decided there and then that I'd save as much of that luscious salmon-hued sauce as I could so I could make another dish with the leftovers. When our server stopped by to ask if we needed boxes, I explained my plan. He told me that they have a pizza they sell on weekends called the "Grandmother's Pizza" that uses vodka sauce instead of pizza sauce along with ricotta cheese. I didn't hear anything else he said because I had lapsed into a fugue state dreaming of using vodka sauce on pizza.
When we got home, I posted to facebook about the magic of the vodka sauce grandma pie recipe, and a couple of friends said that their local Italian places served one too. Coincidence? Or psychic phenomenon? I hied myself over to The Google to ask it about grandma pizza, and I found quite a few references to it, including this article about grandma pizza from Bon Appetit from October of 2014, What's a Grandma Pie? And Where Can You Find One? From that article, I learned that grandma pizza most likely got its start on Long Island and that it's very difficult to find it outside the region. How, then, did our local Italian place end up serving it? Easy. La Piazza is owned by a New York Italian family. Next time I go back, I'll ask them if they're also from Long Island. I bet the answer will be yes. (PS If you click the La Piazza link to check them out, be aware each page has music on autoplay. Be prepared to hit pause as soon as you can, unless you are a fan of autoplay music.)
Grandma pizza topography
I also found this great article by Food Dude Extraordinaire David Rosengarten from August of 2013 that traces the history of grandma pizza and its movement from Long Island and out into The City over the last fifteen or so years: Za-Za-Zoom: The "Grandma Pizza" Forges Ahead in New York.
Here's a quote from the article that made me well up:
"Yeah, we make Grandma Pizza," he told me. "But not all the time. Sometimes the spirit of my dad walks in, and we make it." –Stephen Vanacore, owner of Mimi's on 84th St.
The basic rules seem to be: thinner than a Sicilian pizza but made in a pan liberally spread with olive oil, not a ton of toppings, usually a fresh, uncooked or quickly cooked sauce. 
My version of vodka sauce grandma pie hits two of those three criteria since the vodka sauce is cooked for a very long time. Still, the overall impression is lighter since the crust is thin but crispy on the bottom and still a little chewy on the top and it doesn't have a ton of toppings.
When I posted a photo of the pizza I made on instagram, my friend Viviane from Chocolate Chilli Mango commented that I had made "pizza a taglio," or pizza by the slice, the kind that one might purchase as a street food snack while strolling along the streets of Italy. She said that Grandma pizza,  or "Nonna's Pizza" must be an American thing, because as an Italian, she had never heard of it. It could be that Italian grandmothers who came to the US, and specifically to New York, pioneered this uniquely Italian American hybrid pie, Sicilian but with a faster rise. Maybe we'll never know, and that's fine, because wherever it came from, this style of pie is delicious. The crust has a whole different feel to it than pizza baked on a hot stone because the bottom essentially fries in the olive oil. Instead of getting some char on it like a stone-baked pizza, the grandma pie's crust is a gorgeous, crisp golden brown.
You can tell that I should have done a bit better job at popping the bubbles when the crust rose up off the pan. Still, most of the crust is the gorgeous, golden brown I was looking for.
What's the connection between vodka sauce grandma pie–or any grandma pie, really–and school pizza? There may be no real connection. The only similarities might be that they are both baked in sheet pans and are cut into rectangles. But I like to think what happened was that a few Italian grandmothers got jobs in school cafeterias, and the rest is history.
Why not whip up a few rounds of dough and be ready to make vodka sauce grandma's pizza (or homemade school pizza, for that matter) whenever you want? The great thing is that you can use your favorite pizza dough recipe. Just make sure that once you stretch and top the dough that you only let it rise for maybe fifteen minutes, or maybe not at all before baking.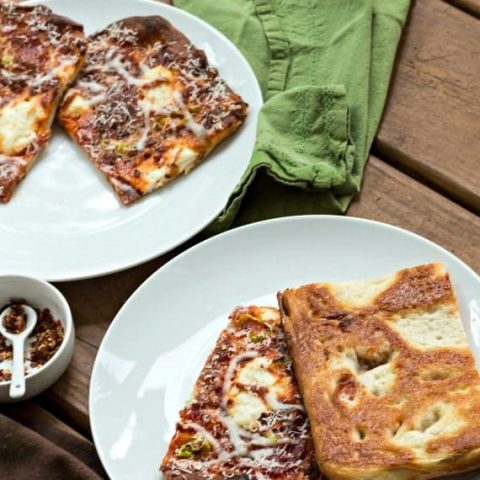 Vodka Sauce Grandma Pizza Recipe
My new favorite pizza dough, even more favorite than Peter Reinhart's pizza dough, is the one from Revolutionary Pizza by Dimitri Syrkin-Nikolau, owner of Dimo's Pizza in Chicago. I just love it. If you haven't tried it, you really should. But please feel free to use your favorite pizza recipe and your favorite toppings.
Ingredients
For the Dough (makes enough for two round pizzas or grandma's pies baked in half sheet pans (approximately 12" x 18")
8.5 oz (1 cup, 1 Tablespoon) cold water
2 teaspoons fine sea salt
2 Tablespoons sugar
2 teaspoons active dry yeast
1 Tablespoon extra virgin olive oil
14.8 oz (3 1/2 cups) bread flour (I used half King Arthur bread flour and half 00 flour)
For rising
5-6 Tablespoons olive oil
Toppings to Make Your Pizza Just Like Mine
1 cup vodka sauce
1 cup ricotta cheese
1 1/2 cups shredded mozzarella, (from a block--not pre-shredded)
16-20 slices Genoa salami
4-5 pepperoncini, , thinly sliced and squeezed so they're not too wet
To Finish (all optional)
coarse sea salt
freshly ground black pepper
Italian herbs, , fresh or dried
hot pepper flakes
finely grated Parmesan cheese, , about 4 tablespoons
Instructions
For the Dough
Whisk together the water, salt, sugar and yeast in your mixer bowl.
Whisk in the oil and then add the flour all at once.
Mix on low speed until the dough comes together and then knead on medium-low speed until the dough is soft, smooth and elastic, about ten minutes. It should pass the windowpane test. If it doesn't, let it rest, covered, for twenty minutes, knead another 2-3 minutes and test again.
Once the dough is beautiful, cut it into two equal pieces.
Knead each piece by hand just to get rid of any air bubbles and then shape into taut rounds. Refrigerate or freeze one round for later use.
Spread the 5-6 Tablespoons of olive oil onto a clean half-sheet tray. You won't need Silpat or parchment, just put it straight on the tray.
Plop the dough round down on the pan and cover the whole thing with plastic wrap.
Let the dough proof at least two hours and up to five hours.
Preheat your oven to 500F about an hour before baking. Place a rack on the lowest setting and set a baking stone on top of the rack.
To Assemble and Bake
Remove the plastic wrap and gently stretch out your dough to fit the pan. It should stretch easily. Press down the center keeping the edges a bit thicker. Keep at it until it fits perfectly (ish) in the pan. If it seems to be bouncing back too much, let it rest 10 minutes and then stretch it some more.
Spread the vodka sauce evenly over the dough to about 1/2" from the edges all the way around. (I used a small offset spatula.)
Top with all the toppings. You can put the cheeses on first or the meat and pepperoncini--however you like.
Let rest for about ten minutes and then bake for about 20 minutes or until the crust is a beautiful burnished golden brown and the underside of the crust is crisp golden brown. If the crust bubbles up during baking (mine did a few times), just stab the bubbles with a knife.
Remove the pizza from the oven and set the pan on a rack to cool a bit. Top with any--or none--of the optional finishes and as soon as you know it's cool enough not to burn your mouth, dig in.
I hope you enjoy the vodka sauce grandma pizza recipe, and please remember it's a style of pizza, not a recipe writ on stone tablets. Use your favorite toppings and make it your own. I plan to do just that as I made enough dough the other day to make 3 more pizzas.
How will you make your grandma pizza? Let me know in the comments!
Thanks so much for taking the time to read today. Have a lovely day.