Creme Brulee Stout Ice Cream is awesome. Pretty much all beer ice cream is awesome. I really hope you love my version!
Don't miss my round up of all my ice cream recipes.
Today I bring you a minimalist Tuesday. Usually my ice creams have a base, a swirl and a mix-in, because in my brain, that's what makes it a Tuesday.
A few weeks ago when The Beloved and I were up at Lafayette Village, we stopped in the new craft beer shop/bar, Crafty Beer Shop, to check it out and pick up a few bottles. The Beloved was looking for hoppy, refreshing beer. I was looking for something to turn into ice cream, and we both came away winners.


Once I spied the bottle of Southern Tier's Crème Brûlée Stout, I stopped looking. A beer named for a dessert? Of course it would be great in ice cream. I brought it home, put it in the outside refrigerator, and promptly forgot about it.
As you may know, I was on a quick trip out of town Saturday to Sunday to deliver the communion bread to my friend Nadine, and of course I was behind on creating tasty items. I rummaged about to see what I could make that didn't require a run to the store (gee, this sounds a lot like last week's Tuesday) and found the beer. Huzzah!
I am very particular about the beer I drink. I want them to be refreshing and balanced. I do like a bit more malt than hop, and I love the creamy mouthfeel of a beer with lactose in it. I don't always find all of those qualities in a single beer, but those are the sorts of characteristics I gravitate toward.
This beer is super malty, very sweet, almost a bit syrupy in mouthfeel and extremely (painfully?) vanilla-forward. It is a very singular beer that smells like sweet vanilla extract and has a high enough alcohol content (9.5%abv) to make it a sipping beer. I would almost suggest allowing it to approach room temperature and sipping it like brandy. This is not a beer I'd just sit down and drink after mowing the yard.

I know that many folks really appreciate this particular beer, and let me just say that I appreciate it too. In ice cream.
It makes a damn fine ice cream. The sweet maltiness let me add less sugar to the base. Its vanilla characteristics eliminated the need for any additional vanilla or steeping of vanilla beans. I reduced it by 25% to more or less eliminate most of the alcohol and to up the bitterness just a bit to act as a foil against all the sweet. A starch thickened base of milk and half and half is lean enough to accommodate six egg yolks without becoming too rich to eat.

The resulting ice cream is pretty phenomenal, if I do say so myself. Caramel notes so prevalent in stout work perfectly in the creamy base. The bitterness mimics the burnt sugar that would normally crown a crème brûlée. As a matter of fact, I almost broiled some sugar to break up and mix in to the base, but that was before I tasted the base and realized it didn't need it. Adding broiled sugar would have put the ice cream over the top in both bitterness and sweetness. Sometimes less is more, and I am proud of myself for editing and going with a more minimal ice cream.
If you are a fan of dark, malty stout and are also a fan of ice cream, I hope you give this crème brûlée stout ice cream a shot. It's delicious as is, but it would also make a mean milkshake or be amazing topped with some hot fudge or stout toffee sauce. Enjoy!
Creme Brulee Stout Ice Cream
This recipe makes about 1 1/2 quarts of ice cream.
Ingredients
16

oz

2 cups creme brulee beer (I used Southern Tier. Any vanilla stout or porter should work nicely)

16

oz

2 cups half and half

8

oz

1 cup whole milk

8

oz

1 slightly generous cup granulated sugar

6

large egg yolks

4

Tablespoons

corn starch

1

oz

by weight malted milk powder (optional, but it ups the "beeriness" of the ice cream)

5

grams

ever so slightly generous 1/2 teaspoon kosher salt
Instructions
Over medium low heat, reduce the beer to 12 ounces. (This could take awhile, but if you boil it too hard, it can get overly bitter.) Set aside.

Combine the rest of the ingredients in a sauce pan. Whisk very well to combine.

Heat over medium high heat, stirring/whisking constantly, until the mixture comes to a boil.

Allow it to boil for about 10-15 seconds, again whisking constantly.

Remove from the heat and strain through a fine mesh strainer into a large metal bowl set in an ice bath. The mixture will be very thick, so you will have to press it through with a spatula.

Pour in the reserved beer and whisk until smoothly combined.

Chill in the ice bath, stirring occasionally, until cool. Then press plastic wrap directly on the surface of the custard and refrigerate until no warmer than 40F.

Churn according to manufacturer's instructions and scoop into a container.

Press plastic wrap directly on the surface and freeze until firm.

This ice cream freezes fairly firmly, so expect to let it sit out for 5 minutes or so before scooping and enjoying.
Did You Make Any Changes?
Nutrition
Serving:
1
g
Calories:
357
kcal
Carbohydrates:
31
g
Protein:
12
g
Fat:
6
g
Saturated Fat:
3
g
Polyunsaturated Fat:
3
g
Cholesterol:
123
mg
Sodium:
384
mg
Sugar:
12
g
I hope you have enjoyed this week's Tuesday. Crème Brûlée Stout Ice Cream, even without the swirls and mix-ins.

Before I go, two other buddies have made their own Tuesdays this week. Let me show you!
The lovely Kirsten from Comfortably Domestic made this absolutely gorgeous Strawberry Colada Frozen Yogurt.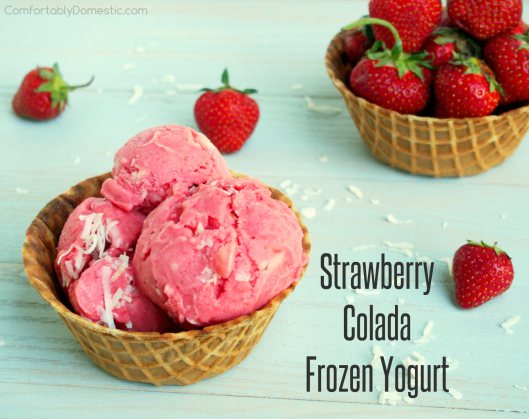 And my friend Stacy from Food Lust, People Love made Coffee Ice Cream from Passion for Coffee (and there are two more days left to enter her giveaway for a copy of that book. I'm in love with that book, by the way. Remember that Cafe Bomba?) Go see, and enter through July 17!

What are you waiting for?
Thank you for spending some time with me and my friends today. Have a lovely day.