Disclosure: I was given a copy of OATrageous Oatmeals: Delicious & Surprising Plant-Based Dishes From This Humble, Heart-Healthy Grain
by the lovely folks at Page Street Publishing. Thanks, guys! All links to the book on Amazon are affiliate links. I also am friends with the author and we hang out frequently. Plus one of my very own recipes is in the book. Keen!
Another great plant based recipe to try is my Mexican pasta salad with green goddess dressing.
For ease of browsing, here are all of my Vegetarian recipes in one place. Thanks for stopping by!
Friends, I served Kathy Hester dinner. I know Kathy Hester. Kathy Hester is a friend of mine. And I am no Kathy Hester. She thinks way more outside the box–or the cardboard cylinder–than I do.
OATrageous Oatmeals Review
When I heard about her idea for an Oatmeal book, I was all "Well, that's interesting, but I can totally add different nuts and fruits to my oatmeal without a book, thankyouverymuch. But wow, folks, did she show me. Let me start by giving you just a sampling of the recipes from each chapter.
Recipes from Each Chapter
Do It Yourself Homemade Staples: Steel-Cut Oat Sausage Crumbles, Easy Oat Milk Yogurt, Pepperoni Crumbles, Guilt-Free Stevia Chocolate Syrup
Warming Oats for Fall and Winter: Gluten-Free Lemon Blueberry Belgian Waffles, Pumpkin Coffee Cake Oatmeal, Butternut Squash Maple Walnut Scones, Jenni's Spar for the Spurtle, Over-the-Top Oatmeal (!!!)
Cooling Breakfast Oats for Spring and Summer: Blackberry Mojito Overnight Refrigerator Oats (no yogurt), Carrot Cake Smoothie, Chai-Spiced Oat Shake
Granolas and Bars for Breakfast and Beyond: Bourbon-Scented Pecan Granola, Curry Cashew Savory Granola, No-Bake Cardamom Cherry Granola Bars
Satisfying Soups and Stews: Mushroom Ginger Congee, Slow Cooker Creole Red Bean Quinoa Oat Groats, Scottish-Inspired Mushroom Lentil Stew, Chickpea Veggie Soup
Savory Oats for Lunch and Dinner: Eggplant Pizza Sliders, Tempeh Oat Brussels Sprout Scramble, Potato Gnocchi, No-Knead Multigrain Pizza Crust
Delightful Desserts: Gingerbread Pear Crumble, Mini Raspberry Cakes, Chocolate Orange Pudding
Drinks, Oat Milk and Even an Oat Liquor: Oat-chata, Vegan Cream Liqueur, Coconut Oat Vanilla Nut Creamer, Hot Chocolate Mix
Beyond the Dining Room: Other Uses for Oats: Oatmeal Cookie Scrub, Calm Pup Cookies (Dog Treats!), Catnip Kitty Treats (and you can almost never find homemade kitty treat recipes!)
The recipes that have links will take you to the recipe and other folks' reviews of Kathy's book.
At this point, you are thinking either one of two things. 1) That Kathy is a genius! or 2) That Kathy is crazy!
As I said, I was a bit on the skeptical side about some of the recipes to begin with, so if you are falling into the latter camp, let me just remind you of a couple of things:
Oatmeal is a thickener and has a great, creamy mouthfeel
Steel-cut oats are nutty and kind of chewy
Oatmeal has a very subtle flavor and absorbs other flavors really well
The thickening property of oatmeal is used to great advantage in recipes like the coffee creamer, the cream liqueur and the hot chocolate mix. I can tell you first-hand that the lovely steel-cut oats in the veggie oat taco mince really did mimic the texture of ground meat. Ditto with the flavor absorption.
I am sold, y'all. Kathy is a very creative cook. Her recipes are really accessible. She does something that I need to learn to do: She writes short recipes with concise instructions that are very easy to follow. Not all of the ingredient lists are short, although many are, but she breaks down the instructions into just a few clearly defined steps. Read a Kathy recipe and come away knowing that you can make it, and make it well.
Veggie Oat Taco Mince
You guys know that The Beloved and I are not vegan, but our eyes have really been opened to the wide array of vegan foods out there. Some are no-brainers like gazpacho or salad, but we've also had some really inventive vegan food that is filling and delicious. Last night as we were eating our tacos, which we inhaled by the way, we both were amazed at the texture and flavor of the veggie oat taco mince. I would absolutely make it again. Not only is it lovely–sort of Christmasy with its bright red kidney beans and vibrant green kale and cilantro–but it is also hearty and flavorful and very, very more-ish.
Here's how to make the taco mince. You will definitely want to make some. Kathy says the recipe makes enough for 8 tacos. For ease of browsing, here are all of my Vegetarian recipes.
Veggie Oat Taco Mince |OATrageous Oatmeals Review
Veggie Oat Tacos from Kathy Hester's cookbook: OATrageous Oatmeals: Delicious & Surprising Plant-Based Dishes From This Humble, Heart-Healthy Grain. Printed with permission of Page Street Publishing Veggie Oat Tacos are made from steel-cut oats. They mimic the mouthfeel of vegan crumbles while being completely free of processed ingredients. They also add heartiness to the veggie and bean mixture. This is the perfect way to sneak in some veggies for the picky eaters in your house. My picky eater, Cheryl, loves this!
Ingredients
1

cup

237 ml water

¼

cup

20 g steel-cut oats

¼

cup

27.5 g minced carrots

1

tablespoon

15 ml olive oil (*or use water to make no oil added)

½

small onion

minced (about 1/4 cup [50 g])

¼

cup

37 g minced green pepper

2

cloves

garlic

minced

1

teaspoon

chili powder

1

teaspoon

dried oregano

1

teaspoon

cumin

1

14 oz [500 ml] can kidney beans, drained and rinsed

1

tablespoon

15 g chopped green chilies

1

cup

67 g minced kale (or other green)

juice of 1/2 a lime

2

tablespoons

2g to 1/4 cup (4 g)

cilantro

to taste

salt

to taste
Instructions
In a saucepan, bring the water, oats and carrots to a boil, then turn the heat to low. Cook for 15 to 20 minutes or until the steel-cut oats are cooked through but still chewy. While the oats are cooking, heat the olive oil in a large saute pan over medium heat. Add the onion and saute until translucent, then add the green pepper, garlic and spices and cook for another 2 minutes.

Once the oat mixture is cooked, add it to the saute pan and mix the oats in with the veggies. You want to keep cooking until the oats dry out some and begin to separate. Keep cooking until it starts to look like crumbles.

Mix in the kidney beans, green chilies and kale. Cook until the kidney beans are thoroughly heated.

Right before serving, add the lime juice, cilantro and salt. Serve in hard or soft taco shells, or in burritos. They are also amazing on top of nachos.
Did You Make Any Changes?
I didn't make this a completely vegan meal because I did serve the tacos with a bit of sour cream, but I didn't add cheese which I normally would do. And you know what? I seriously didn't even miss it. Neither did The Beloved. Good stuff, friends.
It would be so helpful to me and to other readers that, when you make a recipe, you rate it and leave a comment. Whether it's a recipe or an informational post, your feedback helps others decide if the post is helpful or if the recipe works as advertised.

If you could leave a star rating, that would be very helpful. Thank you for being here!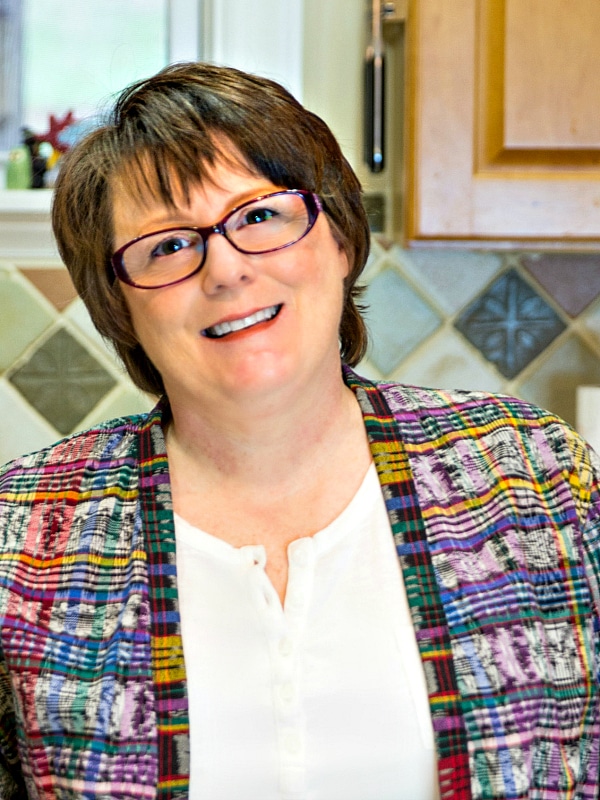 What are my qualifications to teach you baking and pastry? As a former working pastry chef and special educator, I marry my passions for both teaching and for baking into explaining techniques, methods, and developing the best possible recipes. For more info, you can read more about me.
If you'd like to receive new recipes and the occasional newsletter, I'd love for you to sign up for my Inbox Pastry Chef.
Thanks for spending some time with me today. I appreciate it. Have a lovely day!