These soft and warmly spiced chewy ginger cookies are a bit different than the usual. Aside from sugar, they're sweetened with both molasses and honey. Cutting back on the molasses allows for more of the spice flavor to shine through.

Spiced with ginger, pumpkin spice, cardamom, and black pepper and accented with minced crystallized ginger, these cookies have a lovely, old-fashioned crackled top and big flavor that begs for a cup of coffee, tea, or a glass of milk.

If you're a fan of ginger-spiced baked goods, you may also want to take a look at my ginger lime wedding cookies.

For ease of browsing, you can find all my cookie and bar cookie recipes in the same place. Thanks for being here. Now, let's get on with these ginger cookies, shall we?
See my best ginger cookies recipe web story here.
Why You Need to Make These Cookies
These cookies are for fans of chewy spice cookies that aren't too molasses-y.
Since they have a mixture of molasses and honey in them, they are a bit more approachable, and the cardamom is really lovely with the honey.
If you love a chewy cookie, you'll really enjoy these. They're soft and bendy and have a satisfying chew thanks to the addition of some bread flour, not to mention the molasses and honey.
Also, these cookies are super easy to make, and you don't even need a mixer. You can put this ginger cookie dough together with just a bowl, a whisk, and a spatula or wooden spoon. Yay!
Sound like your cup of tea? You can go ahead and jump straight to the recipe if you're ready to bake. If not, keep reading for some tips and tricks and a step-by-step guide on how to make them.
If you do make them, I have a favor to ask:
When you do make this recipe, it will help me and other readers if you:
✅Rate the recipes using the stars in the recipe card⭐⭐⭐⭐⭐
✅Leave a review when prompted in the recipe card✍️
✅Leave a comment on the post📝
Thank you!😘
Tasting Notes
Deeply gingery
Wee pops of extra ginger flavor thanks to minced candied (crystallized) ginger
Floral, thanks to honey and cardamom
Not too bitter or assertively molassesy, thanks to a restrained amount of molasses
Nicely chewy
Three-dimensional flavor thanks to salt in the dough and the salted sugar for rolling
When you bite into a cookie, your teeth sort of slowly slide together like when you bite into a dense, chewy brownie
Ready? Let's go!
How to Make Chewy Ginger Cookies
As I said above, these guys are super easy to make. If you don't need the step-by-step directions or the ingredients with substitutions, you can skip on down to the recipe.
Otherwise, here's what you'll need to make these chewy ginger cookies. I'll provide substitutions when it makes sense, and I'll even let you know what ingredients are optional should you want a shorter ingredient list.
Ingredients and Substitutions
melted butter: The flavors of the spices bloom nicely in warm, melted butter, so melted is definitely the way to go here
sugar: No need to use brown sugar since you'll be adding molasses anyway. The main sweetness comes from the sugar and is boosted a bit by the molasses and honey
kosher salt: This recipe requires a pretty hefty amount of salt to bring out the flavor of all the spices. If using Diamond Crystal, you'll need 1 1/2 teaspoons. Morton's kosher? About a teaspoon. If using table salt, start with 1/2 teaspoon but know you may need to add up to 1/4 teaspoon more
crystallized ginger: Adds lovely little, chewy, zingy pops of ginger. This ingredient isn't strictly necessary, but it definitely increases the textural interest
ground ginger: The majority of the spice comes from hot ginger. If you have roasted ginger, you can substitute that
pumpkin spice: I use a pumpkin spice blend containing ginger, cinnamon, nutmeg, cloves, and allspice. If you have Baking Spice, which is a blend of cinnamon, nutmeg, ginger, and allspice, use that. If you don't have either, use more-or-less equal parts of cinnamon, nutmeg, and allspice
Jenni's Pick
Premium Pumpkin Pie Spice Seasoning
A lovely pumpkin spice blend that's restrained in its use of allspice and clove.
The bag is easy to open and easy to seal. A great all-purpose pie seasoning, especially for cold weather pies.
This is an affiliate link which means I earn from qualifying purchases. Your price is unaffected.
ground cardamom: There's not a ton of ground cardamom in the recipe, but I think it makes a difference. Cardamom is a natural pairing with ginger, and its sweet, warming, pungent flavor gives the cookies a nice lift. If you'd like, you could add some orange zest as well, since orange and cardamom are lovely together
black pepper: I took a nod both from The Beloved's fruitcake recipe as well as from traditional pfeffernusse cookies and added finely ground black pepper here. It works really well with the other spices and gives a bit of a zing on the back end. You may omit it if you're not a fan of black pepper in sweet recipes. But if you're intrigued, give it a go. I think you'll like it
molasses: Adds sweetness as well as a little bitter backbone. Molasses helps to keep the cookies soft and chewy as well
honey: Adds sweetness, is hygroscopic, so it helps to draw moisture to the cookies, and adds a nice floral quality that is subtle but I think would be missed were it not there
eggs: Adds structure and helps to bind the cookie ingredients
all-purpose flour: Adds bulk and structure and gives the cookies their "crumb"
bread flour: The addition of bread flour, with its higher protein content, definitely increases the chew of these cookies. You may use all all-purpose flour if you don't have any bread flour
baking soda: Provides the leavening, helps to neutralize the acidic molasses and honey, and aids in creating the lovely, crackled appearance of a traditional ginger cookie
Procedure
These tasty guys are really easy to make.
In short:
1. Mince up the crystallized ginger as finely as you can. It's sticky, so just keep at it, scraping any bits that stick to your knife blade back into the pile
2. Combine sugar, crystallized ginger, and spices and rub the ginger into the sugar, helping to separate it so you don't have big chunks of ginger that have stuck together (See photo collage below)
3. Melt butter and whisk in sugar/spice mixture, molasses, honey, and eggs.
4. Blend the two flours with baking soda and stir into the batter.
5. Chill for an hour, portion, roll in salted ginger sugar, and bake.
Jenni Says: To ensure the cookies spread evenly and develop cozy little cracks, bang the pan on the counter a few times when you rotate the pan and again when they've just finished baking.
What Is Up with Salted Sugar?
Many cookie recipes call for the balls of dough to be rolled in sugar before baking.
I always season my "rolling sugar" with salt (hence salted sugar) and in this case, I added ginger as well so that the outsides of the cookies are as complex as the insides.
Rolling in just sugar alone provides a one-note sweetness which is fine, but it's also missing an opportunity to add more flavor.
I generally season my sugar with a very heavy pinch (almost 1/2 teaspoon) of salt per 2.5 ounces (about 1/3 cup) of sugar.
This lets the salt disperse throughout the sugar, leaving little pops of salt crystals that are more evenly spaced than if you just sprinkle salt on the cookies before baking.
Besides, using salted sugar saves time over sprinkling each individual cookie.
Equipment You May Need
You can certainly make ginger cookies with a stand mixer or a hand mixer, but you don't really need to.
Mix the dough in a large bowl, using a whisk for most of it, and switch to a spatula to stir in the flour mixture.
You may want to use a cookie scoop rather than weighing out 1 oz portions of dough (but I really like to use my scale).
Bake on half-sheet pans lined with parchment, and allow the cookies to cool on cooling racks.
Jenni's Pick
This is an affiliate link which means I earn from qualifying purchases. Your price is unaffected.
Tips and Tricks for Success
Although these are pretty straightforward little cookies to make, here are a few tips that will hopefully ensure success and yield beautiful, almost perfectly round, crackly-topped ginger cookies.
Chilling the dough for an hour or so makes it easier to work with. Don't skip the fridge unless you enjoy frustration and sticky fingers.
Don't skip seasoning the sugar you roll the dough in. This gives you another chance to add spice and keep the flavor balanced. Sugar + salt + ginger = Salted Ginger Sugar. Don't forget!
Banging the cookie sheet on the counter or oven rack a few times when you rotate the cookies and again when you take them out of the oven ensures that they spread into (almost) perfect circles and develop those cozy little cracks on top that are one of the hallmarks of gingersnaps.
Spiced Ginger Cookies Q & A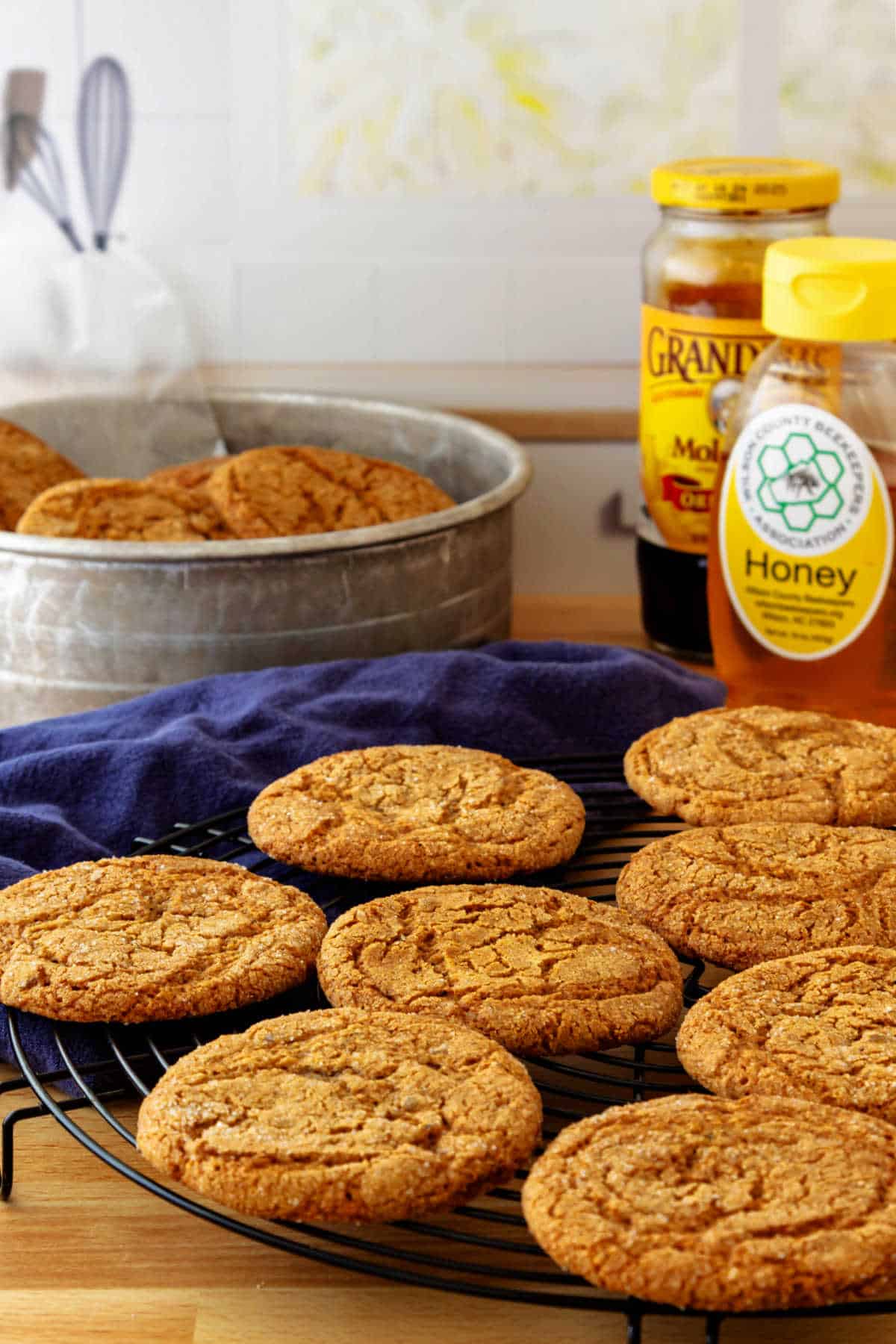 Can I make these crunchy?
No, these cookies are meant to be both soft and chewy. The molasses and honey continue to pull in moisture to keep them soft for days. I will be working on a thin rolled ginger cookie that is crispy and will link to that once it's ready.
How long will ginger cookies keep?
Stored in an airtight container at room temperature, your cookies will be good for a good 5-6 days. For longer storage, freeze them on trays then, once they are hard, put them in freezer bags to store for a couple of months. Thaw at room temperature as needed, or heat for just a few seconds in a microwave.
Can I make these gluten-free?
You can substitute the all-purpose and bread flour for an equal amount of your favorite cup-for-cup gluten-free flour blend. My friend Sandi from Fearless Dining also has a gluten-free gingersnap cookie on her site.
Serving Suggestions
These cookies more than hold their own just by themselves, but for true Lily Gilding, sandwich them together with some cream cheese frosting.
I flavored mine with some pumpkin spice. Using orange and/or lemon zest would also be an excellent choice.
Friends, you'll be so happy you did!
Other options for filling include dulce de leche, thick caramel sauce or butterscotch sauce, or even lemon curd.
Other Old-Fashioned Cookie Recipes
If you love an old-fashioned, round, drop cookie, I think you'll like these other cookie recipes on the site.
The sugar cookies can be rolled in salted sugar or salted colored sugar, or you can skip the sugar and frost them for decoration once baked.
My snickerdoodles are cinnamony inside and out. They're very good! If you prefer the insides of your snickerdoodles to be more plain, reduce the amount of cinnamon in the dough or omit it altogether.
My peanut butter cookie recipe is packed with peanut butter and can be baked either soft and chewy or for a few minutes more for a nice, crunchy cookie with just a bit of chew in the center.
Questions?
A Note About Measurements
For convenience, consistency, and accuracy, almost all my recipes are written by weight, either in ounces and/or grams, even the liquids.
I strongly encourage you to purchase a kitchen scale and learn to use it.
This is the one I used for years. I love it and highly recommend it:
Best for Home Use
Escali Primo Digital Food Scale
Don't let its small price and small size fool you. The Escali Primo is an accurate and easy-to-use food scale that I have used for years. It's easy to store, easy to use, has a tare function, and easily switches between grams and ounces/pounds for accurate measurements.
This is an affiliate link which means I earn from qualifying purchases. Your price is unaffected.
It would be so helpful to me and to other readers that, when you make a recipe, you rate it and leave a comment. Whether it's a recipe or an informational post, your feedback helps others decide if the post is helpful or if the recipe works as advertised.

If you could leave a star rating, that would be very helpful. Thank you for being here!
Chewy Ginger Cookies
These spiced ginger cookies are sweetened with sugar, honey, and molasses, ensuring they stay soft and that the flavors of the spices aren't overpowered by molasses. A light, mild-flavored honey works best here. These cookies bake up chewy with a bit of crispiness right around the edges. I think you'll really love them.
Ingredients
142

grams

melted butter

5 oz or 5 Tablespoons

227

grams

all-purpose flour

8 oz or about 1 3/4 cups

113

grams

bread flour

4 oz or 1 scant cup

4

teaspoons

baking soda

156

grams

granulated sugar

5.5 oz or a generous 3/4 cup

43

grams

finely minced crystallized ginger

1.5 oz or 2 tightly packed tablespoons

4

teaspoons

ground ginger

2

teaspoons

pumpkin spice

½

teaspoon

ground cardamom

1/4-1/2

teaspoon

finely ground black pepper

1 ½

teaspoons

Diamond Crystal salt

1 teaspoon Morton's kosher salt or about 1/2-3/4 teaspoons fine salt or table salt

85

grams

molasses

3 oz or 1/4 cup

85

grams

light honey

3 oz or 1/4 cup

2

eggs
For the Salted Ginger Sugar
70

grams

granulated sugar

2.5 oz or about 1/3 cup

very heavy pinch of salt

1/2-1

teaspoon

ground ginger
Instructions
Making the Dough
In a large bowl, melt the butter in the microwave until it's mostly melted and then whisk to melt completely. Set aside.

In a medium bowl, combine sugar, minced crystallized ginger, ground ginger, pumpkin spice, ground cardamom, black pepper, and salt. Mix well with your fingertips, rubbing the sugar into the crystallized ginger so it separates rather than clumping together.

Whisk the sugar mixture into the melted butter.

In the bowl that had the sugar in it, whisk the two flours together with the baking soda. Set aside.

Add the molasses and honey to the sugar mixture and whisk well.

Drop in the eggs and whisk until completely combined and somewhat paler in color, about 30 seconds or so.

Slowly stir in the flour mixture until no loose flour remains.

Cover the mixing bowl with plastic wrap and refrigerate for an hour.
While the Dough Chills
While the dough is chilling, whisk together the ingredients for the salted ginger sugar.

Line two (or four) baking sheets with parchment, place a rack in the center of the oven, and heat the oven to 350F.
Portioning and Baking
When ready to bake, portion the dough into 1-oz pieces. Note: dough will still be soft and a little sticky but not frustratingly so.

Drop each portion into the salted ginger sugar and roll to coat completely. Round each portion between your palms to form balls. Roll again in the ginger sugar and set on baking sheets, 10-11 to a sheet. Leave about 2" between the balls of dough.

Bake 1 pan at a time in the center of the oven for 6 minutes.

Bang the pan on the oven rack a few times to deflate the cookies and help them spread and crinkle on top.

Rote the pan 180 degrees and bake 6 additional minutes.

Remove cookies from the oven, banging the pan a few more times for good measure. Allow the cookies to cool on the sheet for 5 minutes and then use a spatula to transfer them to a cooling rack to cool completely.

Repeat with the remaining three trays.
Did You Make Any Changes?
Notes
Tips for Success
Chill the dough for an hour before shaping the cookies
Don't skip seasoning the sugar for rolling the dough balls in. Sugar + salt + ginger = salted ginger sugar
Bang the baking sheet on the counter a few times when you rotate it halfway during baking and again when you remove it from the oven
Small-Batch Recipe
Yielding about 17 cookies
2.5 oz melted butter
2.75 oz sugar
1.5 oz molasses
1.5 oz honey
1 egg
4 oz all-purpose flour
2 oz bread flour
2 teaspoons baking soda
0.75 oz finely minced crystallized ginger
2 teaspoons ground ginger
1 teaspoon pumpkin spice
1/4 teaspoon cardamom
several grindings of black pepper
3/4 teaspoon Diamond Crystal Kosher salt or 1/2 teaspoon Morton's kosher salt
Nutrition
Serving:
1
g
Calories:
108
kcal
Carbohydrates:
17.6
g
Protein:
1.5
g
Fat:
3.8
g
Saturated Fat:
2.3
g
Cholesterol:
19
mg
Sodium:
296
mg
Fiber:
0.4
g
Sugar:
9.6
g
Thanks so much for spending some time with me today.
I hope you enjoy the spicy and chewy ginger cookies. The occasional sparkle of crystallized ginger and the zing of black pepper really set these apart. Enjoy!
Take care, and have a lovely day.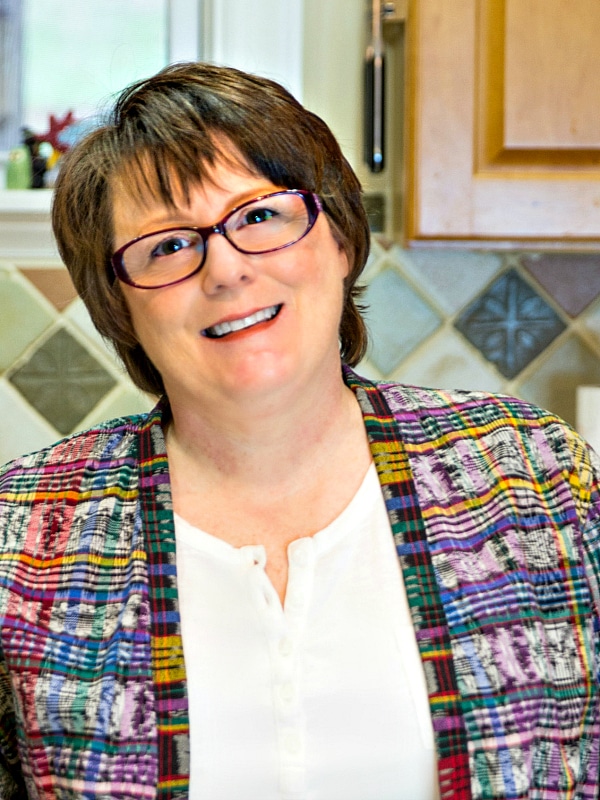 What are my qualifications to teach you baking and pastry? As a former working pastry chef and special educator, I marry my passions for both teaching and for baking into explaining techniques, methods, and developing the best possible recipes. For more info, you can read more about me.
If you'd like to receive new recipes and the occasional newsletter, I'd love for you to sign up for my Inbox Pastry Chef.