Apple custard pie is such a treat, and made as a slab pie, you can easily serve 12-16 people with just one pie.

Firm, juicy apples bathed in brown sugar and warm spices get layered on top of a simple custard mixture featuring the tang of Greek yogurt. All this wrapped in a cookie-like, nutty crust, y'all. This may become your new favorite Thanksgiving dessert.

For more apple goodness, take a look at my apple chai cheesecake tart. And for ease of browsing, you can find all my pie and tart recipes in one place. Let's get to it, shall we?
Watch my apple custard slab pie web story here.
Why You Need to Make This Pie
Slab pie is the answer when you want to make pie for a crowd.
You can easily get 16 slices out of a 9″ x 13″ pie, or serve 12 slightly more generous sizes.
The combination of the cookie-like nutty crust with the creamy custard and warmly spiced apples is really hard to resist.
So stop resisting.
If you already know you want to make this, please jump straight to the recipe. And when you do make it, I have a favor to ask:
When you do make this recipe, it will help me and other readers if you:
✅Rate the recipes using the stars in the recipe card⭐⭐⭐⭐⭐
✅Leave a review when prompted in the recipe card✍️
✅Leave a comment on the post📝
Thank you!😘
How to Make
As with all pies, making this custardy, fruity slab pie is a bit of a process, but it's not hard to make.
First, here's what you'll need:
Ingredients and Substitutions
Here's what you'll need. I'll offer suggestions below for substitutes where appropriate.
nut dough: Use the nut dough recipe here on Pastry Chef Online, or if you can't have nuts, use your favorite pie crust recipe. You'll need about 700 grams (approximately 1 1/2 pounds) of dough
Greek yogurt: This is the base for the custard. My preferred Greek yogurt for baking is Cabot's 10% milkfat because it is super thick and rich. I also love the tangy contrast to the warmly spiced and mellow apples. If you don't like tanginess, substitute heavy cream.
brown sugar: I use dark brown sugar for both the custard and the
egg: Sets the custard. You only need one.
salt: Brings out the flavors in the apples, custard, and the spices
vanilla: Lends a floral, woody, rounded dimension to the custard
apples: I used 1 each of 6 types of apples, including a Granny Smith. Use your favorite mix. Choose apples that hold their shape when cooked such as Braeburn, Cortland, Honey Gold, Jonathan, Fuji, Gala, and/or Granny Smith
water: Used as the liquid for cooking the apples. You may also substitute apple juice if you prefer. You will have to cut back on the sugar in the apples, possibly by as much as half
apple cider vinegar: Balances the sweetness of the apples. Lemon juice would make an excellent substitute. In that case, use the zest as well.
ginger:
cinnamon:
nutmeg: The three spices are deliver a pretty classic apple pie flavor profile. I went heavier on the ginger because I love the flavor. Feel free to substitute 3-4 teaspoons of pumpkin spice, apple pie spice, or baking spice in place of ginger/cinnamon/nutmeg
butter: Adds a hint of gloss and richness to the apple filling
cornstarch: Thickens the filling so it doesn't run everywhere and is easy to slice. You may reduce the cornstarch from 1/4 cup (4 Tablespoons) to 3 Tablespoons for a slightly softer set. Substitute your favorite thickener if you prefer. Flour, tapioca starch, arrowroot, etc all will work, although you may need to adjust the amounts
eggwash: Helps the crust to brown and the sugar to adhere
coarse sugar: Adds sweetness as well as additional crunch and sparkle to the crust. It's technically optional, but it makes for a very easy and pretty finishing touch
Procedure
This is a summary of the steps to make the recipe. The full recipe is at the bottom of the post.
Roll out the dough into a rectangle and line the pan.
Make the apple mixture and allow it to cool.
Make and fill the pie with the custard mixture.
Top with the cooled apple mixture.
Add a decorative lattice crust (or use a solid sheet of pastry making sure to cut several vent holes in it).
Eggwash, sprinkle with sparkly sugar, and bake.
Jenni Says: I have given directions to make the components in the order that will be most efficient, time-wise. You are welcome to spread the work over as many as 3 days if you like, refrigerating each component and then putting them all together and baking them.
Rolling the Dough and Lining the Pan
Rolling the dough between two sheets of parchment paper will give you the perfect size for lining a quarter-sheet pan.
Don't forget to lift the parchment periodically to smooth out the wrinkles, because you don't want wrinkles in your dough.
When you get to the point where the dough is peeking out from the parchment (see image 4, above), you can tear those pieces off and then stick them to other parts of the dough (for example, the top left in image 4 needs a bit more dough.
This dough is very easy to work with. Much like play-doh, it will stick to itself, so no need to wet the dough or use some sort of edible glue. Just press it into place.
Place the dough, still between its two sheets of parchment, in the freezer for 5-10 minutes, until a bit firm.
Carefully peel off one piece, center the dough on top of the pan, and then peel off the second sheet.
As the dough softens, it will be simple to press in from the edges of the dough and ease it across the bottom. Use your knuckles to gently coax the dough into all the edges of the pan. Allow the excess to hang over the sides.
You'll trim it later, once you have the top crust on.
Making the Apples
The hardest part of making the filling is getting the apples sliced.
There's always more than one way to do it, but this is the way I prepare my apples. (Images 2-4, above):
Peel the apples, then with the apple standing upright, make straight cuts down around the core, leaving you a "column" of core and 4 pieces of apple. The first slice will be the largest.
Cut each of those sections into slices between 1/8″ and 1/4″ thick. The main thing is to make the slices as uniform in thickness as possible so they cook evenly. So pick a thickness, and stay with it.
Once the apples are sliced, add them to the pan of water, sugar, and spices.
Simmer until you are happy with how tender (or firm) the apples are, then add the cornstarch/water slurry and boil to thicken.
Finish by swirling in the butter. Then let the apples cool for about an hour.
Making the Custard
This is the easiest part!
Whisk all the custard ingredients together.
Let is sit for about 5 minutes and then whisk it again. The wait gives the brown sugar a chance to dissolve so the mixture is nice and smooth.
That's it. That's all there is to it.
Assemble and Bake
Pour the custard into the lined pan.
Top with the apples.
Cut the second sheet of nut dough into strips and arrange over the fruit.
Trim and crimp the edges of the pie.
Eggwash
Sprinkle with sugar. (See images in the collage below)
Variations
Rather than a lattice top, top the fruit with a second full sheet of dough, trimming to fit and crimping with the bottom crust. Cut several vent holes in the top crust before eggwashing and sprinkling with sugar
Make a Dutch apple custard pie by omitting the top crust entirely and topping with a generous amount of streusel
Substitute your favorite fruit in season, or use frozen. Peaches work really well (like my peaches and cream cobbler), as would cherries or any other stone fruit or mix of stone fruits. Raspberries, blueberries, or blackberries (or a mix) would also be excellent
Equipment You May Need
By now, I hope your sold on the idea of having a quarter-sheet pan. This is basically a 9″ x 11″ pan with sides that are only 1″ rather than 2″.
Jenni's Pick
USA Pan Nonstick Quarter Sheet Pan
Perfect for baking brownies or slab pies.
Shorter sides allow for better air circulation
It's also much easier to serve slices from a shallow pan than a deep one.
This is an affiliate link which means I earn from qualifying purchases. Your price is unaffected.
Parchment sized for half-sheet pans is the perfect size for rolling out this dough. I love these sheets, and I fold them to fit smaller square and rectangular pans as well.
I also find myself using nutmeg more frequently now that I have a Microplane spice mill. I must admit, a "regular" Microplane will work just as well for grating nutmeg.
Jenni's Pick
Microplane Manual Spice Mill
Works especially well for nutmeg and other large, hard spices. With no electric cords or motors, this guy will last a very long time. It also takes up minimal space--about the same space as a regular spice jar.
This is an affiliate link which means I earn from qualifying purchases. Your price is unaffected.
Apple Slab Pie Q & A
How many will this serve?
I have made 2 so far. I cut one into 12 slices and 1 into 16 slices. Both work, so you can serve 12 with pretty generous servings or up to 16, and no one will feel like they're being ripped off.
Does it need to be refrigerated?
Yes, because of the dairy and egg in the custard, it needs to be refrigerated. It will keep well, covered, for up to 5 days in the fridge. Reheat slices to serve.
Serving Suggestions
With all that's going on with this pie, both flavor-wise and texture-wise, it doesn't need a lot of gilding.
A nice dusting of powdered sugar would be an easy garnish.
If you think it needs a little something extra, garnish with vanilla yogurt, whipped cream, or vanilla ice cream.
Other Dessert Recipes You Might Enjoy
If it's not a party without pie, consider making my chess pie, chocolate chess pie, or vinegar pie recipes.
If you're more interested in the apple-custard combination, you can't go wrong with my apple butter bread pudding!
Or try this easy apple dumpling recipe, complete with custard sauce.
Questions?
A Note About Measurements
For convenience, consistency, and accuracy, almost all my recipes are written by weight, either in ounces and/or grams, even the liquids.
I strongly encourage you to purchase a kitchen scale and learn to use it.
This is the one I used for years. I love it and highly recommend it:
Best for Home Use
Escali Primo Digital Food Scale
Don't let its small price and small size fool you. The Escali Primo is an accurate and easy-to-use food scale that I have used for years. It's easy to store, easy to use, has a tare function, and easily switches between grams and ounces/pounds for accurate measurements.
This is an affiliate link which means I earn from qualifying purchases. Your price is unaffected.
It would be so helpful to me and to other readers that, when you make a recipe, you rate it and leave a comment. Whether it's a recipe or an informational post, your feedback helps others decide if the post is helpful or if the recipe works as advertised.

If you could leave a star rating, that would be very helpful. Thank you for being here!
Apple Custard Pie (Slab Pie for a Crowd)
This apple custard pie is made in a quarter-sheet pan (9" x 13") and it makes enough to feed a crowd. With a layer of brown sugar custard under a layer of juicy, spiced apples all baked in a nutty cookie crust, this is one excellent pie!
Ingredients
2

recipes

nut dough

or your favorite pie crust
For the Apples
8

oz

water

1 cup, substitute apple juice if you prefer and cut back on the sugar a bit

4

oz

dark brown sugar

about 1/2 cup, well packed

1

Tbsp

apple cider vinegar

or lemon juice

1

Tbsp

ground ginger

2

tsp

ground cinnamon

several healthy gratings of whole nutmeg

I use a Microplane or a Microplane spice mill

½

tsp

kosher salt

I use Morton's

6

large

apples

a mixture of sweet and tart

¼

cup

cornstarch mixed with 4 oz (1/2 cup) cold water

1.5

oz

unsalted butter

3 Tablespoons
For the Custard
13

oz

Greek yogurt

369 grams or about 1 1/2 cups

4

oz

dark brown sugar

about 1/2 cup, well packed

1

egg

1

tsp

vanilla extract

¼

tsp

kosher salt

I use Morton's
To Finish
eggwash made with 1 egg, 1 teaspoon water, and a pinch of salt

coarse sugar or sanding sugar, for sprinkling
Makes:
9
inch
9
x
13
inch
rectangle
,
1
inch
height
Instructions
To Line the Pan
Roll one recipe of nut dough between 2 pieces of 12" x 16" parchment paper until it reaches all the edges and is even in thickness. Be sure to remove parchment periodically and smooth it out so you don't roll wrinkles into your dough.

Freeze the dough, parchment and all, for 5-10 minutes. Carefully peel the parchment from one side of the dough and center the dough, remaining parchment up, over the pan. Peel off the second piece of parchment.

As the dough softens, it will "slump" into the pan. Lift from the edges and gently push inward, guiding the dough into the corners of the pan all the way around. Allow the excess dough to hang over the edges.
To Make the Apples
In a large saucepan, whisk together the water, brown sugar, apple cider vinegar, spices, and salt.

Wash, peel, and cut each apple into 4 pieces around the core. Cut each piece into about 1/8"-1/4" slices. As you finish slicing each apple, drop the slices into the sauce pan and give the apples a quick stir to coat.

When all the apples are in pot, heat over medium heat and bring the mixture to a boil. Reduce the heat and simmer until you like the tenderness of the apples. They won't get much softer in the oven, so make sure you're happy with the texture at this stage. I simmered mine for 30 minutes.

Whisk the cornstarch slurry well, and add it to the apples. Bring to a boil, and allow to boil gently and thicken for about 2 minutes.

Stir in the butter until melted and well combined. Allow the mixture to cool for an hour, stirring occasionally.
To Make the Custard
Whisk all the custard ingredients together in a medium bowl. Allow to sit for five minutes to allow the sugar to dissolve completely, and then whisk again until smooth.
To Assemble and Bake
Place a rack in the center of your oven and put a pizza stone on it. Heat the oven to 375F.

Pour the custard into the prepared pie crust and smooth out with a spatula.

Drop spoonfuls of the cooled apple mixture on top of the custard mixture and spread out as evenly as you can.

Roll the second piece of nut dough out into a 12"x16" rectangle and cut with a straight or fluted dough wheel into 1" strips. Arrange them in a simple lattice over the apples–no need to weave unless you want to–with about 1 1/2" in between.

Trim the strips and overhanging dough from the shell leaving about 1/2" excess all around. Fold the excess in on itself and press down all the way around, either with your fingers or a fork.

Brush the pastry strips and border with eggwash and then sprinkle liberally with coarse sugar or sanding sugar.

Bake for about 45 minutes, until the crust is nicely golden brown and the internal temperature in the center of the pie is about 170F. NOTE: The apple filling will most likely not bubble because of the insulation the custard and dough add. That's why it's important to cook the apples on the stove to your desired degree of tenderness.

Allow the pie to cool for about 30 minutes before slicing and serving.
Did You Make Any Changes?
Notes
Storing
Store leftovers in the pan, covered and refrigerated, for up to 5 days. Rewarm to serve. Freezing is not recommended.
Variations
Make this pie with your favorite fruit. I have made it with peach, and it was excellent. Other stone fruits or berries would work well also. You may need to adjust the amount of thickener you use depending on how juicy your fruit is.
Rather than making a lattice crust, just use a full sheet of nut dough for the top crust, cutting vent holes in it with a knife or even a small apple-shaped cutter.
Make it a Dutch apple custard pie by swapping the top crust, lattice or not, with a healthy amount of streusel topping.
Tips
Make-Ahead Tips: Make the custard up to 2 days before baking. Make the apples up to 3 days before baking. Make the dough the day before, or make it well ahead and freeze it in sheets. Thaw in the fridge overnight.
Rolling each recipe of nut dough between 2 half-sheet-sized pieces of parchment until it reaches the very edges will give you the perfect size to line your 9″ x 13″ pan.
Freezing the rolled dough for 5 or 10 minutes will make it easy to transfer to the pan. As the dough softens, lift from the edges and press the dough into the corners of the pan. Allow excess to hang.
Nutrition
Calories:
484
kcal
Carbohydrates:
81.1
g
Protein:
6.9
g
Fat:
16.1
g
Saturated Fat:
3.8
g
Cholesterol:
29
mg
Sodium:
509
mg
Fiber:
3.9
g
Sugar:
58.3
g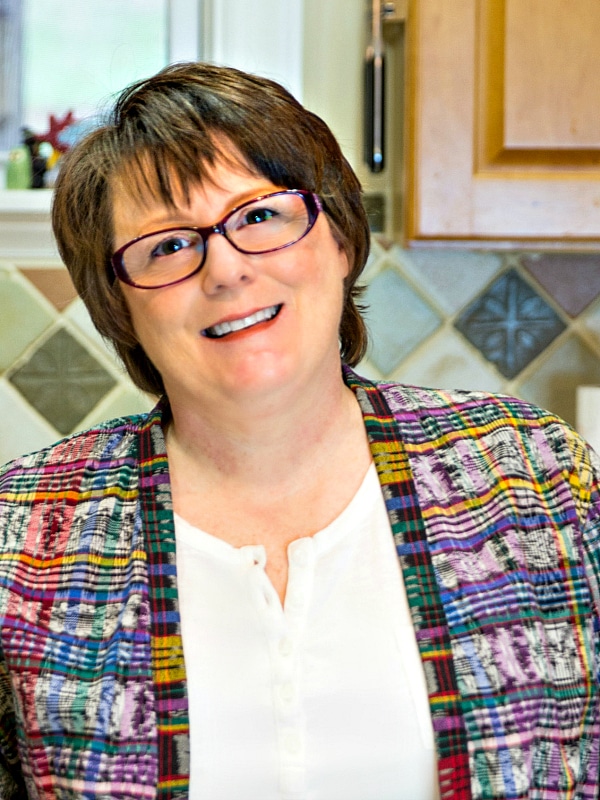 What are my qualifications to teach you baking and pastry? As a former working pastry chef and special educator, I marry my passions for both teaching and for baking into explaining techniques, methods, and developing the best possible recipes. For more info, you can read more about me.
If you'd like to receive new recipes and the occasional newsletter, I'd love for you to sign up for my Inbox Pastry Chef.
Thanks so much for spending some time with me today.
I hope you enjoy the apple custard pie. It's a winner!
Take care, and have a lovely day.