A southern summer staple, peach ice cream gets a bit of an upgrade with this browned butter peach buttermilk ice cream.
Don't miss the round up of all my ice cream recipes.
Pretend that it's Tuesday.
Today's Tuesday is a Southern Classic with just enough of a twist to make folks sit up and take notice. This browned butter peach buttermilk ice cream came about in two stages. We bought a lot of local peaches at the farmer's market several weeks ago, and I needed to process them. Staring at a ton of fresh peaches is a time bomb I am not equipped to deal with, so cooking and freezing allows me time to ponder my options.
I also was asked to teach a private ice cream making party for the father in law of one of the ladies, Jennifer, who runs the kitchen at Whisk Carolina. It was Charlie's 90th birthday, and ice cream is one of his favorite things. It was an honor to help him and his friends, family, and neighbors celebrate such a milestone! I wanted to make sure I served his favorite, and when I found out that it was peach, I knew exactly what to do. More or less.
I'd already cooked the peaches in some brown butter, a touch of sugar and a pinch of salt, so I just needed to bring a few more flavors into the mix.
I knew I wanted to use buttermilk, and that can be a bit dicey since you can't heat buttermilk without it curdling. Why would I want to heat it? To try and bind some of the water in it, either by reducing the volume on the stove or by using some starch. Neither option was available, so I used mostly half and half with enough buttermilk stirred in at the end to get a tang. Brown sugar and peaches play nicely together also, so I made sure to use some brown sugar along with granulated.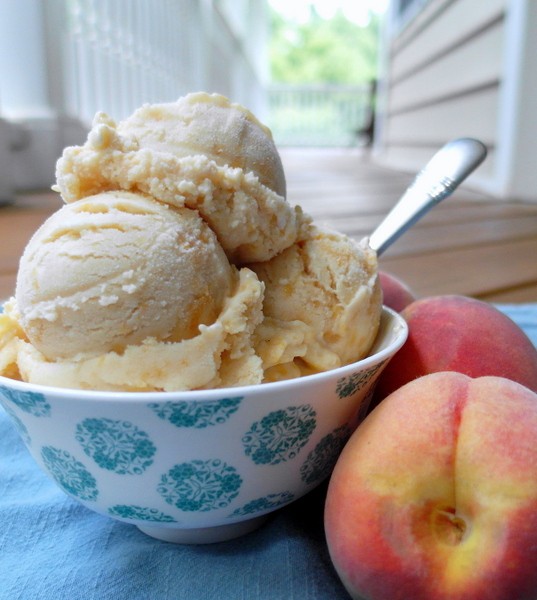 Next time I play with buttermilk ice cream, I may opt to go with buttermilk powder so the water issue is moot, but I was quite happy with both the depth of flavor and the creaminess of the browned butter peach buttermilk ice cream. Such a mouthful, but a delicious one.
I would suggest that you eat this within a day or two of churning. Both the fruit, even though cooked down, and the buttermilk bring extra water to the party that can crystallize and ruin the mouthfeel. The flavor though? Delicious. And I am willing to bet that there is no other peach ice cream that delivers so much fruit per bite. If you're a peach fan, give this one a shot.
Browned Butter Peach Buttermilk Ice Cream
Makes about 2 quarts.
Ingredients
For the Peaches
1 ½

pounds

peaches

, diced

2

oz

browned butter

heavy pinch of salt

3-4

Tablespoons

sugar

, to taste

½

teaspoon

vanilla paste
For the Ice Cream
8

oz

1 cup buttermilk

2

oz

1/4 block cream cheese, softened

2

teaspoons

vanilla

16

oz

half and half

2

oz

dark brown sugar

6

oz

granulated sugar

½

teaspoon

kosher salt

3

Tablespoons

corn starch

3

cups

of peaches

, (see above)
Instructions
For the Peaches
Put all the ingredients in a heavy bottomed sauce pan

Bring to a boil, then reduce the heat to a simmer. Cook until the juices are very thick and almost jammy.

Cool and then chill.
For the Ice Cream
Place the buttermilk, cream cheese and vanilla in a large bowl. Set a fine mesh strainer over the bowl and keep convenient to the stove.

Over medium heat, bring the half and half, sugars, salt and corn starch to a oil, whisking constantly.

Allow the mixture to boil for about 10 seconds, then strain it through a fine mesh strainer into the buttermilk mixture.

Let sit for a minute or two to melt the cream cheese and then whisk until smooth.

Chill in an ice bath, stirring occasionally, until cool.

Pulse 2 cups of the stewed peaches in a food processor until the peaches are fairly finely chopped.

Whisk the 2 cups of peaches into the dairy mixture. Press plastic wrap on the surface of the ice cream base and refrigerate until the temperature is no higher than 40F, at least 4 hours or preferably overnight.

Churn the ice cream in your churn according to manufacturer's instructions.

In a container large enough to hold all the ice cream, layer in about 1/3 of the remaining peaches and top with 1/3 of the ice cream. Continue layering until you've used all your ingredients.

Press plastic wrap directly on the surface of the ice cream and freeze until firm, 4-6 hours or overnight.

Enjoy within 2 days of churning.
Did You Make Any Changes?
And there you have it. Peach ice cream is a southern classic. Do make some when peaches are at the height of the season. You won't be sorry!
I think a few of my friends have made Tuesdays as well this week. Let's take a look, shall we?
There may be more, and if there are, I'll update the post with the links. And remember