You are going to love the nostalgic, deliciousness of this butterscotch meringue pie, friends. An easy-to-make pie recipe, just pour homemade butterscotch filling into a pre-baked crust, top with the brown sugar meringue, and brown using a torch or in the oven.

If you think you don't like butterscotch, be prepared to have this butterscotch pie change your mind. We're talking real, traditional butterscotch flavor here!

For ease of browsing, find all of my butterscotch recipes and all my pies and tart recipes in one place.
Butterscotch Meringue Pie
Butterscotch pie is one of my favorite desperation pies, mainly because butterscotch is one of my favorite flavors!
If you think you don't like butterscotch, I submit to you that you have never had real butterscotch.
Butterscotch candy was originally made with equal parts sugar and butter with 1/4 part of molasses, all cooked together with enough salt to make it taste amazing.
Depending on how long you cook that mixture, you can end up with a sauce, a chewy candy, or a hard candy. Butterscotch pudding (spoiler: butterscotch pie is just butterscotch pudding poured into a pre-baked pie shell) takes a shortcut by using dark brown sugar (these days, refined white sugar with molasses added in) and butter cooked together until bubbling and maybe just starting to smoke a bit.
Add to that some dairy, eggs for richness and thickening, and starch for even more thickening power, and you have an easily-made dessert that can be served in bowls as pudding or in a pie crust as, well, pie.
How to Make Butterscotch Pie
Ingredients
Here's what you'll need to make your pudding pie. I bet you probably already own almost everything. Go check. I'll wait!
pie crust (homemade or purchased)
cornstarch
salt
milk
egg yolks
butter
brown sugar
heavy cream
vanilla
egg whites
Procedure
As with most desperation pies, this one is pretty easy to make. Here's the breakdown:
Bake your pie crust and set aside.
Make the pudding. This part includes making butterscotch then adding in dairy, eggs, and starch for thickening.
Pour the filling into the crust, and let it set up for an hour or so.
Make the brown sugar meringue–which incidentally is a Swiss meringue–by whipping the whites and brown sugar in a double boiler until very hot and then whipping with your mixer until cool and light and fluffy and shiny.
Spread the meringue on the pie and brown either with a torch or under the broiler for a couple of minutes–watching carefully so it doesn't burn.
Refrigerate until cold.
Desperation Pies
This is another desperation pie–pies that pie loving folks used to dream up in the dead of winter when there was no fruit around for apple pie or berry pie.
These comforting, easy-to-make pies draw their ingredient lists from pantry staples and from other ingredients that would be readily available, such as milk and butter from their cows and eggs from their chickens.
Here are some more desperation pie recipes for you, some of which might be familiar and some of which might be new to you. The fun thing about them is you probably have all (or nearly all) of the ingredients you need to make these guys right now:
Why Brown Sugar Meringue?
You don't have to make the brown sugar meringue, but it does dress up a brown pie beautifully, plus the brown sugar in the meringue echoes the brown sugar in the butterscotch.
And if you're wondering if you can use brown sugar–or other "unorthodox" ingredients in your meringue–the answer is yes you can.
As long as the ingredients aren't fatty and won't break down the meringue, you can add all sorts of things to meringue to make it a bit more interesting than just sweet poofy air.
Consider using citrus juice, citrus zest, any number of ground spices, various extracts, etc.
But for this pie, just stick to the brown sugar. If you want, you can also add just a touch of vanilla extract.
A Note About Measurements
For convenience, consistency, and accuracy, almost all my recipes are written by weight, either in ounces and/or grams, even the liquids.
I strongly encourage you to purchase a kitchen scale and learn to use it.
This is the one I used for years. I love it and highly recommend it:
Best for Home Use
Escali Primo Digital Food Scale
Don't let its small price and small size fool you. The Escali Primo is an accurate and easy-to-use food scale that I have used for years. It's easy to store, easy to use, has a tare function, and easily switches between grams and ounces/pounds for accurate measurements.
This is an affiliate link which means I earn from qualifying purchases. Your price is unaffected.
It would be so helpful to me and to other readers that, when you make a recipe, you rate it and leave a comment. Whether it's a recipe or an informational post, your feedback helps others decide if the post is helpful or if the recipe works as advertised.

If you could leave a star rating, that would be very helpful. Thank you for being here!
Butterscotch Meringue Pie
One of my favorite desperation pies, butterscotch meringue pie is nostalgic, homey, comforting and so very tasty. I do hope you enjoy it–and if you think you don't like butterscotch, be prepared to change your mind.
Ingredients
For the Filling
4

Tablespoons

cornstarch

¾

teaspoon

kosher salt

(I used Morton's)

20

oz

whole milk

(2 1/2 cups)

3

large egg yolks

2

oz

unsalted butter

(1/2 stick)

6

oz

dark brown sugar

3/4 cup, tightly packed

8

oz

heavy cream

(1 cup)

2

teaspoons

vanilla extract

1 9

" pie shell

baked, NOT deep-dish
For the Brown Sugar Meringue
3

large egg whites

¼

teaspoon

kosher salt

(I used Morton's)

6

oz

brown sugar

dark or light, (3/4 cup, tightly packed)

¼

teaspoon

vanilla extract
Instructions
For the Filling
Whisk together the cornstarch, salt, whole milk, and egg yolks until smooth. Set aside convenient to the stove.

In a heavy saucepan, melt the butter.

Add the brown sugar and stir together until all the sugar is moistened.

Cook over medium heat until the butter/sugar mixture is boiling, stirring frequently with a long-handled wooden spoon or heat-resistant spatula.

As soon as the butter/sugar mixture barely starts to smoke, carefully pour in the heavy cream. It will bubble up and spatter. The sugar will seize up into a hard mass. Worry not. Continue to cook and stir, switching to a whisk to make things a bit easier, until the sugar melts back into the cream.

Once the mixture is smooth again, pour about half of it into the egg mixture, whisking all the while. Then pour the egg mixture back into the pan.

Cook over medium to medium-high heat until the mixture comes to a boil. Boil, stirring constantly, for 2 minutes. Do not slack on this part, or the pudding will not set up correctly. 2 full minutes. Set a timer.

Strain the pudding through a fine-mesh strainer into a bowl. Stir in the vanilla. Fill the prepared pie shell so it is full up to the crimped edge. Set aside for a few minutes while you make the meringue.
To Make the Meringue
In a metal bowl set over a pot of simmering water, whisk the whites, salt, and brown sugar together until all the sugar has dissolved and the mixture is very hot–about 165F.

Remove the bowl from the heat and beat on medium speed with a hand mixer until the mixture thickens somewhat and lightens in color.

Add the vanilla and beat on high speed until the tips of the meringue just curl over a bit at the ends when you hold the beaters upright.

Dollop the finished meringue onto the pie filling and carefully spread it out so it completely covers the filling and meets the crust all the way around.

Using an offset spatula, press it onto the meringue and then lift straight up to make swoops and peaks if you'd like.

Place under the broiler, watching it carefully, or use a torch to brown your meringue. Chill overnight before serving. Share. Or don't. Enjoy!
Did You Make Any Changes?
Notes
If you are not feeling pie today, just pour the filling mixture into little (or not so little) bowls and serve individually, topped with some of the meringue or just with some lightly sweetened brown sugar whipped cream
Nutrition
Serving:
1
g
Calories:
362
kcal
Carbohydrates:
50.6
g
Protein:
5.1
g
Fat:
15.9
g
Saturated Fat:
9.2
g
Polyunsaturated Fat:
17
g
Cholesterol:
105
mg
Sodium:
412
mg
Sugar:
45.7
g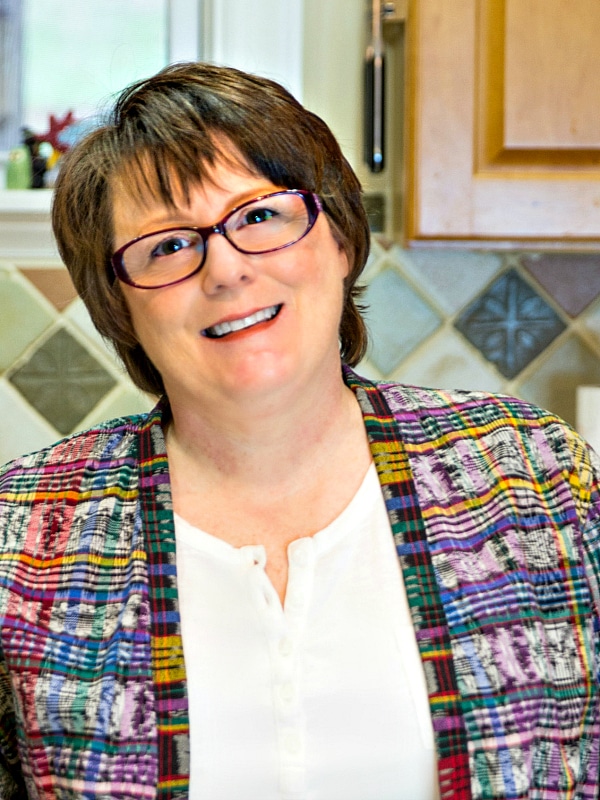 What are my qualifications to teach you baking and pastry? As a former working pastry chef and special educator, I marry my passions for both teaching and for baking into explaining techniques, methods, and developing the best possible recipes. For more info, you can read more about me.
If you'd like to receive new recipes and the occasional newsletter, I'd love for you to sign up for my Inbox Pastry Chef.
And that's it friends. A comforting, homey butterscotch pie that will make you feel like you're at grandma's, if your grandma was a good pie maker!
Enjoy the butterscotch meringue pie (or pudding if you'd rather leave off the crust).
Thank you for spending some time with me today. Have a lovely day.