.Whether you call this baked French toast and serve it for brunch or you call it bread pudding and serve it for dessert, you should make this donut bread pudding at your earliest convenience.

While many folks enjoy their doughnuts with a cup of coffee, I flavored the custard with espresso powder so you can get coffee flavor in every doughnutty bite, no dunking necessary!

If you love bread pudding, you may also want to give my apple butter bread pudding a go. It is a stunner!

Serve this guy with some whipped coffee. You won't be sorry!

For ease of browsing, you can find all my pudding and custard recipes in one place. Thanks so much for visiting!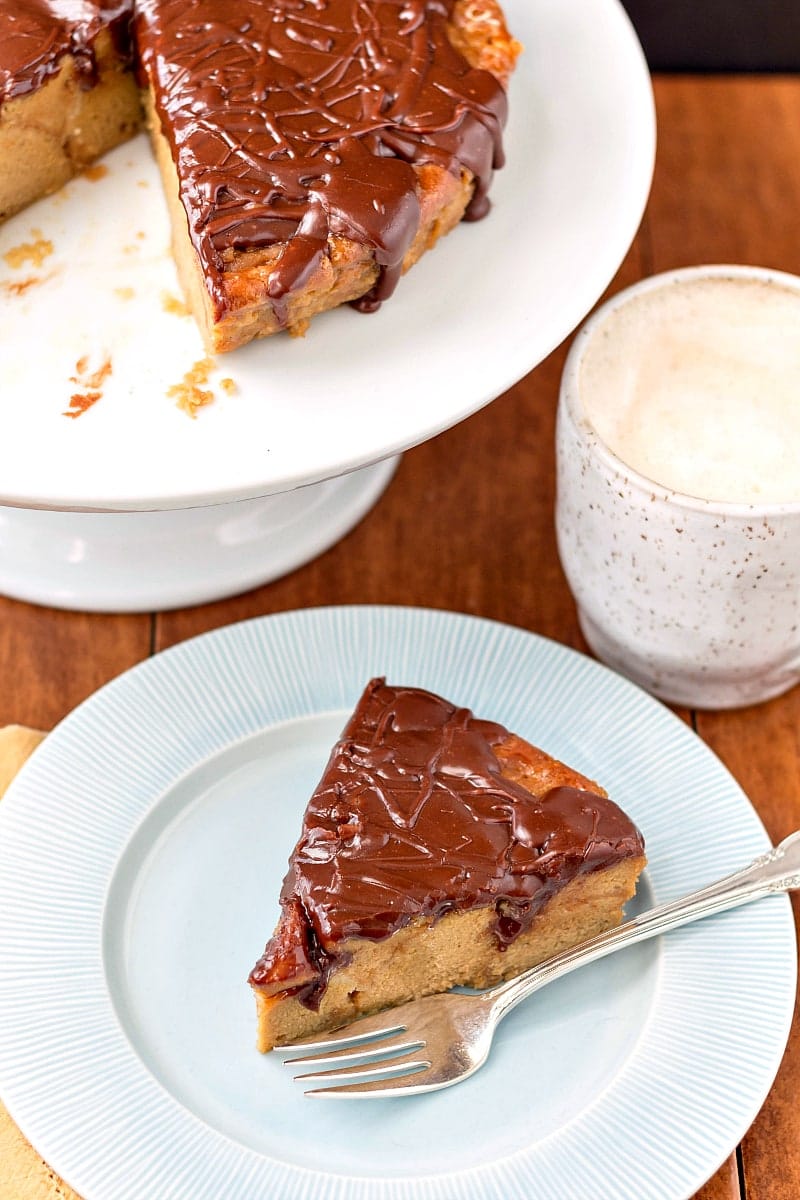 Krispy Kreme Donuts
As a North Carolina girl, I grew up eating Krispy Kreme doughnuts. Their plain glazed doughnuts are perfect in every way.
I don't like them hot, so I was never sucked in by the Hot Doughnuts Now sign glowing in their front window, but I do love them fresh. The glaze is so thin and smooth you can barely see it until it shatters when you take a bite. The fried dough beneath is pillowy and soft. Perfect, indeed.
Why Make Bread Pudding from Donuts?
Perfect does not last. There is nothing sadder than a day-old Krispy Kreme, unwanted at the peak of its perfection and left to get hard, sticky and sad.
If you've ever asked yourself, "What can I do with leftover or stale doughnuts," consider this:
A stale glazed doughnut is a sponge that we can use to soak up delicious custard and then bake–or pan fry, for that matter.
And that's where donut bread pudding comes in!
You can use the bread pudding tip on pretty much any baked good that is past its prime. For example, take my Hawaiian roll baked French Toast Muffins and my Moravian Sugar Cake Baked French Toast.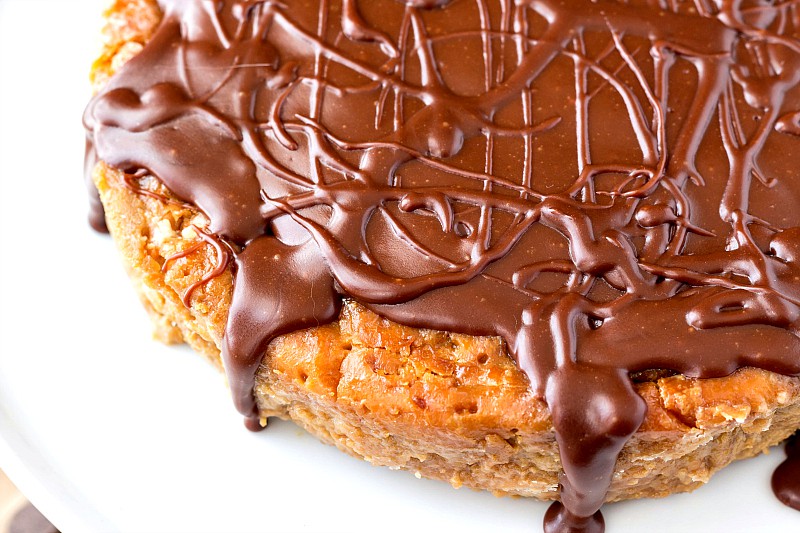 If you find yourself with a dozen fresh doughnuts on hand, eat them immediately.
And if you happen to find yourself with a dozen stale doughnuts on hand, please turn them into donut bread pudding.
And flavor the custard with coffee. Because coffee and doughnuts go together like peas and carrots. Like peanut butter and jelly. Like Forrest and Jenny.
How to Make
At its core, all you have to do is:
make custard
let it soak into your glazed donuts
bake
cool and glaze
Let's break it down, though.
Ingredients
Here's what you'll need for the custard:
whole milk: You could go super decadent here and use half and half, but there's already plenty of richness. Sub with 2% milk if you'd rather
brown sugar: provides sweetness. Of course, you can use regular granulated sugar, but I like the extra depth brown sugar brings. Either dark or light. Your call.
eggs: provide the set for the custard. The more egg, the firmer the set. The less, the softer
egg yolks: adding additional yolks brings more fat and body/creaminess to the custard. Not strictly necessary, but if you're going to go, you may as well go big
salt: brings all the flavors into focus and counteracts any bitterness you might get from the coffee
instant coffee: you can also use espresso powder
vanilla extract: rounds out all the flavors
And here's what you'll need for the glaze:
butter: for body and to carry flavor
milk: you only need a little here, so use whatever milk you have and enjoy
corn syrup: mainly for shine. If you don't like using corn syrup, you can sub with honey, agave, or maple syrup. Just know the flavor if using honey or maple syrup will be different. Not bad, just different.
salt: brings out flavors and counteracts any possible bitterness from the chocolate and coffee
chocolate chips: provides the chocolate flavor. Use bittersweet or semisweet chips, or you can substitute chopped dark chocolate
vanilla extract: rounds out the flavors
instant coffee: deepens the chocolate flavor and reinforces the coffee in the custard. It's optional, but if you have it, use it (and you do have it, because you already used it in the custard!)
powdered sugar: brings the glaze to a good consistency for pouring and setting up. Adds additional sweetness
DON'T FORGET: You will need one dozen (12) day-old glazed donuts.
Procedure
Making the custard is as simple as whisking everything together in a bowl.
Strain the custard to make sure it's completely smooth, but even that isn't strictly necessary.
To make the glaze, you'll:
heat the butter until melted
stir in all the rest of the ingredients except for the powdered sugar
stir over low heat until the chocolate is melted
whisk in the powdered sugar off the heat
To assemble and bake:
Cut some of the donuts in half and some in quarters.
Pack your 9″ x 2″ cake pan with half donuts and fill in with quarter donuts.
Use a long skewer to poke tons of holes in the donuts. This will help the custard to absorb
Pour over the custard, a little at a time, until it's all absorbed
Weigh down the top of the pudding with a plate and refrigerate overnight or let it sit out at cool room temperature for 90 minutes
Bake at 300F for about an hour
Cool for an hour and unmold onto a serving plate
Pour glaze over and allow to set up for about 30 minutes.
Gently warm slices in the microwave or in the oven before serving
Can I make this ahead?
Yes, you can pour the custard over the doughnuts, weigh it down, and refrigerate for up to 3 days before baking.
How long will this keep in the fridge?
It may end up drying out a bit in the fridge, so eat within 3-4 days in the fridge.
Can I freeze it?
You can, although I vote you eat it all (or share it) within 3-4 days for best texture. If you need to freeze it, ideally do so before glazing it, and slice it into portions before freezing. Wrap in a double layer of plastic wrap and place in freezer bags for up to 2 weeks (again for best texture). Allow pieces to thaw overnight in the fridge before gently warming in the microwave or in a low oven. Glaze individual pieces before serving.
A Note About Measurements
For convenience, consistency, and accuracy, almost all my recipes are written by weight, either in ounces and/or grams, even the liquids.
I strongly encourage you to purchase a kitchen scale and learn to use it.
This is the one I used for years. I love it and highly recommend it:
Best for Home Use
Escali Primo Digital Food Scale
Don't let its small price and small size fool you. The Escali Primo is an accurate and easy-to-use food scale that I have used for years. It's easy to store, easy to use, has a tare function, and easily switches between grams and ounces/pounds for accurate measurements.
This is an affiliate link which means I earn from qualifying purchases. Your price is unaffected.
It would be so helpful to me and to other readers that, when you make a recipe, you rate it and leave a comment. Whether it's a recipe or an informational post, your feedback helps others decide if the post is helpful or if the recipe works as advertised.

If you could leave a star rating, that would be very helpful. Thank you for being here!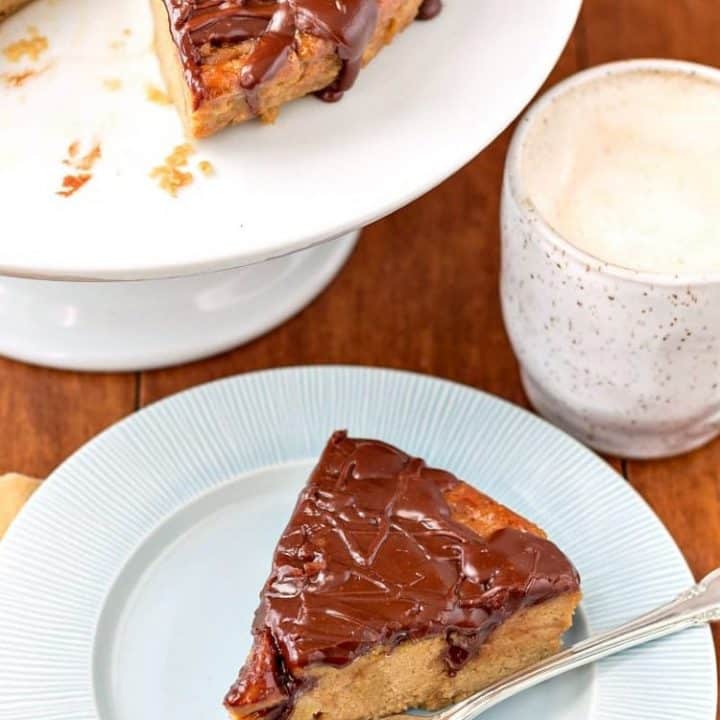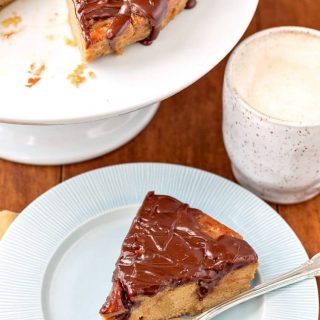 Glazed Donut Bread Pudding
Next time you buy donuts, buy extra! Twelve stale glazed donuts are what you need to make glazed donut bread pudding. Serve it as a decadent brunch on a holiday, or serve it anytime as dessert. So good!
Ingredients
For the Custard
2

cups

whole milk

½

cup

brown sugar

f, packed (dark or light)

2

large eggs

2

egg yolks

1/4-3/8

teaspoon

kosher salt

1

Tablespoon

espresso powder or instant coffee

1

teaspoon

vanilla extract
To Assemble and Bake the Pudding
1

dozen stale glazed doughnuts
For the Chocolate Glaze (based on Alton Brown's recipe)
½

stick

(4 Tablespoons) unsalted butter

2

Tablespoons

whole milk

heavy pinch of salt

2

teaspoons

corn syrup

(light or dark)

1

teaspoons

vanilla extract

½

teaspoon

instant coffee or espresso powder

2

oz

bittersweet or semisweet chocolate chips

(or chopped chocolate)

4

oz

by weight or 1 cup confectioners sugar, sifted
Instructions
For the Custard
Combine all the custard ingredients in a medium bowl and whisk until smooth. Set aside.
To Assemble and Bake
Spray a 9″ x 2″ cake pan with pan spray. (See Notes for Springform directions) Line the bottom with a circle of parchment paper.

Cut some of the doughnuts in half and some in quarters. Fill the pan with the halves, packing them in snugly. Fill in with quartered doughnuts. Again, they should fit snugly.

Take a wooden skewer and pierce the doughnuts all the way through all over. Tons and tons of tiny holes will help the custard soak in so you don't have any pockets of dry doughnut in your delicious, soft, custardy bread pudding.

Slowly pour all the custard into the middle of the pan. Allow to sit at cool room temperature for 30 minutes.

Place a piece of plastic wrap on top of the doughnuts and then place a plate on top of that. Use a couple of cans as weights so the plate presses down on the pudding, compacting all the doughnuts and helping the custard soak in. Refrigerate overnight or allow to sit at cool room temperature for another 90 minutes or so.

Test to make sure all the doughnuts are saturated by sticking a skewer in. There should be almost no resistance.

About 30 minutes before you're ready to bake, heat the oven to 300F.

When time to bake, place the bread pudding on the center rack and bake until the pudding is well risen all over and lightly golden brown on top. This will take about an hour. The internal temperature in the center of the pudding should be 175-180F.

Remove from the oven and allow to cool in the pan for an hour.

Run a thin spatula around the inside of the pudding to release it in case it stuck at all.

Cover a large cake circle or flat plate with plastic wrap. Place on top of the cake pan and invert the whole shebang. Give it a shake so the parchment releases from the bottom of the pan. Peel off the parchment, cover the cake either with the pan it just came out of or with more plastic wrap. Chill until cold.

Remove from the fridge 2 hours before serving. You want it to temper for an hour, then the glaze needs a good 30 minutes to set up and then you have to warm up the pudding (it's fine cold, but it's dreamy warmed up).
To Make the Glaze
In a medium saucepan, melt the butter over medium heat but don't let it boil.

Turn the heat down to medium low and add in the rest of the ingredients except for the powdered sugar.

Whisk until the mixture is warm and the chocolate is completely melted.

Whisk in the powdered sugar until smooth.

Take the plastic wrap or the cake pan off the top of the pudding. Place an oven- or microwave-safe serving platter on top and then carefully flip the whole deal over. Peel off any remaining plastic wrap.

Pour the glaze over the pudding in whatever way makes you happy. You might not use all the glaze, but then again you might. Go for it.

Allow to set up for 30 minutes at room temperature.

To serve, gently warm the pudding in the microwave on medium-low power (Power level 3-4) in 45 second bursts or in the oven at 250F until just warm. It does not have to be hot, but at least take the chill off.

Slice and serve. Store leftovers in the fridge for up to 4 days.
Did You Make Any Changes?
Notes
To make your life a bit easier, you can bake in a springform pan, but make sure it's leakproof, either by design or because you line it really well with foil across the bottom and up the sides and then wrap the base in foil. The custard is thin and will leak out if you don't properly prepare your pan.
As an alternative, you can completely soak the stale doughnuts in a bowl of custard and when it's completely absorbed, then you can pack it into a springform pan for baking.
Nutrition information based on 8 slices
Store leftovers in the fridge for up to 4 days.
To freeze, cut into servings, wrap well in plastic wrap, and place in freezer bags for 2 weeks. (You can freeze for longer, but the texture may suffer when you thaw it out).
Nutrition
Serving:
1
slice
Calories:
665
kcal
Carbohydrates:
80
g
Protein:
11
g
Fat:
34
g
Saturated Fat:
16
g
Polyunsaturated Fat:
15
g
Cholesterol:
143
mg
Sodium:
541
mg
Fiber:
2
g
Sugar:
55
g
Thank you for spending some time with me today. Enjoy donut bread pudding, friends!
Take care, and have a lovely day.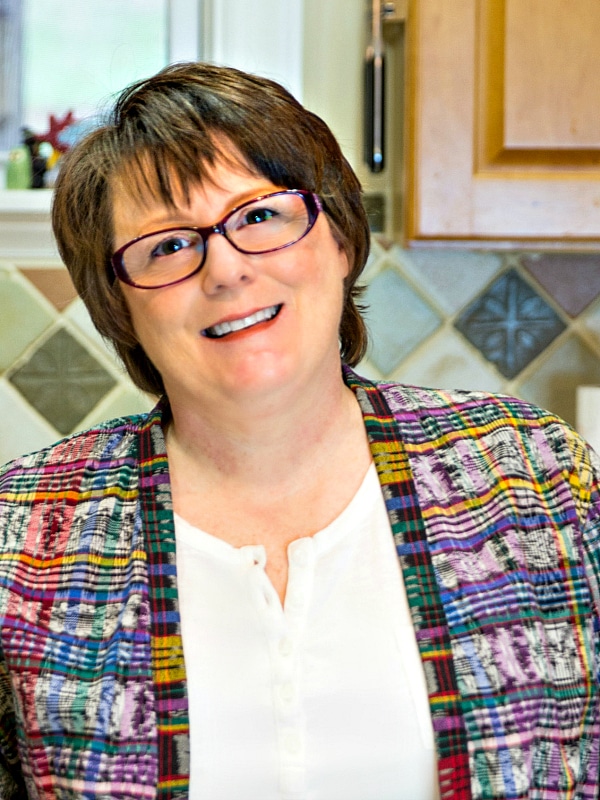 What are my qualifications to teach you baking and pastry? As a former working pastry chef and special educator, I marry my passions for both teaching and for baking into explaining techniques, methods, and developing the best possible recipes. For more info, you can read more about me.
If you'd like to receive new recipes and the occasional newsletter, I'd love for you to sign up for my Inbox Pastry Chef.