Oh, huzzah for burgers and for #BurgerMonth and for the resplendent Kita from Girl Carnivore who is wrangling this rather large blogging event! And another huzzah for my Got To Be NC Burger and foods made and grown in North Carolina! And huge kudos to all the brands who are helping us put on this Epic event!

Another out of this world burger recipe is my double polar burger with everything. Remember? From the movie Grease?

For ease of browsing, check out more of my epic burger recipes all in one place.
What better way to showcase some wonderful NC products than by using them in my #gottobeNC burger?! Let me be clear: there are tons of amazing products being made in North Carolina that would work perfectly on a Got to Be NC Burger, so you feel free to make your own, okay? My version is pretty awesome, if I do say so myself. Please feel free to jump straight to the recipe and the giveaway if you'd like. Otherwise, read on about my love for North Carolina and for the specific products I used in my burger.
Many thanks to my friend, Jack Nales, from the North Carolina Department of Agriculture and the Got to Be NC program for helping me source some of my ingredients. If you ever need to know anything about foods produced or grown in North Carolina, Jack is Your Guy.
I was born in Charlotte, NC fifty years ago, and aside from attending college for four years in South Carolina and several years living in Orlando, FL, I've lived in North Carolina my whole life. My first food memories are of eating huge blackberries straight off blackberry bushes that bordered the softball fields where my dad played on long summer nights, of devouring soft, fresh and still-warm Krispy Kreme Doughnuts–the Only doughnuts, as far as I'm concerned–with their impossibly thin coating of sweet glaze, of drinking bottles of Cheerwine and SunDrop, frosted with condensation in the humid Carolina summers, of crunching up bright orange Lance crackers then trying to whistle.
I am a staunch proponent of Eastern North Carolina whole hog chopped barbecue with vinegar sauce, thankyouverymuch. While other barbecue is tasty, for me, there is nothing like the sweet, smoky succulence of a plate of steaming chopped barbecue accented by the spicy pungency of vinegar sauce. Have mercy.
As soon as Kita asked me to participate in #BurgerMonth, I knew I wanted to put a North Carolina spin on my burger. I began by researching other burgers called "Carolina burgers." The standard North Carolina burger is apparently a burger topped with chili and slaw and mustard. But then, I read that the Slawburger Festival (yes, it is a thing and now I want to go) happens in Tennessee. Besides, you can make slaw anywhere. My idea for the Got To Be NC Burger was to source as many of the ingredients as I could from North Carolina producers and/or to use ingredients made in North Carolina in the burger itself. Some might say I got a bit carried away, but to those Doubting Thomases, I say "Shut it, Thomases."
Before you check out the components, the lovely folks with the Got To Be NC program highlighted my burger in a video. We shot at the farmer's market where I bought a lot of the ingredients!
Here are the Components:
a patty made of a mix of ground beef and pork

bacon, onion and Cheerwine jam

fried pickles

pulled pork shoulder braised in Cheerwine and NC-made barbecue sauce

slaw

local jalapeno cheese

pretzel buns, which I ended up making myself. And since I'm from North Carolina, they totally count.
To make the burgers so you can actually pick them up and eat them as God intended, here's how you have to do it. Trust me.
Heat the buns, but you don't really want them toasted. Just warm.

Place 3-4 cornmeal fried pickles in one layer on the bottom bun.

Top with some of the cheese and melt it under the broiler.

Top with a no more than 1/2″ thick burger patty and then more cheese. Melt under the broiler.

Top that with about 2-3 Tablespoons of the pulled pork.

Add 2-3 Tablespoons of the slaw

Spread bacon, onion and Cheerwine jam on the top bun.

Press together.

Put on a bib.

Lean over and eat.
Here are the North Carolina-made products and ingredients I used in my Got To Be NC Burger along with links to the websites and a bit of information about the products.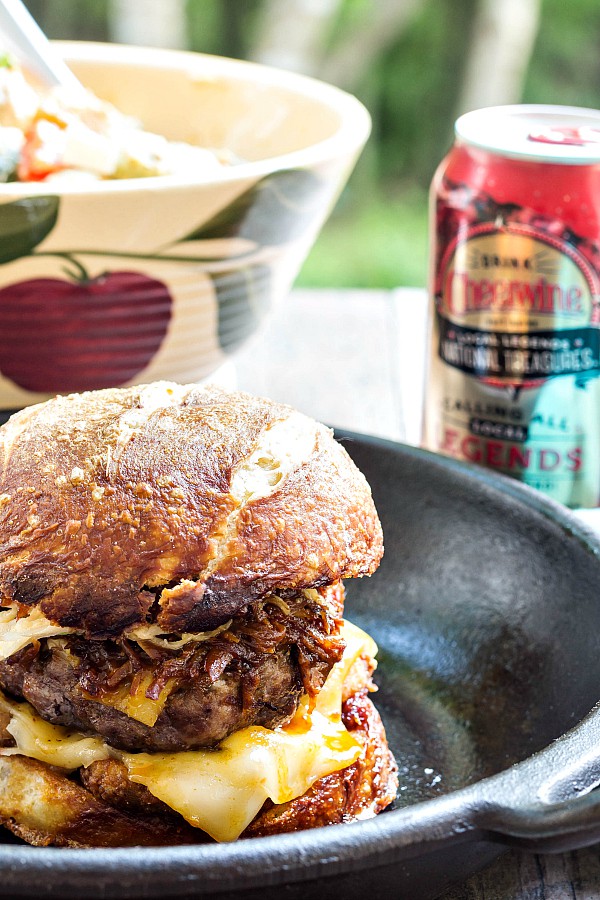 House-made bacon from The Butcher's Market in Raleigh, NC: Premium Meats (one of the only places I know of to get dry-aged beef) and lots of local products. Nice!
Cheerwine, made in Salisbury, NC: An NC tradition since 1917! Cherry deliciousness, and mail-orderable. Yes.
Texas Pete hot sauce, from Winston-Salem, NC: I bet you had no idea it wasn't made in Texas! Surprise!
Gravitas seasoning from Good Rub in Morrisville, NC: Not only are their seasonings delicious, they give back a portion of their profits to help local food banks. Good Rubs, indeed.
Local onions, sweet red pepper relish, and jalapeno hoop cheese from the NC State Farmer's Market in Raleigh, NC: Mind-bogglingly enormous with fresh seasonal produce, seasonal ornamental plants, fruit trees, annuals and perrenials, locally made products (meats/cheeses and jarred/canned/packaged products). Plus restaurants and a garden shop. Love it.
Bone Suckin' Mustard Sauce from Ford's Foods in Raleigh, NC: Ford's Foods is the co-packer for Bone Suckin' Sauce which has been a hit in Raleigh since 1992 and now in The World sinc 1994. Seriously delicious.
Jim's Own Barbecue Sauce from Cary, NC: Voted one of the best barbecue sauces by Southern Living. Piquant, a bit thinner than a Kansas City style sauce. My mouth is watering just thinking about it.
Dreamy, Creamy Vinaigrette from The Little Black Dressing Company from Wallburg, NC: Tangy, sweet and delicious. Very Southern and very good as a slaw dressing. Yas.
Signature Salt & Pepper Pickles from Miss Jenny's Pickles in Kernersville, NC: "No Junk in our Jar" is how they sell them. All goodness. No additives. No preservatives. No high fructose corn syrup. Excellent pickles!
Moss' Plain White Fine Ground Cornmeal from Buffaloe Milling Company in Kittrell, NC: These guys make a ton of products: mild and hot seafood breaders, self-rising cornmeal, plain cornmeal, biscuit mix, frozen hushpuppies so you just have to fry them up at home. Nice!
And now, without further ado, Let's Do This!
For convenience, consistency, and accuracy, almost all my recipes are written by weight, either in ounces and/or grams, even the liquids.
I strongly encourage you to purchase a kitchen scale and learn to use it.
This is the one I used for years. I love it and highly recommend it:
Best for Home Use
Escali Primo Digital Food Scale
Don't let its small price and small size fool you. The Escali Primo is an accurate and easy-to-use food scale that I have used for years. It's easy to store, easy to use, has a tare function, and easily switches between grams and ounces/pounds for accurate measurements.
This is an affiliate link which means I earn from qualifying purchases. Your price is unaffected.
It would be so helpful to me and to other readers that, when you make a recipe, you rate it and leave a comment. Whether it's a recipe or an informational post, your feedback helps others decide if the post is helpful or if the recipe works as advertised.

If you could leave a star rating, that would be very helpful. Thank you for being here!
My Epic Got To Be NC Burger
Got to Be NC Burger
My Got to be NC Burger is truly epic: ground beef and pork patty, fried pickles, jalapeno hoop cheese, Cheerwine pulled pork, slaw and bacon, Cheerwine and onion jam. I packed as many North Carolina products into this burger as I could while still being able to pick it up and eat it! Feel free to pick and choose the components you make for this burger. You can also leave the patty off entirely, have the main "filling" be the pulled pork and enjoy an Epic Sloppy Joe! Please note that many of the component recipes make more than what you'll need for the burgers. I'm very sorry you'll have extra pulled pork and bacon, onion and Cheerwine jam. Whatever shall you do?
Ingredients
For the Bacon Jam
¾

pound

your favorite bacon

2

large sweet onions

diced

salt and pepper

to taste

1

Tablespoon

savory seasoning mix

such as Good Rub Gravitas

½

can Cheerwine

apple cider vinegar

as needed
For the Pulled Pork
3

pounds

fatty pork shoulder

salt and pepper

to taste

1 12

oz

can Cheerwine

1

cup

tomato-based barbecue sauce

such as Jim's Own Sauce, Smokey Barbecue

½

cup

mustard-based barbecue sauce

such as Bone Suckin' Mustard (or use your favorite mustard)

1

cup

sweet red pepper relish

(or similar)
For the Fried Pickles
18

rounds of Miss Jenny's Signature Salt & Pepper Pickles

(make more for snacking–highly recommended)

1

cup

buttermilk

several generous shakes of Texas Pete

(enough to turn the buttermilk a pale orange)

1

cup

all purpose flour

1

cup

finely ground cornmeal

(I used Moss' from Buffaloe Milling)

kosher salt

to taste

1-2

Tablespoons

Gravitas by Good Rub or similar savory seasoning blend

to taste

enough oil to fill a large frying pan to 3/4″

about 1/2 gallon
For the Slaw
1

bag of finely shredded cabbage

heavy pinch of salt

2

Tablespoons

apple cider vinegar

as much Little Black Dress Dreamy

Creamy Vinaigrette (or similar slaw dressing) as you like–some folks like their slaw wetter than others
For the Burger Patties
1

pound

, 4 oz 85% lean ground beef,

look for our sponsor, Certified Angus Beef

10

oz

ground pork

(I used local, NC pork from The Butcher's Market)

kosher salt and black pepper for liberal sprinkling right before cooking

A little strained bacon fat

for frying
For the Burgers
6

pretzel buns

(or similar sturdy buns) I made my own, and I'll post the recipe later

18

fried pickles

(3 per burger)

8

oz

jalapeno hoop cheese or pepper jack cheese

sliced with a cheese plane

6-5

oz

burger patties

1 1/2-2

cups

Cheerwine pulled pork

1 1/2-2

cups

Slaw

¾

cup

bacon

onion and Cheerwine jam
Instructions
To Make the Bacon Jam
Chop the bacon into small pieces and then cook over medium heat until the fat is rendered and the bacon is cooked but not completely crisp. Drain off all but 2-3 Tablespoons bacon fat.

Add the diced onion along with some salt, pepper and Gravitast to the pan (leave the bacon in it) and cook over medium-low heat, stirring occasionally, until the onions are a deep golden brown and are very soft, about 30-40 minutes.

Once the onions are soft and caramelized, add the Cheerwine, turn the heat to medium-high and simmer/low-boil until almost dry and thickened. Taste and adjust the salt and pepper.

I made mine ahead. When refrigerated, it gets very thick and Unspreadable, so I reheated what I needed and added enough apple cider vinegar to get a nice spreading consistency.
For the Pulled Pork
In a Dutch oven with a tight fitting lid, a pressure cooker or a slow cooker, combine the pork, salt and pepper (a good teaspoon of salt and several grindings of black pepper), Cheerwine, barbecue sauces and relish.

If using a slow cooker, turn it on high and walk away for 8 hours or so.

If using a Dutch oven, bring everything up to a boil and then keep at a low simmer for 2-3 hours or until all the connective tissue has broken down and the pork is easily shreddable.

If using a pressure cooker, bring to a boil then attach the lid and cook at high pressure for an hour to an hour and a half until the pork is easily shreddable.

When the pork is super tender, let it cool in its juices and refrigerate overnight.

The next day, spoon out as much of the fat as you like and then reheat until the juices run freely.

Strain the pork juices out, place in a pan and reduce by 1/2 to 2/3 or until you have a nice, thick syrup. Keep adding back any thinner juices that collect from the pork so they'll reduce as well.

Stir the thickened juices back into the pork and adjust the seasoning as necessary. Chill until needed and reheat to serve.
For the Fried Pickles
Arrange the pickle slices on several layers of paper towel and blot the tops dry. Let the pickles sit for a good 10-15 minutes. You want them as dry as you can get them.

Meanwhile, mix the buttermilk and Texas Pete in a bowl. Put the flour, cornmeal, salt, pepper and Gravitas in a gallon-sized zip-top bag and shake to combine well.

Dip the pickles into the buttermilk bath, let them drain a moment and then put them in the bag with the seasoned flour. Shake shake shake.

Remove and set on a rack for 15 minutes so a nice crust forms.

Meanwhile, heat the oil to 350F.

Fry the pickles, a few at a time, until lovely golden brown, about 3-4 minutes. Turn them as necessary.

Remove to drain on a few layers of paper towel. Serve warm.
For the Slaw
In a large bowl, ombine the shredded cabbage, salt and vinegar. Toss well. Cover and refrigerate for 45 minutes.

Remove the proto-slaw from the fridge, squeeze out all the excess liquid and get rid of it.

Place the drained cabbage back in the bowl and add enough Little Black Dress Dreamy, Creamy Vinaigrette (or your favorite slaw dressing) to make a nice "cole slaw consistency). Refrigerate until needed.
For the Burgers
With clean hands, mix the ground beef and pork together evenly. Divide into 6 5oz patties. Refrigerate until about 45 minutes before cooking.

Heat a cast iron skillet over medium-high heat until hot.

Add a bit of bacon fat and brush it around evenly in the pan.

Cook the burgers to an internal temperature of 150F (unless you've ground your own pork), flipping as often as you like. Total cooking time is about 7-8 minutes. Check with your instant-read thermometer.
To Assemble Your Epic Burgers
Split and heat the pretzel buns until hot but not toasted.

Place 3 fried pickles (or maybe 4 if you made extra, but don't go crazy with them) on each bottom bun. Top with 2 thin pieces of cheese. Broil for a minute to melt the cheese.

Place a burger patty on top of the cheese followed by 2-3 more pieces of cheese. Make sure the cheese melts–you may need to broil them again at this point.

Top the cheese with no more than 1/4 cup or so of the pulled pork. (less would be better for Picking Up)

Top that with no more than 1/4 cup or so of the slaw. (ditto the pulled pork)

Spread about 2 Tablespoons of the bacon jam on the top bun and then press the whole thing together gently.

Laugh at your side dishes, because you won't have room to eat them too.

Bend over so you don't dribble down the front of your shirt, and enjoy!
Did You Make Any Changes?
Well, now I'm exhausted. Happy, but exhausted. And full. But exhausted. And happy!
Kita, thank you so much for wrangling this huge and epic event! I think you are spectacular, and I was so happy you invited me to participate!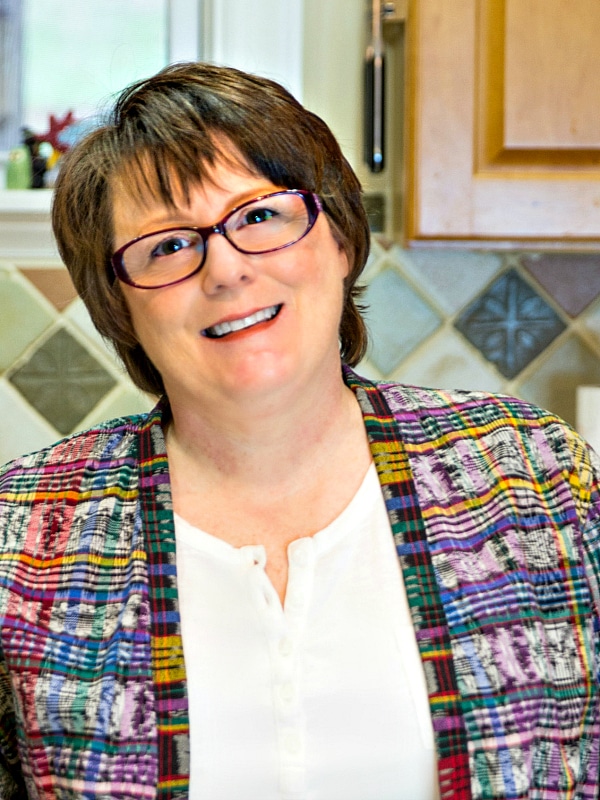 What are my qualifications to teach you baking and pastry? As a former working pastry chef and special educator, I marry my passions for both teaching and for baking into explaining techniques, methods, and developing the best possible recipes. For more info, you can read more about me.
If you'd like to receive new recipes and the occasional newsletter, I'd love for you to sign up for my Inbox Pastry Chef.