Hello, and welcome to Fundamental Friday, where I teach the basics of cooking and baking. And while cheese plate ideas might not rank high on your list of fundamentals, there are some basic rules to follow to make the best cheese board you can.
Another great Fundamental Friday post is how to pair flavors.

Stay tuned for all the info you need on choosing cheese for your cheese platter, how to slice cheese for a cheese course, and what to serve on your cheese plate besides cheese (homemade crackers and fig jam come to mind.)

Whether you serve your cheese platter after dinner, in lieu of dessert, or as an communal appetizer at a party, always think "balance," and you can't go wrong.
How to Serve a Cheese Platter
While there are no hard and fast rules about how to assemble the components of your cheese board, there are some guidelines that will help to hopefully give you some cheese plate ideas you haven't thought of before.
I have tried to answer most of the questions you might have about serving a cheese course and to provide guidelines for choosing your cheeses and your accompaniments.
If you have more questions I have not covered, please feel free to email me, and I will get back to you as soon as I can!
How Many Cheeses Should I Plan on Serving?
I keep the variety of cheese on my cheese platters to no more than five.
Serve an odd number of cheeses. Our eyes like to look at odd numbers of things because odd groupings are more dynamic.
I vote go with three or five cheeses, although the cheese police will not come and take you away if you choose to serve two or four.
Six might be pushing it, though. You don't want to overwhelm folks by Sheer Force of Numbers.
How Much Cheese Per Person Should I Plan For?
If you're serving your cheese plate for your dessert course, I would plan on 2-3 oz of cheese per diner along with whatever condiments, breads, and crackers you are providing.
For a cheese board appetizer, expect guests to plow through 3-4 oz per person. Of course, if you decide to add cured meats to your board, that might cut down in the cheese serving size by a bit.
If you're serving meats on your board, plan on 2-3 ounces per guest as if you were serving it in place of dessert.
How to Choose the Cheese for a Cheese Course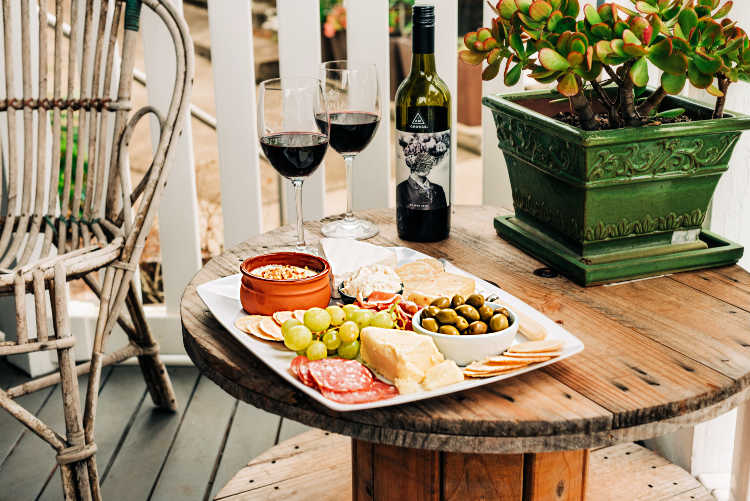 Choose cheeses that differ from each other in various ways:
color (white, pale ivory, cream, golden, orange, etc)
aroma (milky, sharp, funky, sweet, etc)
type of milk (primarily cow, sheep, goat)
style of cheese (aged, washed rind, fresh, veined, etc)
texture/firmness (soft and spreadable all the way up to hard and crumbly)
As long as you are an equal opportunity cheese lover, try to have at least one of the following:
blue-veined cheese
maybe a triple creme and/or washed rind (stinky) cheese such as Brie or Taleggio
mild, soft cheese like Havarti or Gouda
a non-cow's milk cheese or two (goat's milk, sheep's milk).
Cheddar, Havarti, Gouda, and Swiss (Gruyère, Emmentaler) are almost universally approachable, so adding one or both of these to your board will make everyone happy.
What About a Cheese Flight?
I love the idea of serving 3-5 different types of the same kind of cheese.
For example, if you wanted to serve a cheddar cheese board, you could serve 3-5 among these choices:
smoked cheddar
young cheddar
cheddar cheese curds
1-year aged cheddar
3-year aged cheddar
mild cheddar
sharp cheddar
Can I Use Vegan Cheese?
Absolutely. Not too long ago, there weren't many choices for vegan cheese.
Now there are several good brands, including artisan style cheeses.
There are also recipes for you to make your own vegan cheese if you are feeling very fancy.
Vegan Cheese Brands
I am by no means an expert on vegan cheese. I have heard excellent things about the Daiya brand. So if I as a non-vegan have heard about it, Daiya is probably a great place to start.
The brand I know of making truly excellent artisan cheeses is Miyoko's Creamery. I enjoyed a few of Miyoko's vegan cheeses at a vegan dinner party I went to a couple of years ago, and they were incredibly good.
Other brands to look into:
Make Your Own Vegan Cheese (Vegan "Cheez")
Here are some vegan cheese recipes to consider when settling on your cheese plate ideas. All are from trusted sources, so check them out.
What Should I Serve The Cheese On?
You can absolutely present your cheese plate on a regular dinner plate for individual servings.
Or arrange the cheese on your favorite Thanksgiving platter if it will be a shared or passed appetizer at a party.
There are some great options for serving if you'd like to get a bit fancier. A slate cheese board makes a great backdrop for a cheese course as do wooden boards.
Other cheeses that would work for flights include different ages and styles of Gouda, blue cheese, washed rind cheese, or goat cheese.
Another type of cheese flight could be sampling cheeses all from one country or from one region of a country.
Consider showcasing local cheeses. There are small creameries all over the country, so if you do a bit of checking, I bet you will find at least one or two in your county or state.
What Order Should I Serve the Cheese In?
The only way you'll have real control over the order is to serve them one at a time.
If you serve your cheese plate with 3, 4, or 5 choices, suggest to your diners an order, but don't tell them what to do or they will get cranky!
Suggest sampling the cheese in order from mildest to most…fragrant. And also suggest they try each cheese with each of the condiments or accompaniments you have provided.
Beverage Pairings
It is classic to pair cheeses with wine, but these days, you could also consider a beer and cheese pairing or be really hip and do a cheese and cider pairing.
What Temperature to Serve Cheese
Like wine, the flavor of cheese can be very complex and layered.
Cold deadens flavor and aroma, so it's best to serve cheese at cool room temperature to bring out the individual characteristics of the cheese.
Aside from aroma and flavor, the texture of cheese changes when allowed to come to room temperature. For example, a crumbly/soft goat cheese will warm up into a gorgeous spreadable texture.
All cheese will soften up a bit when allowed to temper on the counter. A softer, less-chilled cheese will have more nuance in both aroma, flavor, and texture than the same cheese served straight from the fridge.
Allow your cheese to sit out, covered so it doesn't dry out, for a good 45 minutes to an hour before serving.
Cheese Board Accoutrements
While you can absolutely just serve the cheese alone, your board will be more balanced and more interesting if you serve some accompaniments.
Serve an array of condiments that will either contrast with or complement the flavors and/or textures of the cheese. Some ideas to consider:
cornichons (wee pickled cucumbers)
other pickled vegetables (this pickled okra is fantastic)
interesting savory jams and chutneys like plum chutney, peach plum jam, peach tomato jam, or bacon jam
fresh, juicy fruit such as apple slices, pear slices or grapes
dried fruits such as dates, figs and even plump raisins
chutneys, jams, honey
onion jam. Absolutely.
grainy mustard
roasted and/or spiced nuts (try these honey roasted cashews)
Marcona almonds (I am listing these separately because they are The Best)
cured meats (be sure all your guests eat meat. Adding cured meats turns it more into a charcuterie board than a cheese board, but there is no rule saying you can't add meats if you want)
How to Slice the Cheese for your Cheese Board
Slice the cheese in portions–small wedges, chunks, slices, rectangles–however you want.
Just don't put a big honking wheel of cheese out and let your guests hack at it with cute little spreaders.
In that scenario, nobody wins the the cheese definitely loses.
Yes, serving big wheels or whole wedges of cheese gives the impression of abundance, but all the photos are taken before the eating and cheese butchery starts. Nobody takes photos of the cheese carnage aftermath!
A Note About Cubed Cheese
There are some cheese board elitists out there that say cutting the cheese into cubes isn't very elegant. But you know what? Cubes are cute. Like little dice made of cheese.
If it makes you happy to cube your cheese, I am not going to tell you that you can't. Go forth and cube, friends.
Can I Just Pour Something Over Cream Cheese
The jar of something poured over a block of cream cheese is an easy appetizer idea that has sort of been relegated to the land of kitsch.
I have to say, though, one of my favorite ways to serve cream cheese as an appetizer is pouring over a homemade sweet/tangy/sour sauce the moms in our neighborhood all made to take to parties.
The best sauce to pour over cream cheese, what I grew up knowing as "red sauce," is pure comfort food, but I only allow myself to have it at Christmas, otherwise I'd eat it every day. It is that good.
Other good options are apple and green tomato chutney, Jezebel Sauce, store bought chutney such as Major Grey's, and pepper jelly.
What Sort of Bread Should I Serve with Cheese?
Serve a fairly neutral-flavored cracker or crostini so the flavor of the bread does not compete with the flavor of the cheese and condiments.
As much as I like bread and crackers, they take a back seat on a cheese plate. Their job is to help you get the cheese and condiments to your mouth!
Cheese Plate Ideas: Serving the Condiments
If the condiments are very thick spreads, you could potentially place them directly on your cheese board.
This always looks great. Until people start eating.
Then you end up with condiments smeared into cheese smeared into spiced nuts, and that's just not good.
A better plan is to serve all your condiments and accompaniments in small ramekins or dishes.
It would be so helpful to me and to other readers that, when you make a recipe, you rate it and leave a comment. Whether it's a recipe or an informational post, your feedback helps others decide if the post is helpful or if the recipe works as advertised.

If you could leave a star rating, that would be very helpful. Thank you for being here!
And there it is. No go forth and put together a beautiful cheese course for your next get together.
Thanks for spending some time with me hopefully getting some good cheese plate ideas!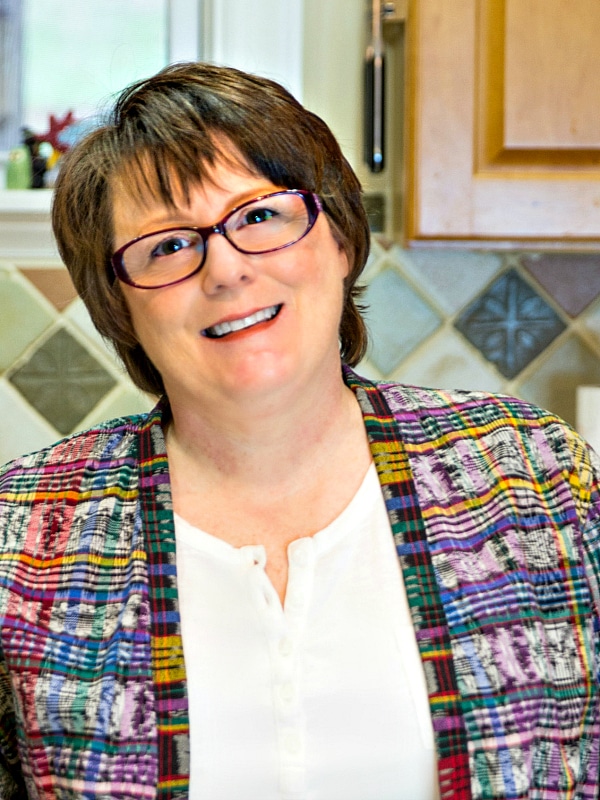 What are my qualifications to teach you baking and pastry? As a former working pastry chef and special educator, I marry my passions for both teaching and for baking into explaining techniques, methods, and developing the best possible recipes. For more info, you can read more about me.
If you'd like to receive new recipes and the occasional newsletter, I'd love for you to sign up for my Inbox Pastry Chef.
Take care, and have a lovely day.